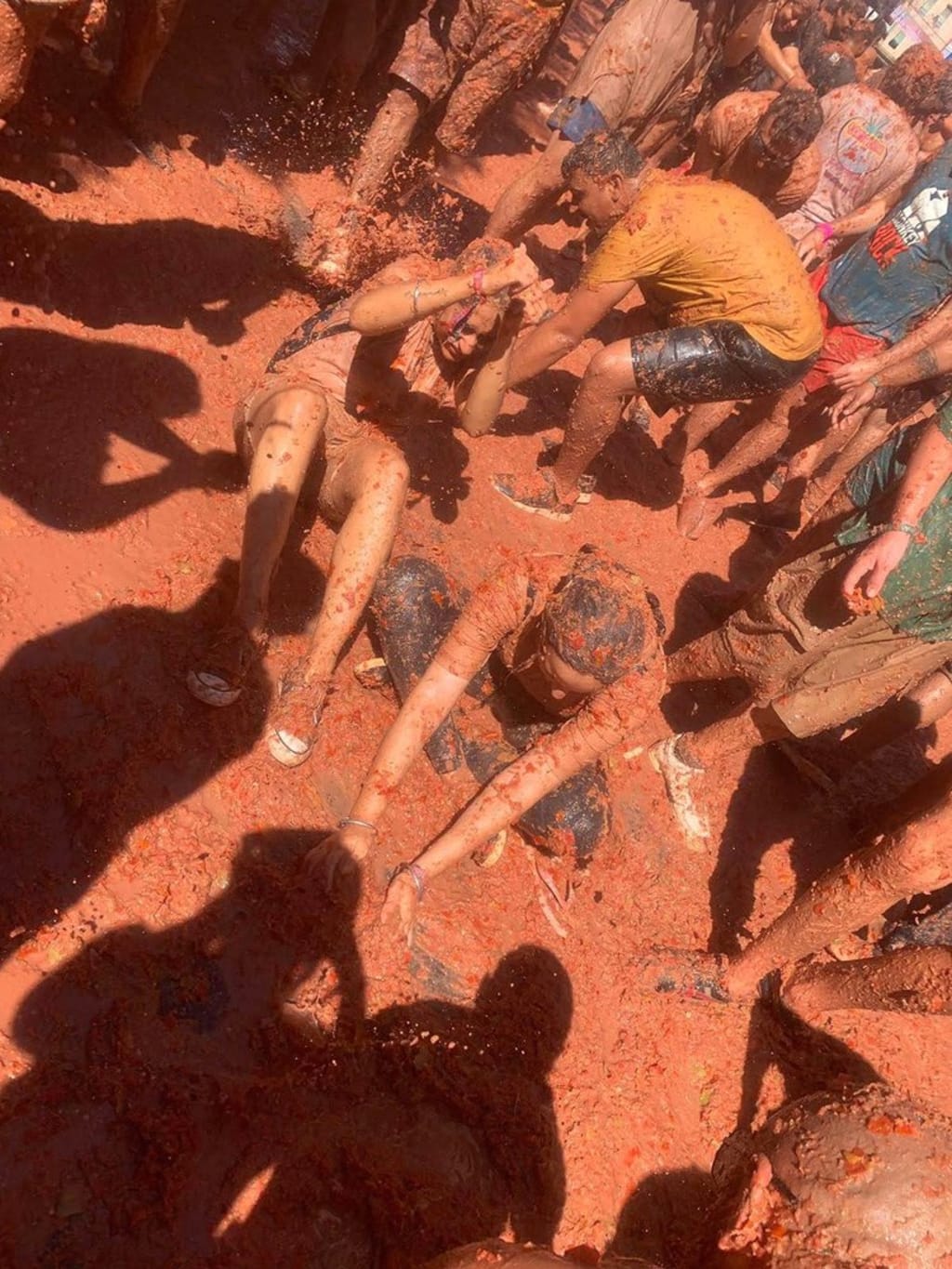 One of my best memories from Valencia 2019 are as follows:
It was three days after the Tomatina festival in Buñol, and I was with my friends in the Arts and Science Museum. We decided to book a ride on the paddle board, you had to stand on in order to paddle across the wide swimming pool, cutting across the entire length of the museum. Since we wanted to capture this experience, we decided it would be best if we took turns going on the paddle board so the other two could take photos in different angles.
My friend decided to go first and my other friend and I stayed back, browsing the architectural charm of the place while she got herself ready and atop the board. Once she started paddling, we began our photography voyage, taking turns to step out of the stippled shade and into the glistening summer heat to snap, snap, snap away. Hoping that at least one of those 100 photos would be 'insta-worthy'.
At one point, overwhelmed by our creative spirit, both my friend and I were under the scorching sun at the same time, taking photos, changing positions, testing angles, giving this our all. Once we were both tired, we decided to stay put while our friend paddled back to us. It was then that I thought it would be a great idea —don't ask me why— to dive into a discussion about the personal identity debate.
My friend listened quietly, nodding her head in all the right places, a thoughtful look on her face, her eyes shiny and attentive.
I was just about to explore my take on personal identity and ethics when she finally spoke, stopping me mid-sentence.
"Ruby." she said, her eyes as serious as her tone.
"Yes?" I asked eagerly.
I thought she was going to comment on my excellent reasoning, perhaps even contribute a premise of her own. I was excited. How cool were we? Having a philosophical conversation in a science museum in Valencia, just another Tuesday.
My friend continued observing me. Her eyes sharp. But her voice soft as she made the following revelation, "You have bits of tomato stuck in your ear."
This was three days after La Tomatina. Three days of showering, of washing every part of my body, of scrubbing myself clean, of sightseeing and having croissants in cafes and pasta in funky Italian restaurants, and I still had tomato stuck in my ears.
That was La Tomatina summarised.
Now, let's go back to the start of the trip, which we initiated with a plane from Heathrow Airport, 1 day before the festival itself, landing in Valencia just a few hours later. I'd booked a gorgeous hotel in the centre of Valencia, in a high street that reminded me of Oxford Street, with its high rise buildings and popular shops, swarming with customers.
The airplane journey was fine for a I-hate-airplanes-but-love-travel kind of ride. But the real adventure came later.
We had a slight fright after my friend left her passport on the plane, in a Wagamamas takeaway bag, which inevitably led to us being the last ones getting to claim our baggage. The vast space was empty, with all the eager travellers whisked away in their fancy cabs and buses, with only our suitcases left in the eerie departures.
We whooped, grabbed the bags and headed for our hotel.
But later, as we unpacked our suitcases, and my second friend —the same one who would point out the tomatoes in my ear— flipped open her suitcase and gasped.
'Something is wrong', she said, before continuing to observe the suitcase, as though staring at it would change the contents inside.
'This isn't my suitcase', she finally admitted.
And there continued our travel diaries of an unfortunate series of events.
The great thing about La Tomatina is that you need to wear your least favourite clothes, clothes that you don't mind throwing away, because they will be no use to you after. This meant that my friend could grab a plane white t-shirt and leggings from H&M —which was just downstairs, by the way, due my exemplar hotel-booking skills— while we waited for her suitcase to be returned. This suitcase would not be returned until day two, night two of our adventure.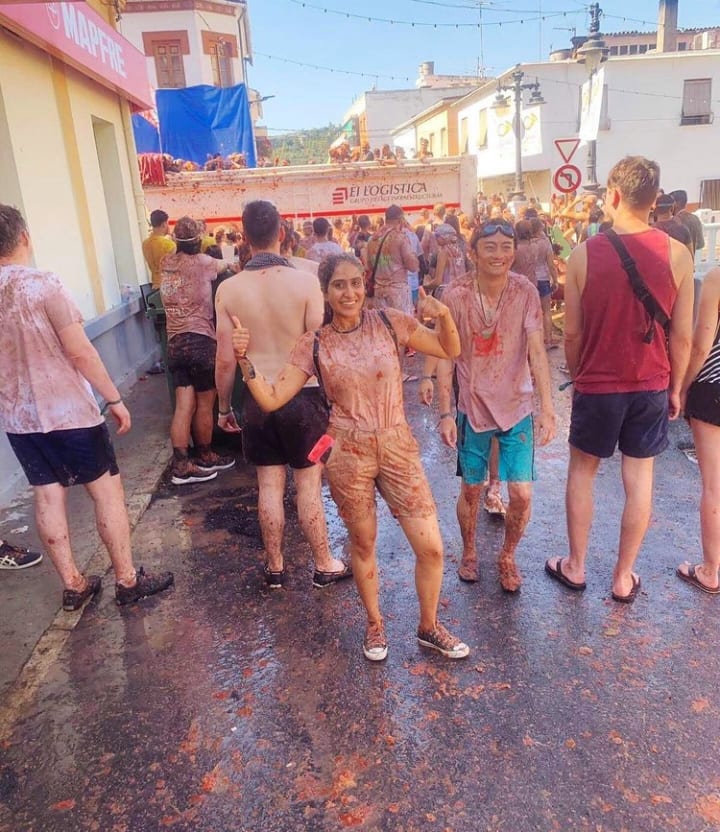 Because La Tomatina is known in most corners of the world, there are various ticket vendors you can use online to purchase your ticket, some souvenirs and other cool stuff. They don't sell tickets on the day, with thousands of people from all around the world swarming the small village of Buñol, so, make sure that you plan your holiday months in advance and book those tickets before you even book the plane journey!
Once there, you can easily walk around the town of Buñol, but to grab your ticket you need to go to the correct stall. There are lots of them, so have your email at hand and know the name of your ticket vendor in advance, as the queues are insane!
On that note, another piece of advice would be —don't be late!!
Unfortunately, we were late but we made it work somehow, by being super eager, running everywhere and even cutting in line with a couple of other Brits. We somehow managed to trick our way in, despite being the lazy sh*** that we are, but the fact is, if you're late then you're most probably going to miss the event —they're not going to wait for you to start, sadly.
When we reached, I was so overwhelmed because it was nothing like I thought it would be. I mean that positively, of course.
Firstly, the town itself is closed on that day, and is fully in celebration mode. You have people selling everything from tiny trinkets, goggles, headbands, cool lights, snacks and drinks, to lanyards with a plastic pouch to put your phone in —if you don't have one on you, I highly recommend you buy one from there. If there's anything I learned from tomatoes getting stuck in my ear, it is that there is no place where tomatoes cannot travel to. Trust me. Protect your phone. Protect your photos. Protect your holiday.
After grabbing our tickets, some plastic pouch lanyards and our eager selves, we made our way to the other side of town where our queues were. Another thing about the festival is that each ticket vendor has a different allocated entry to La Tomatina.
Depending on where you purchased your ticket from, you are allocated a specific area where you will 'la tomatinatize', as I call it. It's not like one big tomato festival on one street, like I thought it would be. Instead, each street is barricaded, so, your street cannot interact with the Tomatina goers of another street. So, even though the entire town is a tomatina festival, to make it safe and fun —the town is separated into sections for people to throw tomatoes and enjoy!
The issue this posed for us was that one of my friends had bought her ticket from another vendor. This meant that her entry was not with us. Worried and anxious, we decided to take her with us anyway and somehow we managed to get her in —yes, we are tricksters, in the true sense of the word— but I would advise that you don't do this, and make sure that you all grab your tickets from the same vendor.
Another issue this posed was that a few of our friends had also gone to La Tomatina on the same day, but because they had a different entry section, we didn't actually get to see each other until after the event was over and everyone was showering.
So, there we were, grabbing our tickets and sneaking in line with a few fellow brits who were kind enough to let us in. Just as we got our tickets, the bell went off —this happens both at the start of the hour and the end, to signal that La Tomatina is over— so we ran and ran until we could see hundreds of people stuffed between barricades, throwing tomatoes with all their might.
And, well, the rest was history. There were tomatoes, lots of them. There was tomato throwing. There were tomato angels, tomatoes shoved in our faces, thrown on our heads, tomato chases, tomato puddles —and our clothes, hair, bags, shoes, were all gone.
Once the second bell went off, at the end of the hour, every part of us was covered in tomatoes —and we didn't mind it one bit.
The locals are really helpful at this point. With their hose pipes and water guns, they try their best to get as much of the tomato out as possible. But another great part of this festival is the nearby outdoor showers and lake. They really have all the facilities to ensure that you don't go around painting the rest of the city in tomatoes.
Off we went, amongst the other thousands, through the narrow cobbled roads, lined with houses, twisting and turning down to the communal area to wash themselves off.
There were approx. 10 outdoor showers with long, long queues, and along the side was a lake, which now resembled a tomato soup as people washed off bits of tomato from their skin and clothes. After queueing for what felt like forever, we took turns in washing ourselves as best as we could.
We noticed a few people slipping out of a narrow jungle and looking clean. Cleaner than the rest of us who had showered. We got speaking and realised that hidden behind the jungle was a beautiful, wide lake with a swing. And this is where we reunited with our other friends.
It was such a gorgeous lake, and quiet too, with not many people aware of it. And it was clean! We spent the rest of the afternoon washing ourselves, and chilling under the sun on one of the tall rocks by the lake.
As we made our way back, the town now eerily quiet, aside from the odd restaurant with music blasting and people sprawled on the chairs outside, drying off in the scorching sun.
We were peaceful. Happy. Satisfied with the events of the day. We weren't completely clean. Our shoes were still, our underwear also, but our socks and outer layers were dry. I didn't have any glasses on as I forgot to bring them with me. We would have to shower once more after we reached the hotel, and once more before we went to bed. And we were all tomatoed out for the day.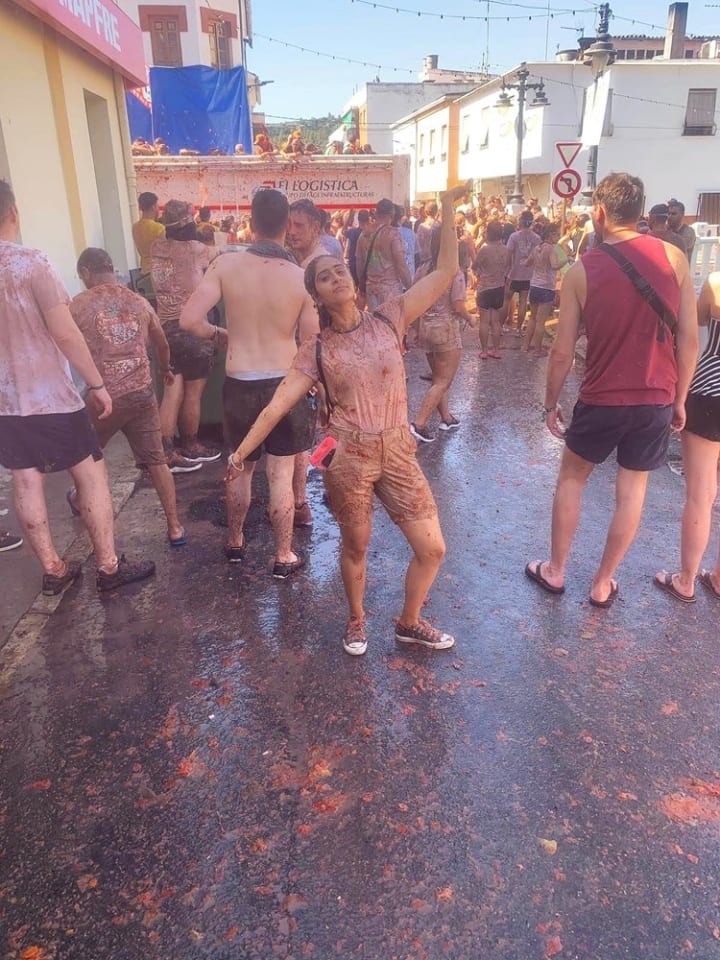 But it was one of the best experiences of my life.
If there's anything that I've learned from Tomatina, it's to expect the unexpected and go with a free mind. And to not forget the following:
Book your tickets in advance, and make sure all your friends purchase them from the same vendor.
Go hours in advance, and I mean HOURS. We missed 10 minutes of the festival, and there were still hundreds of people behind us in the queue who would've perhaps reached for the remaining 10.
Take stuff that you don't mind throwing away —old t-shirts, old shoes, an old rucksack that you won't be able to save.
If you can —hire a car. We got a cab and, while it was efficient and not-too-expensive, it meant that we had to carry our rucksacks the entire time. That wasn't the most efficient thing.
Make sure you buy all the essentials beforehand —a plastic pouch lanyard for your phone, goggles. But, if you'd like to help the town and the townspeople get some business from the festival (which I recommend), buy it from there!
Don't worry about getting dirty. That's what the day is about, getting messy in the tomatoes.
Let go and have fun! It's a once-in-a-lifetime kind of day.
Other than that, I'd say let yourself go for the day. Be free. Be tomatoe-y!
I truly hope that 2022 brings with it another La Tomatina festival. After the adversities of the previous 2 years, we all need to break free and let go. And what better way to break free and let go than to have fun in some tomatoes?
Have a great one, my loves.
Until next time xx
About the Creator
Ruby Dhal is a speaker, performer and author of 5 books of poetry, prose and bite-sized self-help. With a social media following of over half a million and millions of impressions on Instagram, Ruby has access to readers everywhere.
Reader insights
Be the first to share your insights about this piece.
Add your insights