The fuck boy and the guys who create baggage
we're too old for this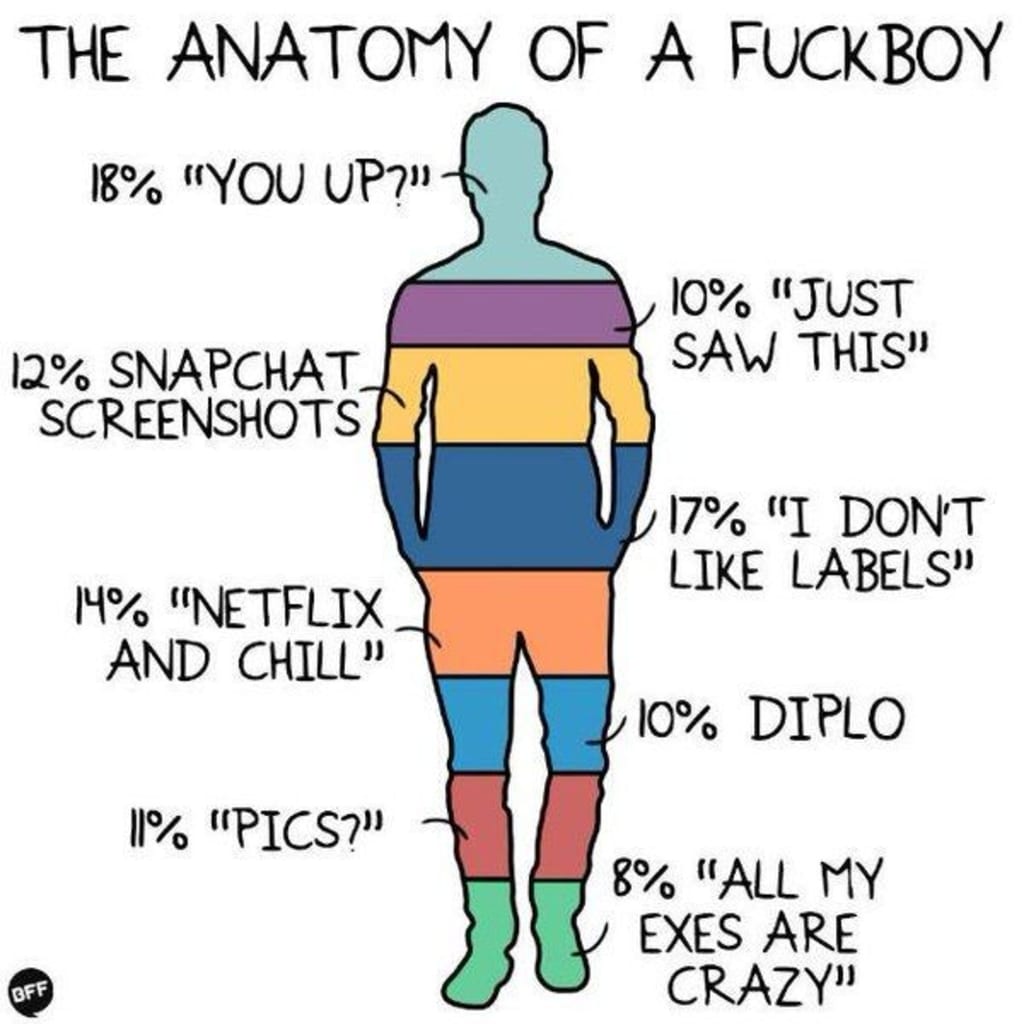 So in case you are living under a rock I will define fuck boy and explain what I mean by the guys who create baggage. So a fuck boy is the guy who just want sex. They're usually complete assholes and sometimes flakes. I'm sure they're the ones who created the saying "catch (fill in the blank) not feelings." They will pretend to care about someone and to not be a fuckboy. These guys have to hang out on their terms. They are usually sleeping around.
The guys who create baggage could be fuckboys but they don't have to be. These guys will have some kind of bad behavior, toxic trait or bad attitude. They can be cheaters or abusers as well. These guys probably don't respect women or anyone besides themselves. They will make excuses for their behavior. They may just say that their young or that they aren't looking for anything serious. They may even say "well she/he was just crazy." It is more likely that a man will be the baggage maker. Women may cause some baggage but they will also make a guy bitter.
Both types of men will not own up to their shit. The good people pay the price. The people who encounter the baggage makers and fuck boys take it out on the next person they date. It can ruin the next relationship. The baggage maker and fuck boy are out living their lives while you are ruining your next relationship.
This isn't just a straight thing either, that's the misconception. There's toxic man children and fuck boys in and out of the LGBT community. We just have stereotypes of certain communities. We always believe that the fuck boys or men in general that will only screw over women when men can screw over other men.
Men sometimes create baggage because they were hurt themselves. Also guys who have low self esteem can cause issues or baggage for women. I have dated these men. Some men create baggage because they don't care. Sometimes it's the fact that they don't respect women. They ruin dating for men who are good. These guys will never own up to their crap. Most of them will make it sound like the woman is just being crazy.
The funny thing is these guys may grow out of it then wonder where all the good girls have gone. They spend all of this time using women or treating them badly then want to have a good girl. They probably had plenty of good girls in their dating life. They probably have multiple women or girls before they want to get their shit together and have a good girl.
There is some women who don't mind the fuckboy because they just want sex. This doesn't make them bad girls. These guys and gals make great friends with benefits. They are obviously not made for a relationship which is fine for them. Not everyone wants a relationship and that's fine.
How do we put an end to these guys creating baggage? How do we end these fuckboys coming after those of us that want a relationship? We can not put with their crap. We also have to nip it in the bud. As soon as we notice their behavior we need to move on. This advice can go for both fuckboys and guys that create baggage.
I hope that you liked this post. If you want me to write about a certain topic especially a dating topic please email me ([email protected]). I will do my best to get all to the topics.