The Face
You're not subtle, Kyle.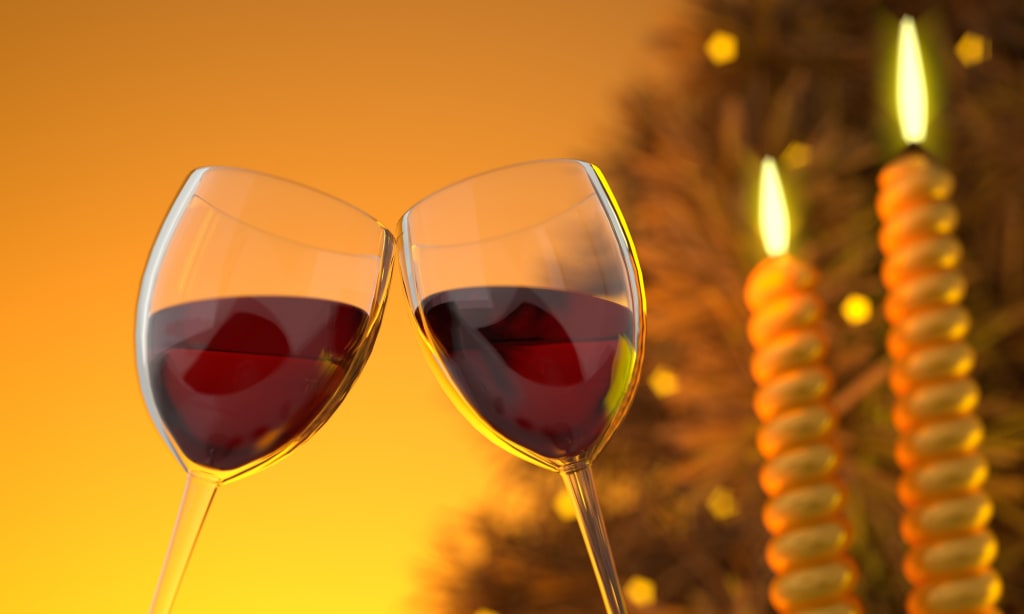 Image by 3D Animation Production Company from Pixabay
When I walk through my front door at 9:42pm, I don't stop to take my coat off. I don't put my keys in the bowl or throw my bag on the floor. I don't even shout a hello to Dylan. I go straight to the bathroom, turn on the shower, crank up the temperature as high as I can bear it and jump in. I stand under the gushing water, grateful for the power behind it as it washes the horror that was this evening off my body. My skin is still crawling twenty minutes later.
I want to blame Elsie, my line manager, but I can't. When she told me she wanted to set me up with her brother's best friend, Kyle, she said, "He's actually a really nice guy!" Like an idiot, I believed her and reluctantly agreed to go out to dinner with him. It's my own fault. Alarm bells should have rung the second she said the word 'actually'.
'Actually' is not a word you use when describing the niceness of a person. 'Actually' is a word you use in passive aggressive emails, or to sound superior when telling someone they're wrong. What Elsie's 'actually' meant was, "He's a nice guy with the right amount of alcohol but he's a complete arse until then, and too much will turn him into a touchy-feely creep."
I hear the door open and the soft thump of Dylan sitting on the toilet seat lid. I learned several years ago that Dylan has very few boundaries when it comes to his friends.
"It's rude not to say hi when you get home, Beth," he calls.
"You know," I call from behind the shower curtain, "when someone jumps straight in the shower after a date, they probably don't want to talk about it."
"That bad, was it?" he sniggers. I shudder.
I should have known it would be a nightmare when Kyle pulled The Face. I arrived ten minutes early at the restaurant, a small Greek place in Brixton. The whole restaurant was filled with groups and the music was slightly too loud for dining, but they had an extensive drinks menu and no line at the bar, so I couldn't complain. Pulling up a stool, I ordered a small glass of Merlot and checked my hair in the mirrored sign behind the bar after the breezy walk from the bus stop.
Kyle arrived at 7:29. After the initial awkward cheek kiss, he glanced at my glass.
"Gosh, sorry, was I late?" he asked, checking his watch worriedly.
"Oh no, you're right on time," I say, finishing my wine and grabbing my bag. That was when he pulled The Face. The face that told me I would need many, many more Merlots to get through the night. The face that told me Kyle did not approve of a woman downing the last few sips of her wine in front of someone she's just met. The face that told me the rest of the night would be an absolute bloody disaster.
But I ignored it. I gave him the benefit of the doubt. We sat down to eat, our chairs adjacent. The waitress offered to adjust our table so we could sit opposite each other, but I waved her away, not wanting to block a walkway in the already cramped restaurant.
It was my first mistake of the night.
By the time our halloumi starter came (I didn't want to share but he'd pulled another face), I knew Kyle's entire adult life story, from studying Politics and Economics at LSE, to his law conversion at London South Bank, to the end of his eight-year relationship six months ago with his gymnast/model ex-girlfriend Annie because "she wanted a level of commitment I just wasn't ready for." In case it isn't clear, Kyle was a douche.
Tucking into our main course (The Face didn't appear again, but an eyebrow raised gave away his disapproval of my choice of chips over salad), he finally asked me what I do for a living. I told him about my job as an assistant editor at a publishing company specialising in children's books in Covent Garden. It took me forty seconds. He looked at his watch. I ordered another glass of Merlot, ignoring yet another stupid Face and suggested he get a drink too.
That was mistake number two.
I hoped alcohol would help us both relax but after four beers, Kyle did a U-turn. At the start of the evening, it was all about Kyle and his impressive education and his skinny ex-girlfriend. An hour and a half later, it was all about me. He began asking awkward questions, all the while caressing my arm with one hand and resting his chin on the other to stare at me (apparently, four beers remove all personal space and eye contact barriers).
"So, when did you lose your virginity?"
"What are your five-year relationship goals?"
"Are you into anything weird, you know, sexually?"
It was the most uncomfortable night of my life, including the night I stayed in a tent with my ex after breaking up with him. I would gladly do that five times over instead of let Kyle fondle my elbow again.
A sudden bang pulls me back to the present and almost makes me fall over. Dylan has fallen off the toilet from laughing so hard. Reaching round the curtain, I throw a loofah at him.
"Almost nine million people live in London and I always end up out with the arrogant snobs or the intense weirdos," I say, switching off the water, "And tonight I was out with both!" I grab the towel that Dylan holds out for me. His eyes are squeezed shut; he lacks boundaries, but he's always a gentleman.
We go to my room and Dylan sits in my swivel chair facing the wall while I put on my pyjamas.
"So, did you kiss him?" he asks as I climb onto my bed and get comfortable.
I don't answer.
"Bethany Rose Martin, tell me you did not let that prat kiss you?" he shouts, swivelling to fix me with his sternest stare. I blush. I hate it when he full names me, especially when I deserve it.
"I didn't let him kiss me," I insist, "He just caught me unawares."
Kyle had walked me to the bus stop, linking my arm with his and strolling at way too slow a pace. As soon as we arrived, I stepped away. After a few more awkward exchanges, I said goodbye and held my hand up in a half-wave. I thought I was indicating that I wanted to part ways without any physical interaction at all. Apparently not.
As soon as I'd said my farewell, he pounced. It was like a teenage movie where the protagonists have never kissed before, or don't even know what kissing is; he literally came towards me with his tongue out. I was so surprised I just let it happen. It was like having a hoover attached to my face. A hoover with a tongue. And teeth.
A word of advice: if you are biting my mouth (not my lip, my entire mouth) when we kiss, you're doing it wrong.
Seven gross, agonising seconds later, he pulled away and give me a weird side smile that he'd definitely practised in the mirror. With a final peck on the cheek, he whispered in a voice that I assume was meant to be husky, but just came across murder-y, "I'll text you later." He turned and swaggered off with his hands in his coat pockets while I tried not to vomit in the bus shelter.
Dylan stops laughing and stares at me, horror-struck.
"Wow, you need a drink," he announces, storming out of my room. He returns five minutes later with a bottle of wine and two large glasses of Merlot. I drink half of it in one large sip as Dylan settles back in the chair. I lean back on my pillows, sighing heavily.
"So, are you going to see him again?" Dylan asks, smirking.
"Shut up," I say, groaning and take another large gulp of wine, "Why are there so many pricks in London and why have I dated all of them?"
At that moment, my phone buzzes. It's a text from Kyle.
HI BETH. THANKS FOR A NICE EVENING. I'M SORRY BUT THERE WON'T BE A SECOND DATE. TO BE FRANK, I COULD NEVER LET MY MOTHER MEET SOMEONE WHO SITS AT THE BAR WITH A DRINK BEFORE MEETING A POTENTIAL SUITOR FOR THE FIRST TIME – IT'S RATHER UNLADYLIKE. I THOUGHT IT BEST I BE HONEST SO THAT YOU CAN CONSIDER HOW TO ALTER YOUR BEHAVIOUR BEFORE YOUR NEXT DATE. IF YOU WOULD LIKE ANY FURTHER ADVICE, PLEASE FEEL FREE TO CONTACT ME. GOOD LUCK IN YOUR FUTURE ENDEAVOURS. KYLE.
Speechless, I pass my phone to Dylan, draining my Merlot and picking up the bottle to refill my glass. Dylan stares at the screen looking like he's not sure if he wants to laugh or be sick. Then he starts typing furiously.
"Dylan, don't you dare!" I shout, reaching out to grab my phone, but he swats my hand away. When he passes it back to me, he's practically dancing with joy. Groaning inwardly, I read what he's sent.
DEAR KYLE. WHILST I FULLY APPRECIATE YOUR FEEDBACK AND WILL TAKE IT INTO CONSIDERATION THE NEXT TIME I GO ON A DATE WITH A NARCISSISTIC FUCKWIT, I AM AFRAID I MUST DECLINE YOUR OFFER TO GIVE ME ADVICE ON MY BEHAVIOUR. AFTER TONIGHT, IT IS EVIDENT THAT YOU HAVE ABOUT AS MUCH EXPERTISE ON DATING (AND GENERALLY INTERACTING WITH PEOPLE) AS A GIBBON HAS ON THE POLITICAL CLIMATE OF PAPUA NEW GUINEA. IF YOU WOULD LIKE ANY FURTHER FEEDBACK ON MY EXPERIENCE, OR GENERAL ADVICE ON HOW TO TALK TO HUMANS, PLEASE SEND ME AN EMAIL ON [email protected] GOOD LUCK IN YOUR FUTURE ENDEAVOURS, BETH. P.S: IF YOUR MOTHER IS ANYTHING LIKE YOU, SHE SHOULD PROBABLY EMAIL ME TOO.
I can't help it; I burst out laughing, a huge belly laugh that makes my eyes stream and my stomach hurt. The most unladylike laugh imaginable, which causes me to spill my drink all over my top. Still hiccoughing, I reach over to my pyjama drawer and pull it open, but Dylan slams it shut.
"No, no pyjamas," he orders, "We're going out."
I groan.
"It's half past ten and I've had a really shitty evening," I say, trying to pull the drawer open again.
"Tough," Dylan replies, holding his hand firmly on the drawer so I can't open it. I groan again and stomp to my wardrobe, taking out a pair of skinny black jeans.
"Put on a booby top and meet me in the living room in fifteen minutes," Dylan demands.
I smile to myself. I may have gone out with my fair share of losers, but at least I had a best friend like Dylan. Regretting explaining to him what a 'booby top' is, I look through my clothes and choose something low-cut and get ready to dance the night away.

C.N.C. Harris
29-year-old writer working on my debut novel and dreaming of sharing my voice with the world. Daughter, sister, teacher, wife. I have too many photos of my dog and a mildly unhealthy Diet Coke obsession.
I spend way too much time on Twitter.
See all posts by C.N.C. Harris →