An *immediate* answer came to mind when I asked myself what fashion trend I'd like to come back into style.
Just yesterday, I was playing Animal Crossing and found ridiculous joy in getting my character ("Little Me") dressed.
This never happens in my real life! (and, yes, I'm a grown ass woman that plays Animal Crossing and I love it!)
And yesterday, I let my inner child run wild in those virtual clothing choices… ALL the colors! Different patterns everywhere! A hat and a sling bag and the only thing I considered was if I loved the way it looked. As I "tried on" different things, if I loved a new choice better I'd keep it. If not, I'd put the last thing I loved on.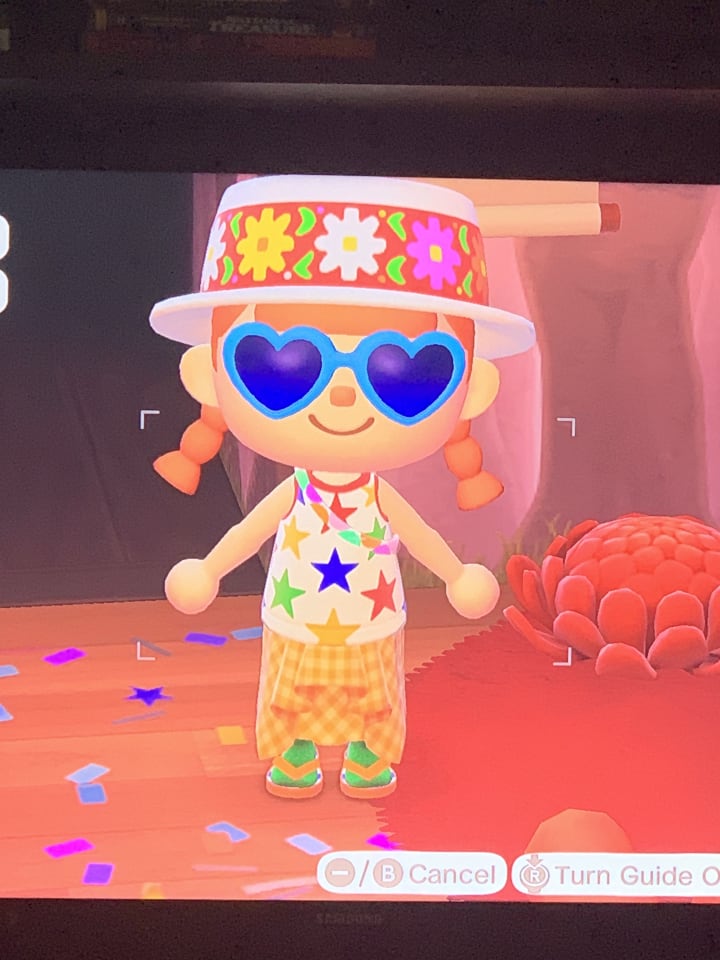 So simple! And also a paradigm shift for me.
I always have fun putting together outfits in Animal Crossing, because it's just so easy--click on what you want to try on and it magically appears on your character. Mix and match pretty much everything… any way you want. No pulling shirts on and off (with the inevitably resulting static-clinged, frizzy hair). No struggling with jeans. Fussing with tights. No yanking and tugging.
I'm working on replicating this in real life… and it starts with decluttering! My goal is to have only things that are an option to wear in front of me when I open my closet doors. Can you imagine that? Looking in your closet and truly being excited about wearing everything you see?!
That blouse that I end up adjusting all day because it doesn't hang right? DONATED! The jeans that maaaaaaaaay fit someday? GONE! The Christmas shirt an amazing friend had made for me years ago that I know will never fit again? GOODBYE!
Why have I held on (for so long!) to clothes that don't work for me?
There's a long, complicated answer to that question. Almost as long and complicated as my history with "stuff". And I won't expound here, I'll just say "I'm done with it!!" Done with holding onto clothing for sentimental reasons (unless it will fit into my memory box… but there's so many other things I'd rather keep as memories). Done with keeping something just in case it magically fits right down the road.
So that's the first step I'm taking towards finding joy in my wardrobe. I'm hoping that paves the way to the second step… wearing things because I love how they look and feel. Period.
I honestly don't know if I'm brave enough to get there. I'm certainly going to try.
The goosebumps that I get when I think about playing in a wardrobe full of things that delight me and that fit me well and feel good on my skin makes me want to try. Try to push through the thoughts of what any other person thinks about what I'm wearing. To make a trend (if only for myself) of wearing exactly what I want.
I mean, it's easy to not care what anyone else thinks in Animal Crossing… no one else sees it. Can I give myself the same gift of joy when I dress *myself* for the day? Without worrying about what anyone else thinks… only considering my answer to the simple question "Do I love this?!"
I am going to try.
I am going to try to allow my inner child to start delighting in my big girl closet… finding fun in all the things she finds there, and giving her the freedom to mix and match any way she pleases. Just because she pleases!
I deserve that. And so do you!
What do you think… will you join me in bringing the JOY back to what you wear?