summer journal / marina
by Rafael Ortega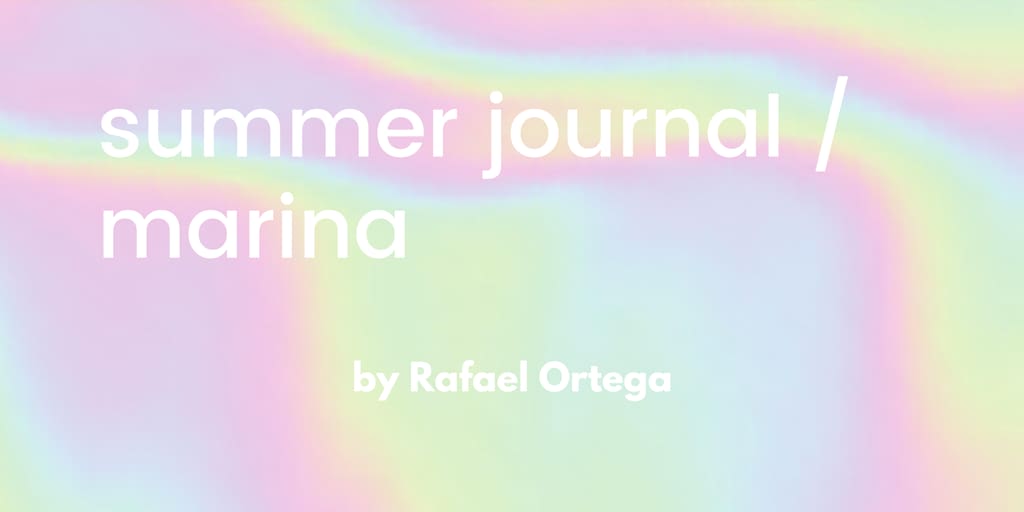 I was expecting Ryan to return to the US before our 30's, get married, have kids, go to Paris for our honeymoon and french kissed at the Eiffel Tower, all the romantic stuff you know, but he decided to live abroad; yes, ABROAD. Why not here in Phoenix, Arizona, no... no.. the man wanted to discover himself, the reason why he spent all his money and went to Europe and lived everywhere, including places that I can not even spell at this time.
But I love him, with all his ideas and crazy thoughts, bad jokes, silly kisses and Sunday's drama, his terrible sense of humor, and his taste for bad beer, yes... I really love him.
We have spent basically all of our 20's together, we met in college, started our careers, but when we were reaching the "marrying age" both of us started to fear something, suddenly we disconnect from each other but we both were pretty afraid to even say something, I was expecting infidelity from him or some good drama but no, nothing of that happened, (THANK GOD), on the other hand, he was expecting.... time, yes, time...
Time for what? to get your things together? our things together? I understand as human beings we really need time but is there actually a definition for time (in a relationship manner), it is like casual relationships, what does casual even mean? I hate those words that apparently somehow everyone knows what they mean or even the standards of them. Like I was that type of high school girl (or still am), that I can not even realize what a friend zone was, or "been there done that" or "cool see you tomorrow" and then tomorrow never came, ok I made my point clear.
So the guy wanted time, time was granted. We both kissed goodbye at the Sky Harbor Airport, he left, I stayed, (in Phoenix, just in case your wonder), and days passed, then months, then more months, then one year, one year and two months, then one year and a half and suddenly bam... I think I do not love you anymore.. yes all those words said on FaceTime by him. No explanation was given, reasons varied from, Italy has given me something else, Ireland made me feel like home, Spain gave me youth... ok Ryan chill, and what do you think does the Phoenix sun has given me?, warmth? love? expectations? No!, it gave me loneliness, emptiness, weakness, and somehow all my insecurities reappeared, everything since the day you left me. So, exactly like how I feared, more time was asked, and more time was granted, but this time we had a new clause: We can meet new people, do whatever we want, and see what we can do after that.
Done. (now that I am writing this, I kind of understand the "been there, done that" kind of thing, ok Marina, concentrate), so, I was open to the public, I downloaded Tinder, then Bumble, then Hinge, then the bars, then my apartment complex, tinder again, Bumble BFF that gave me 3 new friends, but somehow nothing, no man wanted to be with Marina who only thinks, speaks, and cares about Ryan, same Ryan that FaceTimed me stating the following:
I am coming home July 4th, for real; coming back to the States. I know I have been pretty hard on you and left you on the side like we were nothing, but I do care for you. Let's do something, all these years that we have not been together has changed us, let's discover how we feel when we see each other again at the airport, if we feel something, let's do it... again, but if not, let's be honest with ourselves and move forward with our lives.
And today was the day, July 4th, since May I have been waiting for this, for this moment, for him... for his lips, for my little souvenirs from Paris and Thailand, for his arms, for his chest, for his love, for his everything.
So silly Marina baked him his favorite dessert: chocolate cake, I even went to Sprouts just to get everything organic, an organic chocolate cake. I put on my favorite dress, did my make up, took a tequila shot (for the nerves), everything... minutes were longer, hours were ages until 5:00 p.m finally arrived, and then there I was; Marina, within the crowd waiting for her man, for Ryan, with both of my hands holding the chocolate cake, (what a wonderful idea), I saw him... saw his eyes, his beard, his story, our story, like the first day we met in college, I yelled his name with my entire lungs, RYAN!!
He noticed me, looked at me, smiled, and then waved goodbye and left.
I then yelled, hey it's me Marina!, he listened to me, but he never looked back, he only gave me his back... his answer.
I tried to run, but somehow he disappeared, and my soul broke down, I felt how my heart tore into pieces, I started to cry in front of the people while I was holding the cake... I felt so bad, I felt humiliated, he did not even stop and talked to me like a normal person would do, how does he got into his house, did he uber? Lyft?, I could give him a ride, but no... that was so Ryan... always a rollercoaster, he always opened those wounds about myself; but now that I am devouring this cake that tastes so good, I realized one thing, one important thing:
Everything was about him, my whole life was Ryan, my whole life was for him, my days and my nights, I lost myself, I put him first rather than putting myself first over everything, I gave him my time, dedicated him my years and my thoughts but the responsable for not seeing this, is just me, myself, and I.
I now realized the importance of loving yourself, of putting yourself at the center without having to expect anything from anyone, because we are not them and we are not responsible for them.
You freed me today Ryan, freed me from my stubbornness, from my wrong idea of love and relationships, freed me from you, and the idea of you, us...
I will forget and forgive you one day, but when that day comes, I will know something for sure:
I can make a really good piece of chocolate cake.