Starting Over.
Does it scare or excite you?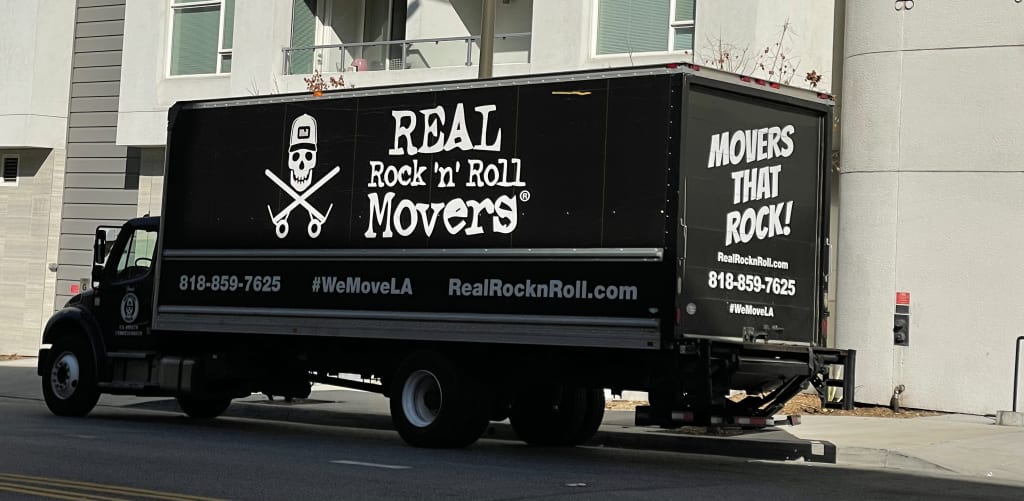 Moving trucks are just another part of the scenery.
Just to be clear, I am not moving.
Starting over, however, IS up in my world.
I am no stranger to starting over, having done it multiple times in my life.
When I was a kid, my mom and I moved so many times, by the time I was 17 and she bought her first house, we had moved 18 times. And that did not stop when I met my husband (much to his annoyance I think).
I have changed jobs so many times my resume looks like a Cheesecake Factory menu: hairdresser, cashier, spin instructer, deli manager, window merchandiser, assistant buyer, business owner, acccounting assistant, barista, house manager at a small playhouse, barback, small events coordinator for a local movie theater, chiropractic and naturopathic office manager, car sales.
I was never daunted by the move, or the new job. It was exciting! New places to decorate, new things to learn, new people to work with and get to know. Every place I lived, every job I had, I loved. Until it was time to move on.
I have a friend who changes her mind almost as much as I do. I admire her willingness to choose, find it is not working, and choose again. Quickly, too! She has friends who tell her it is a flaw, something to be worked on, fixed, as if choosing were a broken bone, or a disease. I applaud her for it.
In 2018, I chose to move across the country to a place I fell in love with. My grown son and I sold everything we could not pack into our cars, and left the place we both had come to hate. No jobs, no home, no net.
It was very interesting how, as soon as I chose, things just seemed to fall into place. His dad drove out with us, and helped us get set up, we found a nice place to live, and settled in to find jobs.
It took a bit for it to dawn on me that my ask created it. That my choosing made it happen. I was walking a couple of days ago, looked up at the blue sky and palm trees and finally became aware that I lived where I said I wanted to live and worked where I said I wanted to work.
And it looked NOTHING like I thought, hoped, dreamed, it would.Yet here it was.
My job right now is showing up in a way that is triggering me to think about starting over yet again. And honestly, with the constant state of PTSD we all seem to be in right now, I am not even sure I have excitement for it anymore.
I almost let my impulsive Gemini nature take over yesterday and quit. Maybe if I was 20 years younger I told myself, or had some sort of degree, or had a nest egg, I would just do it. But what it really comes down to, as always, is choice.
Starting over first starts with choice.
Are you the type of person that has to have all the ducks in a row before you make any moves? Or are you a fly by the seat of your pants kind person?
I have flown by the seat of my pants my entire life, and now, with this choice, I seem to have stopped in my tracks. The thought of starting over is no longer exciting to me. It is actually scary.
I am grateful that I have always had the freedom to choose telling myself it was because there was always a net. Now I am the net. And I. Am. Stuck.
Never had the thought "what if I fail" been in my brain. Until now.
And how do you get out of that? How do you MAKE yourself choose when you are uncertain of where that choice will lead?
What if it isn't a "how"?
What if, by asking questions, you can come to an awareness that will then lead you where you would like to go?
What if there are no right or wrong choices?
What if possibilities are right on the other side of choice?
What if you could simply keep on choosing one choice at a time?
What if choosing is actually what makes your next stepping stone become clear?
What if you trusted you, trusted your ask, and trusted the universe?
What if fear is actually excitement?
What if it isn't a "how"?
To be continued...
Maybe;)
About the Creator
Musings and imaginings from the brain of a fifty something year old Gemini who sold everything and moved to Los Angeles in 2018.
I am no professional, I write because it brings me joy, release, and peace.
Reader insights
Be the first to share your insights about this piece.
Add your insights