Speed Dating
A short story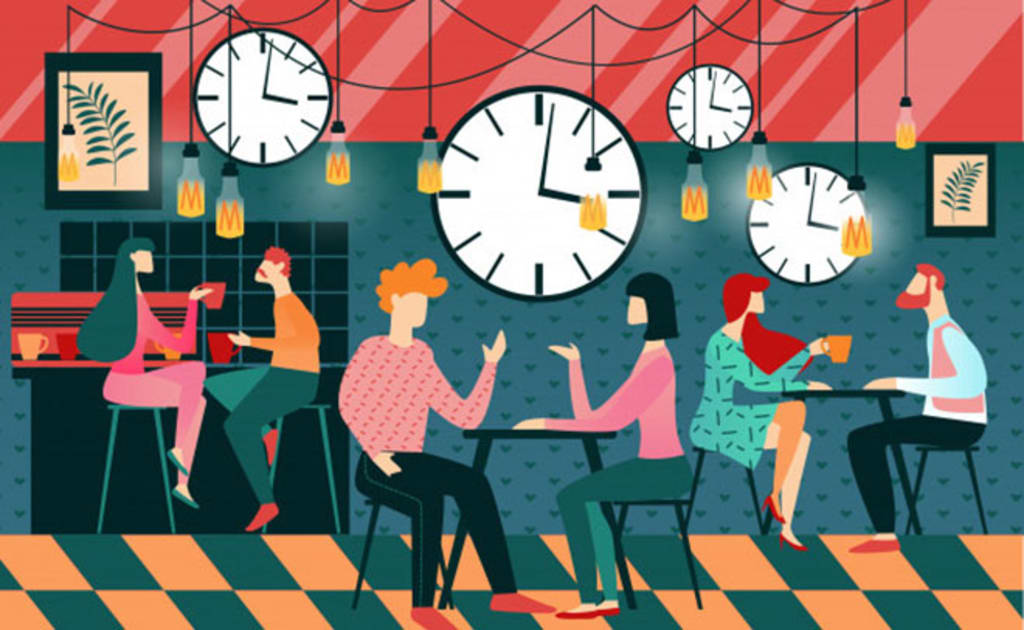 Speed Dating
ΙΝ / BAR / NIGHT
A bar in the city centre, from the window we can see a full night with people talking to each other. All the tables are empty and everyone is standing. Two friends are standing near the bar, and they are both looking at the crowd. At one point a bell rings and they say to each other.
FRIEND
-Good luck Paul.
Paul watches his friend walk away, then walks a little and looks at the tables. He crosses his arms and continues to look at the space. A girl is sitting at a corner table. He is sitting across from her.
PAUL
- Paul, nice to meet you.
GIRL
-Me too, I am Danae
Danae says hi to a girl that was sitting at a table further away. Then she looks again at Paul. Paul smiles at her, but at the same time, he shakes his legs anxiously under the table. Slowly Paul lowers his hand and tries to hold his foot. A small silence follows.
PAUL
-It's really weird that at times like this I cannot say anything. It's not your fault.
DANAE
-Hey, it is alright, you can just ask me what I do, who I am etc.
PAUL
-You know… I'm really interested in learning some things about you but not the clichés, Well I am interested in that too, but people and people will follow, you and I will repeat the same clichés and I will forget your cliches and you are going to forget mine… we will just be names easily forgotten, or even phone numbers an a list.
DANAE
-So... you come to speed dating, to talk to me about how much you do not like speed dating… maybe that's a cliché too (she looks at him and smiles).
PAUL
-Is it better to write down yes or no on a list, for a person you do not even know? (Ironic style)
DANAE
-Well, and I remind you that you also came here for the reason.
PAUL
-Yes I have, but I can get up and leave... I just hope not alone...
Danae has started nervously tapping her foot on the floor while Paul's remains now motionless. She looks at him like she is waiting for an answer to a question that has not even been asked.
PAUL
-With someone who would like to leave.
They are looking at each other, none of them speaks. Paul finishes his drink and looks at the bar.
DANAE
-Are you leaving?
PAUL
-Yes… (smiles at her)
Are you joining me?
Both of their legs are now shaking nervously.
DANAE
-Yes.
Both of them are now smiling and looking at each other, their legs are not shaking anymore.
A bell can be heard from the bar. The voices of people start to decrease and everyone seems to be waiting for something. Only a few are still looking in the eyes of their previous speed dating "partners". Waiting for the new ones.
Paul and Danae are some of these few. Still looking into each other's eyes. Not saying anything just smiling a bit. Now, everyone has started moving tables, they are the only ones that stay still, looking around them like they are doing something that were not supposed to. Someone approaches the table and tries to speak with Danae. I think we are...
Danae
- I am leaving
She replies, interrupting him.
- I am leaving with him.
She turns and sees that Paul has moved. She cannot see him at any other table. She freezes. Moving her eyes between tables to find him. Then she looks at the guy who approached her earlier. He was looking a bit angry and confused. She opens her mouth to say something, but nothing comes out. She looks down and notices that her leg has started moving nervously again. This time it was only hers. She decides to leave, she starts walking towards the entrance and sees him. Paul was standing at the entrance waiting and trying to signal her that he is there. Suddenly she smiles and looks at him. Paul is confused but still smiles back, while she is approaching him with her coat in her hands.
END
Sergios Saropoulos
About the Creator
With a small backpack and without a plan,I have been living all around Europe.For my Philosophical studies,for work and mostly fun, I have been living the chapters of my life,in Thessaloniki, Dublin,Sheffield,Copenhagen,Helsinki and London.
Reader insights
Be the first to share your insights about this piece.
Add your insights