Snowy afternoon
Hidden pleasure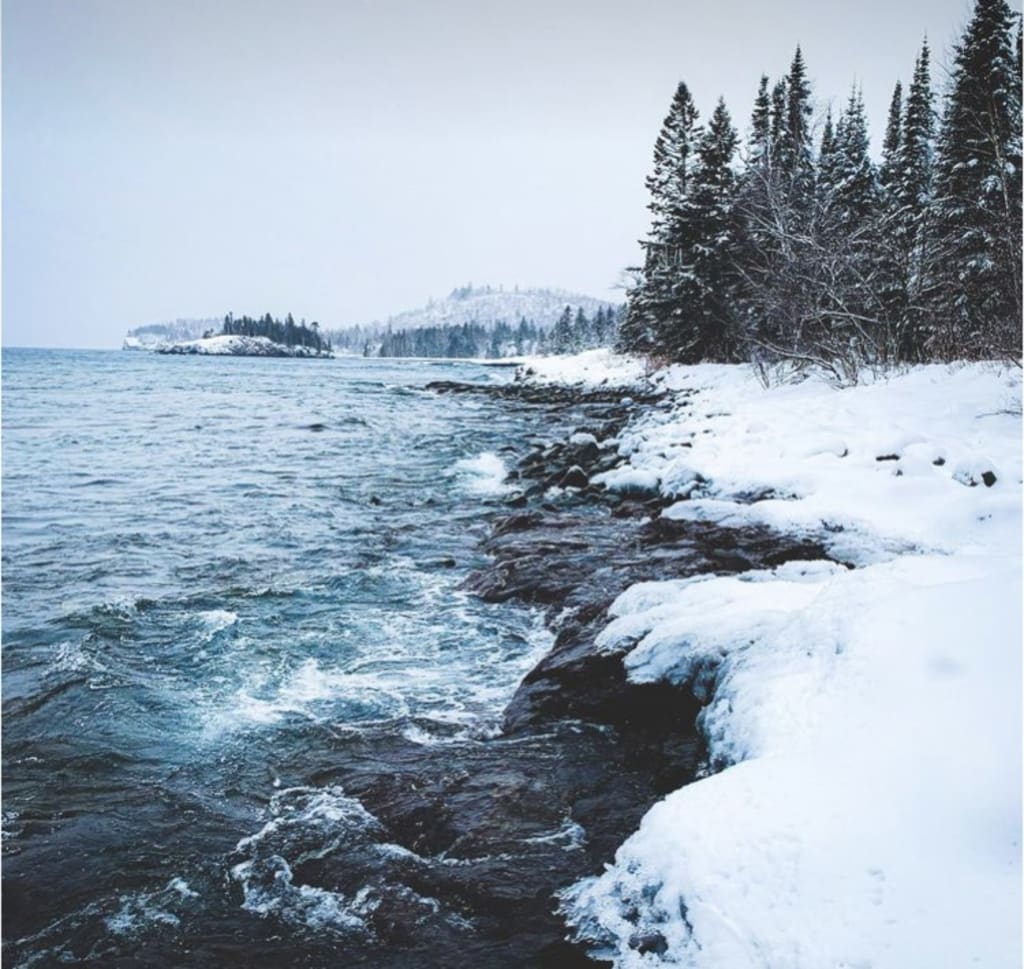 The landscape seems wrapped in white smoke and scarcely anything could be seen from the falling snow. The whole mountain had unrolled into a winter slendor with the lake now churning from the blowing wind. There was a boat on the horizon. She was sure it belonged to her neighbor who lived not far from her. He loved to fish even in this kind of weather. The little silent snow flakes came swiftly down. She put her hand out and let them rest on it. The snow blew inside her collar. She was glad when she got to her gift shop. She unlocked the dodoor snd went inside.
She began right away taking care of the shipments. Opening boxes and arranging things in the shelves. Before she knew it the morning was gone.
She looked out the window and the snow was still falling but not as much. Weather in the mountain was always so unpredictable . Suddenly she grabbed her coat and went outside with a shovel. The snow had piled up around the shop's door. She took a deep breath of the cool crisp air and smiled from the pleasant heavy smell of pine.
A car drove up in front of the shop She stopped shoving the snow and saw though the car window that it was her neighbor Tom. He got out out of the parked car and shouted at her.
What are you doing?
I'm making it easier for my customers to get into my shop. She quickly replied.
He shook his head and with a mucho man attitude took the shovel away from her.
This is man's job!! Then she suddenly felt like a kid again and tackled him. The movement had shifted their point of balance Beforeeither of them could adjust, they toppling sideways into the soft freshly fallen snow. As they fell, as she fell she grabbed his car coat and briught him down on top of her. He laughed and She laughed also, but her laughter was silenced when his mouth found hers, and to her surprise she returned his kiss.
She opened her eyes and suddenly realized what she had done and with her gloved hands into the snow she pushed herself away from him and stood up. She dusted the snow from her jacket.What had had just happed? She thought to herself. Her neighbor was the one person in this quiet mountain town that she could call her friend. She had inherited a cabin and this Gift Shop from her late aunt. She Left the city and not knowing anyone moved here in this remote place and he like a super hero had come to her rescue. With him owning a shop next to hers, he was the first to introduce himself to her. She soon found out as they got to know each other that he had been like a son to her late aunt. Graciously he took her under his wings and made sure she met the right people who lived here and became someone she could rely on to always be there if she ever needed anything. He was a friend — at least until now.
He got up and they were both hawere both had a surprised look in their eyes.
I will go make us some coffee, she said.
Yes, he replied as he was getting up from the ground. Yes-
I'll finish up here.
He began to shovel the snow. As She walked to the shop's door turned her head around to see him watching her. She forced a smile and he smiled back and there eyes locked. She saw something - something different in his eyes.
Something that told her in her heart that they would never be just friends again.
When he finished clearing the entrance to the shop he stopped to shake off the snow from his boots and clothings and went inside. She heard the bell over the door ring and looked up. She was talking on the phone. He could hear it was something about a scould hear it was something about a shipment being late. The sight of her suddenly filled him with pleasure that he had never felt before. She motioned with her hand for him to sat down at the booth where she had steaming coffee ready. With the phone in one hand and still talking into it, she poured him some steaming hot coffee in one of the mugs on the counter. Putting the coffee down,
she turned and went into the back room still on the phone to check for something. He took a sip of his coffee then got up and followed her. She turned to find him standing in the doorway in her small office. . She was not prepared for the overwhelming feeling of intimacy from being alone with him in a small space was creating. Not had he foreseen how provocative he found her standing there.
Hey. Why don't you lock up and come over my place for dinner? I just catch a really big fish when I went fishing this morning on my boat. Would love to put it on the grill and share it with you.
No one going be shopping today, he said. I just heard on the weather that another storm is on it's way.
She turned and looked at him and saw that same something she saw before in his eyes— that same something, this time slowly brought a sweet smile to her face, and to her surprise she said - okay!
There stared in silence for a few seconds at each other as mutual feeling brought smiles to their faces.