Sixteen Things I am Sure Of
My Reply to a Challenge Set by Judey Kalchik
One of Vocal's and Medium's finest writers, Judey Kalchik, wrote a piece citing 16 things she was sure of. She then challenged other writers to do the same. My reply to the challenge follows.
**********
1. If (when) this old house I live in has a plumbing problem that causes a partial or complete water shut-down, it will be on a weekend, a Holiday, or a combination of the two (confirmed by past experience). No plumber will be available without selling a kidney or some other drastic measure to pay extra to get one to come.
2. I'm sure that it is going to be challenging to think of 16 things I am sure of. The older I get, the less sure I am of almost anything.
3. I have morphed from a person who occasionally drank a cup of coffee, few and far between, to one who is almost dysfunctional without my morning coffee (for the record, I don't like it black, so I flavor it according to my preference…no guilt and no apologies).
4. Growing old has some advantages (yes, it does, at least so far), but the disadvantages are real show-stoppers. Admittedly, I realize that the proper amount of well-chosen exercise could alleviate some of the aches and pains that arthritis loves to gift many seniors; but the discipline to maintain a healthy exercise program is something I am just beginning to work on (meaning thinking about it occasionally).
5.Books are one of life's greatest treasures. There is no such thing as "too many books". There is, decidedly, such a thing as too little book shelf space. My house has a chronic case of that. Do I intend to get rid of any books? A resounding "no" would fit in here. Do I intend to buy, ask for, trade for, or accept as gifts any number of books in the future. A definite "yes" goes here.
6. I am much happier when reading, writing, sitting idly by thinking about reading or writing, or any combination of these with a good cup of coffee than while cleaning up this old house or trying (again) to get all my books better organized.
7. Living in the house I first moved into with my parents and three brothers in 1959 has its advantages and drawbacks. One advantage is the location of said house in a geographical region where there are consistently changing seasons, sometimes more pronounced than others, but with a chance for snow in the winter and good swimming weather for at least four or five months of the year.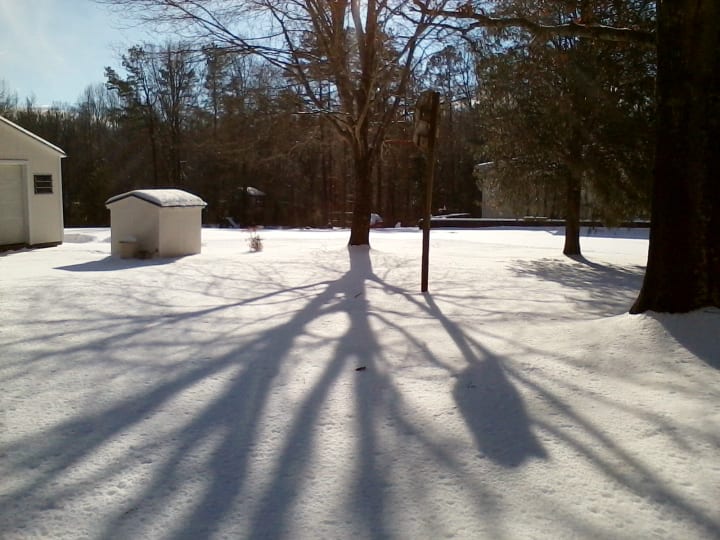 8. I am sure that 8 is one half of 16, so I am half way through my goal for this article. Yeah, Me!
9.I really like helium balloons. They have so much potential. If you buy one in a department store or at an amusement park and delight your special child with the gift of one, they have the potential to slip out of one's hand and go floating up to the very high store ceiling or the immense sky ceiling in spite of loud protests from all involved. Has that ever happened to you?
I have been known to celebrate New Years by buying a helium balloon, writing some of my fears and worries on a piece of paper which I either tape onto the balloon or tie onto the ribbon and releasing it on purpose, letting those negative things go from my mind and heart as the balloon wafts upwards. I think I will do that again as 2022 slips away, hoping for better things in 2023.
10.Have you ever typed a document or created a wonderful fictional story in your computer's office program and failed to hit "Save" occasionally as you typed? If so, did your computer ever run out of power or have an internet outage and zap your beautiful creation, much to your chagrin? I'm sure I have. Afterwards, that did not happen again for a very long time!
11.I do not like washing dishes. I like it better with an operating dishwasher than without one…I have done it both ways. Whether washing them by hand using two rather large basins or cleaning, prepping and placing them in the automatic dishwasher, I am certain it is not an activity I really enjoy.
However, one thing I like even less is having dirty dishes that need washing and NOT BEING ABLE to wash them because of a plumbing problem. I am double sure I do not like the adjustments that have to be made when I literally cannot wash the dishes. Paper plates and cups, plastic spoons, eating more things that are low on mess-making potential. Okay. I have got that out of my system for now!
12.If you peruse my social media profiles, you will see that I am a fan of kindness. There is so much pain and deprivation in the world, I am certain that one of the best things we can do for each other is to simply be kind, compassionate, and empathetic to others. Of that, I am sure.
By showing kindness and empathy, we can make a difference in many lives and make the world a better place!
13.Children are a gift that should never be taken for granted. I love the wonder and excitement of little children seeing things for the first time and remembering when I had such experiences as a child.
I am sure that we, as adults, need to do all we can to make their world the best it can be on a private and universal level. And from the deepest depths of my being, I know we owe it to the children to protect them and keep them safe at school, at home, in the community, and everywhere they go. I have no doubt about this.
14.Homelessness is an ugly blight on our society. I am sure it makes me feel angry and frustrated when I hear people say that homeless people are living on the streets because they choose to.
Thinking that every homeless person is lazy and unmotivated is a dangerous presumption. Many homeless people may have mental health issues, substance abuse conditions, or limited job skills. The same could be said of many people who are not homeless.
Some have had catastrophic tragedies and lost family members in auto accidents or other ways. Some have lost jobs they have worked faithfully for decades because a large company or corporation decided to cut payroll and they could no longer pay their rent or house payment. Some are veterans. Having served time fighting for our freedom, they come home to find they are not valued enough to help them have a roof over their heads.
I believe there are as many reasons for people being homeless as there are homeless people. I'm sure I would support using tax revenue to build some homeless shelters where homeless people could stay temporarily while they learn new skills and find employment and a place to live.
Alternate Facts???
15.I have a problem with the concept of 'alternate facts'. Asking people to base life-altering decisions on the above is asking them to decide based on delusions.
Alternate facts are the product of changing the rules of the game because you can't win when going by the rules. A four-year-old playing Candy Land may want to change the rules, crying "unfair" when they have to go back 10 spaces on the playing board.
But if they are allowed to change the rules of this game, they may one day be an adult who refuses to play by the rules of society and causes indescribable pain and frustration to others.
16.I have enjoyed this challenge set by Judey Kalchik. Since joining Vocal and Medium, I have followed Judey's work and I'm sure she is a great asset to both writing forums. Thank you, Judey! Keep up the good work!
About the Creator
I believe in the magic of words, love, and tenacity. There is a world out there that needs to be explored, researched, and written out to try to make some sense of it, and to make a better place for the children of tomorrow.
Reader insights
Outstanding
Excellent work. Looking forward to reading more!
Top insights
Easy to read and follow

Well-structured & engaging content

Excellent storytelling

Original narrative & well developed characters
Add your insights