Selfless vs. Selfish
by: Nerissha Hunt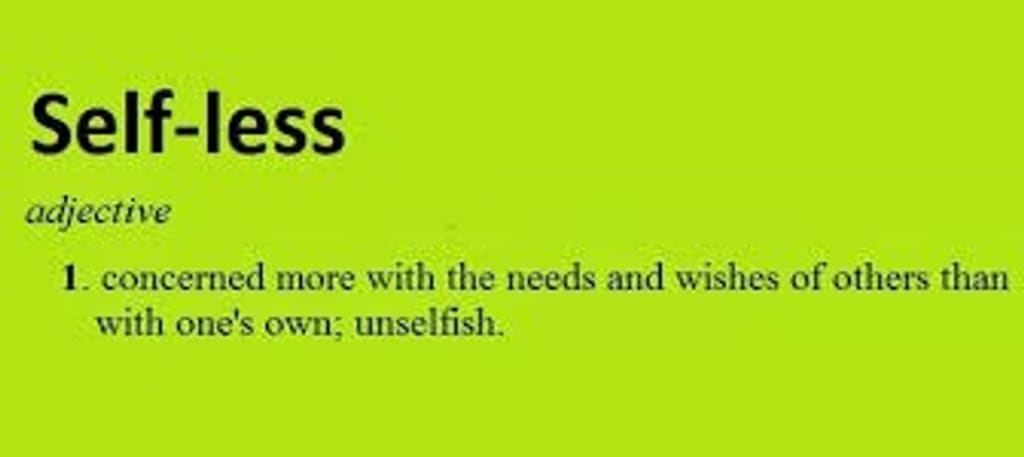 The world has become a money-racket. What happened to brotherly and sisterly love? I'll tell you. It went out the window. Some people only do something because they expect something in return. They don't tell you that until after they have done what you asked them to do. It's sad that everything has become about money.
People used to do things for each other without a second thought. But now, it's a "I know he/she will do this or this for me if I do it, so I'll go ahead and do it." Selflessness has turned into selfishness. Everything isn't always about money. When I hear somebody say, well did you get paid for that or are they paying you to do that, it works my nerve.
Money is a necessity for us to live. To buy the things we need, pay our bills and there's nothing wrong with a little extra spending. But people have let money go to their heads and it's quite sad. Money shouldn't define a person. A dollar sign is a symbol, not social status. But people don't see it that way.
"I'm not doing it if I ain't getting paid." Well, okay, let's think for a minute. Is that what you tell your boss on the job when he/she asks you to do something? You get paid on a job, right? Some people don't even want to do certain jobs because they feel that they are above what they are being asked to do. Well, news flash, they don't call it a job for a reason. Nothing should be beneath you. Why? Because you just said, "I'm not doing it if I ain't getting paid." Don't contradict yourself.
We need to think about this "I aint doing it if ain't getting paid." There was once a time in our lives where the person we asked for a favor may have felt the same way. They may do it out of the kindness of their heart, which is rare, but I would say 85% of the time, the way that you feel now with this mindset, is how that person may have felt towards you back then. Some people will just flat out tell you.
There was a time when you could ask someone for something and not hear a word about it. But now, if you ask someone for something, they tell everybody they know that you asked for a favor. They tell people what you asked them for, especially when it's money.
Now, we are gonna get into selflessness. People used to put themselves first instead of others. That has gone down the drain. People have become so selfish and jealous, that they refuse to do anything for anyone else. There are some people who are fine, as long as you are always doing something for them. But the minute they find out you have helped someone else, its World War 4.
I am a selfless person. I believe in putting others first. Being selfish just isn't in my nature. There are some people who are out for themselves, seeing what they can get but could care less about someone else needing something.
But anyway, like I said, the "I aint doing it unless I'm getting paid." mindset is something people need to get rid of. Everything in life is not about money. What if our parents would have said "I aint doing it unless I'm getting paid?" Most of us wouldn't be who we are today but our childhood was the job they worked, never complained about, and didn't put in a resignation.
About the Creator
Writing is not a talent; it's a gift. My stories are transparent. Not fact, not fiction. They are in a category to themselves.
You never know what to expect.
Reader insights
Be the first to share your insights about this piece.
Add your insights