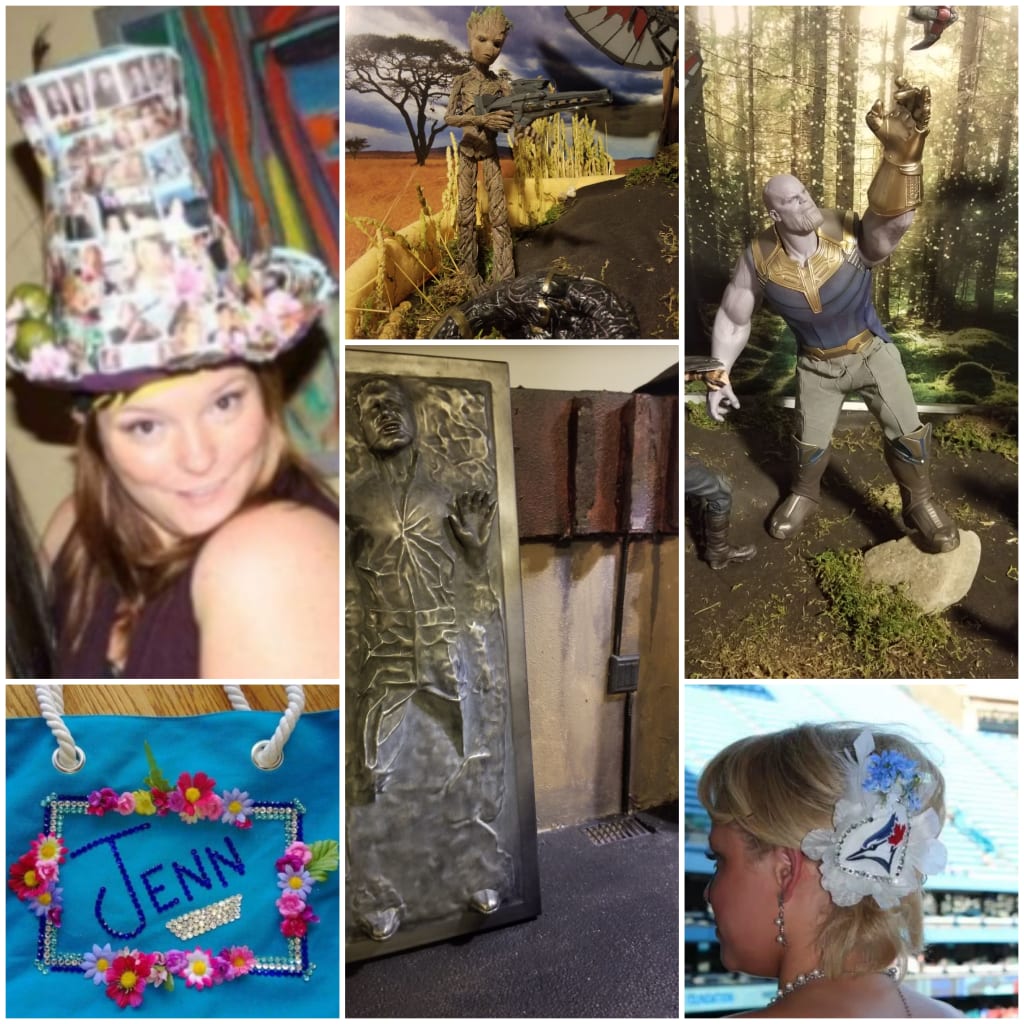 I've always been envious of artists. Real artists. Those who excel at a set medium and seem to create form, and blend colour with ease. A crafty person, but not "artistic" in any classic sense, I used to wish I could make something worthy of display. Instead, hot glue guns and sharp paper cutters have always drawn my fancy. I remember making dioramas in grade school. That was my medium. Tiny details coming together to create a scene. The 'Anne of Green Gables' farmhouse I made in honour of L.M. Mongomery's work was complete with tiny, layered shingles on a tiny roof, which dyed my fingertips green for days.
I come from an engineering family. We thought the genetics must have skipped me, as I have big trouble with numbers. Mathematics is generally beyond me. I dropped university because of the statistics requirement for a psychology degree. So why, then, should making objects to scale be something I can do? Perhaps measuring would alter my ability to create? I've always been able to successfully eyeball it and MacGyver together presentable crafts. From the engineers, I learned respect for tools at a young age. My mom made sure I knew the difference between the sewing scissors and the ones I could use for crafting and cutting paper - the ones with the orange handle. When I put together my first crafting bin those scissors were on the top.
As I grew out of the age where the diorama is an accepted medium of expression, I lost my crafty ways. Certain projects along my path have reminded me of the excitement of creating and given me the one-of-a-kind feeling of pride that showing off a project nearly always does. Crafting, at least in my case, usually involves some form of blood, sweat, tears, or hot-glue-scalded flesh. For a destination wedding, I made bespoke beach bags for each person in the wedding party. That year, I found out the glue people have been busy since my childhood crafting days. There are so many more options out there now. Fabric glue allowed me to adhere feathers and sparkles to each name after I transferred it on to the fabric. The bags turned out to be a hit with everyone and rekindled my love of crafting. Especially when it's a meaningful gift I give like a custom head piece for a bride getting married at a major league baseball game.
Since then, with renewed enthusiasm, I have been happy to craft diaper cakes for the moms of new arrivals, sock puppets for camping trips, painting plant pots to better match my decor and even trying a paper mâché hat decaled with photos of my best friend for her 'Crazy Hat' themed birthday party. When we ran out of tape in the house and my seven-year-old needed to finish his school project, I smiled and said, 'We got this.' Now, hot glue is his go-to adhesive as well. Still, in the world of crafts, nothing had yet given the sense of satisfaction I got from making those grade school dioramas.
In February 2020, I went on a first date with the man who turned out to be my person. Funny and smart he gave off a very 'cool nerd' vibe. He, wisely, did not disclose his hobby of collecting model figures from all his favorite sci-fi movies until, quite frankly, I was into him enough to roll with it. Before I first saw the collection, I was nervous I was going to walk into a scene straight out of '40 Year old Virgin'. It was not what I expected. His collection was all about the presentation. He had taken the time to set up little 1/6th inch scenes; Steve Rogers and Tony Stark in civilian clothes sat down at a table for a discussion while Captain America and Iron man pose in their full gear behind them, Princess Leia stooped down to program R2D2 with her desperate message, Gandalf smoking his pipe while hobbits make a meal and Gollum lingers nearby. By posing the collection he had infused it with creative whimsy, and in doing so drew me into his passion.
When blending households, we divided up the rooms so we each got some house of our own. I got a room to use for my private practice and he got his "nerd cave" in the basement. Now, with room to spread out, the collection has grown and changed. The day that his Thanos figure arrived, he realized he could now recreate the battle of Wakanda. He had a foamboard printed with a forest scene and asked me if I could figure out how to build it out on the sides and bottom. Since it sounded so much like building a diorama, I was in.
Crafting bin, trusty scissors and glue gun at the ready, I cut brown felt for the ground. I used some smooth rocks and stones to help anchor it down, I texturized the ground using some plastic bags stuffed under the felt then went on gluing hay and moss around the rocks. I asked if he wanted some flowers or ferns and he let me use my creative license. The end-product looked amazing. None of the figures are set into the diorama, allowing for scene changes. The chaotic moment of battle, before the snap takes place, or the quiet moment between the Scarlett Witch and Vision both fit. As a bonus, he got to watch the movies with me if only to point out details for screen accuracy.
Since I nailed the first one, I've been put to task. "Babe, I need a wall, like the one Jabba has in his palace. We need a place to lean Han – the one frozen in carbonite." he'll say, showing me the scenes. I could make that control box on the wall out of cardboard and fit it with bendy straws to look like the pipes, I think, employing what I did inherit of the engineers' mind.
Finding my person has brought me many great joys and much happiness, but my favourite is the creativity he has infused back into my life: a chance to show off a skill I thought I had to leave behind in grade school and with contagious enthusiasm. I can see him figuring out our next project even as the paint still dries on the palace wall. Now our evenings are filled with crafts and creations. Now when I have an idea, he is there to hand me the scissors when I need them. "...the ones with the orange handle, love."