Renaissance Festival War Stories 2021. The Lost Scrolls of Nestor and Tinka
How the Cruel Alchemist and the Evil Deer became best friends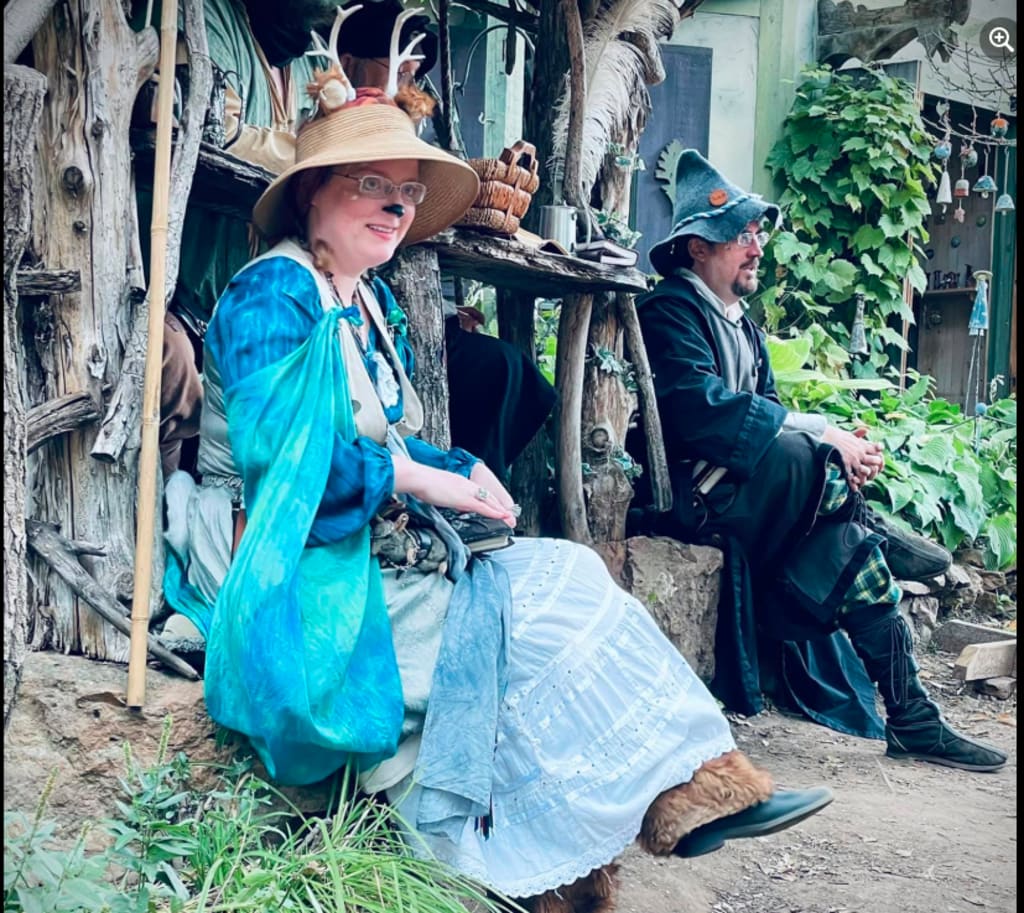 Photo by Barry Ortazela
The quest for friendship isn't immediate, it takes time. You don't always know you're on it. But sometimes, you know it's going to happen in a moment.
It was at the pre-season all cast meeting. I had met Nestor the season before in 2019 when he sat in booth auditioning. It is also highly likely we've spoken and crossed paths in the last decade since we've both attended and I've bought stuff from the shop he worked in. There's lots of chit-chat with our team and others we haven't seen in over 680 days. (Who has two thumbs and has been counting? This lady).
Nestor and I go to stand in line to get lunch: free pizza. "Free food" might as well be a mating call to Renaissance Festival actors. We're standing in line talking about ideas about our characters and possible street bits. We observe tattooed symbols on the lower leg of someone in front of us in line. We ask them what they mean, and they tell us that they're the ingredients for invisibility. Nestor and I both, "Oh," for a long breath, at the same time, for a long time, and at the same pitch. The three of us talk back and forth about the tattoo and the fascination of magic, tattoos, and geek culture that inspired it.
It was that "Oh." We weren't just riddlers or colleagues anymore. That was the moment a friendship was born.
...
Sometimes a laugh is just a laugh, and sometimes you break character to the point you are absolutely broken, in a good way.
It's getting late in the season. Nestor and I have formed a bond that is pretty darn tight. We have shared jokes and bits we do together now; including jokes that exist outside the show. There is one joke that involves being 'meta,' or simply stating what you are doing as you are doing it. "I am walking in mud. I am a deer. I care not about mud. I was born in mud." Is one I've done since last season. One night after cannon, Nestor showed me a video of this very thing.
We are both on stage outside of the booth late in the day; tired, but in fantastic moods. Nestor decides to reference that very video, being meta and says, "Riddle, riddle, riddle, riddle." And I laugh hard. So hard that I double over, can barely catch my breath, squeal, snort, and can't continue. When I finally catch myself. Nestor says, "Laugh, laugh, laugh, laugh, laugh." And then I laugh so hard...I pee a little.
I step over to Nestor and laugh-whisper in his ear, "Fuck you," and call him by his real name, still trying to control my laughter.
Fuck you Nestor. Fuck you indeed from the very depths of my weakened bladder.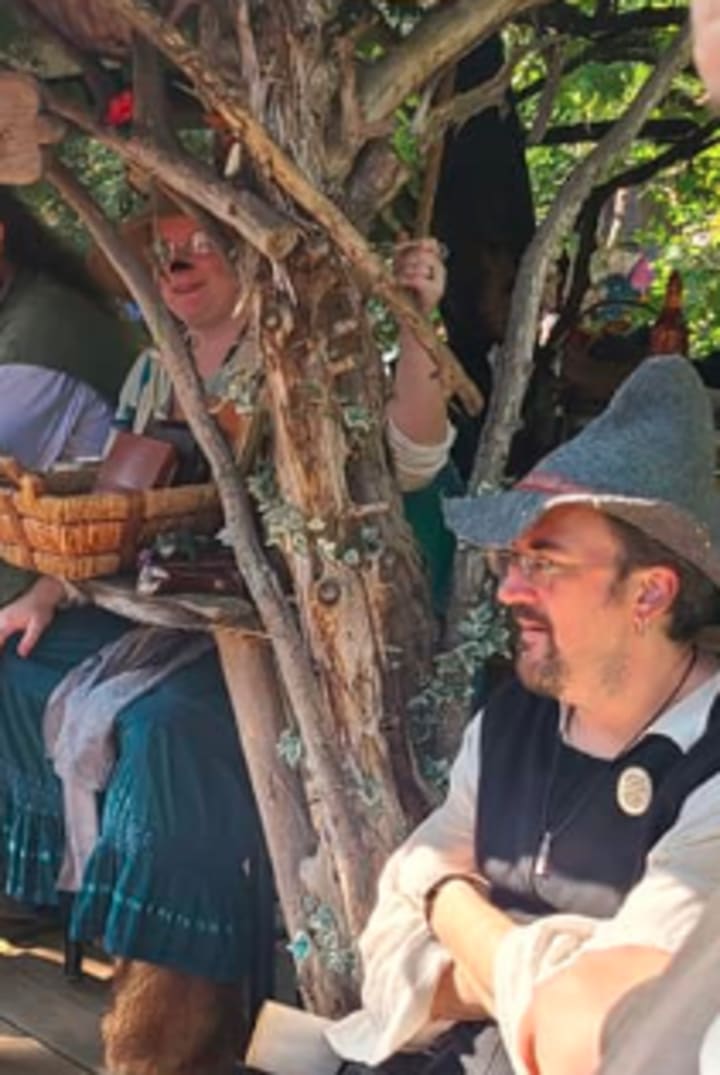 ...
Nestor and I have been married to our respective spouses for 15 years each. But we are 'Fest Widows.' Our spouses do not work or play at the Festival. When Nestor's wife did make an appearance, it was epic
Saturday morning, the morning I gave Nestor and Rachel a ride to the festival, She tells us that she loaned some pieces and made some suggestions to Nestor's wife on her costume when she was making an appearance at fest that day. Nestor got so excited, "Don't tell me! I want the wedding day moment!"
I believe my reaction was "Ow my heart. Fuck, that's adorable."
The day goes on and it's early afternoon. I ask Nestor if he's heard anything from his wife yet, as in, shouldn't she have been here by now? He says no, he hasn't recently. Traffic getting on to the grounds is bad. We've heard about guests being late that day from our fellow riddlers who were performing a wedding, completely missing the ceremony.
Nestor goes to take a privy break. During that time a woman approaches holding a tray of baked goods and waves me over. It takes more than a moment for me to remember from pictures and to realize, having never met her before, this is Nestor's wife. She looks lovely in garb, and even more inviting carrying a tray of banana bread. Several weeks earlier, I told her over the phone her brownies tried to get me pregnant; they were that good. She and I talk for a couple minutes. I set the bread down. She has her back to the crowds and I can see Nestor approach behind her. I tell her not to turn, he has no idea she's the one I'm talking to.
He steps up and they see each other. Nestor got his moment. His wife is beaming. He got his wedding dress moment with his wife, I could see it on his face. In that moment, hundreds of people and sounds disappeared, the world fell away, nothing else mattered, and it was just the two of them.
And I'm thinking: Ow my heart. Fuck, that's adorable.
Additionally, what do best friends do besides wingman for each other? I think of the exact opportunity to do this for Nestor. The team performs the riddle where the answer is 'lips.' It is not an easy riddle, we usually have to give out several clues. One of the clues is the perfect set up for Nestor to kiss his wife, and kiss her he did! When he had the chance, he looked to me and silently said 'Thank you' with a big smile on his face.
...
Nestor and I are both long time fest people. I was a patron, volunteer, and a riddler only one season longer than him. Nestor was a hawker for a shop. We know lots of the same people, shows, and jokes. And even if we are tired, the jokes never get tired.
After cannon one night, Nestor and I decide to get ice cream. It was a hot day and a long weekend. I am still in full deer make up and we are both in costume. Going out in public in renaissance festival garb is not something either of us are embarrassed by. We go into Cold Stone Creamery and we see the eyes on us: the staff and the customers. We know the look. We aren't bothered. We secretly revel in their confusion and perhaps minor judgement. We make our decisions and place our orders. Nestor pulls out a wad of one dollar bills to pay. (I bought coffee the morning before.) The conversation goes as following...
Nestor: I hope you don't mind it's all in ones.
Cashier: It's good actually. We needed ones.
Tinka: We're strippers.
Without missing a beat, and quoting Johnny Phoenix, a performer he's helped out and I've seen many times and we both have the pleasure of calling a friend... Nestor: If we were any good, we'd have fives.
We chuckle, including the cashier.
Tinka: You don't want to see what we have to do for twenties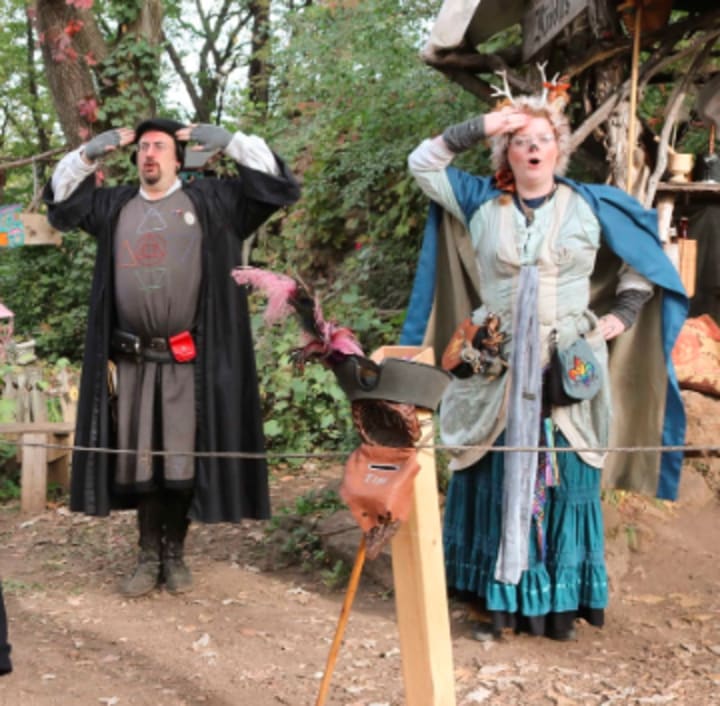 ...
By now Nestor is my brother. I can't tell you how excited I was to meet my new Mom and Dad.
Closing Friday, I am outside the front gates. There is loud 'wedding music' being played and it got my curiosity. It turned out there is a window promoter out front blasting music. I am into it! I am out 30 feet in front of the gates or so, offering information and the schedule to anyone who wants it. Window guy in a purple, black, and white suit sees me dancing to the music and reminds me how to 'Wobble.' I got my clipboard in one hand and a mug full of water in the other and it's spilling everywhere. I do not care.
The next song he has cued up to play is the 'Cha Cha Slide.' I love this one from all the way back in high school. I am into it. More patrons join us. I hear my friend Cora laughing. She is a much better dancer than me, but since she is assigned to the gate for tickets, she can't join us. It is during this song, I spot Nestor's wife near a bench also enjoying the music. Sitting on the bench, fitting his description, are Nestor's parents. I wait until the song is over, and I run down the little hill and say hi to her. Nestor's parents stand. It surprises me how much taller he is than them. Nestor's wife tells them who I am. The first thing I say to them, with a big cheeky grin on my face, "Hi Dad. Hi Mom."
Dad looks at me and says, "You're just like him?" (Nestor. Dad even refers to Nestor by his nickname and not his birth name, which is also adorable.)
I nod goofy and say, "Uh-huh."
Dad puts up his hand, turns and says, "I'm out."
We talk a couple more minutes. When I later Nestor how his Dad reacted to their new son, me. Nestor said, "Yeah, that's on brand for Dad."
I didn't expect to be the new favorite son.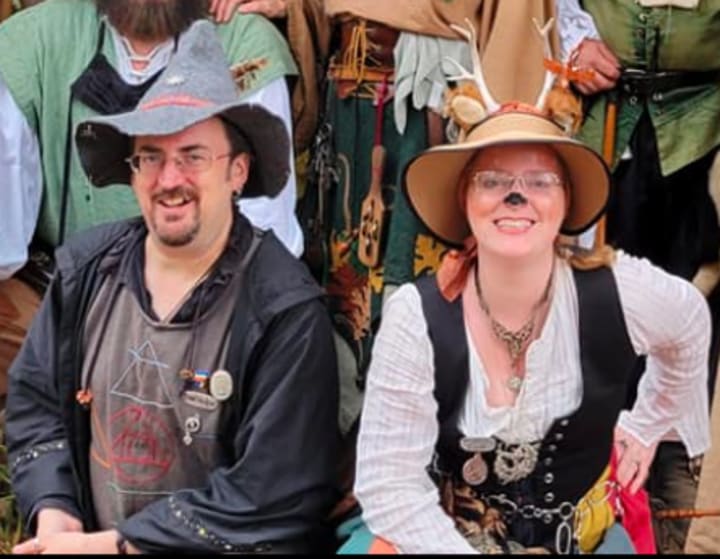 ...
Final cannon goes off on the last day. The show is over. Time to pack up the stage. I'm not sad...yet.
We finish our work and I pull out my wallet. I show Nestor the piece of paper that has the lyric sheet of the two songs the whole cast will be singing as a goodbye. I tell him how important it was to sing these songs with someone in 2019 who was there for me that season. And it's important to me that we be by each other's side for these songs.
When the time came, these songs don't leave a dry eye in the group. These are songs about goodbyes and that this group will probably never be the same group again, so we have this moment, and enjoy it. I sit between Nestor and Metastar as we all sing these songs. My book light shining on the lyric sheet that I keep with me always. I am weeping. And when the songs are done, Nestor and I hug for a moment.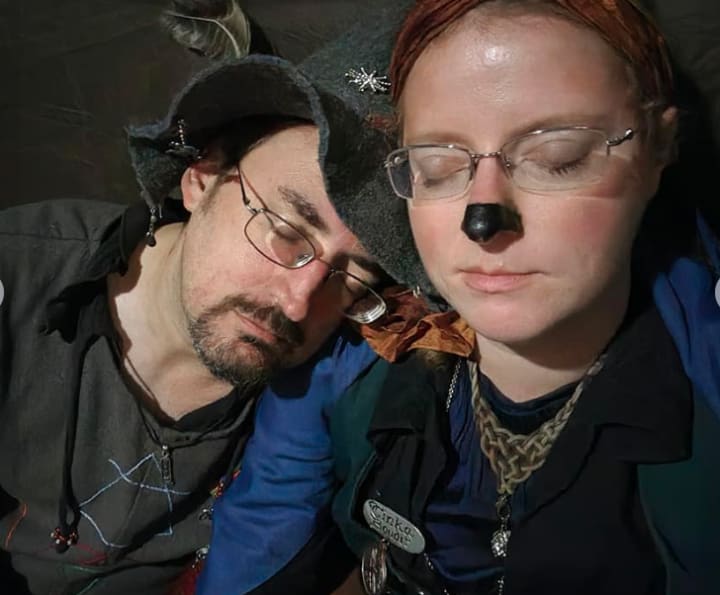 Two months ago, Nestor and I were Facebook friends. Seven weeks ago, we were riddlers. Five weeks ago were friends. Three weeks ago we were best friends. Two weeks ago, we became brothers.
Nestor, thank you for sharing your blocks with me. When we're the new guys, it can be hard, but not for us. Not for old men. Not for fest widows. Not for people who used to try so hard to be visible. We saw each other. We found our fest partners. We each found a brother. Thank you. -Tinka
For more War Stories on Tinka And Nestor: Weekend 7 2021, The Lost Scrolls 2021, The Poisoned Pen Scroll 2021