Queen Elizabeth II: 22 Interesting Facts You (Probably) Didn't Know
She volunteered as a truck driver during World War II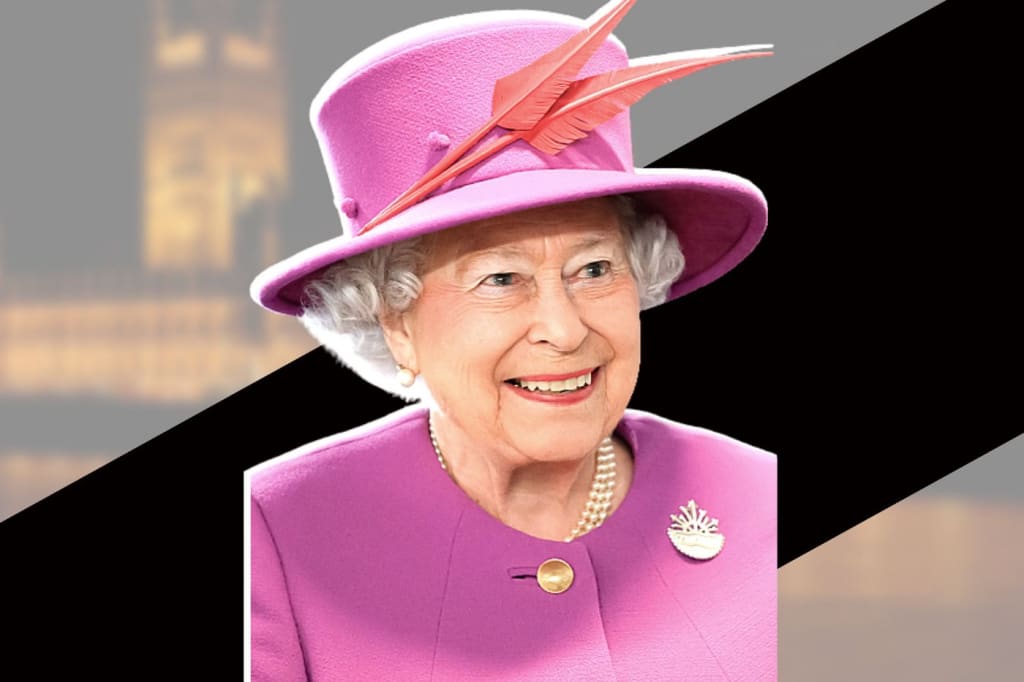 Queen Elizabeth II. Photo via Wikimedia Commons
The entire world is mourning as Queen Elizabeth II died peacefully on Thursday afternoon (September 8, 2022) at her Scottish estate.
She came to the throne in 1952 and, as you can imagine, was the longest-reigning British monarch of all. As head of state, she was most commonly addressed as "Your Majesty."
There are so many things about Queen Elizabeth II that you already know and many others that you probably don't know yet.
So, let's know some of those fascinating facts today!
---
1. Queen Elizabeth II celebrated two birthdays
Interesting, right?
Her actual birthday was on April 21st, but she also had a second "official" birthday which fell on the second Saturday in June.
Why two birthdays?
Well, Queen Elizabeth's birthday is a national holiday in the United Kingdom, so there was no way to celebrate it without disrupting traffic and commerce. The Queen's father, King George VI, solved this problem by declaring that his daughter's birthday would also be celebrated on a different day.
Actually, this tradition of celebrating two birthdays was introduced by King George II in 1748. He was born in November, but he witnessed that the weather wasn't good for public celebrations. So, he decided to have a second birthday at a better time of the year.
And the tradition continued.
---
2. She never had formal education
Don't worry!
Though the Queen never went to school, she was well-educated through homeschooling.
First, she was taught to read by her mother. Then she learned other things like writing, dancing, piano, and French from her governess, Marion Crawford. Moreover, her grandmother Queen Mary taught her royal etiquette.
As she grew older, she started learning from the greatest minds in England. She explored different topics, including constitutional history and law.
---
3. She volunteered as a truck driver during World War II
In 1939, when the Second World War began, her majesty was only 13 years old and was then known as Princess Elizabeth. During the war, her family refused to go to another country and remained in the UK.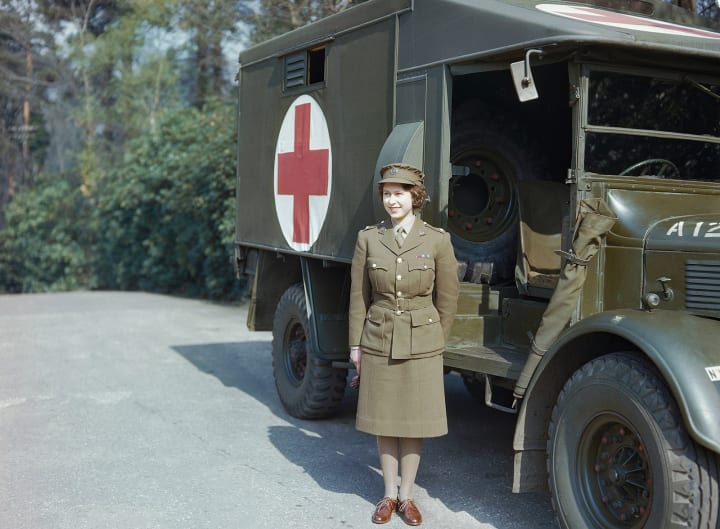 Hrh Princess Elizabeth in the Auxiliary Territorial Service, April 1945. Photo from Wikimedia CommonsWhen she turned 18 in 1944, she volunteered as a truck driver and mechanic in the Army.
Yes! It made her the first (and the only) female member of the Royal Family to serve in the military.
---
4. The Queen got married to her third-cousin
The late Prince Philip and Queen Elizabeth II knew each other from childhood and were cousins.
Prince Philip was a third cousin of Queen Elizabeth II, as both were the great-great-grandchildren of Queen Victoria.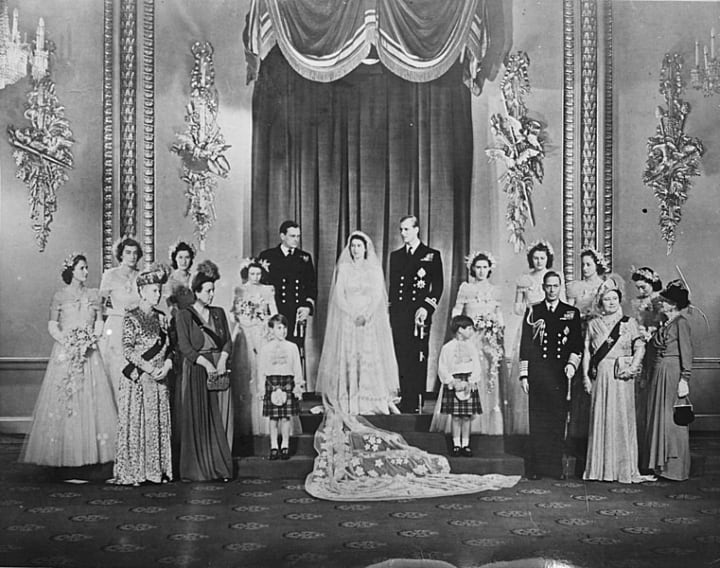 Elizabeth reportedly fell for the prince when she was only 13 and the two eventually married in November 1947.
---
5. She bought her wedding dress with WWII ration coupons
Am I kidding? Why on earth does a queen need to use ration coupons for her wedding dress?
But it's true.
"Due to the post-war austerity measures Princess Elizabeth had to use clothing ration coupons to show her entitlement to the dress. The government allowed her 200 extra ration coupons," according to British Heritage.
---
6. Her nicknames include "Lilibet" and "Cabbage."
Her father, King George VI, used to call her "Lilibet." She got this nickname when she was too young to pronounce her real name.
And what about "Cabbage"?
Well, her husband, Prince Philip, affectionately called her by this name.
Biographer and historian Robert Lacey confirmed this in 2006 by saying, "Yes, I've heard that is how he will sometimes refer to her."
---
7. She had no passport or driver's license
You've read it right.
There is a reason for that. According to the official website of the British royal family, Her Majesty doesn't need to possess a passport as all British passports are issued in her name.
The following is what you will see if you visit the website:
"As a British passport is issued in the name of Her Majesty, it is unnecessary for The Queen to possess one. All other members of the Royal Family, including The Duke of Edinburgh and The Prince of Wales, have passports."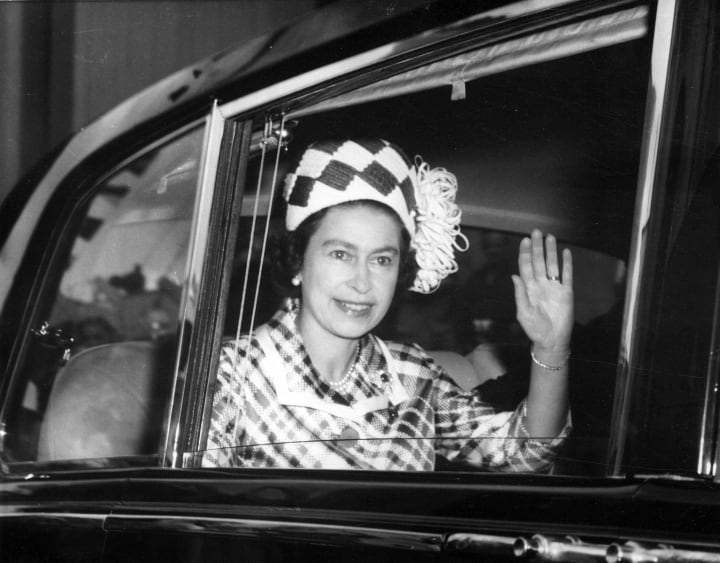 For the driving license, the case is exactly the same. She was the only person in the UK who didn't need a driving license to drive a car.
---
8. Queen Elizabeth II spoke fluent French
I've already mentioned that the Queen learned French as a small child from her governess, Marion Crawford.
That's why while visiting France, she would always speak the language. Moreover, she frequently used Frence during different royal engagements.
---
9. She made her first radio broadcast at the age of 14
It was the time of the Second World War.
In October 1940, as a 14-year-old, she first appeared on the radio on her own right.
On BBC's Children's Hour program, she broadcasted the following message to the evacuated youngsters around the world:
"I can truthfully say to you all that we children at home are full of cheerfulness and courage. We are trying to do all we can to help our gallant sailors, soldiers and airmen, and we are trying, too, to bear our own share of the danger and sadness of war."
---
10. She was the most-traveled monarch in history
Queen Elizabeth II was the most traveled monarch in history as she visited at least 117 countries on six continents.
She carried out a number of historic trips. For example, visiting China in 1986 as the first British monarch and traveling to the Republic of Ireland in 2011.
Her majesty considered traveling an integral part of her reign as she said:
"I set out on this journey in order to see as much as possible of the people and countries of the Commonwealth and Empire. I want to show that the Crown is not merely an abstract symbol of our unity, but a personal and living bond between you and me."
---
11. Her Majesty had her own airline
An elite Royal Air Force unit was established in 1936 by King Edward VIII, known as 'The King's Flight,' and used to transport members of the Roal Family by air.
It was renamed 'The Queen's Flight' when Queen Elizabeth II came to the throne in 1952. There were smart fixed-wing planes and helicopters embossed with the Royal Crown.
Besides carrying them from one place to another, the planes were used to train the members of the Royal family to fly.
However, The Queen's Flight was disbanded in 1995 as it was merged into №32 Squadron RAF to become Number 32 (The Royal) Squadron.
---
12. She had her own designer
Angela Kelly is known to everyone as the Queen's own designer. Just look at her formal title, and you'll understand her role from there.
Kelly's formal title is "Personal Advisor to Her Majesty (The Queen's Wardrobe)." She was in charge of the Queen's clothing and iconic style.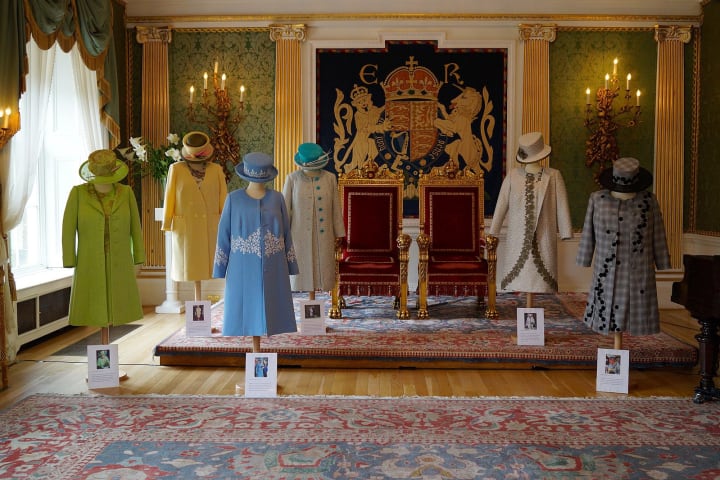 Kelly designed some of the most iconic clothes for the Queen, including the pale yellow ensemble worn by the Queen at Will and Kate's royal wedding back in 2011 and the mint green ensemble worn by her majesty at her historic Diamond Jubilee celebration in 2012.
---
13. She had her own private ATM
I wish I had one!
Though the Queen rarely needed cash, she had a private ATM in the basement of Buckingham Palace.
Well, not only the Queen but also the other members can use this free-of-charge ATM.
---
14. The Queen washed her own dishes
It's normal for us and certainly not for the Queen.
But to our surprise, the Queen washed her own dishes.
"I was once at a shooting lunch. At the end of lunch, I heard someone say, 'I'll do the washing-up'. I turned around and there was the Queen in her yellow washing-up gloves," royal expert and author Harry Mount told The Telegraph.
---
15. Her Majesty owned over 30 corgis
Queen Elizabeth II was a lover of corgis.
She had more than 30 corgis in her lifetime. Most of them were descended from her first corgi named Susan. She got Susan as a gift on her 18th birthday.
You will be surprised to know that she had as many as nine corgis at one point.
"Her Majesty the Queen is a fantastic dog trainer," Roger Mugford, the Queen's former Corgi trainer, explained. "When I visited her, she had nine dogs and they were incredibly well controlled, well managed, and obedient."
---
16. The Queen opened the Sydney Opera House
I know when you hear the name Australia, that's the thing that first comes to your mind.
Surprisingly, Queen Elizabeth II opened this iconic Australian opera house on 20 October 1973.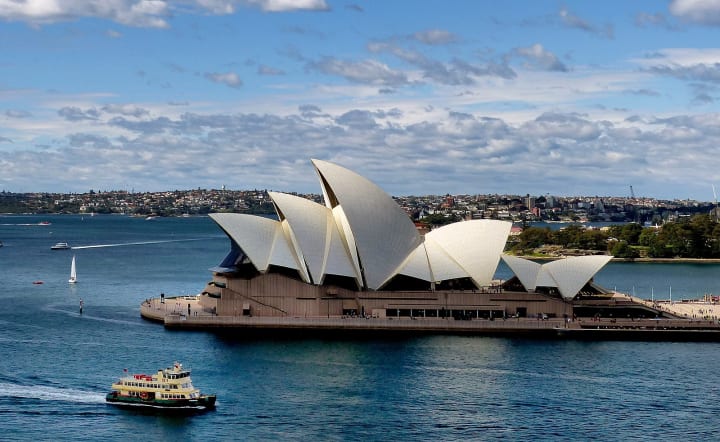 Now, it's the most recognizable and iconic structure in Australia.
---
17. The Queen sent a message to the Moon
"On behalf of the British people I salute the skills and courage which have brought man to the moon. May this endeavour increase the knowledge and well-being of mankind."
According to The Guardian, this pre-recorded message from Her Majesty was sent, along with those from figureheads from 72 other nations, on a tiny disc carried by the astronauts Neil Armstrong and Buzz Aldrin, the first men to walk on the moon on 21 July 1969.
How fascinating! Did you know that?
---
18. She has been portrayed in over 200 films and TV series
According to IMDb, Queen Elizabeth II has been a protagonist in over 255 documentary and fictional films and TV series.
Another interesting fact is - the Queen won a BAFTA award in 2013 "in recognition of her outstanding patronage of the film and television industries."
---
19. All the swans and dolphins in the U.K. waters belonged to Her Majesty
I first learned this through one of my friends who live in the UK that all the swans floating there belong to the Queen.
"As early as the twelfth century, the Crown claimed ownership of all mute swans in the country because the birds were highly valued as a delicacy at banquets and feasts," according to Reader's Digest.
Not only the swans but also the dolphins and whales in the waters around the United Kingdom belong to the Queen.
---
20. She used her purse to signal her staff
Have you ever seen the Queen without her purse? I'm sure you haven't. The Queen reportedly owns more than 200 handbags.
But the Queen's purse is not just a purse. It's a tool that Queen Elizabeth II used to signal her staff.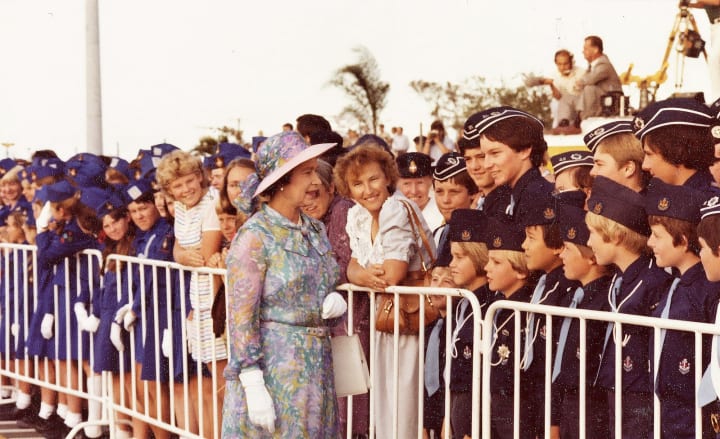 For example, placing her bag on the table means she wants to leave the place within five minutes, and putting it on the floor means she's not enjoying the moment and wants to be saved.
Interesting, right?
---
21. Her Majesty had a personal poet
Prof. Carol Ann Duffy was made the first female 'Poet Laureate' in 2009.
If you don't know, Poet Laureate is an honorary position appointed by the monarch of the United Kingdom.
You may wonder what's the purpose of having a personal poet for the Queen.
Well, the job of this poet is to write poems for special royal events like weddings, coronations, etc.
---
22. Queen Elizabeth II received around 70,000 letters a year
That means 200–300 letters a day. That's an insane amount of letters! It came from all corners of the world.
What did she do with all those letters?
According to the official Royal website, The Queen was shown almost all of her correspondence on a daily basis by one of her Private Secretaries, and she took a keen interest in the letters she received."
---
I hope you've learned a thing or two you didn't know before about our beloved Queen, who died at the age of 96 after living a long and exciting life.
May her soul rest in peace!
---
* Originally published on Medium (link)
Reader insights
Be the first to share your insights about this piece.
Add your insights