Alright, family. We had our fun and parades, but now we have to remember to complete the work of our people. Black trans women are still dying and other LGBTQ+ people are still losing their jobs for being their authentic selves in the workplace.
LGBTQ+ youth are at a high risk of becoming homeless. According to the Human Rights Campaign, LGBTQ+ youth have a 120 percent chance of becoming homeless as compared to their heterosexual and cisgender counterparts.
Black Trans Women and Trans Women of Color
This year, 11 black trans women have suffered traumatic and violent deaths for simply being a black trans woman. One other trans woman, who is Latinx, died while in ICE custody. Another Latinx trans woman died in a New York City jail from unknown causes. In 2018, 26 deaths of transgender people were recorded in the United States. On most occasions, reports on these cases are completed with the person's previous gender. Since 2016, the number of trans deaths has only risen. Here's a nice infographic from Transrespect Versus Transphobia Worldwide.
Always remember to say their names.
Dana Martin, 31 - Alabama
Jazzaline Ware - Tennesse
Ashanti Carmon, 27 - Maryland
Claire Legato, 21 - Ohio
Michelle "Tamika" Washington, 40 - Philadephia
Paris Cameron, 20 - Michigan
Chynal Lindsey, 26 - Texas
Chanel Scurlock, 23 - North Carolina
Zoe Spears, 23 - Maryland
Brooklyn Lindsey, 32 - Missouri
Layleen Polanco, 27 - New York
Johana "Joa" Medina, 25 - Immigrant from El Salvador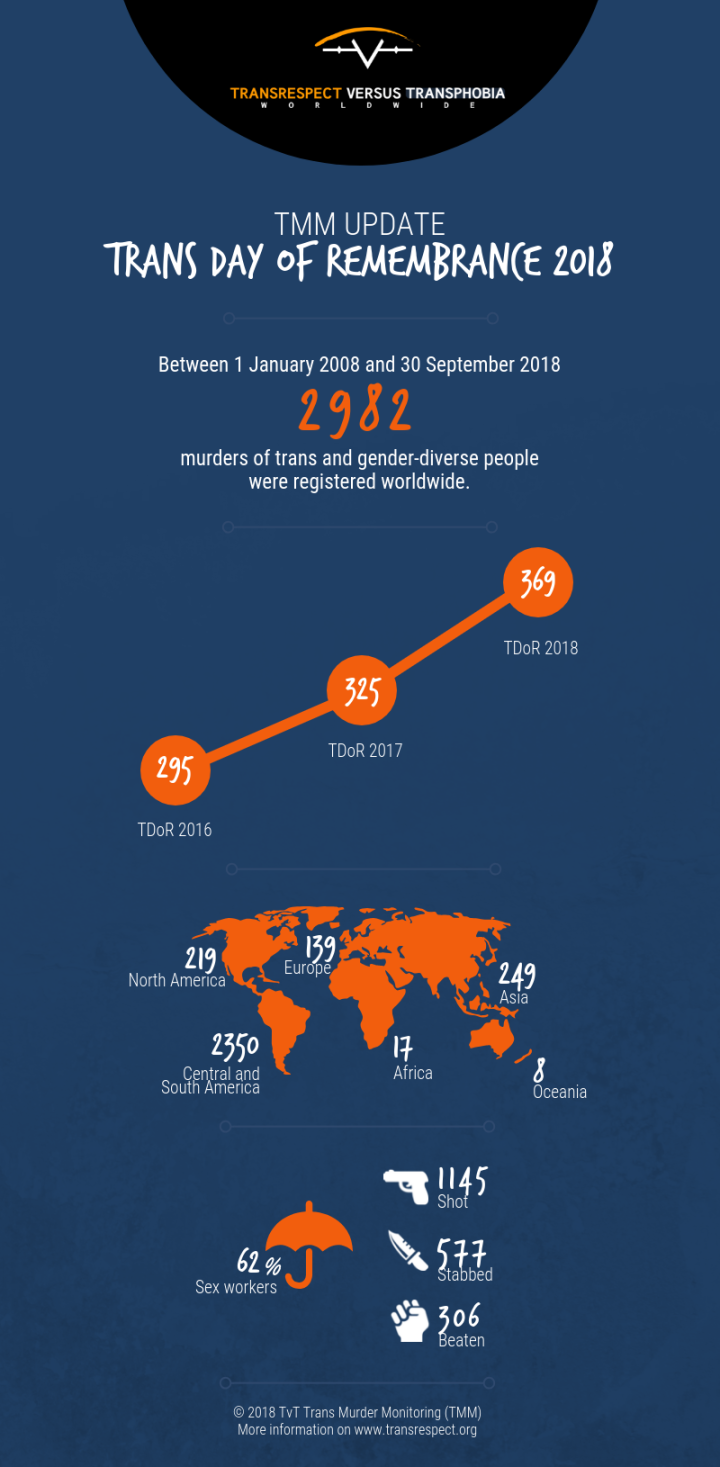 Gay Marriage Wasn't the Only Thing Worth Fighting for
Many states still do not have laws to prohibit discrimination based on gender expression and sexual orientation. We've all heard about cases of using "religious freedom" to discriminate based on being a member of the LGBTQ+ community from as basic as a wedding cake to as major as healthcare. Check out this quick list below or check out the state maps of laws and policies on the Human Rights Campaign's website.
As of July 2019, the following issues are still at hand:
28 states do not prohibit discrimination in housing
17 states do not provide equal work protections
15 states do not include crimes against the LGBTQ+ community in their hate crime laws.
29 states do not protect the LGBTQ+ community against discrimination in public places such as libraries, restaurants, and movie theaters.
33 states do not include education protections for LGBTQ+ students.
31 states do not provide healthcare benefits of insurance for transgender people.
18 states do not allow gender marker updates for transgender people. Also, 20 states only allow gender marker updates for drivers licenses.
34 states have not banned so-called conversion therapy.
Let's celebrate pride year long and raise awareness of the work that needs to be done.
lgbtq