President Trump And First Lady Sleep In Separate Beds?
Who Cares? They're Living Miles Apart Anyways!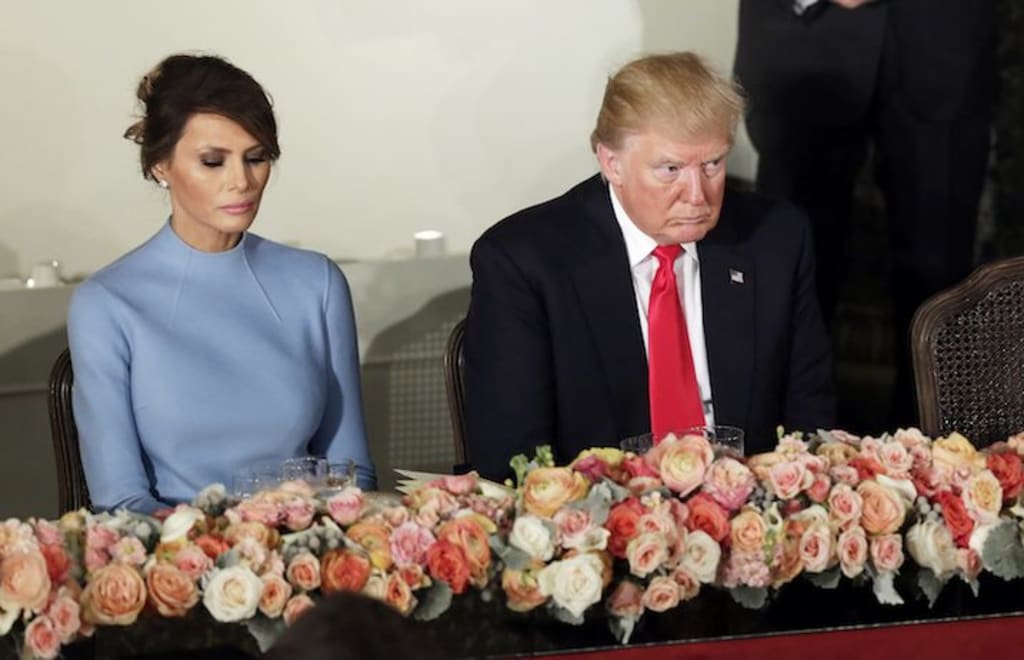 There are several reasons why someone might not sleep in the same bed as their spouse. Snoring. Illness. Different shifts. There does not need to be a dramatic reason that might cause two individuals to no longer share a bed, as has been suggested as far as President Donald Trump and his wife Melania Trump are concerned.
While it's been anticipated that Mrs. Trump will assume a more subdued role than her predecessors, she has also garnered a higher approval rating than her husband in his role as president. Right now, Melania's approval rating is hovering at around 52 percent while her husband's is sitting low at around 37 percent.
"I expect her to be gracious when acting as first lady, but I would not be surprised if she limits herself to a minimal engagement with the role," Donald Trump biographer Michael D'Antonio said.
In fact, her engagement has been quite minimal; this might be due in part to her continued New York residency while son Barron finishes out the school year. According to Mic, the First Lady is expected to join her husband in the White House shortly after the school year ends, and she appears to be making strides in that direction, as she's already pledged to maintain the vegetable garden that Michelle Obama started eight years ago and has hired Laotian-American designer Tham Kannalikham to redo the living quarters in the White House for the Trump family.
However, what of the sleeping arrangements between the President and Melania?
While the Trump camp has vehemently denied that anything might be untoward in the sleeping arrangements between Mr. and Mrs. Trump, there have been a couple of "Trump sources" who have claimed that things may not be as comfortable as the First Couple might prefer. Us Weekly said in its recent cover story that the couple is anything but happy with each other, and that as soon as any photo ops where President and Melania Trump are smiling and apparently happy are completed, the two go their separate ways as quickly as possible.
According to the unnamed source, "Melania wants as little to do with Donald as possible," explains the family source. She is not interested in Donald, the presidency or anything involving him."
A good lot of this ill will may have to do with her feeling trapped in a life she didn't want. While representatives for Melania Trump and the President deny the claims that the couple is unhappy, the rumors caused by the two of them perhaps not sleeping in the same bed persist.
But hold on. President Trump is well known for his late night-early morning Twitter rants, and he has admitted to sleeping very little on a regular basis. This could be an ideal reason for the couple to have different beds rather than one being disturbed by the other not being able to sleep well or at all.
In addition, given the busy schedules they each keep - President Trump with White House business and Melania with business interests, whatever duties as First Lady she is scheduled for and raising their young son - it could be that their schedules simply do not gel enough for the two of them to actually be able to spend a few moments together snuggling.
Perhaps one of the most telling reasons that the Trumps may not share a bedspace is the simple fact that they don't live in the same town right now. It's awfully hard to sleep together with your husband when he's some 200 miles away.
We can speculate and put forth any one of a number of possible reasons why the Trumps may not share a bed - if that's even accurate. Unfortunately, it may simply be another instance of a potentially unhappy marriage quietly unravelling under a very public microscope.
pop culture
celebrities
marriage