Plenty of Fish...?
More Like Plenty of Disappointments!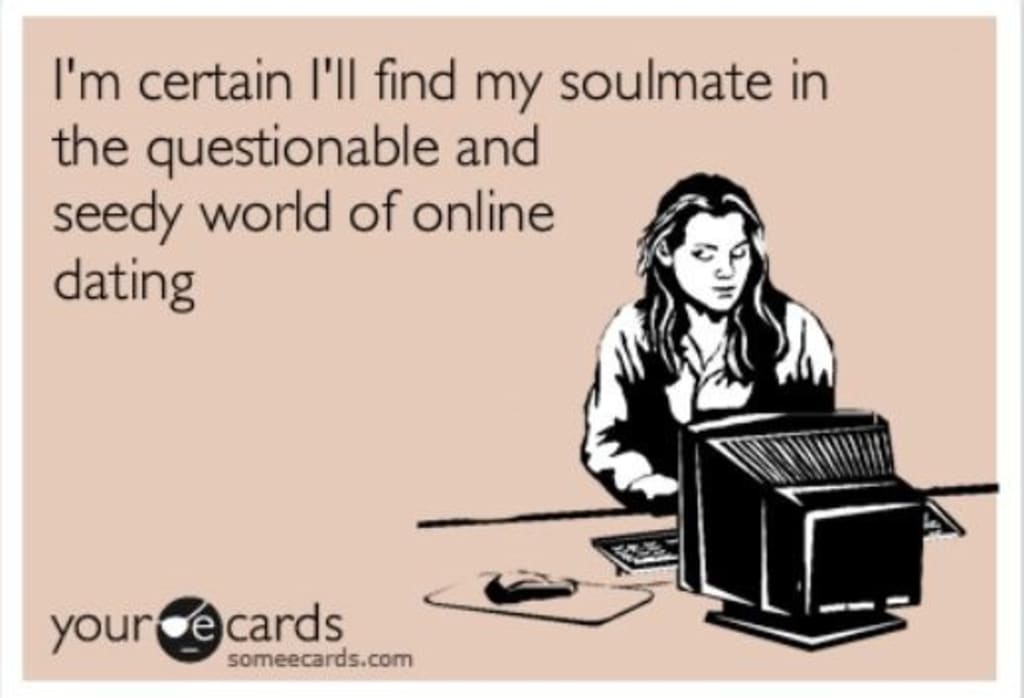 Now, I think it's safe to say that over the past eighteen months, my "love life," or rather lack thereof, has become somewhat of a laughing stock and a subject of amusement amongst my friends.
I've never been one for naming and shaming, but I have given all my dates "names." As amusing as some of these may be, I can assure you, at the time these were occurring… they were not. Well, that's a little lie, some were... and some were just plain old weird, some almost distressing.
Ex Army Come Murderer
I genuinely, whole-heartedly wish I was making this one up…
Mr. Ex Army was my first date as a singleton.
He seemed perfect and was what I referred to as a Triple T—Tall, Toned, and Tanned. He was one hot piece of ass.
We spent an entire day together—I thoroughly enjoyed being wooed—before he invited me to spend the weekend with him in York at his penthouse.
Basically, he was a little too stuck up his own delectable derrière for my liking, and after hearing the way he spoke to people he considered "below him," I decided then and there it was never going to go any further.
I mentioned to him over dinner that "I think your ego is huge. Do you not think you should treat people the way you expect to be treated yourself?"
His response: "No!" and he continued to eat his rather burnt lasagne.
A few months passed. We stayed in contact but never met up again.
I won't go into detail as I'm not prepared to glorify what he did, but he is now serving a life sentence and I consider myself very, very lucky and my heart goes out to the families involved, every single day.
The angels were clearly looking over me that weekend.
Now back to the fun stuff.
We have... Drum roll, please!
The Posty/Manic Depressive
He lived in a house built for borrowers with four dogs and four cats, was still massively obsessed with his ex girlfriend, and informed me that every six weeks or so, he would turn his phone off for about two weeks and speak to no one. Having battled with depression myself, I saw the signs and informed him that that wasn't normal and that he should probably get help. He then informed that he had been diagnosed as being manic depressive… We went on one more date and that was that…
Peter Perfect
Oh Peter, Peter, Peter… (His name was not Peter, but he reminded me of the Wacky Races character)
Peter genuinely believed he was perfect and amazing at absolutely everything. Now, I have no issues with blowing my own trumpet sometimes. After all, no one else generally does (ha, ha… weep), but everything you could do, he could do better, and usually had a medal (imaginary or not, I've no idea) to prove it.
He was tall, good-looking, and had a good job, but I just could not cope with the constant battling… And I'll put it like this, after the fifth date, I found out he was definitely NOT good at everything.
Kindergarten Cop
Oh, lordy… where to start?
He was like a really muscly Jonny Bravo, with a really small head and no neck. His muscles were so huge, they literally came up to his chin. It was bonkers. Yet he was funny, an all-around nice guy, clearly in good shape, and was a reception class teacher.
It was possibly one of the best dates I'd been on, but I just couldn't get over the muscles! It was over before it started.
The W… Banker
Well…. Where to start… We had two dates… He spent more time talking about his personal assistant than he did about anything… I could cringe thinking about it. I actually told him he should probably be on a date with her… His response, you ask…? "But she has a boyfriend!?" End of Date
The Spaniard
He lived in Sheffield, and was lovely. We saw each other for a few weeks and even went over a couple of times. I think maybe he was just a bit too sensible… Don't get me wrong, I'm not after a bad boy by any stretch of the imagination, but I do like to let my hair down and go a little crazy once in a while. At the end of the day, distance and the lack of "letting the hair down" was just a little too much.
The Weird One
Wow! Well, he collected and sold F1 memorabilia, and was a manager of a big brand store… He barely said a word, had a strangely deep voice, and just stared at me…. Oh… I didn't mention the mole, did I? It was one of those, in your face, right there on the middle of his cheek moles… I couldn't stop staring! I have no issues with moles, but if he'd told me he was bringing a friend, I'd have gone for a bigger table. It was just awkward, from start to finish.
To be continued…