Our Love Story
Two People, One Heart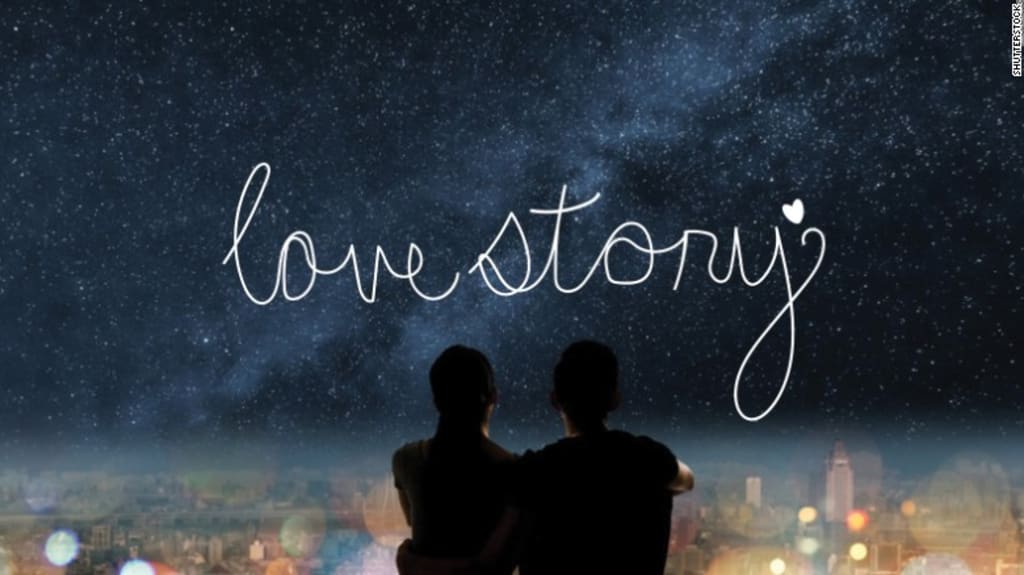 She always smiled at him with an extra bit of sparkle. She tortured and tantalized him not realizing her affections for him were so delicately reciprocated. It was a love like no other, a love they themselves could not face, and it would take four years to do so.
"What's going on in that beautiful mind"
Unable to know what the mix of emotions could possibly mean, their freshman year was a distant romance. Everyone knew of their silent adorations and unending praise they gave each other indirectly. Hiding behind the façade of safety they unknowingly constructed together, they pieced together the bricks. A friendship uniquely manifested from that which was endearingly more, the wall only shielded their eyes from one another, but left their hearts open.
"You're crazy and I'm out of my mind"
"We are just friends." A constant dig at my every being as I so long for more, but wanted what we had to never go. The simple words pierced my ailing heart, yet I was their usher to every questioning friend wondering our affections.
"Cause all of me loves all of you"
"I love you." Piercing just as much. We knew what we wanted but we knew what we had. A friendship like this did not just happen, which made it worth saving, but was this feeling just a friendship? As I inched my way to finally unleashing my pinned up love, I fell in love with his gentle eyes he always flash my way. If he hadn't felt the same, the loving embrace he always held me so tightly in would disappear. A chance I was not willing to take.
"Cards on the table we're both showing hearts, risking it all, though it's hard"
It became too much as the wall so carefully constructed came crumbling. As did our friendship, our memories, our lives, and our formidable relationship. Our hearts were rubbed raw, too raw to bare. It was sophomore year we lost everything. Feelings dwindled, but never faded. It was those same gentle eyes he used to confess the feelings we shared, and it was those same gentle eyes I turn down. I regretted everything. By keeping to myself I lost him, my best friend, my love.
"You've got my head spinning, no kidding, I can't pin you down"
It was a stupid fight. I was trapped by myself to endure the thoughts racing round my brain. My heart said yes, but my mind said no. I sat in my room that night listening. I listened. No sound came through, just the thoughts arguing in my body. Torn, I sat. My radio on in my room, the lull of a piano broke my deafness. Our song. The only sound to break the barriers of my microcosm we're the only sounds I so desperately wanted to run from.
"Cause all of me loves all of you"
I cried myself to sleep as he asked another girl to the dance I should've gone to with him.
We moved on. No longer in one another's lives, we saw each other's faces at school, but stared passed because they were constant reminders of the remnants of our broken past. In one another's absence we shared the same firsts: first real relationships, first major life decisions, first kisses. These were supposed to be our firsts.
"You're my downfall, you're my muse"
It was a simple "hey" that ignited the flame. The deafening silence that had kept me from approaching him, was finished by the "let's get over it" attitude we shared. After a long talk, it was decided we would never be as close as we once were, few months more and that you would prove us wrong. It's senior year and everything has changed. Seasons have come and gone, friends do the same. Feelings change, hearts grow apart, but one never did. She always smiled at him with an extra bit of sparkle. It was this single glimmer midst the darkness of the world that gave a love-lost couple the drive to push past the lies of "just friends" and break the ridiculous wall restricting them from their soulmate of four years.
"Cause I give you all of me and you give me all of you"
I'm in love with my best friend from freshman year and he love me too. I always smile at him with an extra bit of sparkle and he always flashes his gentle eyes at me. A love like ours is more than a friendship. Our book is only growing as we add more chapters and refine who we are. Although we cannot delete the past, it has brought us to this chapter now and I couldn't be happier than to call this crazy love, our story.
love
About the author
Reader insights
Be the first to share your insights about this piece.
Add your insights