Open Relationships, A Beginners Guide
Thoughts based off of our failures in an open relationship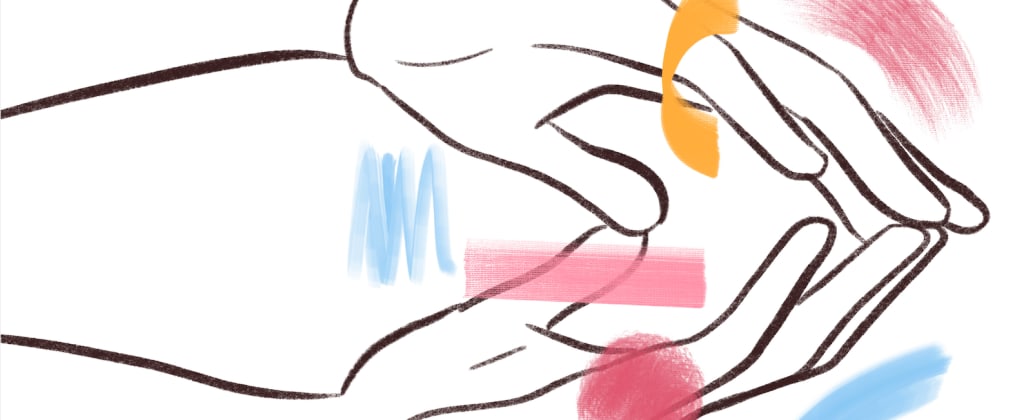 When my girlfriend and I decided to go into an open relationship, we were doing well in our communication and intimate life. Despite our positivity, the open relationship combusted into earth-shattering heartbreak. And YET, I do not regret the open relationship itself. I do wish the choices had been different, but I still believe in the concept. Sure, I fell into a depression afterward and we had to rebuild some trust. That doesn't take away from the fact that I made a best friend, kicked some ass, had some fun and delightful flings, and, by the end of it, proposed to my girlfriend (my now wife).
Suppose you and your partner are peering through the curtain to the idea of an open relationship, I want you to know that it is not as scary as it seems, and it is not as incredible as it looks. The relationships you romantically form with other folks will be a combination of fun, hilarious, steamy, awkward, uncomfortable, exciting, and memorable - but nothing unfamiliar.
There are many reasons why couples go into an open relationship.
- Just for fun, experimentation
- Partners wanting to learn more about themselves and their relationship
- One partner has a higher sex drive
- One partner travels a lot
- One partner is asexual with a partner that has a moderate to high sex drive
- One or both partners are bi/pan and want to learn more about themselves with the same or other sexes/genders.
- Both partners are unhappy in the relationship and they think some freedom will help (a kiss of death for many couples struggling with communication)
RISKS TO THINK ABOUT:
- Your partner could catch feelings for another person
- STDs/STIs
- You will be too tired to work on your main relationship while forming new ones
- You could break up
This guide is for the open monogamous. I feel that polyamorous people and couples have a different muscle they exercise to keep their relationships and selves healthy and thriving (although some advice may intersect).
Here we go, our mistakes displayed by what we learned:
HAVE A LOOSE DEADLINE
SET BOUNDARIES
HAVE WEEKLY CHECK-INS
BE HAPPY FOR YOUR PARTNER
DO NOT IGNORE RED FLAGS
YOU MUST BE HONEST ABOUT HOW YOU FEEL SEEING OR KNOWING YOUR PARTNER IS WITH SOMEONE ELSE
YOU CAN CHANGE YOUR MIND
DO NOT GO INTO THIS TO FIX YOUR RELATIONSHIP
YOU WILL BOTH BE AT DIFFERENT LEVELS OF SUCCESS
DO NOT KEEP SECRETS
RESPECT YOUR DATE
PRIORITIZE YOUR PARTNER
Let's break it down:
HAVE A LOOSE DEADLINE
If you both go into this with little thought on whether this is a permanent or temporary installment for your relationship, there is a high probability that one partner will want to end it but not know how to tell you. Anxiety can form because you do not want to rain on the others' parade, and bringing up an end may result in an argument. If you have a deadline, it lets you both relax, and no one has more control than the other. If you both get to the deadline and you want to keep going, set a new deadline. But if one partner is sighing relief that it is over, you should probably wrap it up.
SET BOUNDARIES
Boundaries can be anything from what forms of intimacy are allowed to a curfew.
Our examples:
- No sleepovers
- No bringing people back to our place
- Must be home by midnight
Boundaries can update as you go. You or your partner may do something that strikes a nerve, suddenly making one want to pull out of the operation altogether. One hiccup does not mean you need to stop. Create a new boundary and go from there.
HAVE WEEKLY CHECK-INS
Check-ins are the time to talk about more or fewer boundaries, ask tough questions, express doubts, share insecurities, and, MOST IMPORTANTLY, grow as a couple. Use this experience to bring you both together, not just to find yourselves as individuals. Be honest, be honest, be honest. Check-ins are to make sure you both are still dating each other equally as you are dating others.
BE HAPPY FOR YOUR PARTNER
It can get tough sometimes, no matter how great the process is going. You will see them smile at their phone from a date's text, they may get too tired to be intimate after a date, and you will hear them laughing as they get out of their date's car. Sometimes you will find that you want your partner all to yourself again, but that should also be a time to reflect on how much you like your partner. That is a time to celebrate and be happy for them, just like they should be happy for you. Take note of your jealousy, and respect it, but do not allow it to tear down your partner from something that is building their confidence.
DO NOT IGNORE RED FLAGS
It is okay to feel jealous, hell, it is part of the sexual tension of it all. But you must be honest with yourself and your partner when that jealousy turns from fun tension to outright insecurity. And when that jealousy does turn into insecurity, you must tell your partner. And partner, you must listen and act before it turns into irreversible damage.
YOU MUST BE HONEST ABOUT HOW YOU FEEL SEEING OR KNOWING YOUR PARTNER IS WITH SOMEONE ELSE
I have heard it a million times, "I am not the jealous type. I do not get jealous." And yet, that ugly J word creeps its heavy hand on your heart the second you catch a glimpse of your partner kissing their date in the car… and you want to cry. That is okay. Although, you cannot get upset with your partner for doing what has been allowed. All the same, you cannot beat yourself up for not being the most chill casual cat on the open relationship block. You will find things out about yourself that you did not realize, and not all of that will be pretty.
YOU CAN CHANGE YOUR MIND
If, before the deadline, you find yourself miserable and unhappy, there is no need to stretch yourself out any further. Tell your partner that it is not working. If your partner does not want to stop, that needs to open up a bigger conversation about your relationship. You and your partner must make the other the priority for this to be functional. Just because it does not work right now does not mean you guys cannot try again at another time, maybe after you work out some trust and communication between you both.
DO NOT GO INTO THIS TO FIX YOUR RELATIONSHIP
Just like a puppy, a baby, and a ring, going into an open relationship to fix a damaged one, will fail. You and your partner must have the fundamentals of trust, communication, honesty, understanding, and openness. If you and your partner are counting on using the open relationship as a transition out of your current one, have at it, I have seen it work before. It is some of the cleaner break ups I have witnessed. But if you two plan on staying together and want this to be a part of the journey of healing from all your dysfunction, an open relationship is no remedy.
YOU WILL BOTH BE AT DIFFERENT LEVELS OF SUCCESS
Some days your partner's phone will glow with suitor after suitor and you will look to your phone, asking it where all your matches are. Some days you will have two dates in a week and your partner will not have a date until next weekend. Some days your partner will be matched with great people with excellent outcomes, while your dates flop one after the other. You both will experience the open relationship at different speeds and different qualities, that is natural and common. Communicate with each other your frustrations and be sensitive to your partner if they are having trouble finding successful dates.
DO NOT KEEP SECRET
This is actually the most important concept of them all. Never keep a secret from your partner about the ongoings of the open relationship. This is why trust is crucial to harness between you both. You must trust that your partner is frank with everything that is happening while they are out. You must trust that your partner will tell you if there is a shift without you needing to pry. The cracks in the relationship can appear when secrets are kept from each other. Secrets are mainly withheld in an open relationship to spare the other's feelings or if one is doing something they think could hurt the relationship, like catching feelings for another person. If you find yourself catching feelings for someone, talk to your partner. It is natural to grow attached to someone after spending time with them platonically and romantically. But if you do not want your relationship to fall apart because of it, prevent yourself from slipping further into what may be an infatuation with someone new and shiny.
RESPECT YOUR DATE
Be upfront about the open relationship and where you are with your partner with the boundaries. Speak positively about your main relationship and do not confide in your date for advice. Your time with them is not the time to air your dirty laundry. Respect their time. If they want to date you while knowing that you are in a relationship, it means they want to know you (or sleep with you).
PRIORITIZE YOUR PARTNER
Ultimately, this is about you and your partner growing together just as much as you finding more about yourself. There is an amount of self-care involved in making sure neither of you is spread too thin. Plan regular dates and romantic evenings with your person. Take what you are learning by yourself and bring it into the relationship to make it stronger.
Open relationships are exhausting, time consuming, and occasionally dissapointing. Meeting new people, putting yourself out there, and balancing the feelings of another can get overwhelming. Open relationships can also be enlightening, exhilerating, and memorable. Bringing you and your partner closer emotionally and intimitely. Set your intentions with honesty and confidence so that your open relationship can bring out the best in you, your partner, and your relationship.