Obituary of My Loved Ones
Love at First Sight...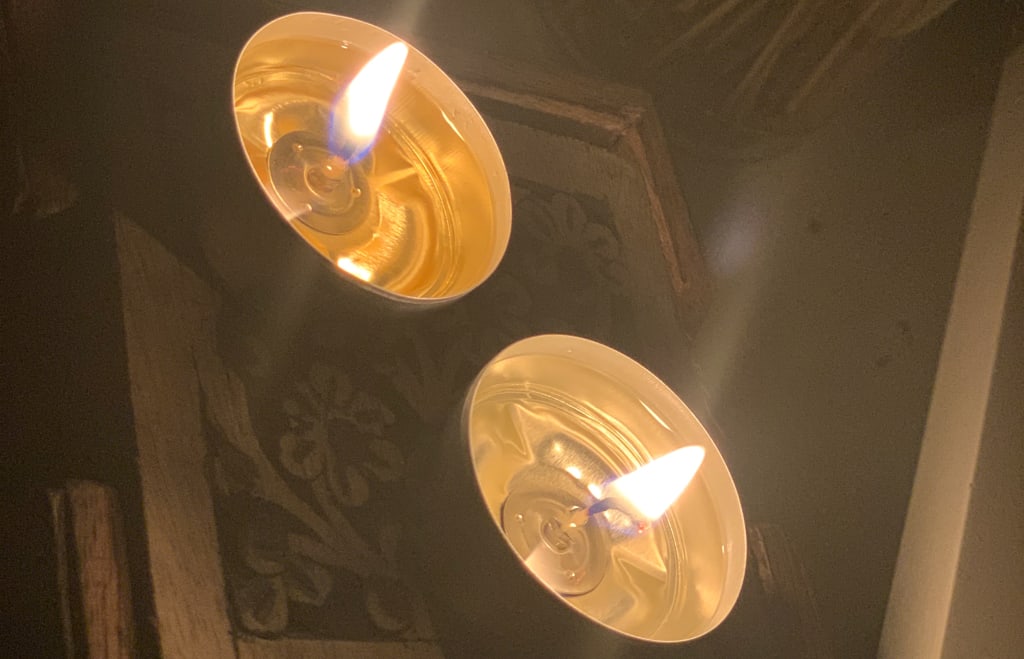 Hi all and thank you for being here!
I want to dedicate this part of my story to a great woman I just lost; the woman who practically raised me, my grandmother. My "Mamani" (exact translation: you are the mother)… a woman so full of life; who wasn't afraid of wearing red or color her hair pink at the age of 78… The woman who would always say I would never get a job (because as a little kid I hated clothes and was always running around half naked). "Mamani, don't worry, I will create a job where I would do whatever I want…"
She would nod and say, "I know baby, I know… you of all people will do whatever you want…" and when she saw my first bodybuilding stage pictures, she said, "I knew you would find a job where minimum clothing is required…" and we laughed… A great woman who taught me how to be free and never stop moving or learning… because the moment you stop, baby, you are not alive anymore.
The woman who would always call me "Lady Elaheh"… Mamani I'm not a lady… you might not look like a lady yet, but you are a lady, never forget that, baby.
She's gone and all I have left is regret… she wanted to see me and last year I had the chance to see her, but I was so involved in my life's drama… I was so sick in my head that I didn't… I chose to wait…
I feel this universe is really trying to teach me everything at once… things that will come handy in my near future…
I face-timed with her two days ago… we talked about all the things that happened to me and I told her how I finally am healing and I feel good and free again. "You are a bird, lady Elaheh, a bird no one can cage but you… I'm happy you finally can see it… I'm happy you are happy… I wish I see you before I die…"
"Mamani, you are not going to die…"
"Baby, we all going to die one day, just live your life with all the love you can have for yourself and others… "
"I promise you, Mamani, I promise!" Rest in peace my greatest mother…
"Our dead are never dead to us, until we have forgotten them"—George Eliot
….
So, back to my story…
I know last time I promised you all that I will TRY to start from the beginning of the end which was May 8th, 2019…
"Do, or do not… there is no TRY"—Yoda
But I feel like you all deserve to know how I met "S" and what happened when I did.
Tonight I'm going to paint you a picture; a beautiful picture of the "best day" of my life.
My request is: You hold on to this picture, because I did. For years I held on to this image, every time I wanted to let go, in every hard situation… I imagined this moment, this magical moment and I would hold on tighter... so tight that I almost choked myself to death. This image; this is LOVE, love will conquer all…
Needless to say, I still believe that love does conquer all. Nothing has changed but the meaning of love.
Today marks the sixth month anniversary of our breakup, if I can call it "ours"…
11 years and 8 month ago, exactly on the same day I met "S."
Before "S," I was by myself for years and I was ok; broken maybe, but ok. Lonely, but ok, (I was not lonely, I was happy with myself and I. Lonely is how "S" described my life and I believed her after a while…) and I was free.
I earned that freedom, I went through hell for that freedom. I will not bore you with the dramas I had to go through to get to that "ok" state of mine.
My friends used to tell me I would probably die alone because I was way too free to be caged and too selfish to let anyone cage me. They would give me long pep talks; "You need to find love and a person to share your life with…" "You should stop being so selfish, stop traveling and living your life the way you do and settle down…" In their defense, they didn't know what I had to go through to get to that state of being so ok with myself and enjoying my life.
As you all don't know I lost my hero and my love, one after the other… they didn't know the pain I had to go through… they didn't know the fights I had to put up for being who I am and doing what I love to do…
But tonight is all about finding love and falling in love again…
I used to read stories about love at first sight and I would say it's stupid and nonsense. To me love was and still is the final scene from the movie Terminator 2: Judgment Day, where at the end of the movie, the machine goes down to the lava pit and gives a thumbs up to John, basically saying, "You're going to be alright."
This is the most romantic scene I've ever seen in my life. You must be a machine if you don't cry… Such irony!
"I know now why you cry. But it's something I can never do!"
I am the girl who laughs and make fun of the at the final scene of Titanic where Jack did whatever he did to save Rose… but cries every time this piece of metal that understands nothing of human heart sacrifices himself in order to save the only thing he can't ever be… If this is not love, please someone tell me what is?
Now back to the day I fell in love… the kind of love I only read about and made fun of… the kind of love that only existed in love stories… the kind of love I hope I never ever experience again.
Oh, don't get me wrong, I don't regret. No, I'm so thankful I got to experience it, but once in a life time is enough for me. Once in every 200 lifetimes is enough for me—well, this is me being dramatic.
I can't handle a love with this magnitude again, I won't let the girl inside of my chest go through that again…
I'm even crying now as I'm writing down these words… I'm so overwhelmed…
I still don't believe in love at first sight. Now, I know it takes time to truly fall for someone. Yet I do believe in that moment… that particular moment when you glimpse the truth in someone and they see the same truth within you. In that moment, you don't belong to yourself anymore. Part of you will always belong to that person and part of them will always belong to you, and after that you can't ever take it back. No matter how much you want to, no matter how hard you try… I so deeply wanted to, so hard I tried, time after time… for almost a decade… No, I didn't try to take that moment back, I tried to hold onto that moment… I tried to prove my love to the extent of destroying myself and give away every single part of me… till there was nothing left to give…
You know, the first thing we love is always a single scene. For love at first sight needs the very sign of its unexpectedness; and of all things, it is that particular scene which seems to be seen best for the first time. It's like theatre, when the curtain parts and what had not yet ever been seen is consumed by the eyes: The scene shows the object I am going to love… and love forever…
I'm going to paint you that scene tonight; I want you all to imagine being me, Elaheh, at the age of 26… my goal: Live life as happy and as free as I could. My mission: Help others to do exactly the same…
On March 8th, 2008, I traveled to another country to meet four of my friends (friends I met online) for the first time. "S" was one of those friends; they were all picking me up at the airport. I'd just landed, tired, hungry, and mad because my luggage was lost… while talking to the officers and trying to make them understand…
Suddenly, everything stopped… not slow motion like the movies, no… everything and everyone around me just froze… I could not hear anything… complete silence…
Imagine you are in an airport at luggage claim and it all goes silence…
I saw this magnificent creature walking over to me. Not even walking, it was more like floating towards me, smiling… that smile… I'd never seen a smile like that… so happy, so free… so me…
I have to stop right here and refer to another scene of another great movie Schindler's List; movie is black and white, and in this one scene, from the main character's point of view, we see the butchering of innocent Jews, (from a hill on his horse…). Then comes this little girl with a red coat…
I'm referring to this scene because the first time I saw the movie, I said to myself, "Wow, I have the ability to see colors in a black and white movie." Then I watched it again and again till I got the director's point; that red coat represented the bloodshed of the truly innocent…
I'm not comparing that scene to my love story, guys… no, no… no matter how painful this past decade of my life was… that is not what I'm trying to say…
I want you to see what I saw at that moment, when "S" was walking towards me and everything was frozen… At that moment, I could see colors in a black and white life. At that moment, I noticed that I've been living in a black and white life where I didn't even know it…
"S" called out my name and our eyes met … and I was gone… from that moment on it was no "I" anymore…
Who is this and why so beautiful? How can this be possible? Am I dreaming?
Those eyes, those beautiful brown eyes, those familiar eyes… I could see my soul… it was like looking into a mirror and seeing a part of me… Who is this beautiful, strong human and why aren't we together, forever?
Yes, these are all the things that were going through my mind at that moment… while "S" was floating towards me, like a magical being…
It's like it was a moment ago…
Eleven fucking years and eight months have past and I still see that moment as enormously as I did the first time…
Love at first sight, which we always spoke of in the past tense; it's already a memory… like the nature of a picture; not to represent, but to memorialize…
And this scene has all the glory and beauty of an accident: I cannot believe my luck: to see this one person that matches all my desires… I finally have met "The One."
- Hi!
All I could say was, "You are so beautiful…" Indeed "S" was, is, and will be the most beautiful human I've ever met in my life, in THAT precise moment of time.
...
And at this moment, I thank you all for being here with me. I'm Elaheh and today is my love story.
October 8th, 2019—California