New Mexican Life
My first move...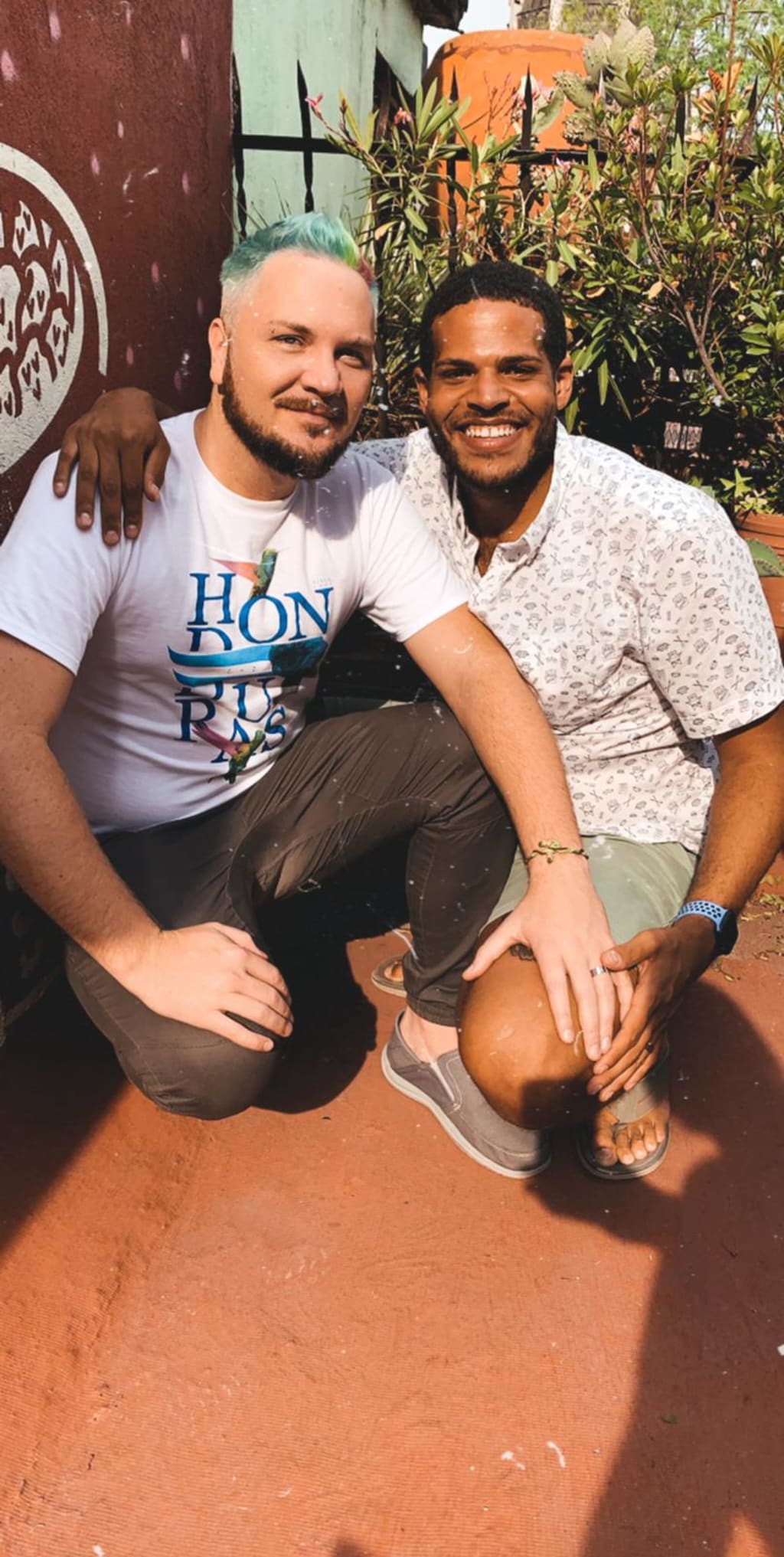 Reunited and it feels so good
My first move away from my hometown began September 9th, My older siblings' birthday. This was a very chaotic move and gave me a lot of insight on what to do next time I move to a different country... Start over! Leave your belongings, clothes, anything else you know you can get in the place you are going. The only thing I will be taking the next time are the clothes and shoes to get me started in the new country along with my 'precious' items: my PRIDE Nikes, my cats; Prissy and Inky, oh and my partner, Michael, can't leave him behind!
So, Michael and I decided at the beginning of the year that we wanted to move out of the US to pursue awesome adventures and wild rides! So, we decided to pursue endeavors in Myanmar (Burma). Why Myanmar you probably ask... The answer is simple, when Michael and I visited for Michael's temporary posting in summer 2019, it was the most amazing and beautiful country with the nicest people I have ever met. From the moment I stepped off the plane, to every visit at a Pagoda (a religious temple), to the moment I stepped off the plane in Hong Kong. In March 2020, COVID had struck the world wholly by then. Myanmar said all foreigners were to evacuate and no flights into the country. Myanmar was off the table. Michael and I decided to wait to move, but I was still driven to leave Tennessee before the end of 2020.
When June rolls around, Michael and I are talking over dinner and he informs me that he had found an amazing job opportunity in Mexico City. So, we talked about the positives, the negatives, and all the future possibilities. A few weeks later we decided that we were going to move to Mexico City! I was stoked, Michael was stoked, and the cats were stoked (even though they did not know it yet). Due to Michael's job needing him here in Mexico by the beginning of August, and I had loose ends to tie up in the States, we made our move separately. Michael packed his 3 suitcases and 2 carry-ons and made out for Mexico City.
During the 2 month period of me being in the States with an apartment full of stuff to pack away and sell, 2 stressed cats (they had no clue what was happening), and one car left to sell I had A LOT of work to do. So, it began, I was still working full time at my previous company and trying to accomplish moving out of an apartment and moving myself and two cats to a different country. Finally after 4 weeks of hassle and struggle to be out of my apartment by a certain date, I had everything out of my apartment... it was now at my mom's house... this is where I decided to have a yard sell and sell everything I could, from small kitchen appliances to whole bedroom suites. After finally selling as many items as I could, I 'donated' dishes, appliances, and a bike rack to my mom. She was grateful.
Next task was the car... Since I no longer had to drive 30 miles to work, I had to sell the car and I only had 8 days until I left! I was panicking! I posted the car on Facebook Marketplace, Craigslist, eBay, and even put for sale signs on it. Finally, I sold the car to an overly sweet woman 120 miles away.... But I got the car sold and finally had that stress off my plate! I was an entire step closer to moving to Mexico.
My cousin planned to come to Tennessee before I left, but she did not make it down due to family issues. So, I decided to make sure all my stuff was together for Mexico and I had everything I needed, and I went to Ohio to see her. I rented a car for a few days and we had a fun time. Art Museum, pub crawl, more beer, and new friends! When I get back to Tennessee, I only have 2 days until I leave for Miami!
Over the next day or so, I exchange the rental car for a larger rental car to transport me, my luggage, 2 cats, and my friend Brittany. My friend had to come because the airline rules for the cats during Coved... Stupid right?! So, once I picked up the SUV, I loaded as much of my stuff as I could in the car; 4 suitcases, cat supplies, and a large box (Cat Genie litterbox). Finally, the trek for Miami has approached.
So, because I have the two cats, Prissy and Inky, there were a lot of issues I was running into with taking multiple flights to Mexico. Every leg of a flight, each cat costs $125 as a carry-on pet (the only option during covid for cats). Because each cat is a carry-on, there must be one person to carry each cat; therefore, I had to book two tickets AND I had to have the actual huma flying. Another reason I decided to fly out of Miami DIRECTLY to Mexico, because I did not want to stress the cats out with being completely confined for 6+ hours. Also, who does not want to see Miami?
So, the trip to Miami was not the most fun road trip I had although it was eventful. Brittany and I head to the gas station around 4am on Thursday morning. I fill the car up with gas and check all the tires and head for the interstate. The cats, Brittany, and I are all settling in. The cats have not been let out of the carriers yet and we are all comfortably chill. About an hour in, we let the cats roam around the SUV. About an hour after that, I smell what I think is a 'cat fart', but to my surprise, my very delightful surprise, it was not a cat fart. Yep, Prissy did the thing... Brittany asked me what to do because it smelled so bad, we had two loose cats running around the SUV, and did I mention it smelled completely horrific? I told Brittany I was going to stop at the next exit to see what I could do, but the smell was so terrible I couldn't take it anymore... so I pulled over in the grass on the side of the interstate. I put a towel in the back of the SUV just in case one of the cats threw up from motion sickness or something crazy. I also had a litterbox set up in the rear for the cats because the trip was 13 hours. Well Prissy did not use the box to my surprise. There was poop EVERYWHERE!!!! Not only did she not use the box, but she also walked all through it, and walked all though the car!!! Thankfully, I only had hard suitcases, and the car was leather all around. Once I stopped the car on the side of the interstate, I located both cats, and put them in their carriers. I then proceeded to 'investigate' the situation... Opened the hatch of the car, and there was a huge mess of poo just sitting there. So, I grabbed the towel that was in the trunk, and carefully got most of the poop out of the car. I hurried to the next exit to find a gas station, a Walmart, or something to wipe the car up, wash we, and get rid of the smell. Finally, we stopped at a gas station that had just everything we needed. I purchased wipes, sprays, sanitizers, and trash bags because you never know. Brittany and I spent the next hour or so cleaning the truck, we, airing out the truck, and replacing cat supplies. After 4 hours or so of cat issued, we were finally headed to Miami, to get ready to fly ourselves out!
After 16 hours, we finally made it to beautiful Miami! It was sunny and gorgeous! We were just a couple hours away from having one hell of a time. Once we arrived at the Airbnb, we dropped all our stuff off, set the cats up for success, we headed back out to find some food, and some entertainment. Over the next day or so, Brittany and I tanned on the beach, drove past million-dollar homes, drank our faces off, and ate amazing food. Saturday morning rolled around very quickly, and it was flight time! I was up at 5:30am packing the car up to make sure everything was ready packed up, flight ready, and nothing was forgotten. Brittany and I raced to the airport for our flight (we were running late; I still had to drop the car off at Hertz rentals). So, Brittany and I got checked into the flight, I left the cats, the luggage, and all things to her while I took the car to the rental drop off. After 4 miles of driving around in what seemed to be circles, a garage appeared, and the drop-off was here! Once the I dropped the car off, I had 1 hour and a half to get through security and board the plane. In my mind at that time, I just thought to myself, "We're not going to make it". Find a sky train that takes me back to the airport... THE OPPOSITE SIDE. So now I am sprinting through the airport to get to security and meet Brittany. Brittany and I are in the security line when the TSA agent ask each of us to take the cats out of the carrier and walk them through. I said we could not because the cats are escapees, and I do not have time set aside to chase two cats around a busy ass airport. So, they made us wait for 40 minutes (waiting for TWO TSA agents to come body search us and the carriers. I finally told them I was fed up with waiting, and the flight was boarding now. So, I decided to walk the wilder of the two cats through with my fingers nearly piercing through her neck skin and with her under my shirt because I must hold her extremely tight. Brittany successfully walked Prissy through and we got them both in their carriers successfully.
We boarded the plane, enjoyed our flight as much as possible and when we landed in Mexico, the stress started all over again. When we landed, we successfully retrieved all luggage items and the large box with the automated litter box. Had to take my cats to the 'visitor animal' office to have the documents verified. The woman at the office kept telling me that I need a health certificate from their previous vet, but the MX government site said that it was not required.... Here come the Sweats! So, I tell her no that it is not required, and I have the appropriate documentation of all the shots and vaccines for the cats are up to date. She finally releases the certificate of animal entry for the cats. Now it is time for Customs... this is never fun.
So, as you know, I have a huge box with an automated litterbox for the cats. The lady at Customs asks me to open the box, so I did. She then begins to ask me, what is that (in Spanish). At the time, I was like "uhhhhh". So, she has an associate come over, and as they are both confiscating the box, they are just mumbling and talking to each other. The other woman then asks me in English, what is it? I tell her it is a bathroom for my cats (in Spanish) so she kind of knows what I am talking about. I did not and still do not know how to say cat litterbox... Finally, after 10 minutes of just looking at it, they tell us to go! WOOHOO we are finally in Mexico City! My partner Michael is waiting for us with two Ubers to get us to my new home and transport all our stuff!