National Coming Out Day 2019
Never be afraid to show your true colors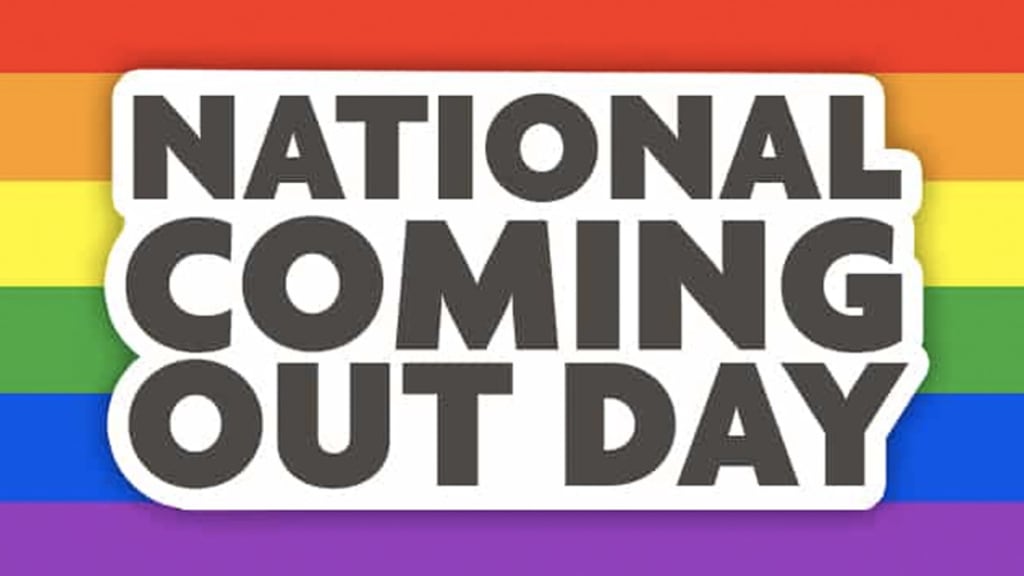 Everyone has a story to tell and today is the perfect day to share them with the world. Today is National Coming Out Day, which is observed every year on October 11th. It's a day to celebrate coming out and also raising awareness for the LGBT community. Back then, coming out to your friends, family, colleagues, etc., wasn't easy, and in most instances, you were disowned by them. I wrote an article about Boston's so-called "straight pride" event over a month ago and I went in on them, especially when it first started making headlines and caused controversy. Many straight people still complain about why Pride Month, LGBT History Month, and LGBT rights exist. It's because they are among the few groups of people who get discriminated against on a regular basis and are being refused services and other accommodations on religious grounds. October is LGBT History Month, so it's very important to educate everyone of LGBT advocates, heroes, politicians, icons, past and present, of the sacrifices and positive actions they have done for everyone in that community. Before I share my coming out story, I want to point out a few things.
I believe that coming out is a sign of bravery and having the ability to live your life as you please. No one "chooses" to be gay or trans. No one "chooses" to be straight, either. Also, being gay or trans is not a "lifestyle." I had a conversation with one of my old classmates about some comments he made on Facebook years ago that didn't sit well with me. I asked him if he had any problems with me being gay. He replied that even though he doesn't agree with that "lifestyle," he'll still be my friend. I had a problem with his response. First of all, he's a Christian and one thing that irked me was that it almost felt like it was my fault because of who I am. You can't condemn me for being gay and want to be friends. Either support me fully or not at all. Let me make something clear to everyone: I have no problem with what people believe in. My only issue is when Christians are complete hypocrites and pass judgement about others, as if they're above everyone else. On top of that, they throw Bible verses at you about sin and homosexuality. I don't like it when people bring Jesus up to shame others of how they live their own lives. So whenever I see people being hypocrites, I'll call it out.
Now that I've gotten all of that out of the way, here's my coming out story:
When I was a young boy, I, along with a few classmates, knew that I liked the same sex. However, as the years went by, I was struggling with my sexuality, figuring out if I was straight or bi. Now fast forward to February 20, 2012: I was on Facebook and thought, "If I told my friends that I was gay, would they still love me?" So about a half hour later, I made an announcement to everyone that I was gay. A lot of people were happy for me, while others shamed me, called me every word you could think of and used Bible verses, trying to change me. I may have lost some people for coming out, but I had no regrets. The ones that were proud of me embraced me with open arms. Also, to the people who stood by me since day one, thank you. I'm glad that I have wonderful people like y'all. Soon after I came out, I can finally say that I can finally be myself for the very first time. To this day, my parents don't know of my sexuality. We've been estranged for over eight years and I no longer have any contact with them. If I had came out to them, they wouldn't have accepted me anyway. But that's okay. They don't deserve me. As long as I'm surrounded by people that love and accept me for who I am, that's all that matters. I hardly received any love from them, but that's alright. I have to live for myself and not care about what others think of me. To those who are still in the closet, you are loved. To my fellow gay cosplayers, I love y'all so much, and to my fellow LGBTQ friends, be your own you. It's okay to be yourself. Never change for anyone to appease them. Always be good to one another and treat others with dignity and respect. One more thing I want to say to my LGBTQ allies: support your fellow LGBTQ brothers and sisters. They need all the love and support that they can get. You are loved to the fullest. I love and appreciate my fellow LGBTQ allies so much. I'm glad to have wonderful people like y'all in my life. I hope my story will inspire others to come out of the closet and be comfortable of their own sexuality, without fear or regrets.
Coming out can be a scary experience, but there's a community waiting to welcome you with open arms whenever you decide to come out. There's still laws in many states today where you can be denied services or accommodations or even fired, because of your sexuality or gender identity. Hate is not a family value and if you think that hate doesn't kill, think again. There are many countries where you can be killed or jailed because of your sexuality. Over the years, many LGBT youth and adults have either been killed or taken their own lives because of who they are or bullying inflicted by their parents and peers. The number of transgender individuals are on the rise in 2019, so it's important that every LGBT person should be protected from discrimination and discriminatory bills. I'll be discussing about transgender people in another article soon.
Here's my advice to parents: always love and support your children. Remember that love comes in different forms and you can't control who your child loves. My parents wouldn't have accepted me as a gay man anyway if I were to come out to them today, because they were devout Christians, were born in West Africa, and also believed that having a gay son would be shameful thing. However, I choose to surround myself with people who love and accept me. I believe that parents who disown their children because they are gay or trans don't deserve the title of being parents. I thank my estranged parents for disowning me, because I can life my life how I want and live it well.
Live your own life and embrace who you are without regrets. Be yourself and never let anyone shame you. Let that rainbow shine upon you and always be proud. It's important that you vote and support politicians and lawmakers who support LGBT rights. Sure we had marriage equality for over four years, but the fight isn't over yet. That's why the Supreme Court needs to rule that no one should be fired because of who someone loves or their sexuality. As of this article, a ruling has not been announced yet, but when it does, I'll keep everyone posted and an article will be on Vocal.
I'm on social media, so please make sure you follow me on the pages indicated in my bio. In the meantime, if you like the articles I've written and like my content, feel free to send me a small one-off tip, that's located towards the end of every article. Your support is greatly appreciated. Your tip not only helps me, but also helps other Vocal content creators create outstanding content. Be sure to support them and read their articles. Also, I encourage everyone to join Vocal+, a premium membership for Vocal content creators like me to write better stories, connect with creators, and a lot more. So, be sure to sign up for that membership and support your favorite Vocal content creators.