My Worst Date
My Worst Date
NYC Dating Life Is Always Surprising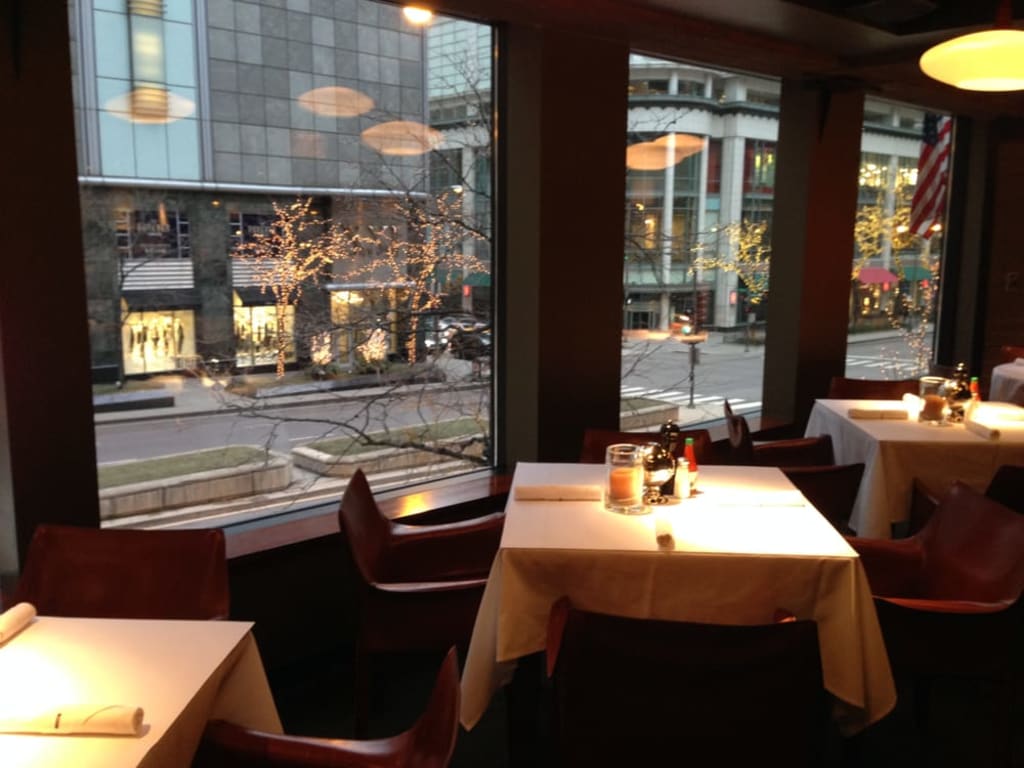 (photo by Yelp)
When Botoxed Male Dates Are Not Recommended:
Let me start saying that I am a very discreet, somehow shy girl. I do not like to make scenes, to show off, or to be the center of attention. That being said, dating hasn't been easy for me lately.
My life is basically me going work with early 20's students and going to the gym, a place filled with youngsters or older man. I have found it really hard to meet men like me: late 30s, single, and ready to commit. For this reason, I have immersed myself into the world of virtual dating. Enough of justifying why I date online as if I am the worst sinner I have known.
Online dating is where you never know what lies behind sunglasses, how much filter a picture has, or whether that is only a good angle. Doubts, doubts, deceits, deceits.
In one of those right swipes, I have decided to meet Sam. A dirty blond, scruffy beard, blue-eyed, average body doctor in NYC. I have decided that I want blue-eyed babies. It is my latest obsession, and so is Sam. The average attractive man behind the sunglasses. He only had 2 pictures—which, by the way, both were of his profile, very blurry, and with sunglasses. My "picturedar," what I call for my radar for pictures, must have been broken. I didn't ring any bell, despite the quality of his pictures.
We did not exchange many words. We "hit it off." How can you hit it off online? Well, we loved each other's look and we didn't want to waste time blabbing. And I loved that. I do not have time to text all day. Even if I did, I do not have patience. Plus, afterward, in this online dating, it kind of becomes mechanical: "What do you do? Where are you from? Where do you live? How many siblings do you have?" OMG, all of this questions, I can't stand this dating world. How can we skip this part and go to drinking piña coladas in Hawaii, or watching reflex all Sunday cuddling and eating popcorn? Call me naive, desperate, or lazy. Whatever you want. I was just so enchanted to meet my blond so quickly, skipping all the mechanical annoying questions. My rational self yelled, Gosh, I sound desperate for intimacy. My emotional yelled, No, I just can't stand dating any longer. And so can't Sam. I loved him already for that! We decided to meet in a cozy restaurant downtown.
We both arrived at this dimmed, romantic, semi-empty restaurant downtown where I could see the streets from the second floor. By the time I arrived there, his glassy eyes and slurred talk gave away his tipsiness. OK, a man who can't wait for his date, I thought to myself. Red light! Beep! As much as I enjoy dimmed lights, I would really enjoy being able to see him clearly, I kept thinking. I kept my cool, and after we went through all the initial mechanical dating questions, I sensed that we didn't hit it off. Did he like me? Were my nails too short? Did I have bad breath? I couldn't imagine how quickly someone was able to hate or love each other. My head was spinning while we sipped on some wine. My only escape was the lights coming up from the street. He began showing sarcasm. A trait I totally hate; although I think it shows a person of higher intelligence, it has the right time to be used. It can't be thrown in any conversation. Yet, this guy had nothing but sarcasm spitting out of his mouth. OK, I kept thinking, he must be super intelligent! A man of higher IQ with a Harvard degree. After almost an hour, I began to noticed something strange. This man's face would move; no matter how much change in his tone of voice, his facial expressions continued intact and looked like a duck. Maybe that's why he was so sarcastic: his botox would show up less. Bingo, explanation jetted down.
Ladies, write this down: a man with only sunglasses profile pictures is a no-no. He might be a botox filled, entrenched with sarcasm, with an uprising belly. He started to speak louder and louder; his pumped up lips were going crazy. He definitely hated my submissive, quiet, and naive look. I couldn't quite come up with this conclusion quickly, so I lingered. I was hoping to understand the reason of all the sarcasm and anger. What had I done?
Definitely, since after that day, I totally understood hate at first sight. Do you know when your pheromones are released by the smells of your mate? Man, when that doesn't happen, you may get the botox-sarcasm-filled man! He might have had more female hormones than I and we "unharmoniously" didn't hit it off. "A chemical imbalance" gone bad, all explained by science, nothing new!
I can't really recall how we left it off. But I walked home that day with my head down, feeling like a loser! You know, when you wonder: why wasn't my picturedar working properly???