My sister from another mother!
Best friends forever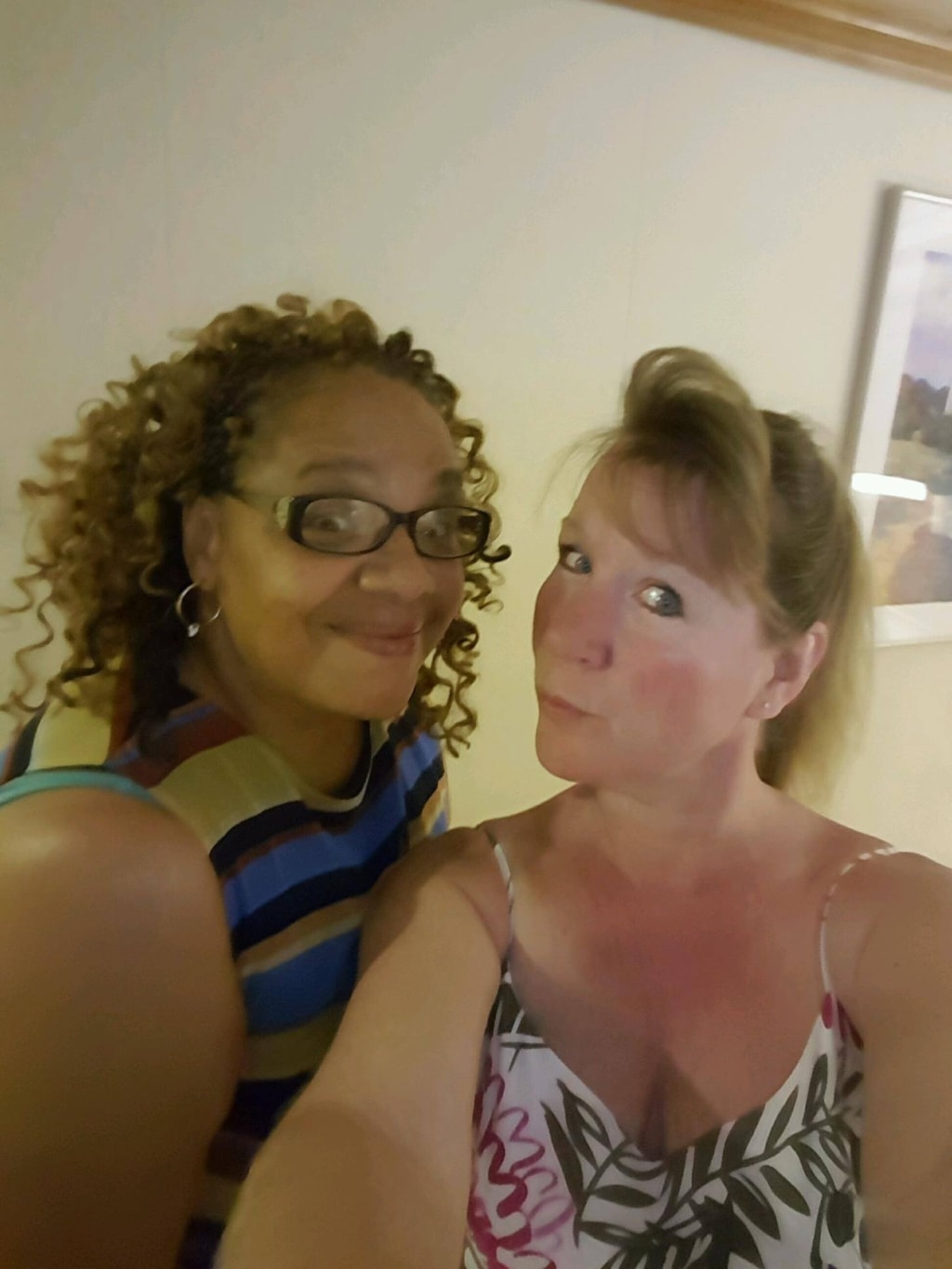 Finding your perfect match in a friend is nothing short of a miracle! Jen and I met in the coolest way. I am a PartyLite consultant aka Candlebabe which led me to Jen. She is one of my two besties I met through PartyLite about twelve years ago.
Part of the party plan is to not only to demo the products and get sales, but also to encourage others to host parties to keep the ball and the money rolling in. One party in particular the host asked her brother to take a catalog to work and encourage people to place orders. Armed with catalogs and order forms her brother goes into work. A few days later I receive a phone call.
The woman on the other end asked if I was the Partylite consultant who gave this guy a catalog to bring to work? I thought I was in trouble, that I'd somehow violated some work related policy. My response was yes, as I hoped I didn't get the guy in trouble. Jen goes onto say "If anyone was going to sell candles at her job, she'd be the one to do it. Then we both laughed.
That begain an amazing friendship. Jennifer has a daughter and we were both singles working moms. That's where the similarities end. Her daughter was in to pageants. She decided that I could work my PartyLite magic and help her raise money for pageant fees, gowns etc.
This was an incredible boon for my business. Every year Jen would organize a fundraiser party, people would attend and purchase PartyLite and I'd donate my profit to her daughters pageant requirements. Then she would introduce me to other pageant moms and I'd do it for them. This also included me hosting a vendor table at some the the pageants and I'd have the pleasure of seeing her daughter Nikki compete. In the meantime I'm receiving recognition for high sales and points toward incentive trips! As a bonus I met more people to host more parties and become consultants on my team.
Jen always recognized me as the key person who helped her daughter meet the financial requirements of competing. It was amazing watching Nikki grow up. She was a little ten years and now she has graduated college live in upstate New York working her dream job. Then likewise Jen watched my boys grown up and now my grandchildren!
While I still resided in Connecticut we would get together often after work for happy hour - drinks and wings. More often than not she would insist on treating.
She had many parties and she still is my best customer. Whether I needed to meet a goal or help a host I can count on Jen to give me an order.
I also had the privilege of witnessing my bestie getting married. Jen married her long time beau at a beautiful bed and breakfast and guests like me were treated to overnight accommodations. Jen is still believing I'll meet and marry my soul mate (me too🙏🏽).
Now I live in Florida, no more parties, all e-commerce, but my bestie still shops. A couple of years ago while I was trying my hand at being a travel agent, I earned a Princess Cruise. Princess only required that I pay port charges which was not expensive for a 6-day Carribean Cruise. Normally I would take my sister, but timing and work obligations led her to suggest I take one of my friends. I first offered to my bff Nathalie but she didn't get back to me so I took Jen. Now my sister is kicking herself she didn't go.😂
Since I paid the port charges, Jen insisted on picking up the tab on our excursions and our on board massage. We had an amazing time. It was incredible. From collecting our charms in every port, to Jose Cuervo tequila tasting, to visiting ruins, to shopping, it was all kinds of fun. The food on the ship was incredible and we got to play dress up on the formal evening. We watched The movie La La Land on a big screen by the pool! The memories will last forever. I created a memory book from the photos we took and sent it to her as a gift.
We get together every November when I go to Connecticut to visit my son and grandchildren, her treat of course. Sometimes she'll bring her mom. I had to send a virtual hug when her dad passed away. Unfortunately stupid Covid has cancelled this years trip and my grandchildren from coming this past summer😭.
Jen promises to come visit me in Florida for a long weekend once it's safe to do so. I've got to take this woman to my happy place-Walt Disney World! Since moving we only have the occasional phone call or text. I'm no longer a travel agent, I found I like to travel more than I like to sell travel. However, that does not mean there's not another girls trip in our future, you never know.
My friendship with Jennifer is priceless ❤️