My Love
How I Met the Love of My Life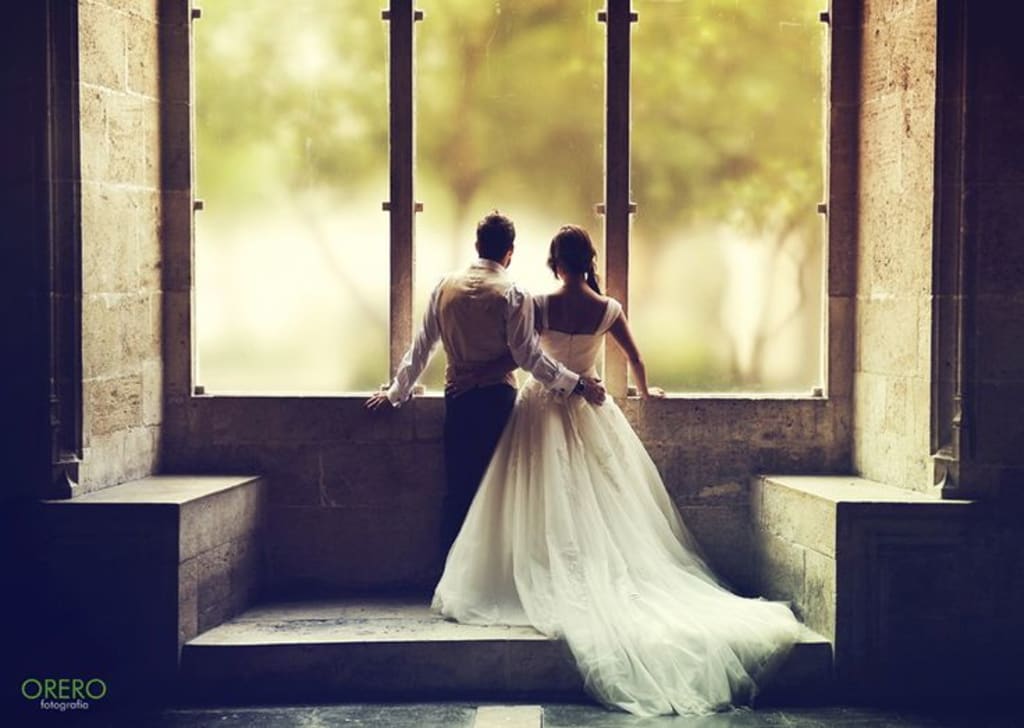 This is the story of how I met my husband.
I was 19 years old. I was visiting my best friend in her town. Her family and I decided to go to the lake. We ran into a group of people her uncle knew. Well, after a while, we decided to jump into the water, clothes and all. I normally don't like swimming in lake water, but I said the heck with it, I'm having fun! About thirty minutes in, I decided to get out. We walk to the car so I can grab a cigarette. As we were walking back to the camper, we noticed this handsome young man standing by the door talking to her uncle.
We told each other, "Holy crap, he is so cute!" He noticed us, and looks at me and smiles. I smile back. As soon as we locked eyes, I fell in love with him. I sit down at the picnic table next to my friend's mom, light my cigarette, and watch him sit down across from me in his lawn chair. Didn't say anything to each other, just stared at each other. After a while my friend's uncle calls me over to him, so I get up and ask what he wanted. He asked me how old I was. "Nineteen," was my answer. He looks at the cute man and asks him the same question "Twenty two," was his answer. He then asked if we were seeing anyone and we both said no.
He then laughed and said, "then why the hell don't y'all say hi to each other!" I could feel my face turning red from embarrassment and shyness.
We shook hands and exchanged names. He offered to let me sit in his chair and he got up and grabbed his guitar. Then he sang to me! I was in awe. I had a smile from ear to ear.
Now, this next part you will be like what the heck, but this is how it all started. He came home with us. (NO, nothing happened! Just some kissing.) Well, on the way home, we sat in the back seat. He looked at me and asked if he could kiss me, just to break the ice. I agreed. And we kissed. He has the softest lips!
The rest of the night was filled with flirting and laughter. And kissing. This all happened June 8 of 2012.
We started dating from then on. A month after us being together, and completely inseparable, he asked if I wanted to move in with him.
Now, mind you, he just got out of the army in February of that year, and was living with his mom and at the time stepdad. I told him I would love to, but he needed to ask them first. And, well, they obviously said yes.
We became best friends, always doing stuff together and playing video games, back roading, going to Hastings, stuff like that. That month of July, we were at his uncle's friends house, and we were outside. I was sitting in the driver's seat of his truck and he was standing beside me. Just talking, cutting up with each other. Then, he gets on the ground, on one knee, and proposes to me. Nope, no ring. Just his elegant words and promising eyes. I said yes, of course.
We got married that next month. And it's been totally great and crazy all at the same time. I don't regret it one bit. Five years and four months later we are still together. We have a beautiful family. And I couldn't ask for better.
A man that loves me no matter what is all I could ask for. A man that loves me for who I am. Inside and out. He is my soul mate. My best friend. And everything I could ask for and more.
For those of you who don't have that someone yet, and believe you don't have a soul mate, trust me, you do. He/she will come along. You just got to wait for that perfect timing. Don't give up on love. Because it could just be right around the corner like it was for me.
And that's how I met my soul mate. ❤
love
I'm 24 years old. I love to write. Once I set my mind to something I can achieve it. I've been married for 5 years, going on 6. I have 3 kids. And whatever I end up writing I hope you guys enjoy 😊
Receive stories by Carol Forsyth in

your feed