My First Lesbian Relationship Pt. 5
The Beginning to Forever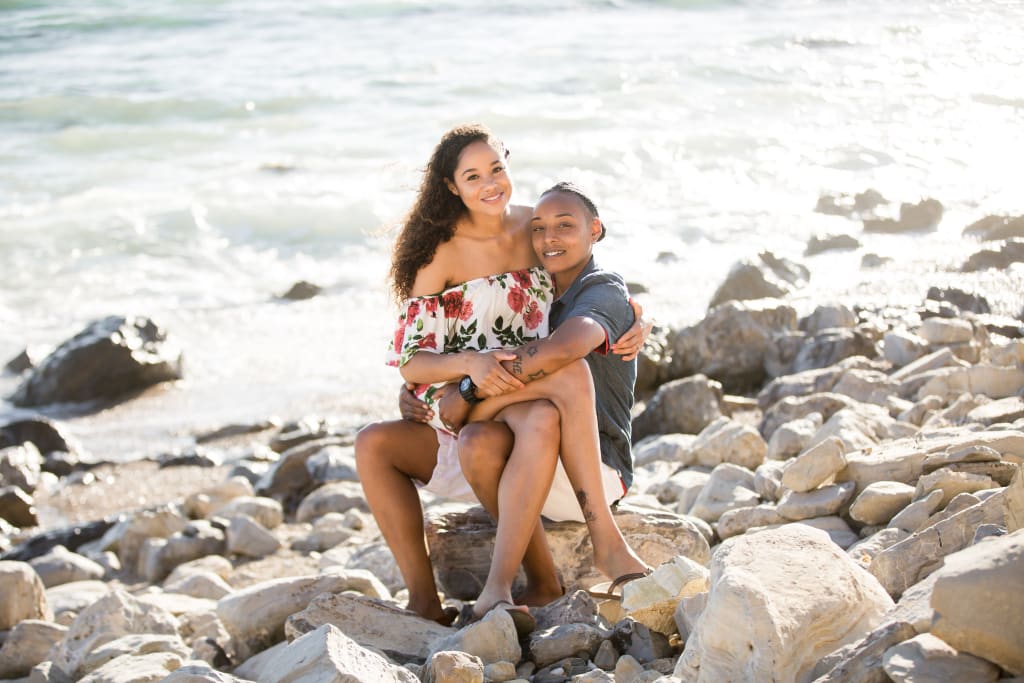 So I left off in part four with my fiancé landing her Starbucks job. This was literally the greatest thing at that time for her. She wasn't herself with everything that had happened in the past few months. My fiancé finally found the light at the end of the tunnel... BUT it was a struggle.
My fiancé's first few weeks working for Starbucks were beyond stressful for her. It is a very overwhelming job to begin with so I can only imagine what training was like. She would call me almost every shift saying that she was thinking about quitting because it was too much to handle. Thank God she was hired at a cafe where teamwork was everything to all of the partners. Having such supportive coworkers turned my fiancé's outlook on the job around and that is why she stayed.
So let's fast forward to my fiancé's 26th birthday. I took her down to San Diego this year. We went to the San Diego Safari Park for the day. Obviously we both love animals so this was an amazing experience for us. My fiancé loved everything about the Safari Park. It was pretty empty so we got to see all of the animals within a few hours then head back home.
Between my fiancé's birthday and mine all we did was work (clearly working is the story of our life). For my birthday that year we took a trip to Six Flags. This was the biggest day in our relationship (well, until our wedding day is here at least). On this day, I whispered into my fiancé's ear asking her if she would marry me. We were waiting in line for X2 when I popped the question. She did NOT believe me at all, but she said YES.
My fiancé and I decided to wait to get married. She was still getting back on her feet and we were still living with my family. It would have been a struggle planning a wedding with everything going on around us at the time. I personally feel like us waiting helped to take so much stress away from the planning process (not saying it wasn't stressful).
When we first started talking about possible wedding venues, we mentioned getting married on a cruise ship, getting married at Disneyland, etc. There were so many places that we envisioned our dream wedding. I also wanted a winter wedding at first. In our minds the possibilities were endless. It was so hard just to come up with a wedding date.
Fast forward to 2017, we FINALLY chose a wedding date and the perfect venue for us. Once we got all of that down, the planning took off from there. They say that an engagement is the happiest time of your life but honestly, it is the most stressful time of your life. Every small detail matters when it comes to your wedding... but it will all pay off right? Well it better.
Our relationship has been quite the journey. We have had great times, we have had some terrible times, and we have had times where we didn't even know what was going on anymore. Throughout everything, all of the anger and arguments, all of the sadness and tears, all of the hurtful things we've said to each other, we fought for our relationship. We stayed by each others side no matter what and that is why I can't wait to call this woman my wife. That is why I am ready to take her last name. She's an asshole sometimes but so am I. We work for each other. We fit like two puzzle pieces. The love of my life.