My Experience Using Online Dating Apps as an Indian Man
My Journey Looking For Love in All the Wrong Places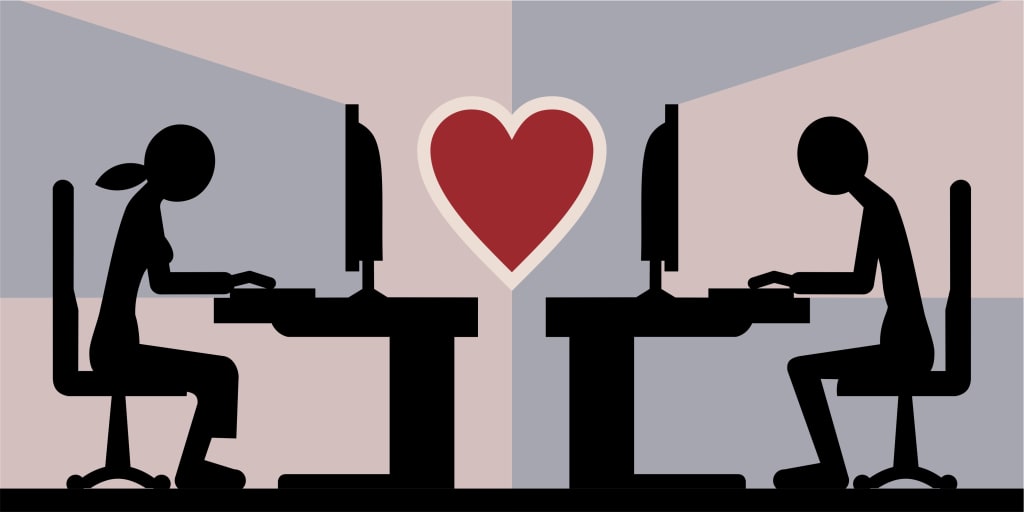 In the current zeitgeist, the dating scene has changed over the past ten years. Nowadays, dating is like ordering food online. Some days, you have a hankering for Mexican, Japanese, Italian, or some crazy fusion. But from my experience using online dating apps, it seems like not a lot of women want Indian.
I have been using dating apps for a couple of years now, apps such as Tinder, OkCupid, and Bumble, just to name a few. And, well, I haven't had the best of luck. As a result, it led me to think, unfortunately, that maybe a lot of women don't find Indian men desirable. Now don't get my words twisted, I am not saying that a lot of women are racist, but I have a few theories as to why women might swipe left on some Indian guys.
During my time with such apps, I have had days where I've swiped on Tinder to the right as if I was dealing playing cards. I have sent full, complimentary, and profound messages on OkCupid, only to be left on read. Finally, I have swiped on Bumble, just to have my ego stung.
After having some discouraging moments, I asked myself, "Maybe online dating is a little racist?" To elucidate, the word "racist" I say lightly because there are far worse things that coincide with racism. But from the dating aspect point of view, I understand that women have their preferences when it comes down to their liking of men. With that said, I have a couple of theories as to why some women may not like Indian men.
Theory 1:
Indian men on online dating apps are creepy. Now, all Indians, of course, are not creepy, but pragmatically there are some creepy Indian men, as there are other creepy men in general. To some that may know, there is this stigma online that Indian men tend to be perverted within the online domain. There are even memes and online forums illustrating this, such as the "Bob's and vagene" meme and others like it. But not every Indian man is creepy. There are some nice ones that want to build a meaningful relationship and not just want to see your "Bob's and Vagene."
Theory 2:
Indian men are misogynistic. I understand this concern for all women as well as they should be. India has been known to have arranged marriages with married couples being total strangers to one another. In a lot of media that I've seen, it seemingly illustrates the man mistreating the wife in some way shape or form. In some perceived cases, the woman is not allowed to do anything either, where all she does is stay home and cook. Modern day Indian culture suggests that a lot of couples are independent of one another.
Theory 3:
Indian men are not attractive. In Hollywood today, Indian men have not portrayed the same way that Indian men are in its Hollywood counterpart: Bollywood. In Hollywood today, Indian men are portrayed as goofy non-masculine nerds, whereas, in India, there is a stark contrast, where Indian men are seen buff, masculine, good-looking dudes who always get the girl. Yeah, it's true that some of us are hairy and seen as nerds, but Google the Bollywood actor Hrithik Roshan, and you might think differently.
So these are my top three theories that women have concern for in my opinion in towards Indian men. Now, I completely understand why some people may think this. Growing up in America, a lot of us are primed to believe this is how Indian men are, but on the contrary, it is not the case, in fact, it is quite the opposite in India. Just like any stereotype, it can be detrimental to culture.
I have had some success using dating apps though, in this case, success for me is whenever I get a match or if someone is kind enough to reply. Either way, such cases are a rarity. However, some of my connections were kind of off-putting and slightly creepy. For example, I sometimes connected with women who had a new found love for yoga, and I was their vessel for their enlightenment. Secondly, there was the woman who had a newfound love for Indian food. I would sometimes get the message without introduction, "I love Indian food!" which led me to think that they might find me delicious. Some of the time, the conversations with such girls would go nowhere.
I have one more bonus theory in regards to my lack of matches on dating apps. I could very well be hideous, and my profile bio is shit. But if that isn't the case, I want to speak on behalf of myself and my fellow brethren. For Women and Men who are giving a second thought on developing a companionship with an Indian for whatever reason, I say you give that person a chance. Just like anyone, that one person can surprise, and it may be something you like. Maybe an Indian person can have a profound enlightening impact on your life. Who knows, though? Perhaps you like it, but you won't know unless you try it.
About the Creator
Hello to all! I am a Philosophy graduate, looking to apply my education to modern interpretation.
Reader insights
Be the first to share your insights about this piece.
Add your insights