Music and Its Power to Connect!
A brotherhood based on music.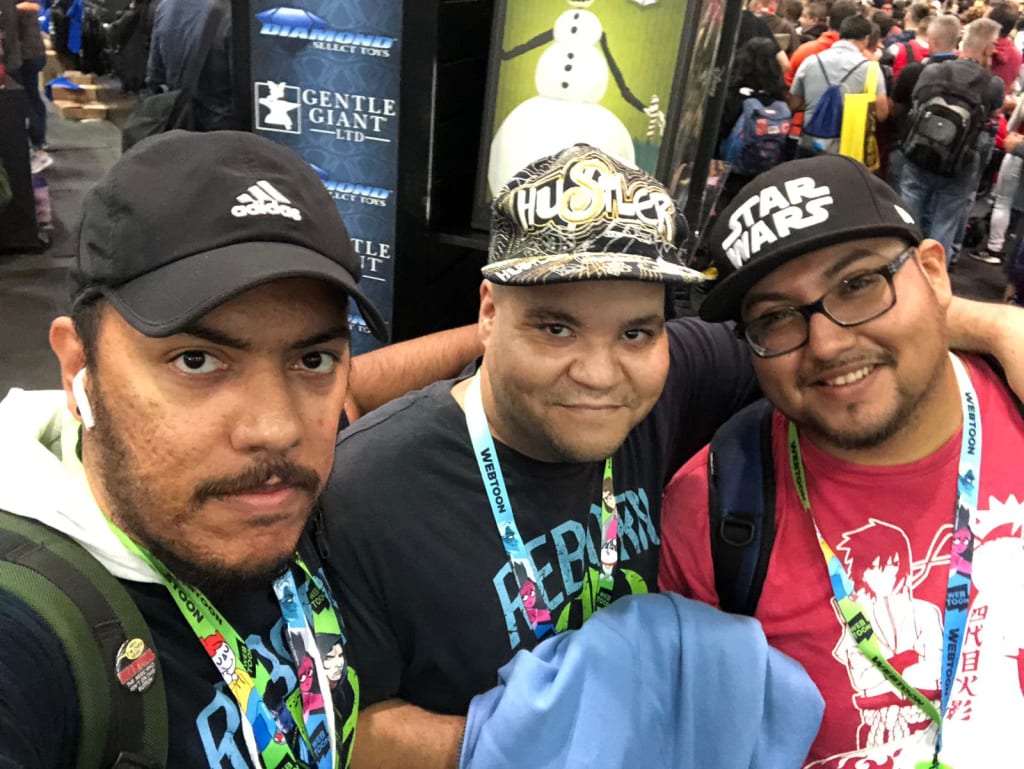 We live in a world so full of negativity that I have made it a personal goal to spread some positive energy everywhere I go. Much like my last article, this is intended to showcase that while the world can be cruel, harsh place to exist in, its the bonds we form with others that often help us through life's battles.
In the picture above, taken at this years New York Comic Con, you will find my best friend Gabriel (on the left) my other best friend Buddy (right side) and me in the middle. Gabriel and I know each other since high school, but it wasn't still 2015, when I auditioned for The Voice, that our friendship truly began. It was a love for music that got us to constantly communicate through messenger and talk about music and wrestling, the two things we enjoy most. In 2016, we decided to go to an audition together as we both wanted our big break. We went the night before and spent the whole evening joking around, singing, and just preparing ourselves for the morning ahead; as it would turn out, the lack of sleep had us both off our game and we weren't chosen but we were not defeated by the rejection either.
Post-audition, we decided to start our own duet together. We sang a couple of songs just "testing the waters," as they say. We received an overwhelming amount of support from friends, family, and strangers alike. We created a YouTube page and called our duet "Son De Voces" and began posting Spanish covers from our favorite artists and we had way too much fun doing so. We still sing any chance we get because we just love to sing. While we continue to post covers and sing together we created a second tradition to our friendship. We began watching Wrestlemania every year, as well as Summerslam. We sit back, relax and enjoy the show with food and drinks and it's always a blast.
Speaking of wrestling though, in 2017, we decided to check yet another thing off of our bucket list and attended an actual wrestling event at Madison square garden. We sat in the sixth row and enjoyed three hours of wrestling and got the opportunity to see our childhood heroes The Hardy Boyz, live. It was a dream come true for us. At this point we both couldn't believe that in a year we had done so many cool things together, and not only that but we had formed a brotherhood that began with simply sharing our love for music and talent and from that it become one of those friendships you simply don't see very often.
After our amazing first ever WWE live event, we were far from done, as we would go yet again to another show in January 2018; this time it was WWE Monday Night Raw 25th anniversary show, and we managed to get ourselves a pair of VIP tickets, which included a meet and greet prior to the event. Add on the fact that we met JR and the king, the WWE hall of famers who were the best announce team of our childhood and HBK, Gabriel's ido,l and we were both floored with how incredible the whole experience was. Not to mention, DX, Undertaker, Scott Hall, among others were also on the show (not the meet and greet) and we were so close to the action, it actually topped the original show we went to, and that's not a knock on that night, because your first time is always unforgettable.
By this point, we just couldn't believe all the amazing things we had done together and just how close we have become. But let me pause for just one second to acknowledge the side of our friendship that I believe truly matters, the fact that we've been there for each other, supported one another in good or bad times. Neither one of us have had an easy life, but we accept our challenges and bring positivity into each other's lives, not to mention we don't just share awesome moments, but we talk about the struggles and provide an outlet of expression and motivate each other everyday. I believe that is a very necessary tool in each friendship a strong support in each other's daily battles and a form of shield to keep our minds from being consumed by the negativity our society provides us with.
Well, back to the stories; after Raw 25th, we actually made it on television, you can see us on the WWE Network when the camera gets our faces a few times, which means we are forever on the network for us to show our grandkids some day. We decided that April to begin yet another tradition. We went to see Avengers: Infinity War premiere week, it was so awesome watching our favorite marvel superheroes face off against Thanos, and add yet another tradition to our long standing list of activities we previously had done, and of course we did it again for Endgame and shall do so for Joaquin Phoenix's Joker movie that just hit theaters this weekend. We haven't done it yet because of Comic Con; I went Thursday and Friday, and added my first Comic Con to yet another tradition for Gabriel and I's brotherhood; had an amazing time too, if you can't tell by the picture above taken on Friday with two of my greatest and best friends.
Really, when I look at the friendship I've developed with Gabriel over the past several years, it shows me that this world has so much more amazing things to offer that we haven't seen yet because we are too busy with the negative energies that surround us; if you have a best friend like mine, please cherish them, for they are rare and true friends are hard to find in a world where everyone is out for themselves. Besides comic con, there's still so much more great things for Gabriel and I to accomplish as we work on our goals and dreams, we still want to one day soon step between the ropes and be a tag team, win tag team titles together, we shall one day. I believe it.
If you have any doubt, well, we've already started one of our dreams as we began our own gaming channel on YouTube called X-Gamers Asylum, look ya up on YouTube. We play games, share some of our great adventures, including our first ever trip to six flags this summer. We got on The Nitro and The Joker, among other great rollercoaster rides. You can see a video on the gaming channel if you'd like to see more. You can also find the Son de Voces YouTube channel even though we haven't posted in a long time, but we will soon. Our bond is the best, and I can only hope that anyone reading this finds a friend like Gabriel one day, and as I've stated before, if you already have that friend, please cherish them. I've seen many people come and go, but a true friend stays forever.
This friendship for me, was forged out of a love for music, the art of it, showcasing the power that music has to unite the masses and create moments that last a lifetime. Music is a form of magic that makes our souls tingle and can break the negative spell society creates. I thank music for the opportunities it has granted me, but most of all the bonds it has given me.