Movie Review: 'Fireproof'
Lessons Gleaned for Marriages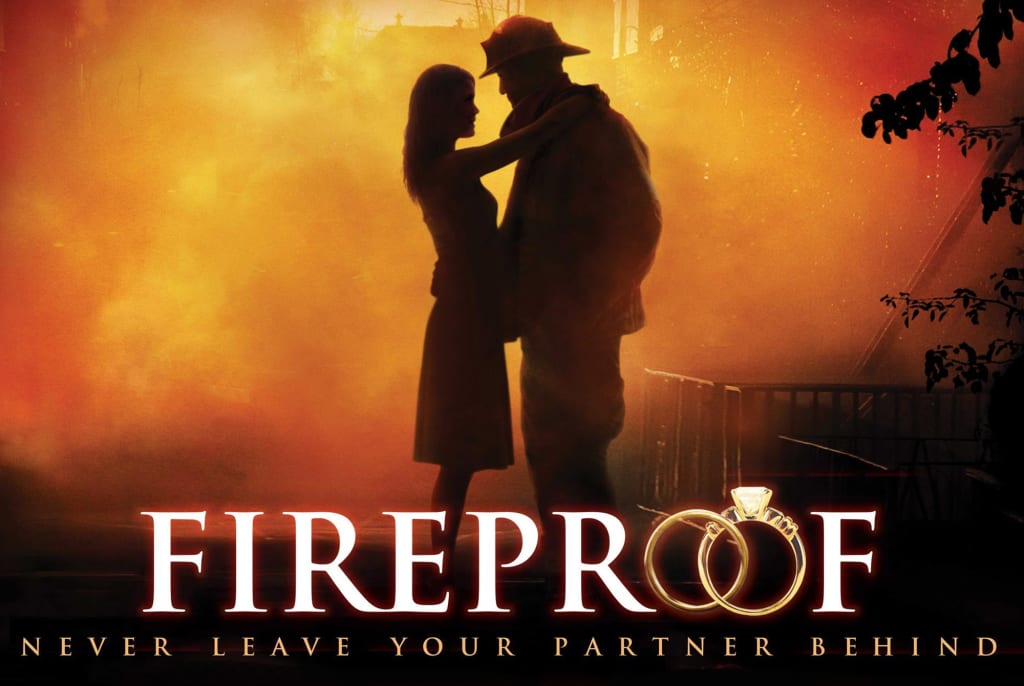 Movie Review: Fireproof
DISCLAIMER:
This movie was put out by Christian writers and producers. It was filmed by predominantly Christian actors and actresses. I know that writing on Christian topics is frowned upon with this site, but it cannot be excluded from the review of this movie. Christian principles run throughout. I am not forcing Christian beliefs, just presenting them as they appear in this movie.
INTRODUCTION:
Fireproof was put out by Samuel Goldwyn Films, which also put out It Had to Be You and Lila and Eve, amongst many others. It was co-written and co-produced by Stephen and Alec Kendrick who also brought us Flywheel, Facing the Giants, Courageous, and War Room. This movie, starring Kirk Cameron and Erin Bethea, attempts to use a fictional story to present a solution to a problem plaguing the world—pornography and the breakdown of marriage.
SUMMARY:
It is obvious from the beginning of the movie Fireproof that the main characters (Caleb and Katherine) are suffering from a breakdown in communication. Caleb is selfish and self-centered and Katherine is operating from anger, frustration, bitterness, and hurt. The movie just jumps in at this point in their relationship, so one can only speculate as to how their relationship degenerated so far. We do see that deception played a key role in the relationship falling apart. According to John Stewart, "most acts of deception have unintended consequences" (Stewart, 2012, p. 331). Materialism also plays a part in the degeneration of the relationship. Caleb is both deceptive and materialistically selfish. Katherine discloses her feelings, but in doing so out of bitterness and anger, she provokes Caleb causing the situation to escalate. In her search for the love and intimacy she desires from her husband, Katherine compounds the problem by having an emotional affair at work. She becomes defensive because she is feeling guilt over the affair. Caleb is defensive because of his guilt over the pornography. Defensive behavior can be detrimental to relationships. "The person who behaves defensively, even though he also gives some attention to the common task, devotes an appreciable portion of his energy to defending himself" (Stewart, p. 353). It is only when Caleb abandons his defensive attitude that the relationship begins to turn around. In his decision to respond with love, no matter what Katherine says or does, his heart begins to change and he begins to see what he has done to the woman he once loved.
Now my analysis of this movie will not be a popular one with most generic article sites because of the inclusion of Christian principles. However, let me restate, my goal is not to push my Christian beliefs, but expose the message and agenda of the movie. It is in this context that viewers can decide if they truly want to spend money and time on this movie.
ANALYSIS
When proper self-disclosure occurred between the parties, the relationship improved. However, the self-discloser between Katherine and Caleb was not the turning point in the relationship. The turning point was when the communication between Caleb and God began. When Caleb realized how depraved and hopeless he was, and disclosed to God those feelings, he began to acknowledge his need for a Savior. When Caleb allowed God to change his heart, he could then love Katherine with a real love. He was able to introduce her to real love and Katherine then sought what Caleb had found.
Too often we put so much emphasis on interpersonal communication skills and being completely honest in relationships and finding victory through hopeless times. This emphasis is on a man-achieved victory when it should be on a God focused relationship that allows Christ to transform us from the inside out.
RECOMMENDATION:
My recommendation is twofold. I both recommend and do not recommend this movie. First, if you are a Christian or if you are neutral on this form of faith, I recommend seeing this movie. Secondly, if you are offended or angered by biblical principles, this is NOT the movie for you.
Although some of the acting is weak, it is still well-done. The points the writers tried to relay are done so excellently. I, personally, was inspired by the movie, and whether a Christian or not, the story presents a viable solution to a very real problem. Whether adhering to Christianity or not, materialism, selfishness, and lust pose tremendous problems in relationships and must be counteracted with trust and acts of selflessness.
REFERENCES
Kendrick, A. (director). (2008). Fireproof [Motion Picture]. USA: Sherwood Pictures
Stewart, J. (2012). Bridges Not Walls A Book About Interpersonal Communication. 11th ed. New York: McGraw Hill