Michelle Obama Is The Friend I Didn't Know I Needed
And why her book should be on your TBR this year.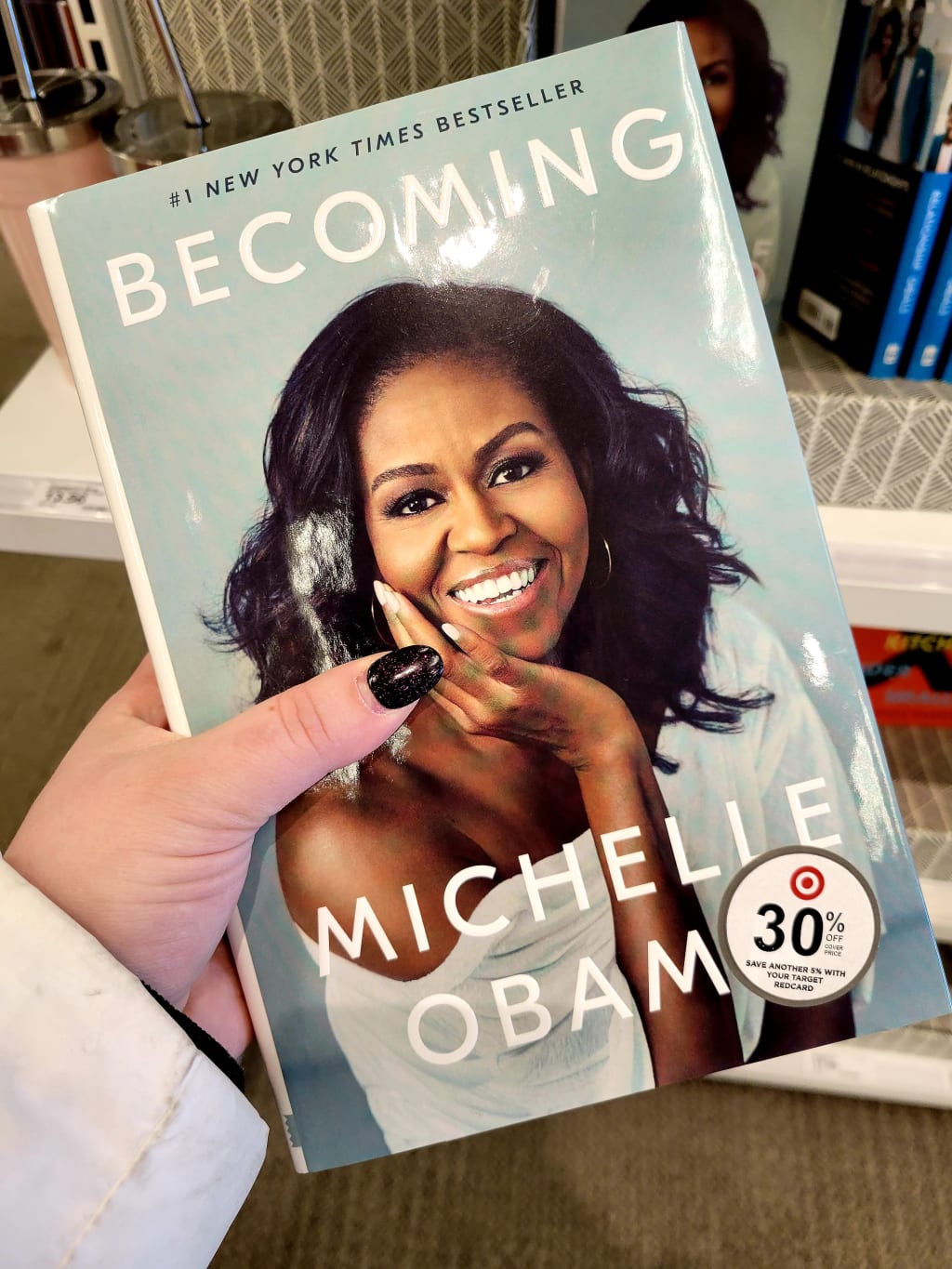 Photo Credit @theamethystbooknerdigan
I remembered back in November of 2018, when Michelle Obama appeared on the Ellen show in a Costco doing a book signing. It was hilarious! Ellen was playing on a Piano and singing while Michelle was trying to be serious and actually get to know people while signing copies of her book. You could tell while she was slightly annoyed, the pair equally have an amazing friendship that is hard to come by. However I didn't think much of her book until this year, when I was looking for a new audio book in the Audible store.
Becoming kept coming up as a highly recommended read. The cover is sleek and had an amazing photograph of her looking phenomenal, however I didn't know if I wanted to bring myself into reading a book about a politician's wife. I try to mostly stay away from the political realm of things. However it kept sticking out to me, so I finally downloaded it with one of my monthly Audible credits. Truthfully no lie, I am glad I did.
This book is one of the best books I have come across in a VERY long time. With the audio form it came off as extremely personal, and I literally got to hear things from her perspective, in her own words. She definitely has an amazing voice for narrating. The book itself was 19 hours long, but truthfully I was able to knock it out pretty quickly while doing Door Dash. Life always seems to keep me on the go, so I rarely have time any more to sit down and physically read a hard copy book. Audible has given me the opportunity to get books in and hear it through someone's voice, which is why I think they are perfect for autobiographies.
To my surprise, this book blew me away. She became more relatable as a person, than I ever thought of her in that light before. She was a working mom, and talked heavily on her imperfections, and even her doubts on wanting to even be in the spotlight of her husband's political career. It really threw me off. I never really sat down before that, and really thought about how politics genuinely affects the families involved. Michelle really emphasized making things as normal as possible for the girls, and came off as someone I would love to be friends with.
Michelle really hit on her home life with growing up in the south side of Chicago, and talking about the death of her father really impacted me in a way that sold me over on the book. Her father had MS and died from complications of lack of medical care, but it was the way she described death. I had never heard of someone describe the impact of the after affects it has to that degree before. It was like she put the words in my head that I had been failing to compute for some time, and genuinely made me cry. I knew that feeling. I knew the heartbreak, and the pain of what it was like to loose someone you loved who you were so close to.
Michelle really got real about the struggles of marriage, and how politics affected their relationship. Truthfully showing alot of double standards between the administrations. It was just a really candid book of balancing work, family, and overall just being the person on stand by of politics. The valuable lessons of not judging someone for being associated with politics who may not necessairly be directly involved. Michelle was there supporting, but she wasn't the president. She was just the face of the country, and her job wasn't political.
It made me look deeper into the fact that the media really twists and contorts alot of things, for the sake of adding something to the evening news cycle, and that not everything we see on TV is reality. This book made her seem more human and relatable than I ever remember seeing her. I saw a mom, I saw someone struggling to have an identity other than being known as someone's parent. I saw her real family dynamics, and really brings a light to racial inequality. I just overall was genuinely blown away with this book.
Michelle mostly helped to try and normalize a working mother standard. There is so much mom shaming that goes on here in the United States, and for her to utilize this opportunity to not only normalize it, but to show those struggles of that busy mom life (i.e. Lunchables, running errands during lunch hour, etc.) was very relatable to me. Outside of being a single mom, I also have found myself making convenience meals, and just trying to keep up with the day. Michelle made me feel like a normal human being with feelings. Knowing I'm doing my best, while also trying to provide a normal life for children around.
She showed her struggles with image alot in the White House, and ultimately became an early influencer on social media, and recognizing the importance of it, while using her clothes as a statement piece. Literally looking put together all the time, but seriously emphasizing that if it was up to her, she would always be in yoga pants. Moms are always being made to feel like you had to have your hair and makeup done every day, but people don't see the teams of people she had to help coordinate those efforts daily. Appreciating the small moments of normalcy.
I honestly loved this book if you can't tell, and this is probably the longest book review I have ever written on a book. But it was definitely worth every moment. I wish some day I could meet her. Politics aside, she's that person I could see myself being friends with. Her story deeply impacted me, and I rated this book 5 stars. Target has her book on display for 30% off right now, and is prominently in the front of the store for Black History month. She truly was a pioneer in being the first person of color to be the First Lady, and I am glad to see they are featuring her. This book deserves every moment in the spot light.
I hope you liked this book review. I will always bring you honest opinions of the latest reads, and I appreciate the time. Consider leaving a tip below to fund my next book haul in Barnes and Noble? And follow me on my bookstagram @theamethystbooknerdigan
Cheers!
-Kayla