Melodrama
They say love makes you crazy.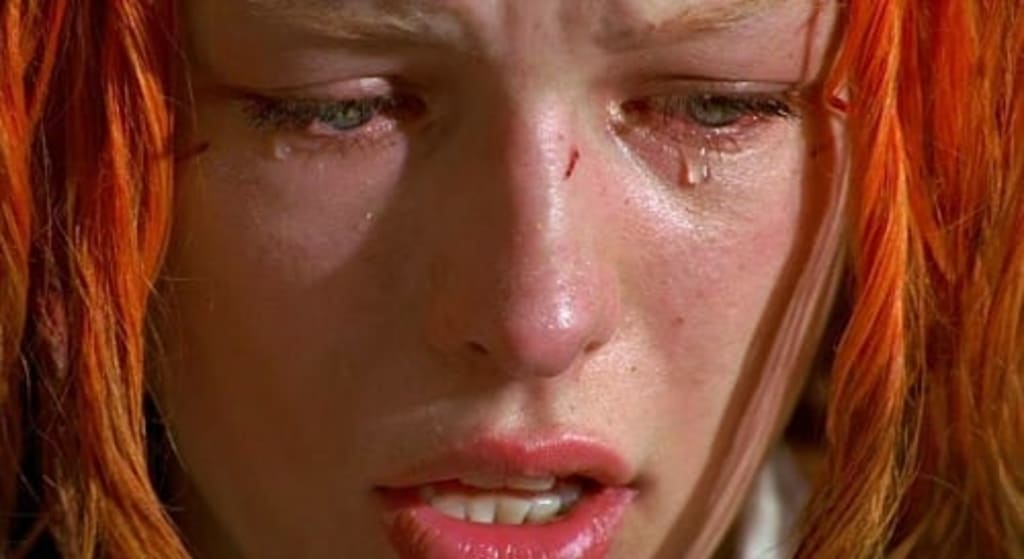 Film: Fifth Element
You don't start reading a book from the middle, you start on the first page, or you may even begin with the very last page. This story begins seven years after we met, on the most sweltering summer we had ever felt together. I never understood why poets wrote so longingly about the summertime, that anything is remotely possible if you believe. After all the years, this summer gave us the violent floods of each other, making anything possible.
The sun glimmers on the water, and it reruns in my mind, like an old show on repeat. He speaks to his sister softly, his tongue rolling with each syllable, ending at his lips that tell me I'm his over and over. The water is warm when he pulls me in, the hot air the reason we return to this overpacked pool in the first place. It's not the first time we come here, and I know it won't be the last. The sun burns lower in the sky, and it reflects in his gentle eyes, it's easy to let go when he carries me. He wraps me up in him, and we tangle as one, entwining ourselves wholly. He takes me to the deep end and holds my head above the water. The stars come out to witness our shining glory, how we outshine them in every way, even in a busy place bustling with bodies. I hold my breath as his hands burn through all my layers, his wet lips sighing a heavy breath back into my lungs. I'm as sweet as heaven, though he can't promise me anything, I accept all of him anyways. When we leave the pool, he keeps my head above the water still, driving me places I know only he can take me. We sit in his car, and I play the songs that remind me of him, my mind preoccupied with just him. He comes home to me at night, from the storms outside and he tells me I'm his solace. When we were younger we used to pretend to be in love; now I wonder if he ever had to pretend. We promised that after, nothing would change, that nothing as lovely as us would break our pact.
On the last day of summer, there wasn't a cloud in the sky. We packed his things in his mom's car and drove an hour and a half away. Leading up to that day, I spent every night in his bed, but maybe if I asked he would stay. We never talked about how things would end without it being messy, but it seems that was the only way. If it weren't for him wanting me to be strong, I'd fall to my knees and beg him to stay. I cried in the car on the way home; his parents knew how much I loved him, they pretended not to notice the sound of my being crumbling apart.
Seven months later, he calls and tells me he's in love, as if for the first time. I relive everything all at once and wonder if I'd just imagined it all. I wonder how I can loathe someone I'd never even met so much. Some parts of me reminisce on the summer, other parts have been driven away to the furthest corners of isolation. I want to hate him, to make him endure the heartache and torment I still feel every day. I see the trance I was in that made everything seem like a perfect dream, that if I lost him, I had also lost myself. I used to live in the memory of him everyday to cope with not having him. I took myself to the pool we went to in the summer, but it had closed for the winter. The other night I realized there is no longer a heavenly divine us, that we are separate people now.
I thought I had lost everything, myself included, but if I could go back and change it, I don't think I would. I misplaced myself for a short period, however, nothing has the ability to break me entirely. I promised myself I would never let this hold me back from loving another. Sometimes I play the songs again, and I think of all the things we accomplished together. And I feel lucky to have loved him when I did.