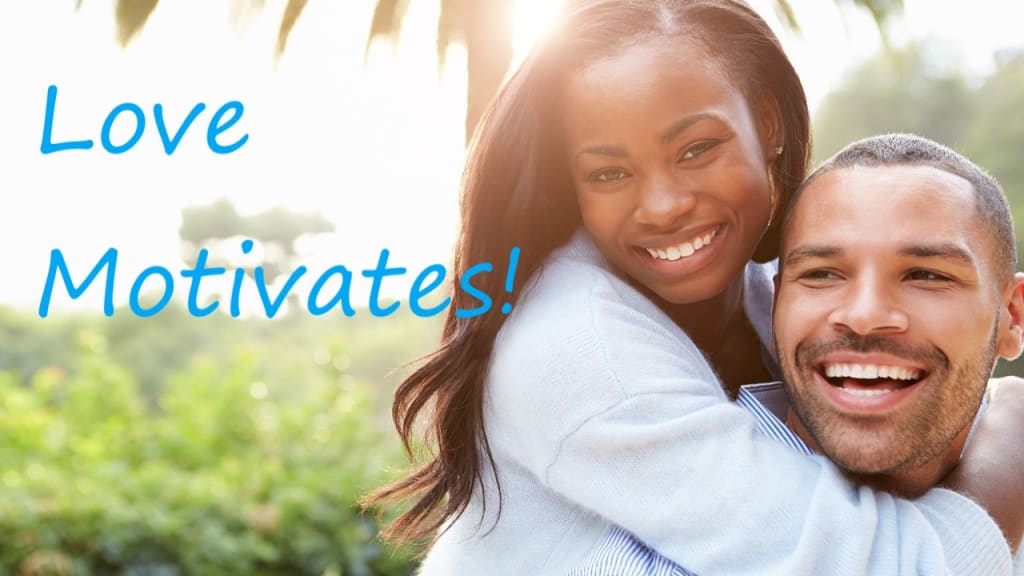 Love Motivates!
Love motivates and it never fails. It never fails to motivate. It keeps one alive and never lets anyone be discouraged. When we love truly, we motivate that person and in return we also remain motivated.
Motivation is all about give and take. Give motivation to others and in return receive the same. Marriage is all about motivating one another for lifetime. It also means loving one another for lifetime.
Love motivates because it thinks lively and good about others. When the husband is the well-wisher of his wife and vice versa, they remain motivated to love one another. Whereas, discouragement separates them and gradually it may end up in permanent separation. Hence, it is recommended that the husband and the wife should motivate one another.
Love is also about marriage and motivation in the marriage. A married couple always remains happy when they receive this love every moment of their married life. Discouragements come from so many directions, but, love motivates and it all begins from home.
Your home sweet home needs motivation and it comes from the husband and the wife. It comes from the elderly people and well-wishers too. Children of the family need motivation and it comes from the parents, grandparents and from society.
Socially, there are so many discouragements, but, in a family love motivates. When the husband and wife come closer to one another, they share emotions with understanding. This closeness is needful for the couple to remain connected with each other.
Love motivates when the couples understand one another without any misunderstanding. In a true relationship, one doesn't need to give explanation to another. This is true love where love understands and also encourages one another.
Motivation comes from deep within, from the depth of the heart. The couple loves because they have the love within. This love motivates them. However, marriage that has happened due to compromising will never have good results. Compromising never solves the problems.
Speaking clearly and openly always helps. That motivates the family members. A relationship begins with trusting one another and then the motivation remains. Trust is first and then it helps remain motivated.
Life without this true love is discouraging. It doesn't have the true life in it. Then, one sounds to be alive, but is not lively in real. Hence, understanding love is very important.
Love is patient and very kind too. Love has nothing to boast about itself and it does not speak lies. It is transparent and has nothing to hide from one another. When the husband and wife share everything with one another like true friends, they remain encouraged in faith.
This faith is needful in every relationship. Faithfulness is a virtue which is a part of love. Love does not fail because it remains faithful all the time. Love is so merciful that it remains faithful.
Another virtue of love is goodness. When the husband and wife are good with one another, the goodness keeps them motivated. This goodness is the best gift and it motivates amazingly.
Indeed, marriages are made in heaven and hence love comes first in a married life. Love never fails, never argues and never disappoints one another. There is no manipulation in it.
Love is courageous and uplifting too. It has nothing against one another. It has proper understanding of sacrificing for each other. So, in a family, sacrificing is a part of love. Sacrifices gradually turn into blessings for the family and it is strengthening.
The husband and wife should edify one another. Then, they can easily remain encouraged and reach their goals. The goal of every married couple is happiness and unity. This cannot happen without love.
Forgiving one another is so important because everyone tends to do mistake. No one is perfect and with the help of love and motivation, one can become perfect gradually. Then, things become smooth and life becomes easier.
So finally, love has benefits of its own and it motivates unconditionally.