Long Distance... Pt. 2
We finally reunited! 92 days of waiting are over!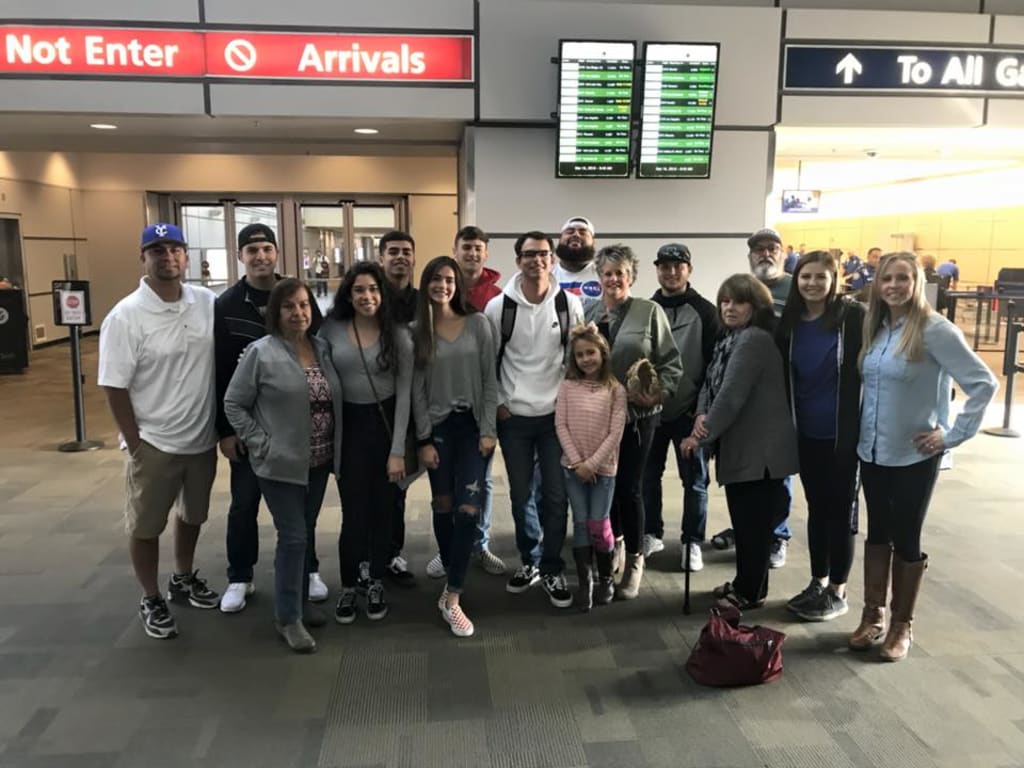 Evan came home after three LONG months!
So that magical moment finally happened! After three very long months, Evan finally came home, we surprised him with a group of friends and family at the airport! I was so nervous to finally be able to see him again, facetime made things way easier but it still isn't the same as face to face. The moments leading up to his arrival my heart was racing. I woke up four hours early and ended up at the airport two hours early just because I did not have anything else to do and my heart was on cloud nine. Distance has a funny way of bringing people together, settling any differences and just enjoying the happiness in the air, or is that because it is the holidays?! So the moment finally came, I was watching my Evan get closer and closer to me... My heart was pounding and honestly, I could not hear a thing around me. It was honestly like those movies scenes where everything goes black and it is just him standing there. This is the fun part, I saw Evan, my heart was racing, he was smiling... My whole entire body froze. Yes, it FROZE! I stood there and looked at him like a deer in headlights. So embarrassing! Being the amazing man that he is though he just wrapped me up in a hug until I finally came back around to reality. It was emotional and exciting and so worth the three months apart. His visit was for nine days, and in those nine days, there was not a day that was not fun packed and eventful!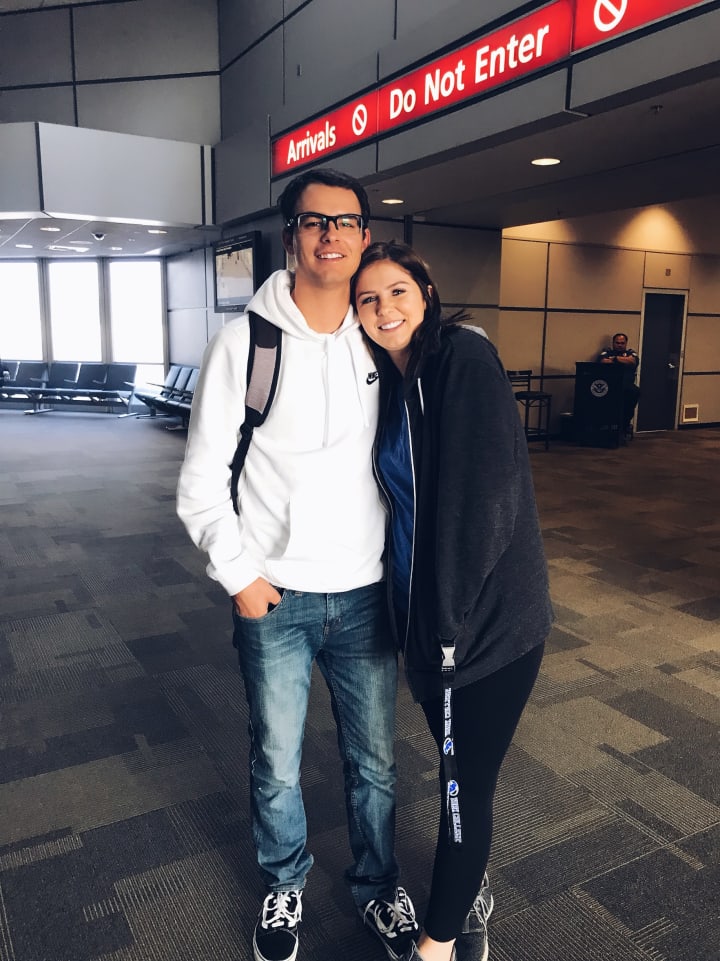 Evan finally arrived back home to the Fresno Airport! I was so happy and I knew it was going to be a fun week, his family had set some fun surprises up for him. The first was being surprised by his friends at the airport. We then decided to take him out to lunch because it was still early in the morning when he arrived. We took him out to Yard House, his favorite restaurant ever. We had over 15 people there eating lunch, we ate good food, had some drinks and headed back to his house for an after party. Everybody hung out, more family came over, and we had a little party all night! Everybody was so happy to see him, he is a very big family guy so being away from them for three months was very difficult. Ended up in bed pretty early, Evan was exhausted from traveling and the time zone is different so he was thrown off of that too. I want to say it was around 11:00 o'clock at night and he couldn't stay awake anymore. So we went to bed and Saturday was planned to be just as eventful! We attended the Fresno State game where Evan's cousin plays, one of the captains and an outside linebacker. We tailgated before, hung out, saw more family again, and then went into the game. It was a fun night but a cold night! Screamed and yelled until we had no voice, Fresno State came out with a victory over San Diego State. We did not get back home from that until nearly midnight, all of us crashing as soon as we got to his house! Sunday was my special day, I had a surprise set up for Evan that he had wanted to do since before he left!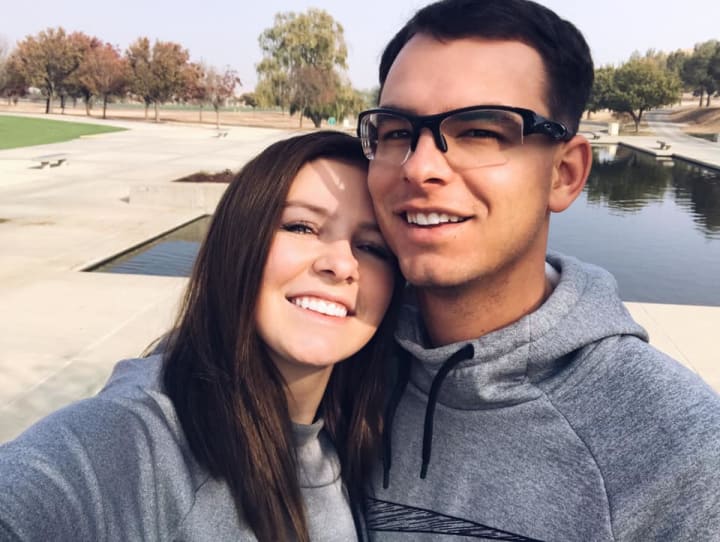 Sunday was my day, I got to spoil him and spend some good quality time with him. Before he left we had a trip planned to go up to Gustine, CA (one and a half hours away) to visit his grandfathers grave at the San Joaquin National Cemetery. However this trip never happened, the day before we were set to leave I ended up in the hospital. I had been sick for nearly a month and collapsed the day before. I was so frustrated and upset. The one thing Evan really wanted to do and he couldn't do it because he wouldn't leave my side. I took this to heart, I was the reason it didn't get to happen before he left for Nebraska. It was on my mind a lot, and then I came up with my idea. When he was coming home I planned a day trip to go visit his grandfather's grave then go over to Watsonville, CA to sit on the beach and have lunch together. I had surgery and my gallbladder removed, I knew I was healthy again and wanted to make it happen. So I kept it a secret from him, occasionally he would get mad and want to know what it was. But as soon as we hit the road he knew exactly where I was taking him. We walked around the area, visited his grandfather and a few other relatives that were there. We drove up to the lookout and got to look at the entire place, it was pretty big! After this, we walked around a little more, around one o'clock, we got back in the car for the second part of the day! This part, he still had no clue about. We grabbed some snacks and hit the road, the drive was a little over an hour, and way more worth it than I originally planned. We ended up at Sunset State Beach, sat on the sand for a few hours, played around by the water, teased each other and had a few emotional moments just happy to be together again. In doing so, I sort of got a reality hit of how much I love Evan, I just looked at him and I could tell it was really him. Nothing could compare to that happiness! We had a nice drive home, singing every song and when we got home we were so tired we had dinner with his family and went straight to bed! Monday was sort of a rest day for us, I didn't have work and he didn't have plans so we stayed home and watched movies and made some fun food! Likewise, with Tuesday, I had work and he hung out with some old friends until I got home then we went grocery shopping for Thanksgiving ingredients!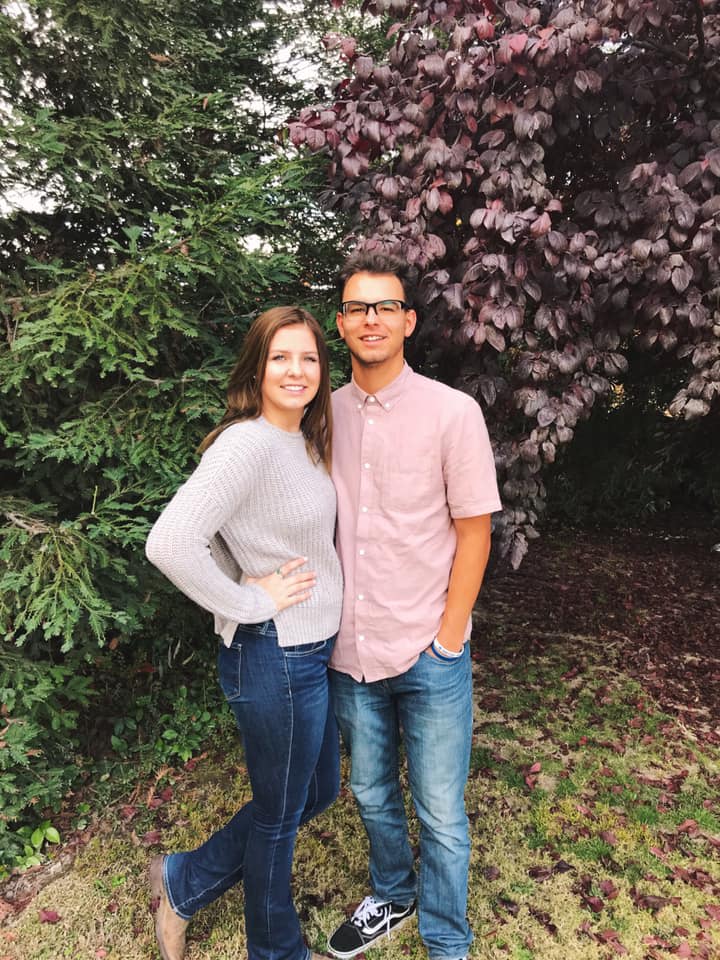 Tuesday was our prep day, for the next few days were going to be extremely crazy. Wednesday we had our Friendsgiving, I made some desserts and we were out all night! Thursday, Thanksgiving day we had two different dinners to attend, my family's and his. Both were tons of fun, tons of food, and definitely tons of laughter! Friday was yet another family dinner, his side of the family, the Aunt's & cousins he doesn't see too often, that night we had fun and again some good food! Saturday I thought we were on the brink of exploding from how much food we had consumed. But again, we went to ANOTHER family dinner. Five different dinners in total. This one we stayed up literally all night playing cards and eating food, snacking on desserts and enjoying the company! Unfortunately Saturday night we both got a little emotional when we were alone because Evan was scheduled to leave Sunday afternoon to go back to Nebraska. He is still having some confusion about what he wants to do, questions he has for his future and where he sees himself. Goals he has and the timeline for those to happen.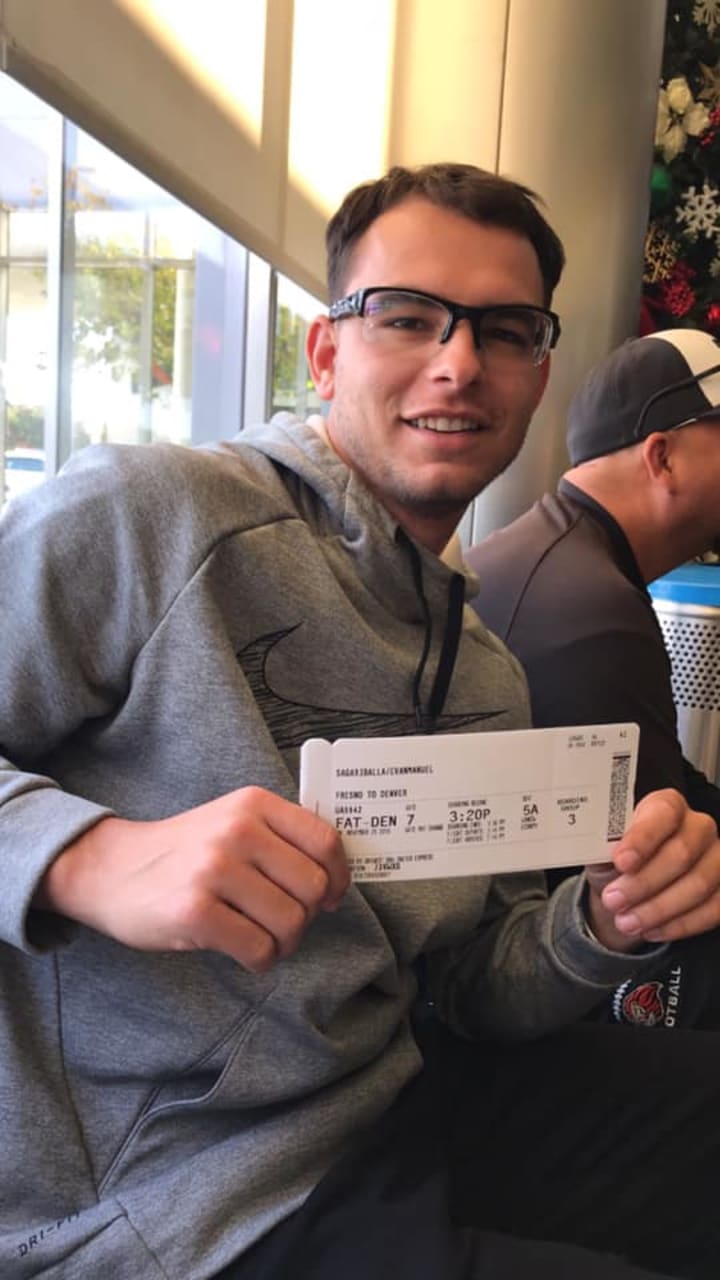 Sunday came and it was a slow morning, everybody was draggin'! We skipped breakfast and went to his Aunt's house to have lunch and say his goodbyes! It was a good lunch and we sat on the couch watching some football before taking off. Next stop, Fresno Yosemite International Airport. Evan held my hand the whole way again, I was putting off thinking about it. I knew he was only going to be gone a short period of time because he is coming home for Christmas but that thought doesn't make saying bye to your best friend any easier. So while I decided to not think about it we talked about fun stuff and how many new memories were made this trip. Making sure everything was set with his flights and once we arrived we got him all checked in and bags turned in! Now we just had to wait a little while for one of his teammates to get there so they could go through security together and get on their plane! Time came to say goodbye and I really didn't want to let go of his hand. I had just gotten him back, I didn't want to say bye again. I gave him a hug and a kiss and told him I would see him soon. Little does he know, there is yet another HUGE surprise for him when he comes home this winter. I have already coordinated a bunch with his mom, and she is super excited too! Now it is just telling him the exciting news! Wait for Part Three, it will have more details and excitement of the next step in our long distance journey!
Hard to say goodbye, but only for a little while! I will see you soon, looking forward to that smile!