Late Bloomer
Slow to arrive. Slow to move forward. Slow to learn.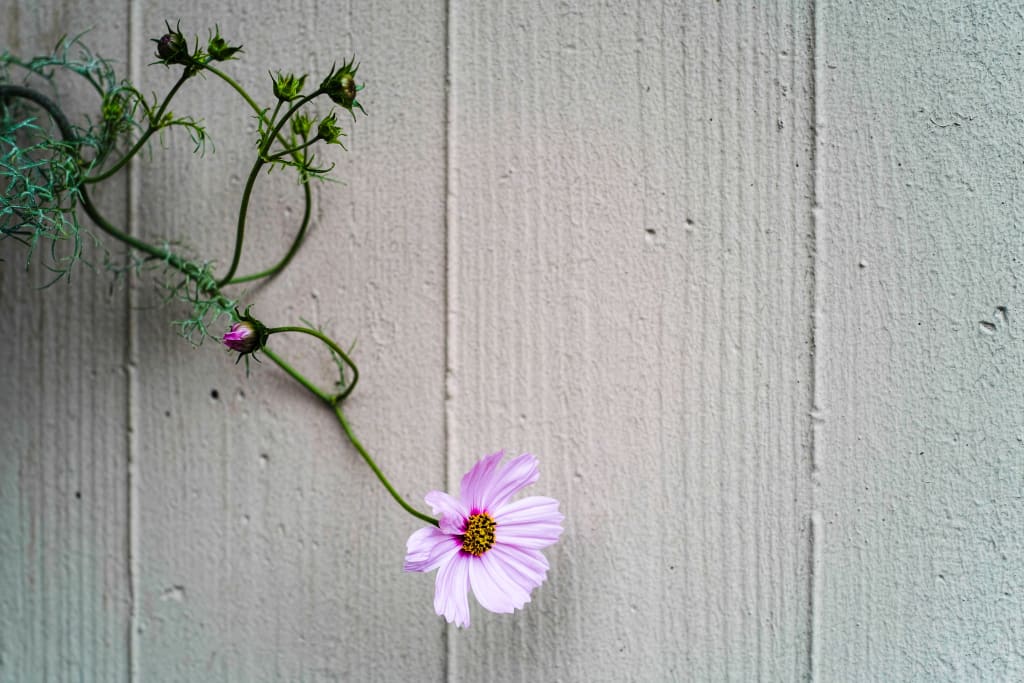 Being on time is quite a tactful move. One that goes beyond being good at showing up to events and places of employment on time. It becomes a way of life, one that clashes with the free spirited, rebel, free thinker circles. What if you live with Schizoaffective disorder? Disorderly thinking rule your life, until the mania kicks in and you operate at a higher level of vibration and make those around you exhausted.
To treasure well timed arrivals seems like a mirage to me. No matter how hard I try. No matter how much I plan, I can't seem to make it on time. I couldn't quite seem to learn at the same rate as most of my class. Slow to pick up new skills and situations. My snails pace has always had obstacles. In life, we all have obstacles. Sometimes I feel like I'm not getting anywhere. Spinning my proverbial wheels.
What about those of us that are late to the game? Time can seem to spin for those that are slower in learning skill sets and protocols. It's even been so bad, groups playing card games and they won't let me play because it takes me a long time to pick up a skill. I'm not stupid. Just thorough. I must learn from multiple formats, situations, and tasks.
Thinking back to 1991,Operation Ivy debuted. I was six. Hahahaha….so it took a few years until I discovered this band. For me, this album and band encapsulate the early 90's. To this day, when my ears become privy to these tunes, I slip into a nostalgia that forms into a child like wonder dreamspace.
Many songs can bring us back to our younger selves. Our young minds were shaped by the immediate world inside our small town. Before the internet, I was shoddily making connections in school and around the neighborhood. Just like a map on a video game. As you explore more in your life and world, the map itself expands. We must always keep this child like wonder for our souls to stay fresh and relevant. Movies and Music help me make a timeline of events. I can usually remember what I was doing and what was happening in my life based on when a specific piece of music and movies stir up old feelings and thoughts. We must condition ourselves to grow and refresh in a world of complacency.
At a young age I developed at my own pace. Being held back in kindergarten for not speaking or communicating to others shaped my future. I would always go at my own pace no matter those around me. If I tried to be like everyone else, I"d get so caught up in spider webs I couldn't possibly get out. At the time my older sister would speak for me. This actually extended beyond childhood. My ex-partner would often speak for me because I either took too long to get to the point, or I was too quiet. Though helpful, it didn't lead to my growth I need to step to the next level.
Worrying my mother at age 6, I struggled to learn to read. I was very hesitant as a child. Still am to a degree, but I know how to push passed most insecurities nowadays. Almost unthinkable even a year ago. Late to read. Late to write. Then a few times with comic books and really reading and forming my own pictures, I began to piece together how to read and write. It just clicked very quickly and one point, though later than most kids.
Very thankful to all of the Teachers and Support members I had as a child. Everyone showed care, love, and knowledge. Curriculum was just too fast paced for my own good. No matter how hard I worked at something, I felt like I was digging my own grave. Being somewhat difficult to teach, individuals would get frustrated and almost filled with doom. This definetely rubs off onto my life now as well. Still learn the same now, I just have more tools to do so effectively. The frustrations never really stop in life, just ten fold in this Schizo mind.
I've accepted the Late Bloomer status now. I must embrace it or it will weigh me down if I let it get an inch out of hand. Not just the fact at being a late bloomer, I happen to arrive places displaced from time. Ok, not that elegant. I'm always late. How late were you? Well I was so late once in High School, that a habit was formed by always showing up late. I almost flunked out of my first semester because I showed up late one too many times.
Thanks must be given to the Principals and Deans at my High School for letting me catch a break. I worked hard to stay in school more than I worked hard at school. If it weren't for them I may not have graduated. Not because I was terrible at school or even a nuisance. Simply put, I am always too early or late. Can't quite stick the landing.
Working a job I was overqualified for, I was stuck in a job for over 10 years I didn't want. It took getting fired from a long term job, this year I might add. It was a blessing in disguise. Especially because it happened at the beginning of the shutdown of the country. I finally had time to work on my writing and use certain platforms to build confidence and a body of work. I was forced to rekindle my love of creating. Going from broke, broken, and stuck in life to creating pieces that are award winning to pieces that are meant just for me. My art and craft are growing and extending into digital marketing as well as writing. I was hesitant to fully commit, but with being unemployed and waiting to start school, I have the time and energy to accomplish what I've buried deep down inside for far too long. I can only blame myself for preventing my full transformation.
I still must thank all of my teachers in school and in life. To family and friends I've learned a lot. From Exes to Oh's, I now Know! To the patient and the frustrated, may our meals be full and plated. Late to arrive. Late to leave. Blooming as we strive and weave.