Ladies Play A Dangerous Game, Get Unexpected Results!
Which would YOU pick and why?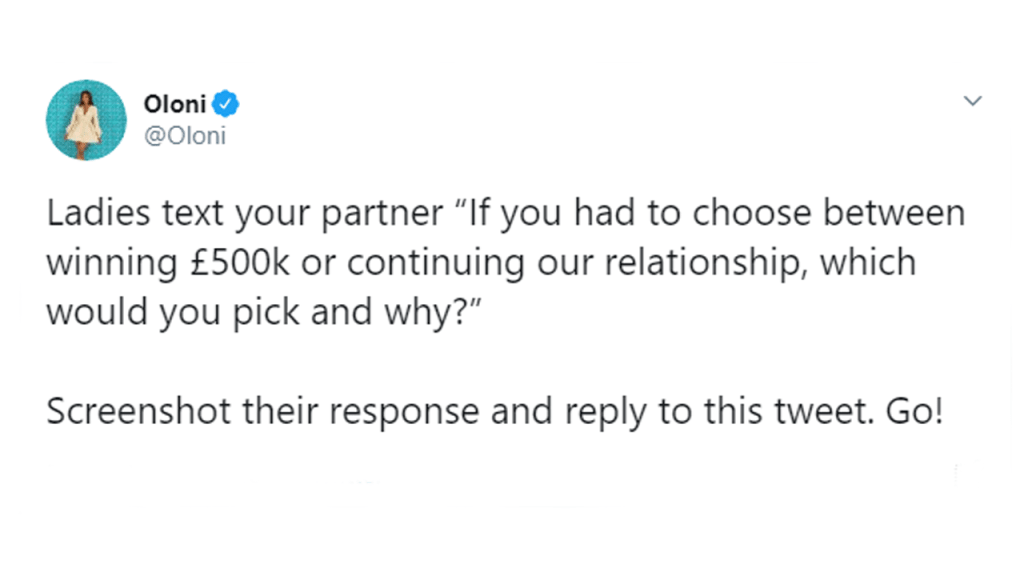 Which would YOU pick and why?
This is the question that Twitter user, Oloni asked her female fans to ask their current partners.
It's a dangerous game these ladies decided to play on this fine day. To ask your partner, regardless of gender, to choose between £500,000 or continuing a relationship with you...that's a tough one. I know I for one will most definitely choose the £500,000, no questions asked. I mean hey, if you love me, then you'll understand.
I thought it was a really fun game and I couldn't wait to see what the responses would be. Trust me, they didn't disappoint.
So without further ado, let's jump into some of my favorite responses.
**Be sure to like and follow my Facebook page so you don't miss out on any new and interesting posts I'm sure you'll love.
1. The Price Isn't Right.
Okay, this first user says that he won't do it for £500,000 because that won't even buy a yard. What kind of yard is he buying? In what world would 500,000 not even buy you a yard? What does he do for employment, I think it's time I get in contact with HIS employers. I'd like whatever salary he's getting 😂.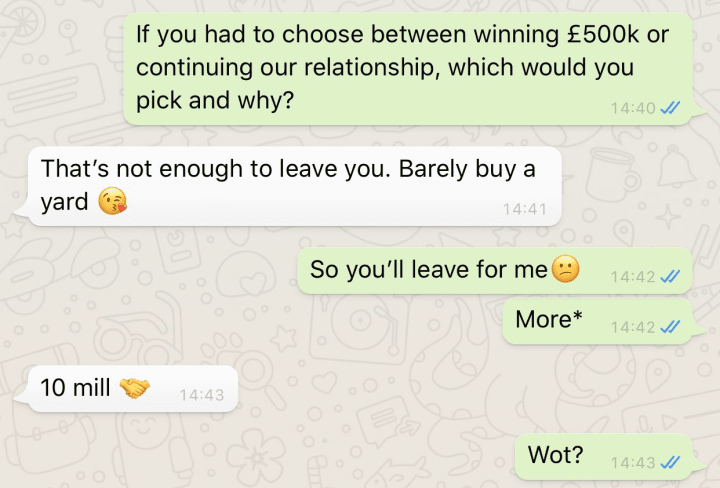 2. Uhhh...
I have no words to say about this.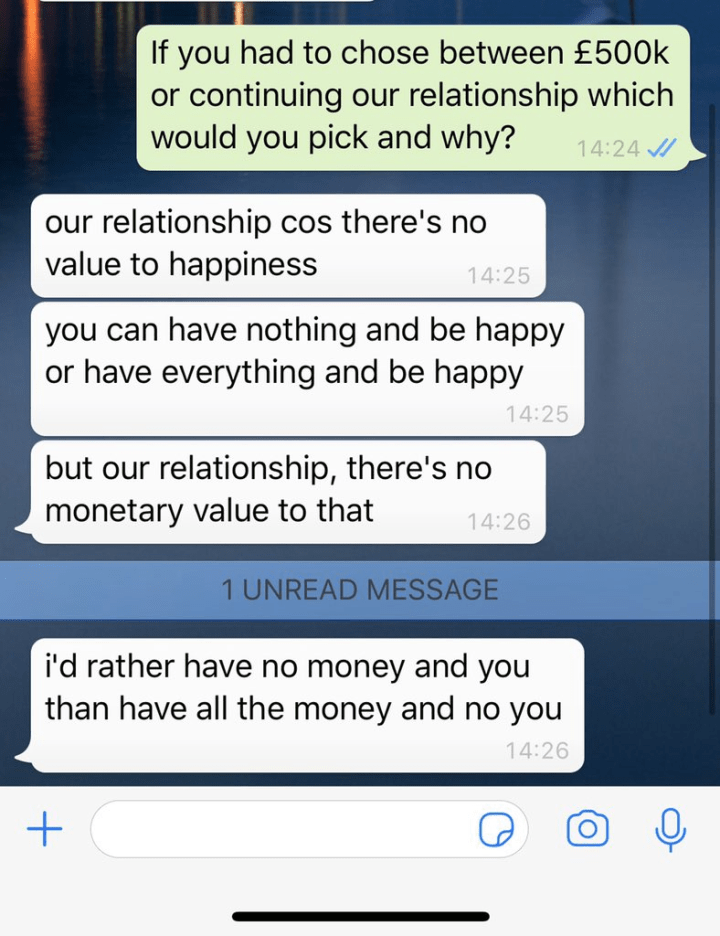 Is this real? Is somebody pulling my legs? Do people like this ACTUALLY exist outside of romantic comedies? In this economy? At these times? 😂😂
"I'd rather have no money and you than have all the money and no you"...what kind of spell has this girl cast? Where is her local witch doctor, I think I too need a bottle of that concoction. I have one or two meals to drop it inside of. 😂
3. Ah ah.
Ah, this one is heavy!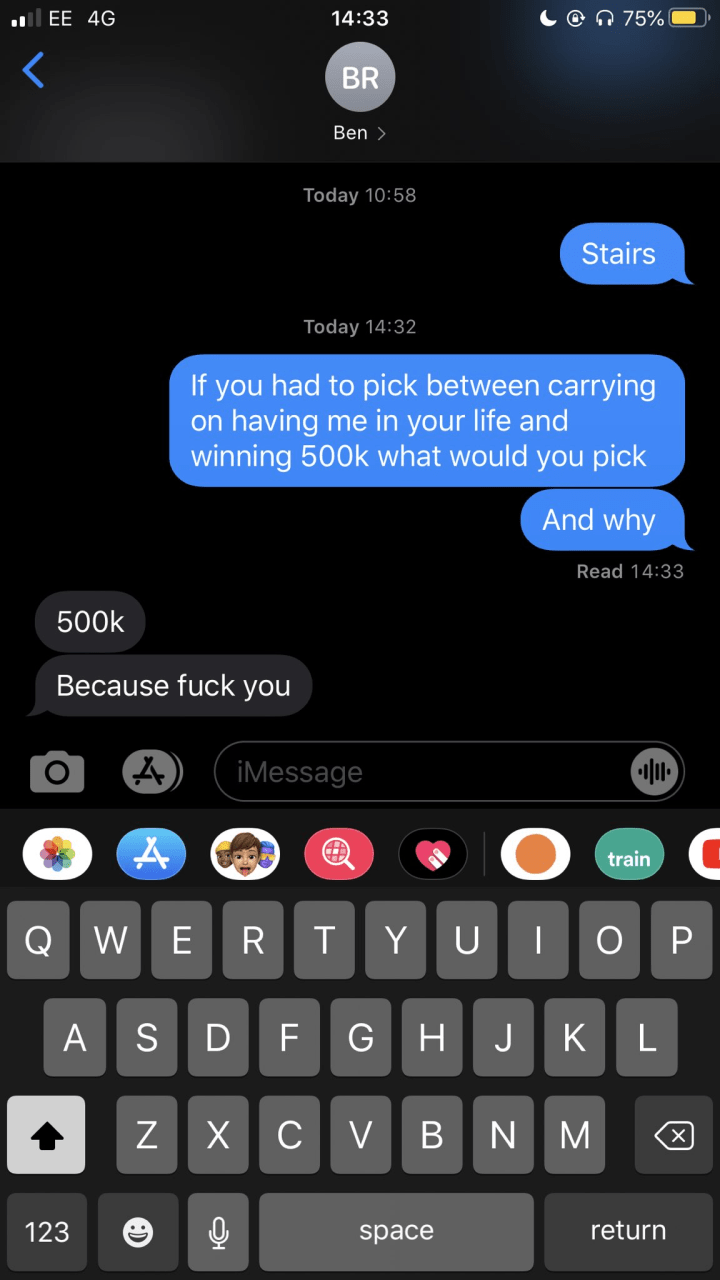 See how joke pass joke. Simple play now, thing don turn insult 😂😂. I'm so confused at the response. I guess that's just how they play as a couple.
4. Well, if the shoe fits...
Brother Max really came with some points with this one.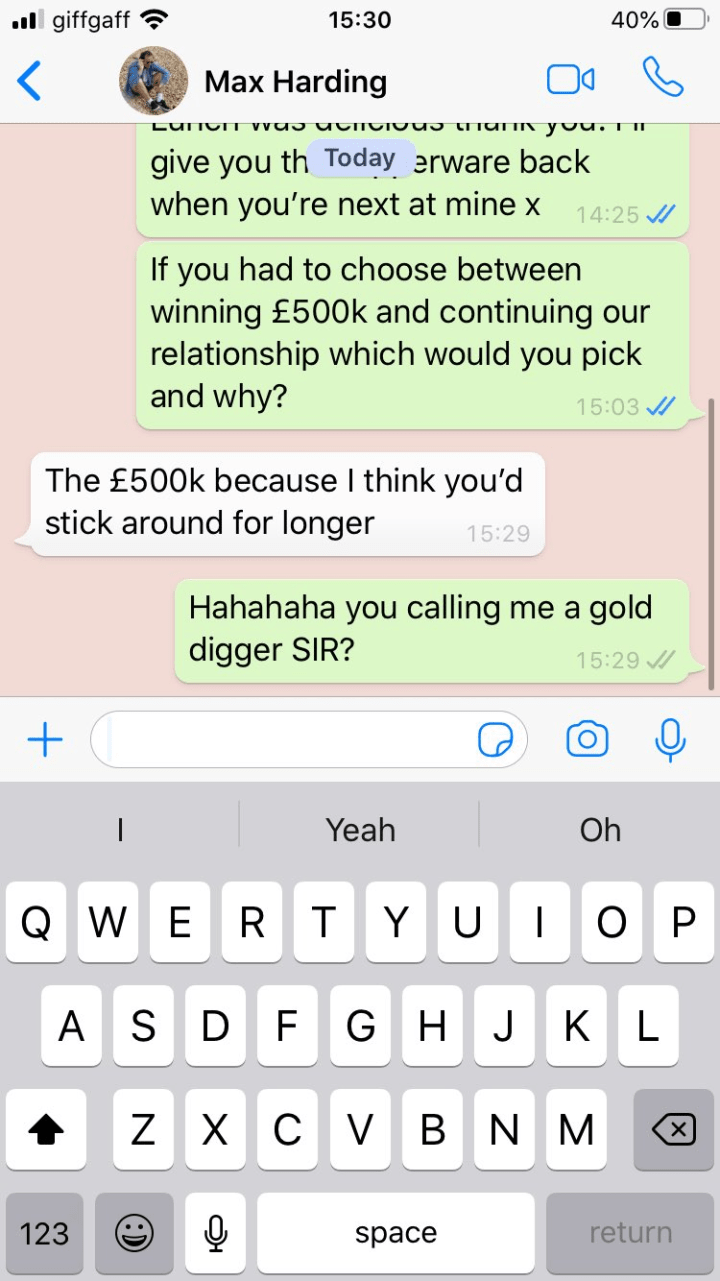 Welp! If the shoe fits because if a person I'm in a relationship with comes into £500,000 worth of money, you can best believe I'm staying put to join mouth inside that money. You can't enjoy it all by yourself and if that's what they call gold digging these days, then consider me a digger! 😂
5. Man With a Plan Season 2.
Okay, this is a bold answer!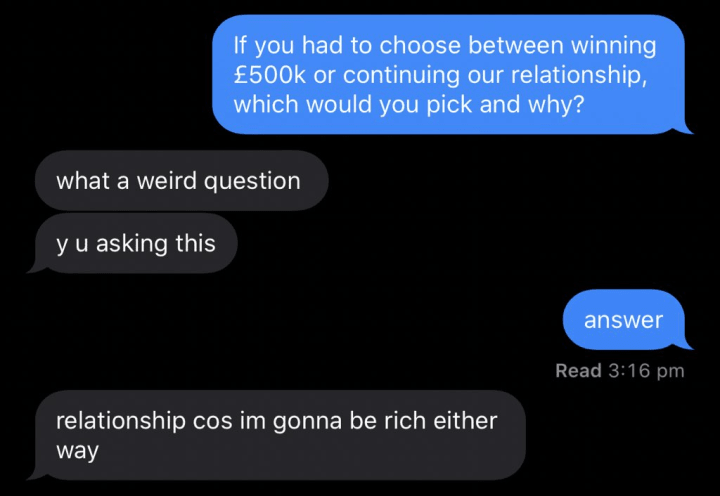 Wow! Amen brother oh. If you wish it for yourself, we wish it for you too.
6. Sly Guy
Okay but dip the fact that this boy's number is saved as Babes 2! 😂😂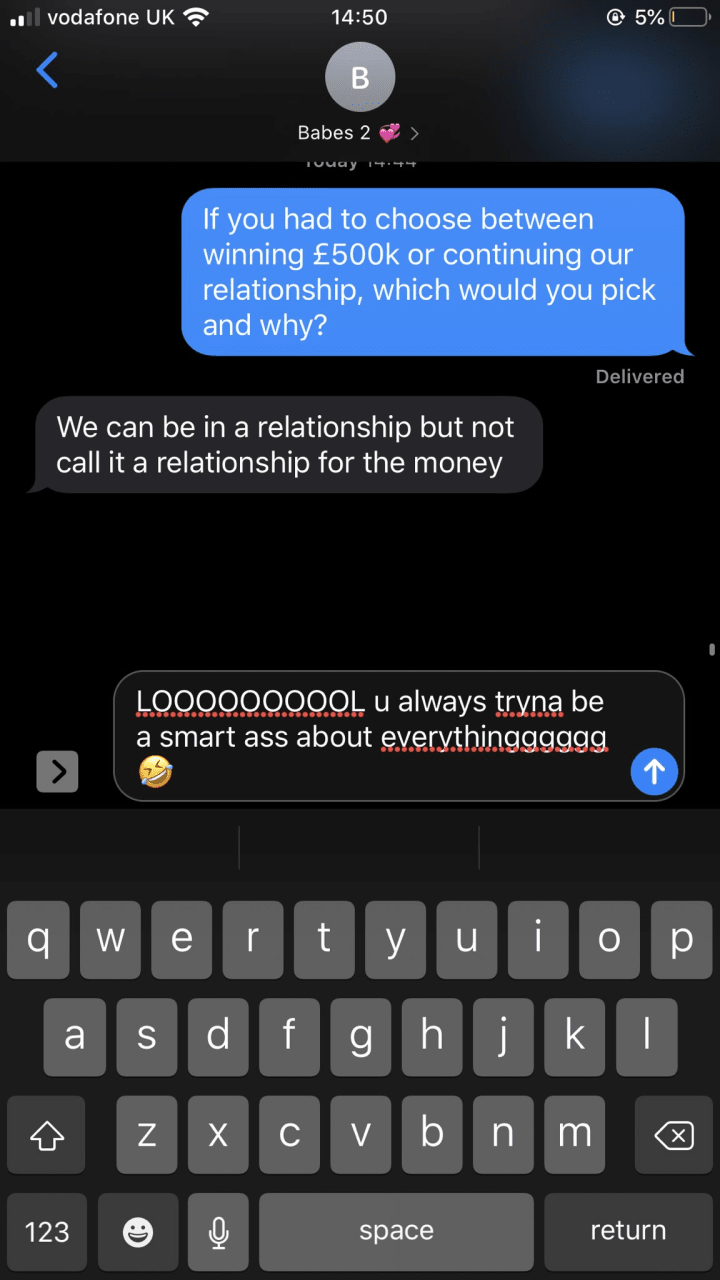 The contact name aside, this is a very good response. It's exactly what I'd do. Actually, in reality, I'd collect the money, do backyard romance with the person I'm talking to and then after sometime has passed, we'll come back into the limelight much richer than when we'd began. Simple.
7. My Twin.
Exactly what I just said. Exactly Asim! You get my drift. 😂😂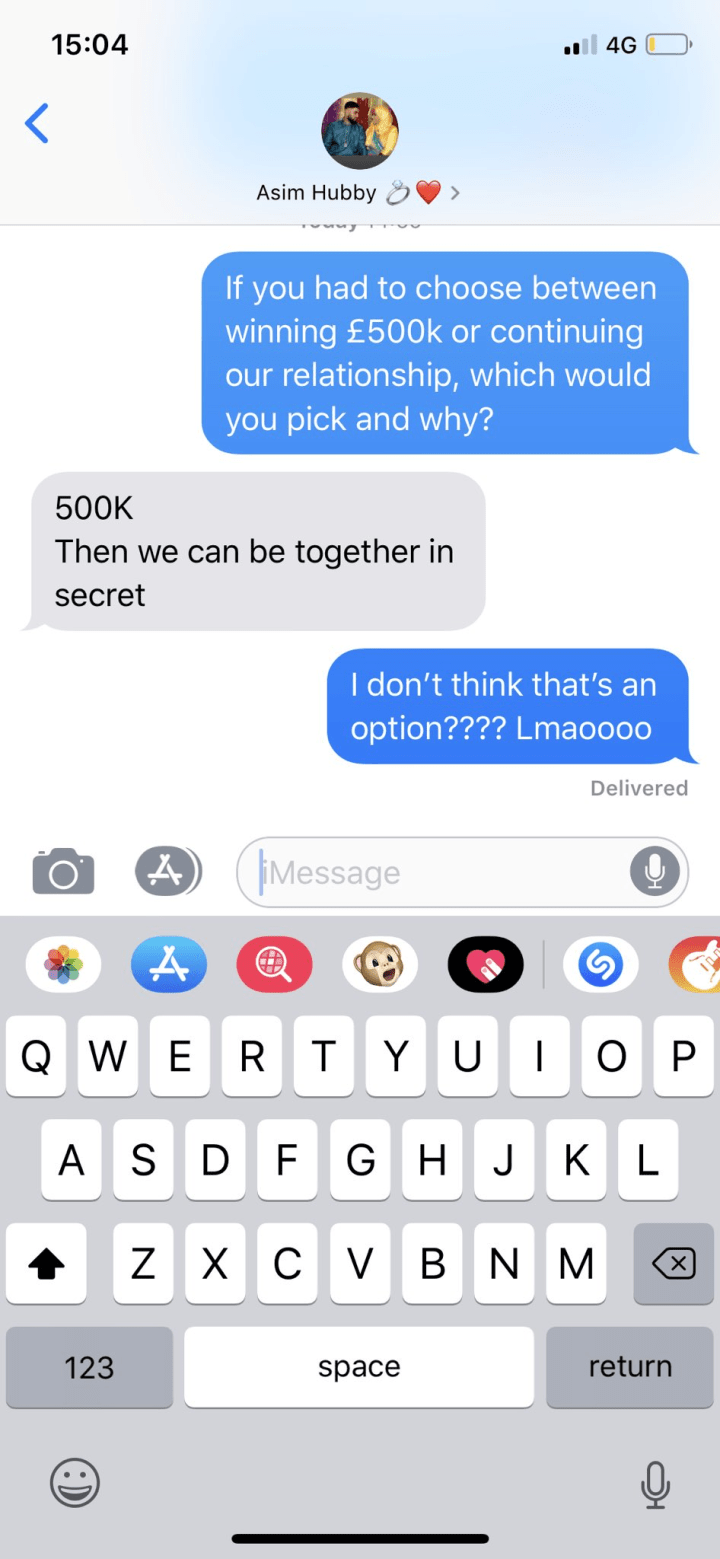 To me, this is the only approach that makes sense.
So what do YOU think? If given the choice between £500,000 or continuing to date the person you're currently dating or married to, which would you pick?
Let me know your thoughts by leaving a comment on my Facebook post. Before you go, make sure you like and follow my Facebook page above. You don't want to miss out on all the new interesting, funny, insightful posts that I bring to you every single day. Join the club, it's fun!
Also, to catch up on content you might have missed, check out all my posts here. I know you'll love them.
Until next time, have a good rest of your day.