Jay: The 'Real Love'
Beyond "friendship," ours is companionate love.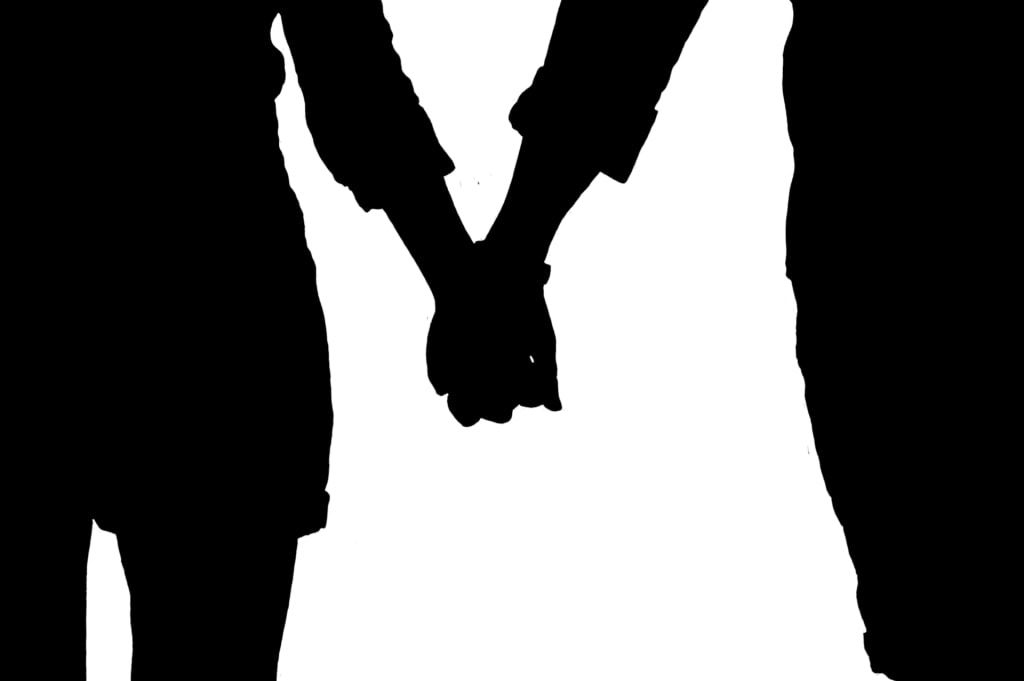 Our conversation had faded, with him being in the living room relaxing after the meal, and me cleaning up, and loading the dishwasher. It was the least I could do, as he had prepared the entire meal with almost no help from me, even though he'd worked many hours today. The rich aftertaste of African food, and that last sip of wine, still lingered pleasantly in my mouth, and the fragrances of the leftovers were enticing and warm. Though I was full, the food is so nourishing, so comforting, that you feel you could always have just a little more.
I loaded the last item into the dishwasher, then popped the lids down on the containers of leftovers. He always managed to make enough for at least another meal or two, and I carefully placed these in the refrigerator before wiping down all the counter tops and stove.
I removed my apron and hung it on the hooks he had mounted on the pantry door, so that the fabric could dry. He had given it as a gift, soon after seeing my blouse ended up wet each time I did dishes. The backing was waterproof; a very practical, thoughtful gift; a gift of love.
I walked to the kitchen entrance to look into the living room, already knowing what I might find, and indeed, he was sitting in the center of the couch, fast asleep. He head was to one side, angled down, not entirely comfortable, but he was exhausted, I knew. I plumped a pillow at one end, then began easing him into prone position, and he woke, then relaxed and mumbled. I told him he fell asleep, it's alright, go ahead and stretch out.He was back to sleep in seconds.
I caressed his cheek. He was certainly one of those that are uniquely attractive, yet do not see it in themselves, which only made it more so.His features were strong, though gentle in this repose, with lips ever so slightly parted.
I pulled the blanket from the back of the couch and covered him, then sat on the footstool next to him, bowing my head to say a small prayer.His hand slipped from under the cover as I finished, only inches from my face, and I wrapped my hand around his, running my bottom lip along the exterior of his thumb. I gently placed my lips on his wrist, feeling the strength of his pulse, and my tears came forth. I struggled not to sob, though I didn't want to be divided from his life and warmth. I closed my eyes, fighting those tears, full of the memories from before I knew him.
I remembered being lost in that first year after my husband's death, and waking every day hating the beating of my own heart. I hated my breath, my warmth, my life, and every day I sought someone, anyone to occupy my mind, my time, and distract me from the nothing. I was nothing, and no one loved me, and I just filled every day as I waited for the day my heart would stop holding me here.
He was special, I recalled thinking, and in the back of my mind, I reminded myself that it was not the first time I had believed in a person, and thought they would be in my life, only to be left behind. I had hoped, though.
Phone conversations and emails, and I told him we could be family. If you have family, and the bonds of bloodlines and love and loyalty run deep within yours, you do not know what it is like to be without kinship.Alone, when so many turn to their families, those without close family wonder what that is like.
I put my hand under the blanket, placing it over his heart. He had never used me, and he had never left me, or forgotten me. How many countless hours had we lingered on the phone as one or the other of us shopped, cooked or did mundane daily things?
Every minute with him had saved me from the errors of my brokenness.He had not been afraid to call me out when he discerned my dangerous behavior, reminding me that one person thought I was worthy of my own love, and he asked me to care for myself. He asked me to save myself, and not see my affections mocked by those that didn't deserve them.
My roommate at the time, aware of my travesty of true living, asked if I knew he was a blessing from God. She was the last person I expected to say it, and yet I knew this man's loving presence had made me happy. He made me smile, and it was alright to care for him, because it went both ways.
I rested my head.
There is no such thing as "just a friend." You are either a true friend, or you aren't, and I wasn't sure if this man could understand how spiritually bonded I felt to him, better than those bonds of family or friends. Why had he cared for my well-being? How well did he comprehend that his love and positivity had elevated my soul repeatedly?
I closed my eyes.
I imagined him as a child, running and laughing, bidding me to keep up.I saw him sharing with others, as I had heard him doing many times when we were on the phone.
I imagined him working, determined to finish in good time with exceptional work.
I saw his hand moving rapidly as he wrote stories of his life, and those he created.
I fell asleep as I remembered him cooking, laughing, smoking, drinking wine, enjoying the meal.
He was waking me, telling me it would be better to go to the bed. He steadied me, walking me to the bedroom, pulling back the covers, handing me the mask I wear to help me breathe while sleeping. Before I put it on, I looked in his face and began to tell him something, and then lost the thought. He knew how tired I was. He said,
"Get some sleep. I will lay down, too."
"Thank you. I love you. Sweet dreams."
He smiled. "I love you, honey. I'll see you in the morning."
I put on my mask as he turned on the BiPap machine, then I pulled up the blanket and smiled as the light went off.
I think I was asleep before he got to his room.
love
About the author
Reader insights
Be the first to share your insights about this piece.
Add your insights