It's Date Night!
After 3 years of being a serial dater, could he be the one? (Chapter 4)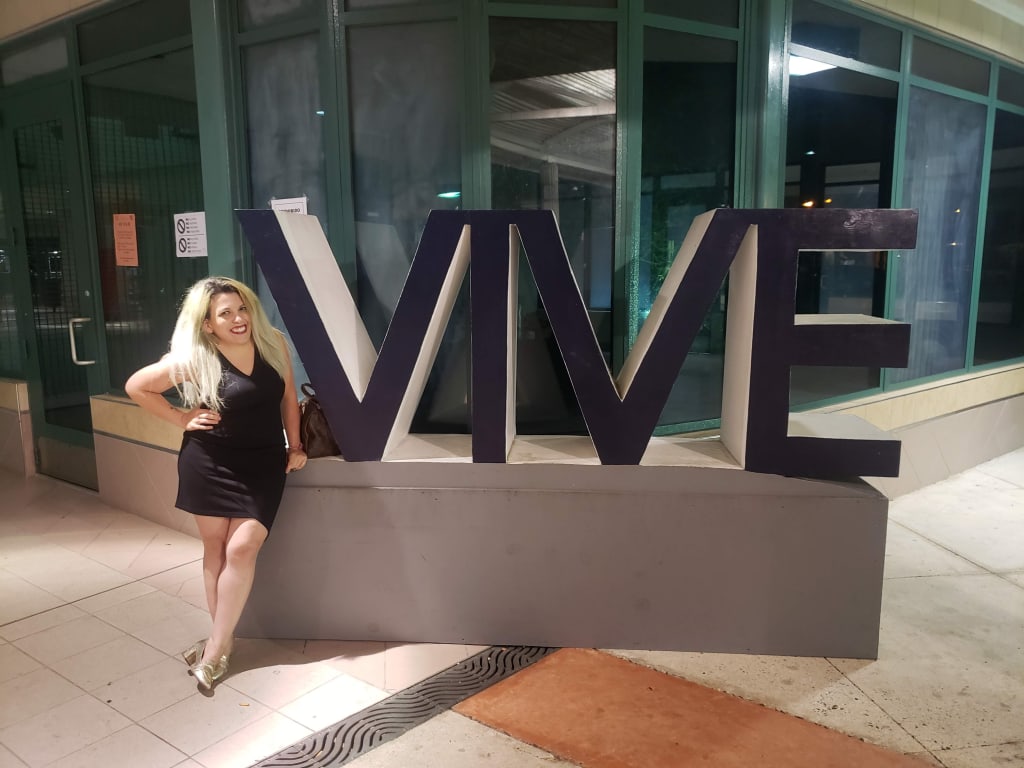 Bahia Viva, Cataño, PR
Saturday night is always party night! Especially in Puerto Rico!
Prince Charming had invited me to Casa Cataño to see one of his favorites perform: Tito Auger. I was super excited because I have never had the opportunity to see him live. I've been listening to his music for the longest time and was ecstatic to share this with him.
I met him at his apartment and we drove to the spot. It was crazy but I almost forgot why were there... what the hell? When he starts to talk... I just don't know anymore. We probably talked more that what we listened to Tito sing. We did catch a set... and it was awesome. The best part was to be with someone I enjoy. I could not imagine sharing this moment with anybody else. It was perfect.
Listening to the songs that touch the deepest fibers of my patriotic soul, along with his body against mine in the sweetest hug, was glorious. It was magical. At the same time, I was hit by a hurricane of emotions. I really liked him. Obviously he liked me too, because there is no way he could fake all of his romantic gestures. My favorite one was when I was admiring an art piece they have close to the bar. He got close to me, hugged me, and started discussing it. I felt so comfortable on his arms! It was a contemporary painting. He said he couldn't understand it. I told him, "You don't have to. Just appreciate it."
The thought of leaving was killing me but I put it aside so I could enjoy his company fully. Enjoy moments like these, because that's what I live for. My life it's made of minutes that capture so much. Passion, romance, understanding, love.
We decide to walk around the port across Casa Cataño before we head to Old San Juan. He became my photographer for a bit, and we left.
The way to Old San Juan was like "Carpool Karaoke!" I love that!
You can call me a dork but I believe night walks at Old San Juan are probably one of the most romantic ones. Before I got there with him, I don't remember doing any with a lover. Or maybe, it didn't matter, because slowly he was becoming the one guy the Universe had for me. And I finally found him. On one of my many trips to Puerto Rico. How crazy is that?
He loves reggaeton. I talked to him about "La factoria" and decided to go there. We spent a bit of time because it wasn't his ambiance. We decided to try a different spot that was all reggaeton. We danced for hours! I felt like a young girl again. I forgot how much I enjoyed dancing with someone I like. It is special! I must add reggaeton is very sexual and so are we. The chemistry was very intense. We were so attracted to each other and decided to take it to the next step and get out of there.
The next level... well. I never expected it was going to be like it was.
From my previous experience, something expected doesn't usually flows naturally. I knew he was romantic and was going to play some music. Wine will be added. Small talk, and so on in to having a great time and then sleep or whatever... Then we get up, get dressed and good bye, life goes on.
I must say, it actually happened like that, with the exception of it being absolutely unreal. I don't know what happened there, but it was magical and I have no explanation for it. I couldn't even start to remember what we did because I was so involved on how awesome I felt that I didn't care what was going on. To be honest, writing this makes me go back to that moment. What is this? My heart is warm, I get goosebumps.
No other time in my life I've felt this way. Could this be love? I know for sure, it was not just sex. What did I get myself into? All I knew was: I was complete. Nothing, absolutely, nothing else mattered. Just him and I. The world stopped for us. Just so we could have that moment. Is this how you feel when you find your soulmate? Could it be him? So many things going through my mind. All answers are unknown.
What I do know is that I go back to Phoenix in two days. What am I to do with this feeling? Do I have to kill it or let it grow? I just know, sometimes I hate the great unknown. But... somehow I knew that I wasn't the only one feeling like that.
There was no way he could fake what just happened. It was so genuine, so pure. I found this man that is sensitive and subtle. How could he be faking that? Now I'm also going to be that heartbreaker. That bitch that enjoyed his company and left him so I can continue my life. So much in my head, but I quickly suppressed the thoughts. I was dedicated to enjoy whatever time I had with him.
It the morning, I got more reassurance this feeling was getting stronger. At this point, I was almost addicted to him. Really? So much that I thought about the changes I'd have to do to my lifestyle in order to give myself the chance to try it with him...
Why am I thinking all this and not freaking out about it? That was strange. I always have panic attacks when I think about change or feelings. I feel anxiety...
This time it looked like I was ready. I was ready to give myself the opportunity to possibly be loved. It's been years since I've felt that way. Fuck. Have I ever felt this way?
We went out for breakfast. On our way, there was a moment that I looked out of the window and told him, "I've been in Puerto Rico for three weeks. Now I feel like I live here." It was true. I felt that way. I always come and go, but I know my home is in Phoenix. After meeting him, at that precise moment, I was home. How can you feel that way so quickly if he is not my Prince Charming? or my King Charming, I should say... I'm the Queen, that one girl that never finds that person to understand her. It looks like I did.
He took me to a coffee shop that he thought I would like. We get there, and he thought right. It was so cool! Artsy and inspired by architecture. Of course I will love that! There were several drawings of famous landmarks. He started pointing out who the architects were. It's funny—I actually knew them. Then he showed me a room with books. He explained the wallpaper was actual pages of the fundamentals of architecture. I was without words. This is exactly my kind of place! Wow. I loved him more! I don't know if he realized the look on my face, but I was so amazed.
First, the fact that he wanted to show it to me because he thought I liked it made me feel special. Nobody has done that for me. I've always had to compromise what I want to do and for someone I've just hung out five days to want to do that for me, that means a lot. I'm telling you, the details! I just live for those little moments. They are priceless. Sometimes people don't even realize how much a small gesture, phrase or thought means to the other person.
Second, he took the time to tell me the background story on how the coffee shop concept happened. Then he showed it to me. We had a great breakfast and fun conversation, even strangers pitched it. It was amazing!
It was soon to be over... that was the part that sucked the most. I was trying to delay it, but there's no way I could stop it from happening.
It was my dad's birthday, and he told me to go home by 12. There was a gathering at home. I wanted to stay with HIM but I also wanted to go home. Maybe at some point I joked about him going home with me... or maybe it was just in my mind? When I say I'm good at good byes, it's a lie. I hate them so I avoid them. I just runaway. This time I couldn't.
We drove to his apartment. I kept calm while we said good bye. He said a comment that made me think. "I'll be here when you come back to Puerto Rico. I could be your boyfriend here." Wow. That's all I wanted to hear. But I hated to see his face. He was so sad! Why do I make good people sad? Why did I care he was sad?
I was sad too... I tried to contain it. I think I succeeded, until I drove off. Everything sunk in, reality shook me off. I left him there. Sad. Possibly heartbroken... And I was heartbroken too. I really liked him, like I've never liked someone before. He brought me joy. He made me smile. He let me be...
And now, I'm leaving him behind.
Reader insights
Be the first to share your insights about this piece.
Add your insights