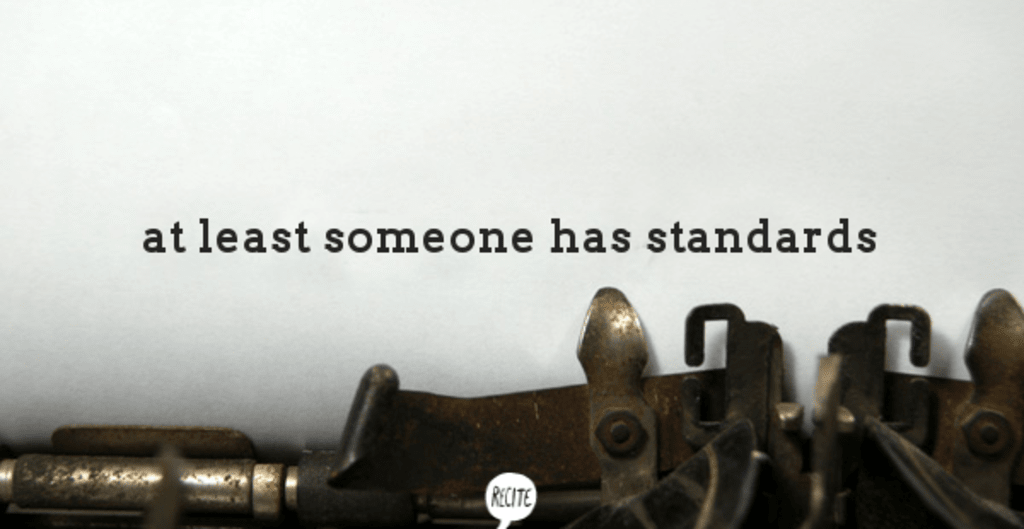 "Robert makes me feel really safe when he drives, and I don't become an anxiety-ridden maniac like I do with anyone who's a bad driver, so I feel like that's a really great thing," I told Sandy, walking around the block on our afternoon break at work.
"Well it sounds like you can check that box off your list," she smirked as I looked over at her.
"What is that supposed to mean?" I could feel myself getting a little defensive at her tone.
"I mean I'm just happy that this guy is still around and you haven't booted him out the door yet like you normally do. He's lasted longer than anyone else since I've known you. He's checking off a lot of your boxes, so that's a good thing!" I felt like she was back pedaling, but I knew she was on my side so I let it go and just agreed.
It wasn't the first time I heard that sentiment in the last two weeks. My best friend expressed a similar thought.
"You must really love this guy, cause usually by now you've found something you don't like and then end it."
"Isn't that how dating works?" I asked, genuinely offended that everyone seemed to have the perception that I was some hard-to-please lady with such high standards that no man would EVER meet them.
"Well yeah, but you just don't waste any time with them I guess."
Do I have unreasonably high standards for my romantic interests? How was I supposed to know? Who am I measured against to see if they are too high or just high enough? I didn't think that I was asking for anything out of the realm or blatantly superficial. I just wanted a man who I could talk to, make me laugh, be a Christian, and complement my personality. He didn't have to be perfect or rich or a supermodel, but I wanted someone to add value to my life. I wanted someone to be intentional enough with me to not be distracted by the slew of other pretty girls strewn about dating sites and everywhere you look. I didn't want to get married just because literally EVERYONE I KNOW is married or engaged or having babies. If that was the case, I'd definitely be married by now.
I think that today, in a society of instant gratification and "Instagram-ification" (you're welcome), the idea of having any type of intentional dating standards puts you in the category of "definite spinster" and "absolutely will have more than 3 cats." With everyone swiping right and left on your face, if you don't immediately jump into bed then sorry 'bout your luck, Chuck, but they've already found someone else who will. There's simply no time for intentional connection and (gasp) heaven forbid, delayed gratification.
And I find that type of mindset exhausting. In no way do I think that this "dating A.D.D." of my generation is a step forward. Is it possible for me to converse with someone in another city, or state, or country, where 20 years ago I could not? Absolutely! The whole world has opened up and look at the options! Look at the possibilities! NO, LOOK AT THEM. NOW. KEEP LOOKING. Did you find someone interesting? Someone pretty? Someone funny? Well if THEY are pretty, I bet there is someone EVEN PRETTIER. And smarter. But actually that person is smarter than me, and that seems too smart. Or maybe we should have the exact same type of intellect. I should be the funny one in the relationship though, so I definitely don't want anyone funnier than me (like that would even be possible).
Those things seem like "standards" at first glance, but the more I think about it, the more it seems like we are all toddlers and instead of choosing between ice cream or cake, we now have to choose between ice cream, cake, cookies, brownies, donuts, jelly beans, candy bars, popsicles, creme brûlée, jello, sugar-free mints, dulce de leche, pop rocks, cookie dough, or caramel corn. And while we are considering every possible avenue in order to make the "right choice," let's just sample a bit of everything until the ice cream is melted and you have the biggest stomachache of your life. Now all you want to do is take a nap.
I think the plethora of "options" actually is making it too difficult and discouraging to date at all, let alone find a spouse, and it makes me want to skip dessert entirely (which is something I have only said once, and I must have had a fever because I WOULD NEVER SAY THAT IN MY RIGHT MIND).
One of the most attractive things about my boyfriend is the fact that he doesn't have any social media accounts. When he started talking to me, he stopped talking to other girls. I know he had Tinder before he met me, but he deleted all of those apps when he was getting to know me. He intentionally dated me. He asked me out to dinner and he talked to me. He ate and laughed and joked with me. He never had his phone out when we had a meal, except for once when he was going to google something we were discussing to find the "right answer," but then he stopped and said "No! I don't want to be that guy. I'm here with you and I'm putting this away." I fell in love with him again when he said that. And I thought, "Look at this man I'm dating. Look how he is focused on me and allowing us to learn about each other and fall in love."
Where is that intentionality in the rest of the world? In the rest of millennial men today? I'm hesitant to even use the word "men" because I honestly don't think it applies to the masses. Until we can slow down a bit and focus on being intentional in our mission to get to know someone's heart (and not just their body), dating will only get harder and more isolating.
In a world so full of connection, we shouldn't feel this alone.