Imposter Syndrome
And How To Combat It
An inalienable fact about Autistics is that we tend to struggle at life more than the average neurotypical.
This is particularly true of female Autistics, who face greater barriers to get diagnosed, and find it harder to ger support when they are. It doesn't particularly help that common co-morbids of Autism are the Trauma Twins: Anxiety and Depression. As such, on the occasion that Autistic people find themselves succeeding, we promptly find ourselves taking up arms against Imposter Syndrome.
Imposter Syndrome is a psychological phenomenon most predominantly marked by feeling inadequate to or unworthy of their success or the nice things other people say about them. Another hallmark is to continually downplay their achievements and struggle to accept compliments without trying to minimise, which can sometimes come off as false modesty. While certainly not limited to Autistic and other Neurodiverse people, Imposter Syndrome is probably the most common in that demographic.
I've written before on Vocal about my own struggles as an Autistic woman. The struggle to get diagnosed, the struggle to find and keep a job, the struggle to work out social cues and the ever-changing acceptable topics of conversation. The hard work I've put into writing and publishing my books and my articles on Vocal and Medium, and how discouraging it can be to have that go seemingly un-noticed.
As it turns out, I'm not that much better when it comes to having my work recognized.
In early 2019, I published the first novelette of what would soon become a series, based off a Tumblr Screenshot about the unfortunate Costuming Department responsible for clothing time travellers. The first time I brought it to one of my Medieval Faire bookstalls, thinking LARPists and Historical Re-enactors would get a giggle or two out of it... I sold out on the first day and got swarmed on the second day by people asking when the next book would be out.
At that point, I hadn't expected it to be popular enough for a second book, but promptly got to writing. The series gradually became a small but consistent seller.
The screenshot itself crops up with a certain amount of regularity, allowing me to promote myself for a few extra sales, and early last year, I started opening the Facebook comments to find a reader had beaten me to it.
Suddenly, ratings on that series started to climb, along with sales and kindle pages read.
I had no idea how to handle this. The series had started almost as a joke, and continued mostly when I was stuck for inspiration on other books and needed a laugh. How had it reached such popularity? Didn't the readers know that I was a mediocre writer who had never won a competition since High School, when I was in an English class of spectacularly uninterested Jocks and Science nerds?
What was going on?
Less than two weeks ago, on March 19th, I published my third Jane Austen Variation. The inbuilt audience meant that my first Fantasy Variation, "Changeling Child"(2021), and the short story anthology "The Paths Not Taken" (2022) had both reached about 30 pre-orders, and had a month or two of decent sales before tapering off. Not bad for an Indie Author steering away from the Steamy Romances and more popular storylines, but hardly the fame or success reached by some of the more Big Name Fan Authors.
The pre-orders for "Every Possibility of Future Happiness" had been slow to gain momentum, being a rather niche subject, and I told myself that I'd be happy if it matched the success of the other tow.
At the risk of sounding like Buzzfeed Clickbait, I could not believe what happened next!
Over $300 in royalties for that book alone! More than 50,000 Kindle pages read! All of my previous records; utterly annihilated! What was going on?
Imposter Syndrome hit, and it hit hard.
I was going to get flooded with 1-star reviews from readers who liked the cover but hated the story, wasn't I? I'd be inundated with refunds, worse than that damn BookTok craze last year. This had to be some kind of system glitch, right?
Luckily, my current day job is full-time, so I could only check my stats on the commute to and from work. It's been nearly two weeks since my book went live, and I'm still reeling. Even with my more popular releases, they only reached a quarter or a third in the first month, of what this book received in less than half that time.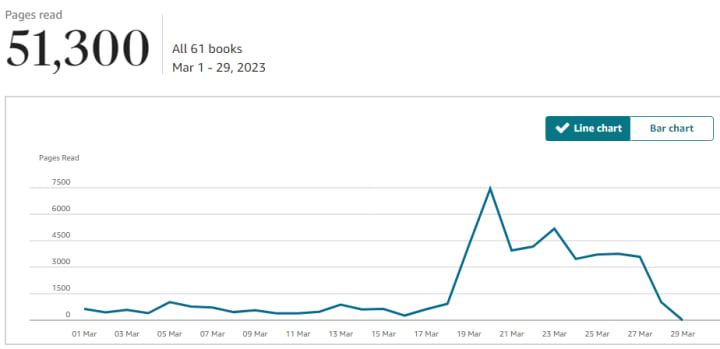 Ultimately, there is no one way to deal with Imposter Syndrome; simply finding a way that works for you.
Remind yourself of all they reasons why you do, in fact, deserve success or recognition. Your brain can, occasionally, be persuaded.
Tell yourself that even if the people handing out awards have clearly lost their minds by choosing you of all people, that's a Them Problem, and nothing you can help. Take your blessings as they come.
Dame Fortune is called 'fickle' for a reason. Enjoy the good things while they last.
"You are a person, and you deserve to be recognised for your accomplishments". Repeat as needed.
If you find another way that works for you, use that as well.
If you're struggling with Imposter Syndrome or depression, reach out. If a therapist is beyond your means (I've heard horror stories about the US Healthcare System), there are free helplines and charity organisations that you can call instead.
If you liked this story, leave a heart, a comment or a tip and share it around, and check out my other work on Medium and Amazon.
About the Creator
I've been writing since I learned how, but those have been lost and will never see daylight (I hope).
I'm an Indie Author, with 30+ books published.
I live in Sydney, Australia
Reader insights
Outstanding
Excellent work. Looking forward to reading more!
Top insights
Heartfelt and relatable

The story invoked strong personal emotions

Eye opening

Niche topic & fresh perspectives
Add your insights