Importance Of Eating Healthy Food – 13 List Of Healthy Food
What Is The Meaning Of Healthy Food?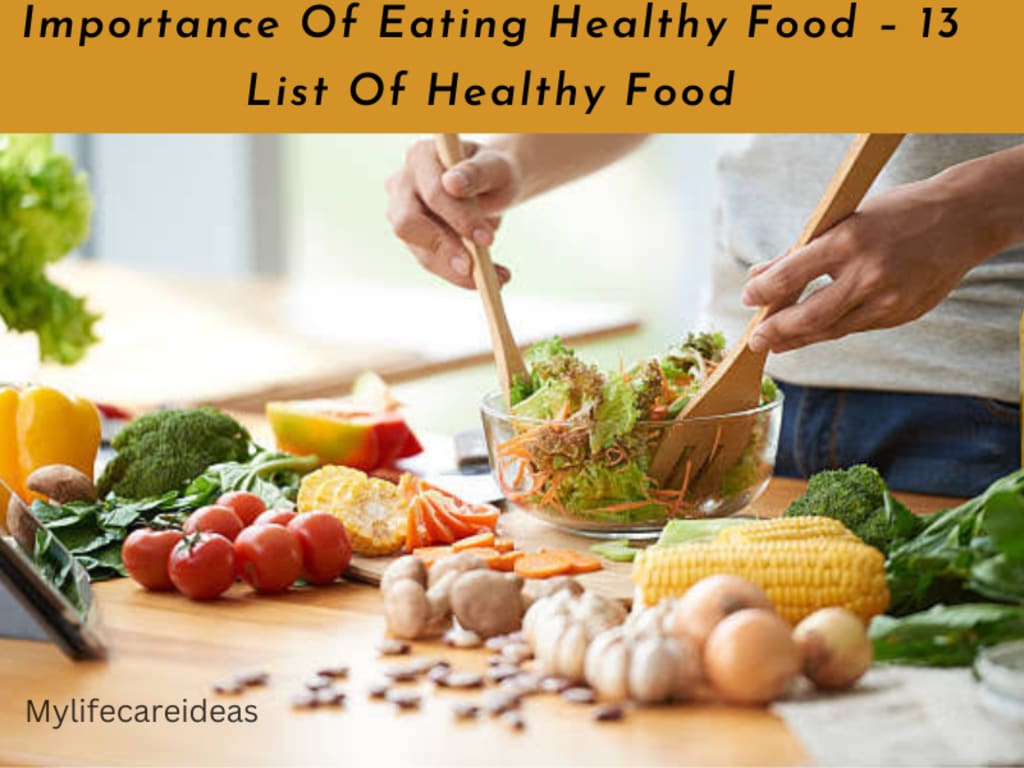 What Is The Meaning Of Healthy Food?
Eating a range of foods that provide you with the resources you have to preserve your health, feel well, and have energy is known as healthy food eating. Some of these nutrients include water, vitamins, minerals, protein, carbohydrates, and fat.
Everyone needs proper nutrition. Eating correctly is a great strategy to help your health keep its strength and health when combined with physical activity and keeping a healthy weight. Eating healthfully is important for you if you have a breast cancer history or are presently receiving treatment. Your immune system, your mindset, and your level of energy can all be impacted by what you eat.
Importance Of Eating Healthy Food:
The way our bodies work depends on how well or poorly we eat. One must make sure and develop the habit of ingesting the optimum nutrients to prevent illness and promote good health. How does diet affect the value of wholesome foods, our quality of life, and the reasons why well is important? We'll explain it more to you.
The organism must eat to survive. You can handle daily activities thanks to the nutrients you obtain from eating healthy food. But the role of diet goes much further than that. Recent developments in nutrition have made it possible for us to understand how important a proper diet is for promoting physical and mental health, preventing diseases, and generally enhancing our health and life quality.
How To Eat Healthy Food?
When it is made the claim that a diet must be diverse, it usually refers to nutritious foods that make clear the value of nutritious food. In other words, eat plenty of fruits, veggies, whole grains, beans, fish, etc. This does not suggest that you should never eat something that is outside of these restrictions. However, if we are only discussing the significance of eating well, the foods must be nutritious.
In other words, although we are aware of the significance of eating well, our attitude toward food still has to be changed. The objective is to understand how to provide our body with the nutrition it requires so that it may function properly and prevent diseases and maladies, not reach a specific weight or keep to a set standard of beauty.
healthy food
13 Healthy Foods List:
Some of the most healthy foods are following there:
1- Fruits And Vegetables:
Making vegetables the star of your recipes is the easiest way to boost your diet. They are a source of vitamins and minerals, which are necessary for the body's healthy functioning, in well as being lighter than other foods. Fruits may fill you up between meals or can be used as a healthy alternative to pastries for breakfast. Keep in mind that eating healthfully is important for both your appearance and self-care.
To encourage their intake, it is important to include veggies in all meals, use fresh fruits and raw vegetables for snacks, always select fruits and vegetables that are in season, and make sure there is a variety.
2- Whole Grains:
In general, it refers to increasing the intake of whole grains like rice, oats, rye, or spelled. Also wheat, it is better to consume less of it and rely on healthy substitutes because it is a component of almost everything we eat.
The inclusion of fiber in whole grains has the benefit of making you feel fuller more quickly and promoting intestinal transit. However, because our bodies to convert carbohydrates into glucose for energy, you must adjust the amount you eat to your energy consumption.
3- Chicken:
Chicken is a cheap and nutritious meat. Chicken that has been raised naturally is a superior protein source.
However, it's important to keep in mind that how chicken is made and cooked has an impact on its nutritional value. This implies limiting the consumption of deep-fried chicken and always removing the skin before eating. Saturated fat is prevalent in chicken skin.
For More Read: https://mylifecareideas.blogspot.com/2022/11/Importance-Of-Eating-Healthy-Food.html
About the Creator
My Life Care Ideas is a place where you will find all types of health tips, beauty tips, food and drink recipes, and life care ideas.
Reader insights
Be the first to share your insights about this piece.
Add your insights