If I could not create, I would not exist.
The Sea Sparked it, The Mountains Own it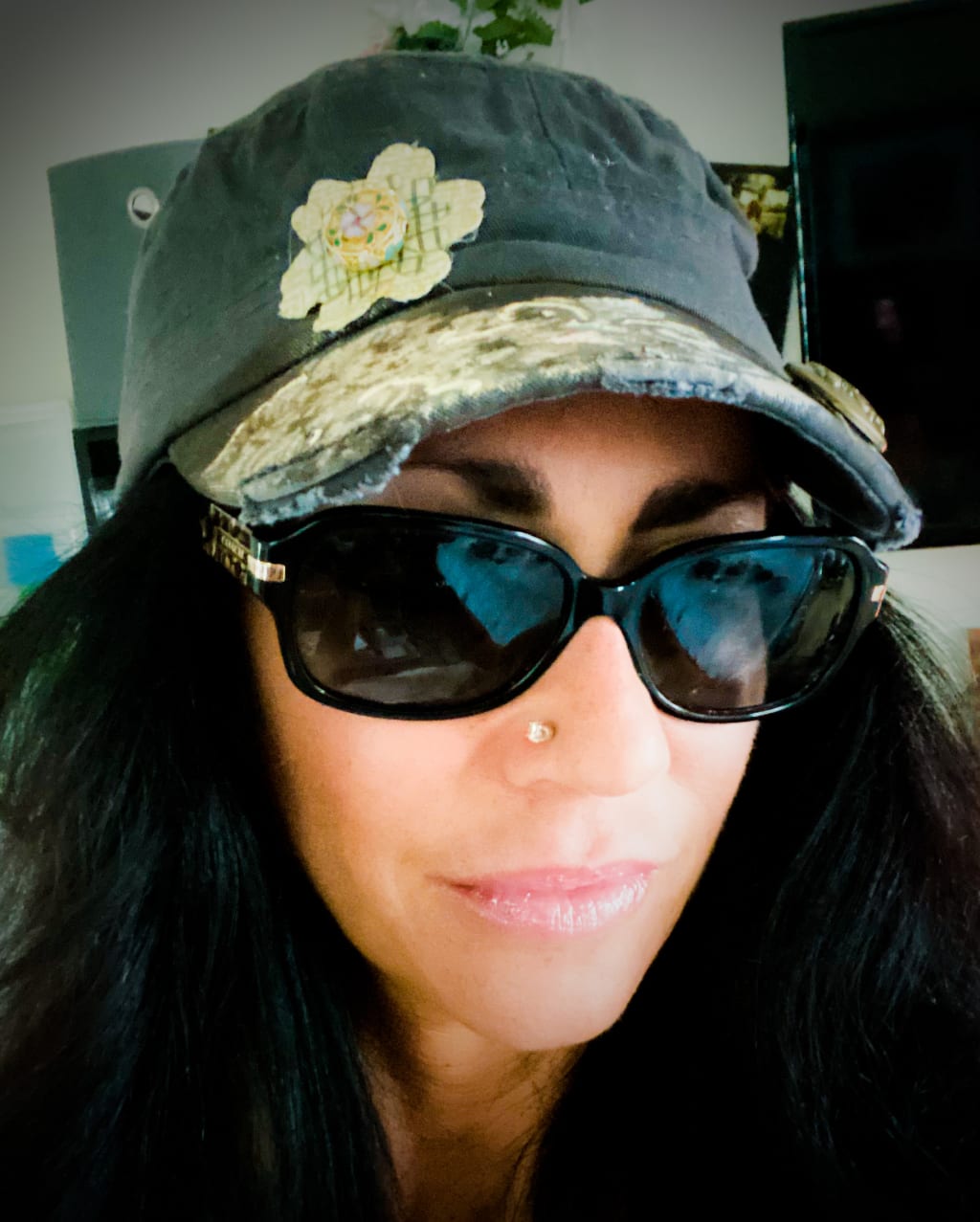 Kimmie Kat Hat by Sanibel Charm
The Sea Sparked It, The Mountains Own It
When I was in my mid 20's, it began. Words started to flow. Around and around, they would swirl in my head, and often when I was alone by the Sea. I didn't understand it then. Maybe it was an awakening. I needed to write some of them down. So I did, and this was my first poetry, and I have been creating it ever since. It comes to me most when I am in touch with nature; I become one with it. It's a fantastic feeling. I feel that my best poetry flows when I'm immersed deep in the rolling hillsides, and she surrounds me. Words first came to me from the Sea but flourished in the mountains. I want to share my favorite poem, written after an incredible hike down a steep and dangerous mountain path. There, at the bottom, I climbed onto a beautiful river boulder, looked up, and put pen to paper the words that flowed in me.
The Waterfall
She floats, weaving down
Falling slowly, bubbles round
Full of breath, of mountain life
Curving left, then to right
The wind blows softly, gentile and true
Her wet path flows, down from the blue
Sparkling ripples, churn in pools
A moment of peace, her water so cool
A butterfly flutters, no direction in mind
Following endlessly, her beauty so kind
Reflecting green glory, steep with lush love
Standing tall, guiding from above
Life in her moment, inspires us all
The beautiful dance of, the waterfall
Children's Book or Bust
In my mid- 30's, sitting on my front stoop at our five acres, I wrote my first children's book. I hadn't lived on so much land since my childhood days in the country. It was indeed a beautiful experience to be surrounded by so much of God's creation. I sat, and I listened to nature all around me. It was spring, and Mother was hard at work creating life. Birds were busy nesting and singing to one another. They were swooping from tree to tree, twirling up in the air, and the sky was alive. I was dreaming of my future babies, tick tock, tick tock echoed in my head, maybe one day. I never got around to publishing it, sad. I'm determined to create the illustrations myself, but it has not been easy. My still shot drawings are good, but I struggle with movement. It is a work in progress, but I will finish my loving Blue and Moo Goo illustrations, and I will publish it.
Blue and Moo Goo
What toodle-loo did you do Blue?
I tweedle-tweet flew further than you.
Further than me, tweedle-dee did she?
Flew higher than you, Moo Goo, did too.
I Moo Goo can chirp louder than Blue.
How fiddle-dee can that really be?
My beakie-beak is why I squeak,
Squeaks louder than who? Why that's you Blue.
I Blue too, can nest better than you.
Nest high in a tree, fiddle-dee that's me.
You nest like the best Moo Goo does agree.
You do it twiggy-twig, leafy-leaf, beautifully.
But Blue do you think and agree with me,
Moo Goo gathers food for the babies to be.
Gathers seeds, little seeds, and some worms you see,
Juicy worms, squiggly worms, wiggly fun for me.
Yes, says Blue, I too do agree,
I nest like the best of the mommies to be,
And you Moo Goo, gathers food we see,
Yummy food, tasty food, for our family to be.
It's true-oh Blue, you like me too,
You dream, tweedle-dee, of a life with me.
Little tweets, tiny chirps, loving mouths open wide,
Until then Blue, come fly by my side.
So…
Blue, Moo Goo and all their birdie friends,
Fly high in the sky, in a twirl and then,
They squawk and they squeak from morning till night,
It's a tweedle-tweet, fiddle-dee, toot-a-loo sight.
Cristal taste on a Boxed Wine Budget
I honestly don't remember not being creative in my life. When you're a teenage girl with a vivacious fashion sense and don't have a lot of money, you get creative. I think of Molly Ringwald in Pretty In Pink, minus the red hair. (Except for that time, I used an excessive amount of Sun-In because blondes have more fun, it didn't work, but that's another story!) It's funny; my mother used to say I had an uncanny sense of exquisite(expensive) style. I could walk into a clothing store when I was young and gravitate straight to the most costly item there. I know it bothered her she couldn't afford it, well I know now, sorry mom. So instead, I would buy inexpensive items and transcend them into whatever 80's fad was popular at the time. Designer jeans were trendy back then with names like Jordache, Gloria Vanderbilt, and Guess. I would imitate the designer's fit using a basic pair of Levi Jeans and taper the legs. They had the same look and feel without the exorbitant cost. Thanks to five years in 4H and watching my Grandmother, I learned to sew, and I had my very own Singer Sewing Machine. So what happened? All my friends begged me to taper their jeans too. We were the only high school walking around with these kick-ass jeans because of my remarkable creativity and sad lack of funds. If I had the entrepreneurial spirit back then, I probably would have considered creating a business. Another way I would find balance with my raging need for style, and empty wallet was in the art of Thrift Shopping! I loved to find gems in a sea of worn-out, stained, and used-up garments. My cheerleading coach introduced this way of shopping to all of us girls on the squad. She always looked so put together and would point at each piece she had on and tell where she got it and how much she paid. It cost her pennies on the dollar! I still thrift every chance I get; it's like treasure hunting! Thank you, Ms. A!
Snap the shot and strike the pose sexy; now go pick up your shit!
In high school I majored in business and science(I originally wanted to be an astronaut when I grew up, funny), but my electives were usually some form of art. I took drawing, painting, and photography classes. I loved doing photo shoots; I was hooked. We were limited to developing (yes, in a dark room) black and white film and photos, so naturally, I became an Ansel Adams fan. Black & White photography does capture the moment in such a beautiful classical way. The deep rich contrast, harmonious shades of gray, and the glorious light and how it plays on its surface, dancing from the smallest if crevice and reaching the richest of the sky. My spare time not in an actual class like study halls and lunch were spent in the darkroom developing film and creating captivating imagery. It was magical watching beauty come to life. My Art and Photography teacher told me, "Kim, you have The Eye." He entered a contest with one of my photos and won. I didn't realize it at the time, but this was thievery, taking credit for someone else's work. He did tell me that the win was for us, and I was flattered. It was a picture of the Siberian Husky we had named Bear. He had a beautiful thick white coat of fur with a slight trim of black on his face which held one piercing blue eye and one deep brown eye; he was striking. Unfortunately, we had to give him back to the breeder because he kept escaping and going after the neighbor's sheep. I grew up in Central NY in the country, on the glorious rocky shores of Lake Ontario. It's a beautiful landscape., almost mountainous, with steeply sloping hills wandering the shoreline. The Bluffs were some of my favorite viewpoints for photography overlooking the steep banks spilling into the reflective pool beneath. Sunsets were stunning here, with all the vibrant colors embedded in the uncanny perfectly round stones lining the shore of this great lake. All my extra time spent in the darkroom paid off. In my senior year, I won the award for Class Photographer. I was so proud, and this win was for a skill. But I also received the awards for messiest locker(what- I knew where everything was) and sexiest (maybe due to my fantastically frugal ways and owning my style), so I was a little confused about who I was, if you can imagine. Artist, Model, or will I drown in a sea of papers, folders, and books never to be seen again?
Delicious Drinks Pay My Way
I decided to go to College and Major in the most creative business degree, Marketing. Hindsight, I wish I would have focused on my passions, Art, Photography, and Literature. But my original idea was to work in advertising. I envisioned myself living in New York City, sitting around a big board table, briefcase in tow, brainstorming ad campaigns for print and video. And then continuing on my way to meet clients for a martini lunch(depiction of advertising lifestyle from 80's movies) and then sealing the deal. I would take long leisurely walks through Central Park daily, and on weekends, catch the latest Broadway and then dance the night away at Studio 54. It didn't exactly go down that way. Somewhere along the line, I ended up moving to Florida and loving it. Everything changed, including advertising. E-commerce was rising in popularity, and I didn't want to leave Florida; it was paradise. So I put myself through College and majored in the future of online shopping. (Who knew Amazon would become what it is today.) As I mentioned earlier, I did not grow up with a silver spoon in or even near my mouth. So I bartended to pay my way through university. Being a mixologist was another very creative outlet.
I used to invent cool drinks, my customers loved them, and I got paid very well in tips. I met so many fascinating people during that time, including all the movers and the shakers of the area. I was a bit shy in High School, but Bartending changed that. And until this day, I feel confident enough to walk up and talk to anyone. (Ask Robert Plant and Bruce Springsteen.) Bartending was fun, too, for a while anyway. Not only did I make a lot of money, but it also was a social outlet, and making these people happy with my delectable creations was rewarding. It served a dual purpose. I was good too.
Not only did my drinks taste incredibly delicious, but I also made them extremely fast. Time is Money! The most famous recipe people ordered from me repeatedly was my mouth watering Perfect Golden Margarita on the rocks, preferably but frozen alternatively. I worked at a Tequila Bar for a while and learned a great deal about different Tequilas. My knowledge was shots of Cuervo straight up with a lime and salt shaker up until that point. (I still quiver at the thought of that!) The most exciting thing I learned about Tequila is that it is the only upper in the alcohol family. My Perfect Golden Margarita Recipe is as follows: Shaker full of ice, Cuervo 1800 (or whatever gold tequila you prefer) 2 oz, Cointreau 1/2 oz, Sour Mix, Splash of Orange Juice (this is key), Dash of Lime Juice, and Shake the hell out of it until it's nice a frothy, pour into a mixture of salt and sugar Rimmed Margarita Glass and top with a Grand Marnier Float. Lime and Orange Wedge. My mom's favorite was my Raspberry White Russian: Vodka, Kahlua, and Cream(Milk) with a shot of Chambord, so yummy.
Real Estate is for the Birds, and not Blue and Moo Goo
Fresh out of College, I met a guy that was a Real Estate Guru. He started buying and selling in the '70s in Southwest Florida. He was one of my best customers at the last place I bartended. He was extravagantly rich, but you wouldn't know it. He drove a regular car that got him from point A to B and lived in a small condo he purchased and even used the condo furniture that came with it. The monetary value of things did not interest him in everyday life. But I admired his passion for Real Estate; he lived and breathed it. In his spare time, he combed the streets, always looking for the next deal. If it was not on the market, it did not faze him in the least. He had a thirst for making it happen, and he was highly parched! I impressed him because I worked hard and put myself through school. And because of where I was from and how I grew up, I was super down to earth, not like the typical gold-diggers he was used to meeting. He talked me into getting my Real Estate License; he said I would be the next Million Dollar Girl. UGG! He hired me as his Office Manager and started to show me the ropes. Honestly, this was the beginning of me getting WAY OFF my true path in life. So, in all honesty, I never used my Marketing Degree in a paying job to date. Real Estate has been following me for the rest of my life. People continue to push this at me. I did marry not 1 but 2 Real Estate Brokers (and dated a couple of others, including the Guru.) I know I could make a lot of money if I focused. But I do not like it; it is not my passion! Recently, I finally decided never again to entertain the idea of Real Estate again. What an enormous weight shifted off my shoulders! My focus from now on is helping people. My passions are reading, writing, photography, video, and art, all in my happy place.
Onward She Goes, and She Must Buy Art Supplies
I have had a studio in my life for quite a few years now. My trips to Michaels and JoAnn's were often, and sales and coupons were plentiful. I would wait for that 20% off your entire purchase deal and go to town! When every closet in the house was over-flowing with my treasures, it was time to find them a home; my first studio was created. We had an empty shed out back that used to be used by the previous owner's lawnmower and yard tools. My husband, not being an outdoorsy kind of guy, appreciated the lawn service option. He suggested it would be a good place for me and my plethora of crafting finds. So he transformed it into my She-Shed Studio. He added a side door that locked and beautiful French Doors in the front that opened the creative space beautifully.
I was in love. I would disappear for hours in my little creative cove. Mostly, I would make gifts for people. But when my daughter came along, I was inspired to create everything, baby. Bows, memory boards, tutu's, stuffed animals, and fairy dolls. (I still make those.) I was a baby craft-making machine. So we found a place to share my creative joys with other mamas. Every other week we would set a tent up at the local farmers market, and I sold my creations. We did that for a while until my daughter grew out of baby things, and so did I. I progressed to making some jewelry(doodlebug rings) and inserts(inner plates) for a popular locket sold at the time called Origami Owl(I sold them as well.) At this point, I opened an Etsy Store called Kimberly Ann's Closet. (I still have it and just reopened it with my Kimmie Kat Hat's, which are handcrafted visors and hats.) My studio is strewn throughout the house, and my creative space is my dining room table. We have been renovating our house and gutted our downstairs, where my studio used to be. But the good news for me, we added square footage downstairs, and once it's finished, it's going to be the best studio a girl could ever dream of; I cannot wait!.
Writing Professionally, Socially, and Emphatically
A few years ago, I started a Lifestyle Blog called Sanibel Charm. We had just moved to beautiful Sanibel Island and me, back to the Sea. Spark. Creating this Blog was my way of getting back into writing and photography. Rewind to a few years before my daughter was born (like 13 years ago), I used to write for several local magazines created by the same Publisher, and I loved it. My career was doing great, I had my columns called Making Waves and Calendar, and I got to write the occasional Feature. I even helped in the design layout with the Creative Director. Everything was moving along swimmingly until one day; they hired a new editor. For whatever reason, he did not like me.
Because I didn't have an educational background in writing, I needed guidance that I suppose he wasn't willing to do. So instead of helping me grow as an aspiring writer and assist me in polishing my skills, he hindered them. I should never have let anyone stomp on my creative soul, take away the joy from my fingertips, but I felt deflated, and I let him get under my skin. I walked away from writing and my love for it, feeling like a failure with no support. But with Sanibel Charm, it's like another awakening. I'm on this life-long journey to become the best writer I possibly can. And I have larger-than-life dreams of what I want to accomplish down the road, but for now, bottom line, I started writing again. So up until this point, I have primarily focused on concise articles of content and Instagram posts, and photography. I have written a few excellent articles on my website and conducted some local celebrity interviews that hold some clout. I also have a Twitter account and a Facebook page dedicated to the Blog. So moving forward, I must focus on organization and scheduling across all social media platforms, including the addition of YouTube and Tik Tok, and of course, mastering my skills in writing, writing, and more writing.
Grateful for Journaling and a Morning Routine that Changed My Life
I have been gratitude journaling for years now. Something I started doing alongside my first self-improvement program, Winning The Game of Money with John Asseraf; I loved it, by the way, and highly recommend it! Now I have multiple journals. I have one for manifesting, affirmations, marital frustrations (per our therapist), and asking my guardian angel for help and guidance (maybe I should have started one years ago for my editor!) I've added art and poetry to some of them, which sparked the love of creating them. Last year, during the covid lockdown, I jumped in heavily with everything self-help and self-healing. I turned off the television almost wholly ( except during lunch, I watched some HGTV fixer-upper shows) and dug in deep. I wanted to find myself, I felt lost in a crazy upside-down world, and I tried to find answers. Why did I feel so lost? What was stopping me from becoming the successful girl I know I could be. I felt like my life had been stuck on pause, and it was burning into the screen of my future.
I started reading self-improvement books and bought into several programs. I read all the important ones that everyone suggested (Mans Search for Meaning by Viktor E. Frankl (changed my life), Limitless by Jim Kwik(changed my life), Innercise: The New Science by John Asseraf, Think and Grow Rich by Napoleon Hill, Chicken Soup for your Soul by Jack Canfield, Atomic Habits by James Clear, the Miracle Morning by Hal Elrod, The 5 am Club by Robin Sharma, The 7 Habits of Highly Effective People by Stephen R. Covey, Sell or Be Sold by Grant Cardone, The Calling by Rha Goddess, and Spirit Junkie by Gabrielle Bernstein. I am currently reading; You Are the Guru by Gabrielle Bernstein and How to Win Friends & Influence People by Dale Carnegie. For the programs, I restarted WTGOM by John Asseraf completed. I started Mic Drop Work Shop, become a professional speaker by Jess Ekstrom; I started but have not finished yet. And Digital Course Academy, how to build and launch your course by Amy Porterfield, I completed, but I haven't launched the course yet. After reading both The 5 am Club and The Morning Miracle, I started getting up at 5 am every morning and created my Morning Routine that has changed my life. This is the course that I am currently creating to help change people's lives. So during this time of lockdown, reading, and submersing myself in self-discovery, I had Epiphany after Epiphany until I had a Paradigm Shift. I finally know what it is I need to do for the rest of my life. I need to help people and concentrate on my passions, and my life will be incomplete alignment.
Everything but the Kitchen Sink
I love art. In College, I took an online Art Appreciation class that encompassed my creative soul A+. But there was another Art class in drawing I took that left me feeling humiliated. C- I sometimes have problems with lines. With perspective. Anything 3D. My professor would embarrass me by asking me to present my work in front of the class after viewing it at my seat, knowing my struggles. And then he would say, "There are artists, and then there are housewives that shop at Michaels" immediately after my presentation. No, he did not kill my love for art but perhaps put a hamper on the possibility of becoming an artist. That was several years ago and several years of trying new forms of art. I've attempted Acrylic, Water Color, Charcoal, Colored Pencil, Pen, Crayon, Canvas, Wood, Paper, Metal, and nothing jumped out at me. So for years, I have envisioned doing mixed media pieces but didn't know where to begin. I am attracted to being able to use everything with no limitations. I've seen some work that I loved, with fabric, buttons, jewelry, and I was hooked. Finally, I got the courage to create my first piece, and I'm in love. Being able to use anything in this creative process feeds everything that I'm attracted to. I can use my poetry, photography, beads, fabric, everything I love. I can use Metal and wire; you name it. I am incorporating all of my past endeavors into my new artistic outlet. In my mermaid mixed media piece I recently created, I added the Origami Owl Locket plates I used to make and sell that were leftover. I feel like finally, everything is aligning, and I am on the right path artistically in my life, and it is a fantastic feeling. I found it, and I love it. Now I just have to SELL it!
Thank You Vocal and Very Pleased to Meet You
I don't even know how I found Vocal and the challenges I'm now loving. It may have been me looking for ways to make money writing. The challenges give me direction and the practice that I need. I'm taking this time to write every day, work on my skills and vocabulary, and get good. It also motivates me to write more content for my Blog; good content people will want to read. Also, I have a dream to write fantastic stories bouncing around in my head for a while. I want to turn them into a Trilogy. Doing this work here will get me there. And believe me, these stories I have in my head for this incredible three-book series are amazing. I need to be able to write it that way. But for now, I'm going to keep writing every single day content for my Sanibel Charm Blog, Poetry for my journals, and Vocal Challenges, whatever they may be, in hopes that one day, I will be excellent, and I will win!