I Was Stuck in the Acquaintance-Zone
I couldn't get in
Photo by Kat Smith on Pexels
Recently, I published a story on Medium, where I talk about my experiences with friendships and friendship breakups. As most people, it was always difficult for me to handle the loss of some friendships, because I thought that the best way for me to prove that I was friendly is having long-term friendships.
Unfortunately, my conception about friendship didn't help me that much, because some of my ex-friends exploited my kindness and expected me to do any sacrifice for the sake of our friendships.
This article ended up having much more feedback than I expected. One of the commentaries was particularly interesting, because it questions the whole essence of the article: what does that mean to be friend with someone?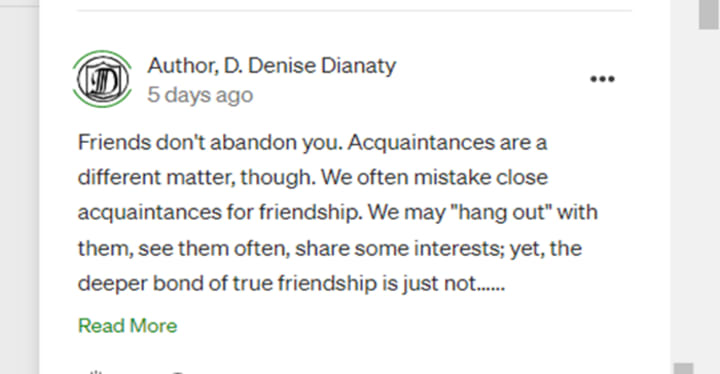 There is no other way much more effective to question any bad experiences within friendships then pointing out the concept of acquaintance. Because, in the end, every friend is an acquaintance as well. The main difference between friendships and acquaintances is that in the first case there is a high level of intimacy. You would be more open to share a confidential information about yourself to a friend than a simple acquaintance.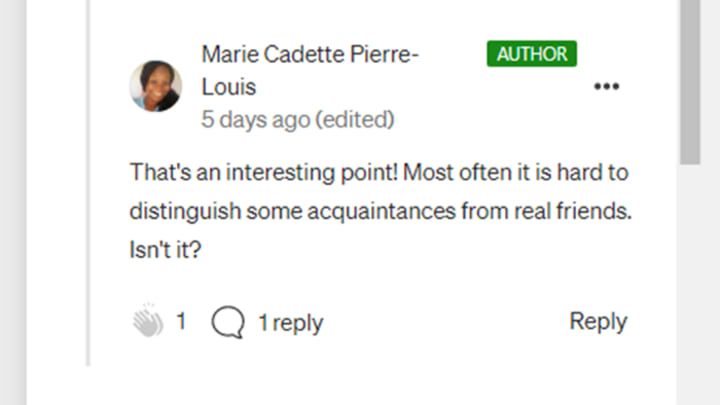 As for most comments that I have received, I took sometimes to think about it before responding.
At first glance, I agreed totally with Denise, however, afterwards I realized that the answer needed a bit of nuances. Because the difference between friends and acquaintances is not that clear as we sometimes think.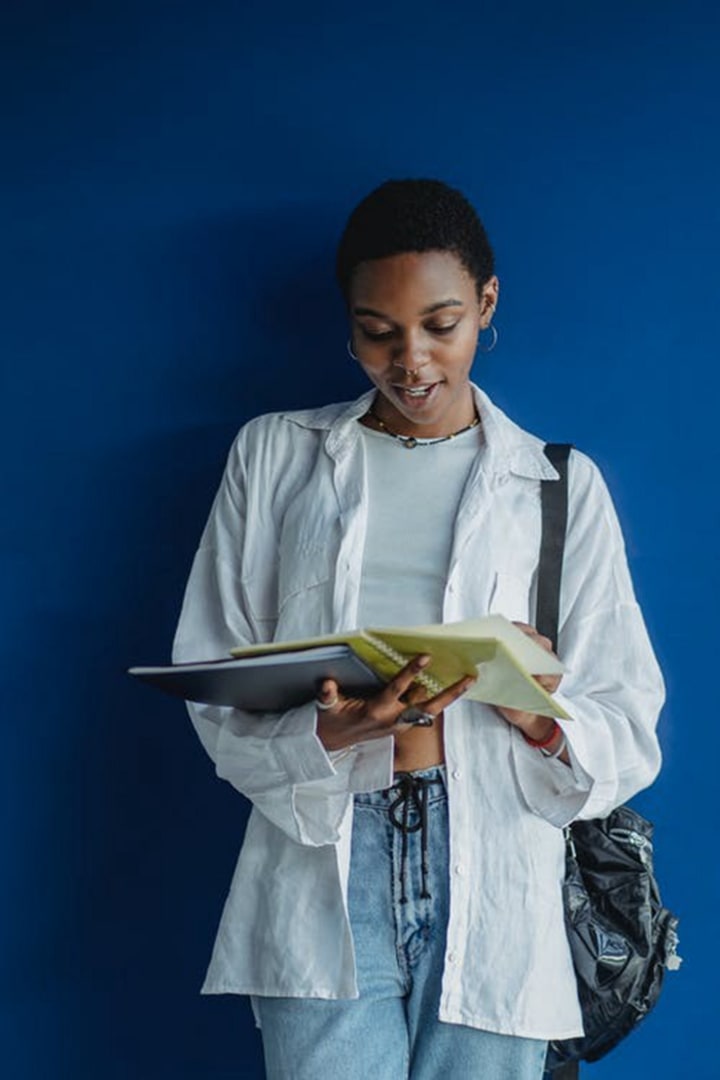 I remember during the last days of my first year in college, one of the girls that I considered as friend tell a friend of her upfront that she is not my friend. I was sad and realized that the context was very interesting though:
She invited both of us in an activity where she was being rewarded, and I went, but her friend didn't. Afterwards, they had an argument because she expected her friend to support her during that moment. But for some reasons, the guy couldn't or didn't want to. While their conversation was getting more intense, I approached them and tried to calm them down. And at that moment she said, "I have always supported you, because you are my friend. However, you are never available when I need your help. Even Marie (me), who is not my friend, was there!"
I was cold and hot at the same time; I didn't know what to say. I just took a deep breath and headed back to my original place. Even though it affected me a lot during the first minutes, afterwards I even forgot she said this. I continued to talk to her and was always there for her, because I appreciated her a lot. She also continued to talk to the boy, and it seemed that she appreciated the guy a lot as well; even though the guy never showed any interest for her. But she never considered me as friend! And it was ok because she has the right to choose who to be friend with.
I shouldn't be that pushy, because she made it clear that she didn't want me as her friend. Nevertheless, back then I really wanted to have female friends, and was convinced that if I did more efforts, she would consider me as her friend.
I just remembered this funny case recently while I was thinking about Denise's comment. And it had me reflect on my whole friendship journeys: How many times I have been stuck in the acquaintance-zone? How many people have considered me as acquaintance when I expected them to be my friends? Why can someone consider you as an acquaintance while you consider them as friend?
To be honest, I don't know how many times I have been stuck in the acquaintance-zone. This didn't even matter to me, because as soon as a person was nice with me, I automatically considered them as friend. Was it a bad thing? Maybe it was.
Back then I was desperately in search for friends up to a point where I considered anyone who was kind to me as my friend. Even though it was a bad behavior, it helped me find some real friends as well. Many friends I have found started like a fake-it-till-you-make-it. They just decided to hang out with me after an affirmative action lol. I just said to them that they were my friends, and progressively they have become friends of mine for real. They were just some random acquaintances and now they are my friends! Who wasn't an acquaintance before becoming a friend?
Still, the difference between friendship and acquaintance is not that clear. Each one of us has a different personality and different ways to express our emotions and feelings. Depending on the quality and intensity of the first relationships we had as children, we would create different types of bonds with people, and that would determine our reactions to friends as well. An extrovert may react to an acquaintance the same way an introvert reacts to their friends. A very kind person seems to be kind to anyone. A good listener would listen actively to even an acquaintance. There are some character traits that don't help identify clearly who is a friend, and who is not. And some association create even more confusion: an introvert with an extrovert, a chatterbox and a good listener, an empath and a person in need, etc.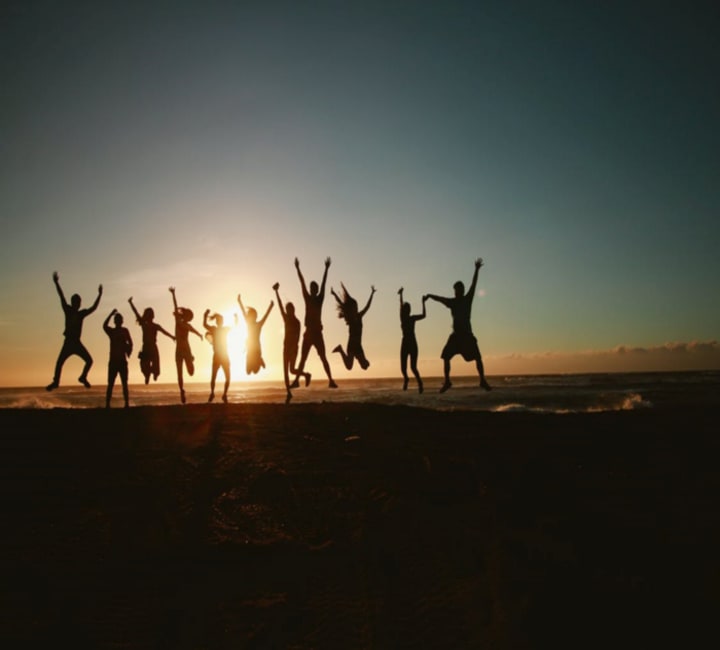 Under these circumstances, it is more likely that one of these people automatically considers the other as their friend, even though the other person only does what they are good at (or what their personal conditions require, especially in the case of the person in need).
Even though it can sound weird, asking someone if they see you as their friend or tell them you are their friend can be a good way to discover if they are your friend or not. Nevertheless, discover it in a more subtle way can be even more effective, because there are some people who would tell you they are your friends just to make you feel happy about yourself.
One of the best methods to figure out if they consider you as friend is observing them from outside of your friendship, that will help you see how they react to both random acquaintances and other friends. If there isn't any difference between the way they behave with you and the way they behave with their acquaintances, maybe you need to start a more direct conversation with these friends and figure out their real feelings about being in a friendship with you or not.
Your sincerity can have three consequences:
1) Creating a real friendship: Maybe they don't even know if you consider them as friends, and by telling them the truth upfront they would take the relationship to another level.
2) Solidifying your friendship: Each friendship we have is different, some more talkative, other less, etc. Those reactions are generally the consequence of the idea we have about our friends. If we think they love music, probably we will play music when we are with them. If we know they love to cook probably we will cook with them.
Specially during the first months and years we have been friends with someone, we don't know quite clearly what they really love, we are just exploring. During this step, we can have the sensation that the person doesn't want to be our friends, when what is needed is more dialogue so as we could know each other better.
3) Being just an acquaintance: There is no problem with being only an acquaintance. Being an acquaintance doesn't mean you are a bad person, neither does it mean the person hates you. It is just a matter of incompatibility. And if you appreciate them, you can continue to appreciate them, but don't rely on them, because they are not your friends. Look for people who really want to be your friends, so that you don't be hurt. A friendship doesn't have to be a sacrifice, don't force it, let it go like a river stream.
Have you ever been in the acquaintance zone, how was the experience? Have you ever considered someone as your acquaintance and realized that they have seen you as friend? What do you feel about it? According to you, what is the difference between friend and acquaintance?
friendship
About the author
This is me, Marie. A writer in becoming!
For now, I am a translator and content creator.
See more about me on Instagram (@mariecadettepierre) and twitter (@cadettelouis).
Buy me a coffee by signing up to Vocal+ through this link.
Reader insights
Outstanding
Excellent work. Looking forward to reading more!
Top insights
Heartfelt and relatable

The story invoked strong personal emotions

Eye opening

Niche topic & fresh perspectives

Excellent storytelling

Original narrative & well developed characters
Compelling and original writing

Creative use of language & vocab

On-point and relevant

Writing reflected the title & theme

Expert insights and opinions

Arguments were carefully researched and presented

Easy to read and follow

Well-structured & engaging content
Add your insights