"I Want You to Know I Know The Truth"
Reflections on Tom Bradbury: My coach, confidant, mentor, beloved friend & the wind beneath my wings.
A Normandy poppy from Tom's Farm
"Ever has it grown on the tombs of my forebears. Now it shall cover the grave of my [friend]. Alas, that these evil days should be mine."

- King Theoden
Tom was always telling me "not to fret" and to see the whole board—something that does not come naturally to me, if at all. But I've taken his lessons to heart, especially when it comes to having a cup of tea and trusting in the Higher plan. For now, that's what I'm going to (try to) do. Of all the things I could start with, the photo of a humble poppy from his land seems the only proper jumping off point. Ever a flower of mourning, it is fitting that he loved them so and that they now grow where he passed.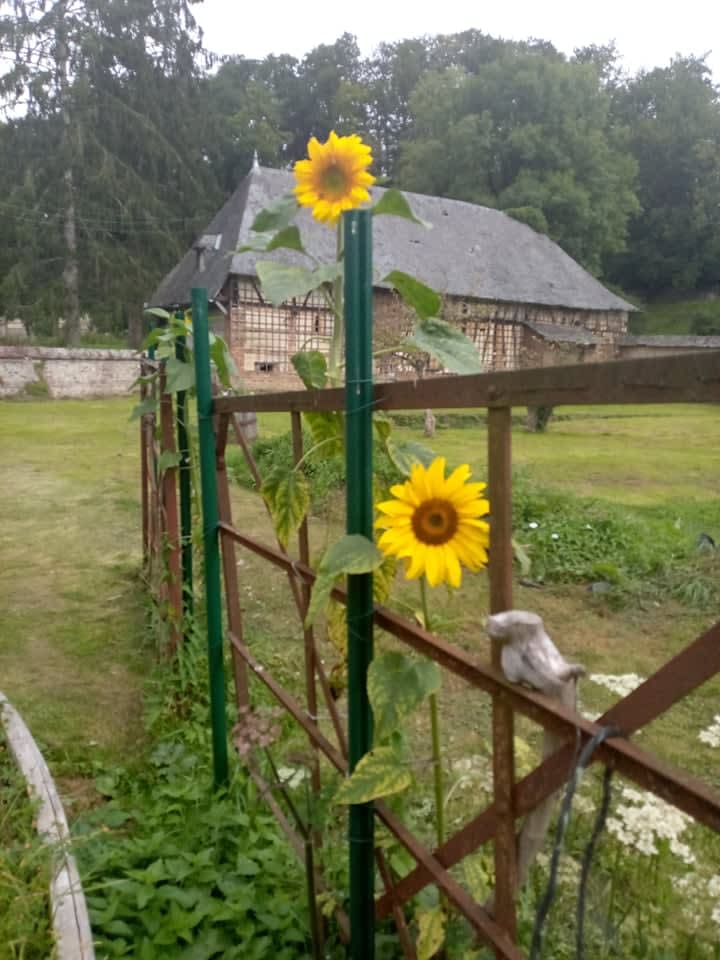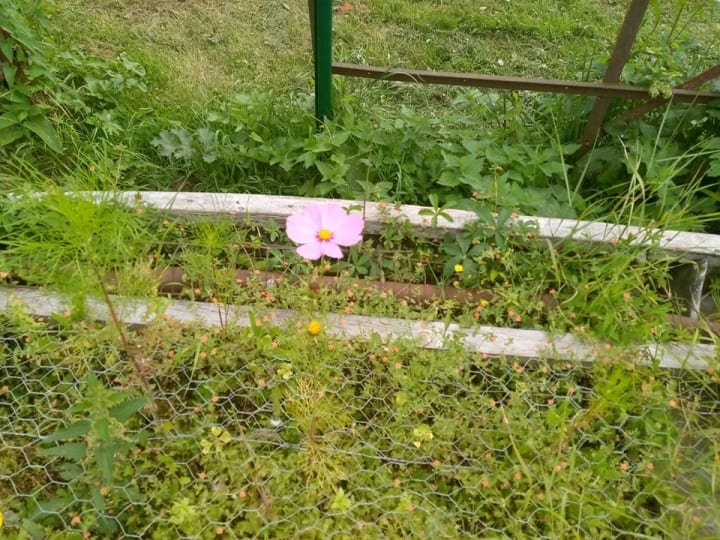 As I write, my first instinct is to turn to him to talk through my ideas. The emptiness of writing without his companionship is a hole I fear shall never heal, though I might find ways to shore up the wound. One of those is by collecting and then showcasing tribute works from others who loved him, too. That project is complete now (see links at the bottom). Next I'll begin editing an anthology of his fictions as per family and friends' wishes. Again, to those who have reached out personally, thank you. It means so much.
~~~
Tom was wholly selfless as my friend. He gave me everything and asked for next to nothing. Frequently misunderstood, I often called him Mr. Darcy; with his other half being Enjolras. He'd tolerate my literary comparisons (though he abhorred Darcy...) and then always remind me, he's just him. I see that now—there is no comparison. Tom was Tom.
For those that read my Spotlight, you would have already read how I alluded to Tom as the wind beneath my wings. I kept some of it private. Of the poetry I've written, I wrote the following two pieces for him. The first in answer to a question and the second speaks for itself.
Tom brought order to my chaos; he never wanted any credit for helping me nor any reward other than my happiness. Knowing that he would want me to carry on is what I am leaning on for strength. But it hasn't been easy.
Every minute of my day I check my inbox for messages or think of something I need to ask about or talk to him about. I could trust him with anything, lay the worst and most bare parts of my soul at his feet and he would tell me they were still beautiful, that he believed in me and would help me find ways to take care of myself or improve what I was working on. He had my back every step of my journey; he was my safest port, my guiding light and a cherished friend. If I start listing in detail his contributions to my life, to The Vocal Social Society (VSS) and The Chronicle, the words would fill an ocean. It's hard to believe we'd only known each other 3 months and from 2 separate continents—in this life. But I know this was not our last September.
He helped so many others too, and that is how he earned this poem.
Music was important to Tom, though he neither played nor sang. He chose the song "Let It Be" for his mother, Mary, at her funeral years ago. His greatest gift to me was my signature "Chat With Les" interview question:
"What theme song would accompany you into a room and why?" (Based off his Dinosaurs in the Fata Morgana piece)
You know my answer from my spotlight. What you don't know is the one he chose for me and the one I'll listen to on repeat for the rest of my life, "Girl From the North Country."
When asked to choose for himself, in typical Tom fashion, he mischievously replied "Wagner's Ride of the Valkyries" and then admitted "Flight of the Bumblebee" was a close second.
The piece he ultimately decided would be his song is "I Can't Stand the Rain - The Commitments Soundtrack (1991)."
He said "It is about being trapped, but also being powerful." I agree. It's also quirky as hell so that fits, too.
In life, the song I joked was written for him was "Take It Easy" by the Eagles. If you knew him well, you'll get the first chorus.
My memorial song to Tom should be clear from the title of this article. "Wind Beneath My Wings" by Bette Midler.
It might have appeared to go unnoticed

But I've got it all here in my heart

I want you to know I know the truth, of course I know it

I would be nothing without you
Some parting thoughts...
Andy's Man Club is Tom's favourite charity. Donations can be made here. Their motto: #ITSOKAYTOTALK seems especially applicable right now. It can be hard to find ways to open up. I often wish we could travel back in time 150 years ago to the days we all wrote letters and kept up a steady, intimate conversation. Let's not let this chance to talk pass us by.
Tom's dream was to see a Men's Community (similar to Andy's Man Club) take flight on Vocal. It was the first piece we co-wrote, though I haven't taken credit publicly for it. It was his dream; this time I intend to be the wind. For your consideration:
In closing, I'll forever be so grateful I got to honour him with a Fab 5 for "Wishing Well Questions". I have more to say about his work and ours but it's too much to speak of just yet. I will remind you of what I wrote for his Fab 5 win instead,
"Belief in the supernatural, an entity or entities beyond what we can see, touch, or feel, is a defining aspect of being human. We wish; we hope; some of us pray, and above all, we desire answers. This piece was chosen to represent Humanity firstly because it is well-written and engaging. What sets it apart is the subject: wishing using objects, specifically throwing objects of value away from ourselves, is a near-universal practice across the globe, suggesting it is a cornerstone of how humans navigate their existence. Lastly, the author, Tom Bradbury, eloquently leads us from a humble moment of discussing childhood shoes into the darkest depths of what lies within our hearts. -Introduction to the win penned by Call Me Les
"Wishing wells have no interest in commerce; they are purely invested in you. Wishing Wells are for wisdom, knowledge—they are there to answer the question you need an answer to but cannot find. " -Tom Bradbury
I know at the moment, we all want some answers. Perhaps, we can take some wisdom from Tom's words.
In my dreams, I imagine you are somewhere with your sheep, Hopalong and the chickens, Scally, Marla & your parents, somewhere with fresh air and mountains. Be at peace. Until we meet again.
Pictures we shared.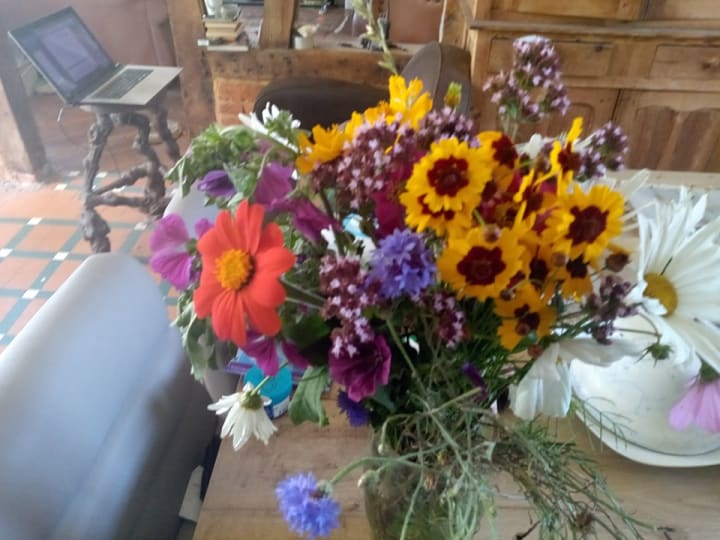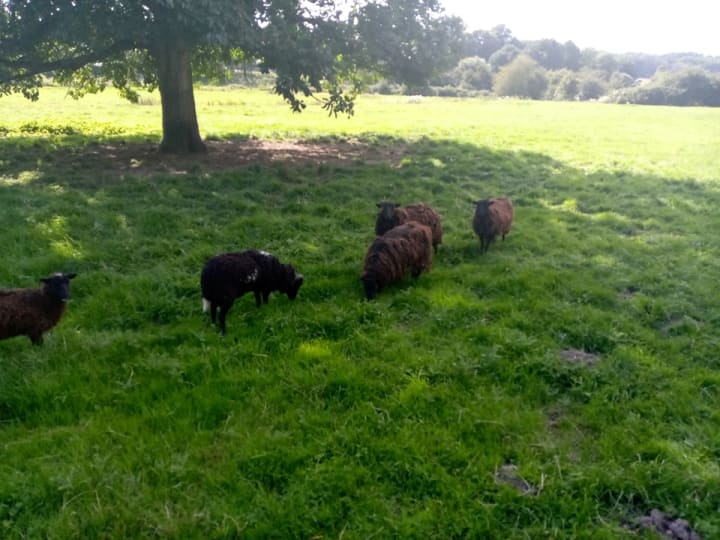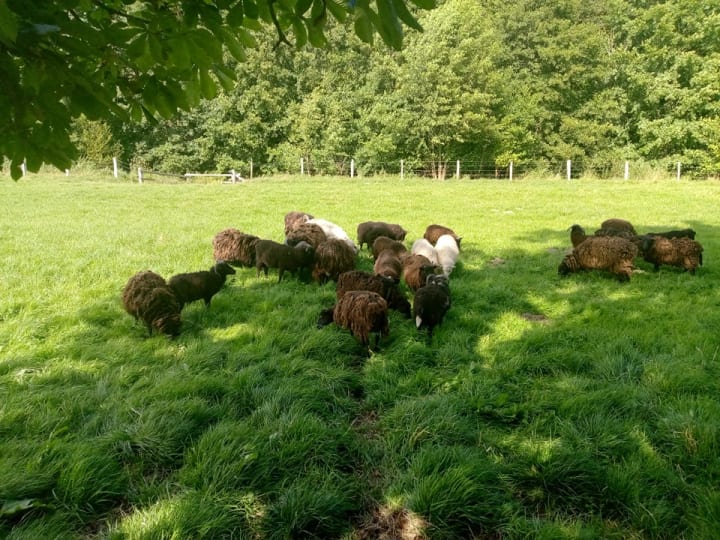 Memorial Documents:
First published by Call Me Les on Vocal Media September 29, 2021.
~~~
You can get in touch with Les via her magazine's email address [email protected]