How I Got To NYC
It's a Rom-Com (with a bit of tragedy), but it ends well.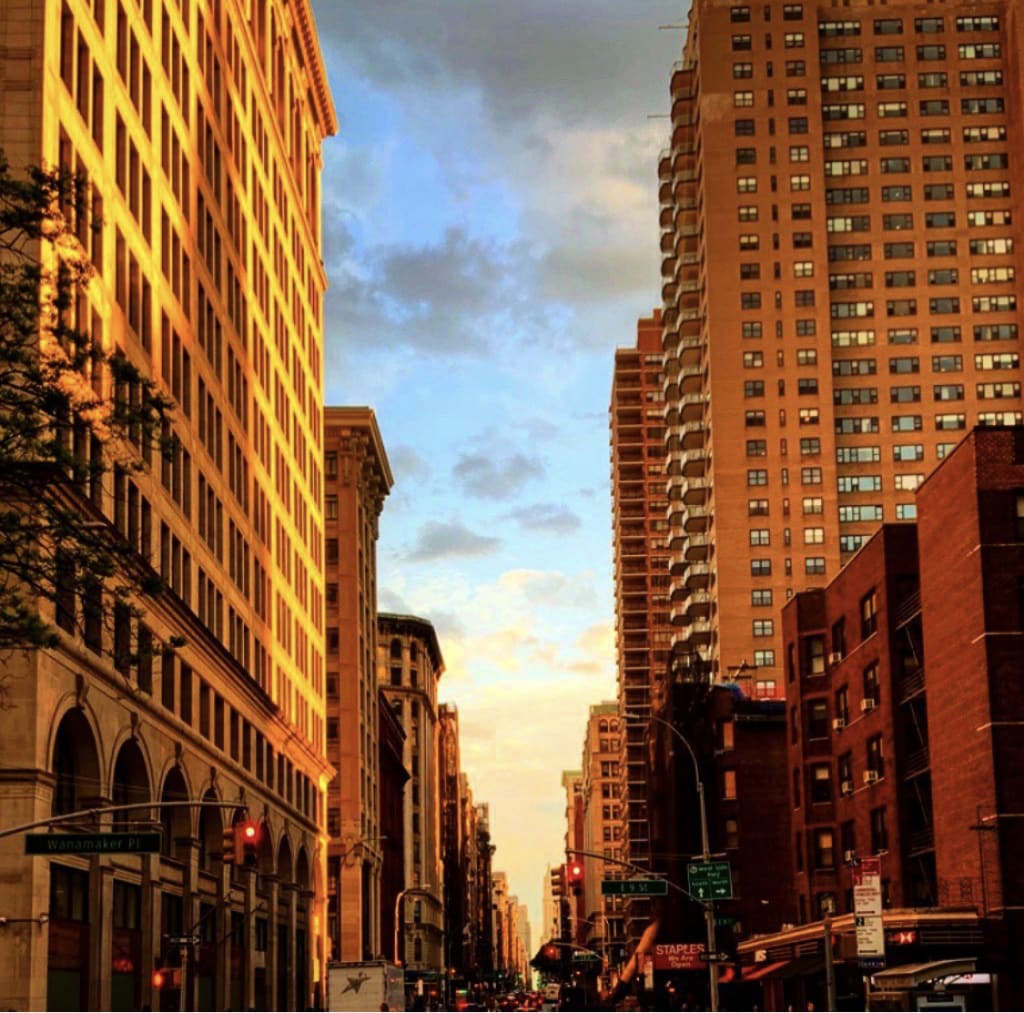 5th Avenue, my usual after work stroll.
Yes, I'm a New Yorker and yes, I am walkin' here.
I didn't just grow up wanting to be a New Yorker. In fact, I'd never thought of it in my life until graduating college. I'm from a town in South Carolina where you typically saw New York in movies (or you know a friend of a friend who's brother moved there). But New York, like it seems to do for so many of us, reached out her arms to me and beckoned me home; so I obliged.
I remember my final semester of college, in-state. It was a rush of applying for any job connections I possibly had, while juggling two part-time jobs and still living in my college apartment. Just like sand falling through an hourglass, I was slowing losing my youth - and I soon had no excuse for not having landed my first job. One of my part-time jobs had me sitting in a lifeguard's stand for hours at a time, pondering where my life would be going, and more often how I had to come to terms with throwing in the towel on adventure. That was, until I took a break to check my Instagram - a break which changed my life forever.
As I was flicking through, a story caught my eye from an old crush of mine from a couple years back. She was living the New York dream, enjoying a coffee and posing with her friends in Central Park. She had just moved there, just like I remember her telling me she was going to. It was all so marvelous and romanticized in truth, but I was sold. I responded immediately via DM and chatted her up. Eventually we got on the subject of NY and how she was enjoying it, in which she mentioned I should come see for myself, if I was around. It was a Saturday. Confidently yet jokingly, I finished with "great. are you free for lunch on Monday?"
She, picking up on my joke, laughingly agreed for our impossible lunch-date. I got back up on the stand and continued my shift, thinking about my friend and how her life never stopped being a dream for her. I began to wonder "could I actually make that lunch date happen?"
Next thing I knew, I was waiting outside a gas station for PandaNY's bus (named the Panda Express) to pick me up for my 11hr (overnight) journey from SC to NY. Nervous was a cruel understatement. There were so many unknowns: Was I going to sleep at all? What if i had to pee? What if I got jumped? What if i DIED? Every thought was an anxiety attack. Still - what I felt was an endless supply of adrenaline. This was my last hurrah. I was really pulling a Jack Kerouac moment here!
Turns out I'm awful at sleeping on any moving vehicle. I filled my time looking out the window as we drove through each state, stopping twice to pick up more and more passengers. Of course, no one could understand the driver. They drove from Chinatown, NY to Atlanta, GA; so you really had to pay attention or you'd miss your stop. I counted the states as we drove through - NC, VA, WV, PA, MA, NJ - New York.
When I saw the Empire State Building on the horizon for the first time (in person), I nearly cried. This marked a transcendental moment for me. A moment where I had been entirely responsible for a journey that *could* change the direction of my life - and I felt the momentum building.
Stepping off of the bus into a busy Chinatown remains one of my most fond memories I've ever had in my life. I have never felt that way in NY since then.
Of course once the initial shock of being somewhere I'd only seen on the big screen wore off, I had to decide what to do. Immediately I got coffee, as is my ritual most mornings. I'd also been smart and decided to bring some resumes, as I thought that I could play it cool and show up unplanned for an interview or two.
I texted my friend. "Just checking in on our lunch plans. You still down for noon-ish?"
Immediate text back.
"NO WAY. Are you really here?"
I snapped her a quick photo of myself and my coffee outside a chinatown coffeeshop. I wasn't even sure if she'd recognize it, but it seemed proof enough.
"Okay, okay wow. Let's meet up after work so we have more time, lunch break isn't really a thing here anyways."
I was ecstatic. That meant I had a full day to get lost and found before hanging out with this girl that I still had a crush on in a city that I just met - but already loved.
Turns out, NY is bigger than I imagined. Like imagine how big you think it is, and double it. Maybe triple it. I remember getting on the subway going the wrong direction, multiple times. I remember asking for directions countless times (something I would cringe at now), and noticing how polite and assistive NY'ers actually were. They aren't mean at all.
Besides that, I got the chance to sit in the lobby of a couple of my dream design agencies. I called up to make interview appointments, and realized that I couldn't get in. I even acted like I had a scheduled interview at one office, but they quickly found out that wasn't the case. Yet, I couldn't be defeated. I already felt like a New Yorker.
Sometime later I met up with my friend. We embraced, got Shake Shack, and talked for hours just catching up. We had both spent a year in the same place during college, so we had material to cover of happenings since. I learned about her job in SoHo that she enjoyed, and about how her roommates were a gamble but ended up being so perfect. About her midnight tirades into Manhattan ending with 3am pierogies. It all felt just like Gossip Girl, or something.
The conversation got to me, and more specifically, the million dollar question.
"What are you really doing here?"
A question I hadn't thought of answering, but it still hit me straight between the eyes.
"Interviews?"
She didn't fall for it.
"Good coffee?"
She could clearly see I was dodging a bullet.
So, I sidestepped.
"I just graduated college, and I just broke up with my girlfriend who didn't want me to live the life I want. On top of all of that, life is just moving so fast. I don't know what I want but soon I won't have any choice and I can't live with that."
She sort of paused and sighed.
"So you thought you'd take a bus.. all night.. to walk around all day?"
This is the first time it sounded remotely crazy to me.
"Yup" I answered, with a grin on my face.
"And where are you staying tonight?"
I had a confused look on my face. "Staying? I'm getting on the 7pm bus and going home tonight!"
At this point, she likely thought i was insane.
"Well, I'll give you that. If anyone deserves to live here, you'd be on the list."
It was all I needed to hear. That one person believed in me who had done it. It wasn't enough to dismount the rejections from my interview attempts, or to dispel the exhaustion sitting behind my eyelids and wearing on my face, but it was something.
We hung out for the rest of the evening. She showed me a favorite gelato spot of her's, and then a bookstore, and a trinket store all in the Lower East Side. I even exchanged my return ticket for a 10pm departure to have more time with her. When the time came for goodbye's, I was majorly exhausted. We hugged goodbye, and then she said something that honestly still makes me tear up to this day as I'm writing this.
"I'd say goodbye but honestly you'll be back, right?" She gave me a half smile, almost waiting for my assured response. "You know, to live here?"
"Oh..yeah!" I answered. Not really sure of anything besides my exhaustion. I wanted it so badly to be true.
As I rode home, completely dead-tired, I couldn't help but recognize that I definitely lived the best day of my life so far - and I couldn't deny it. Riding back through state lines, I felt a bit more ownership of the journey. I didn't even know the man beside me, but I knew we were all united by one thing; New York City.
I've stood a little taller since that day. And, after many interviews and one fateful phone interview, I got a job offer and the green light to move my entire life to Brooklyn, NY.
*There is more to the story with my friend-crush situation, and I've decided to break the story up into segments as they make sense. This journey to NY seems like the best first installment in my journey.
Happy reading.
NoLIta Knight x