Healing from a Broken Heart at 14
My First Love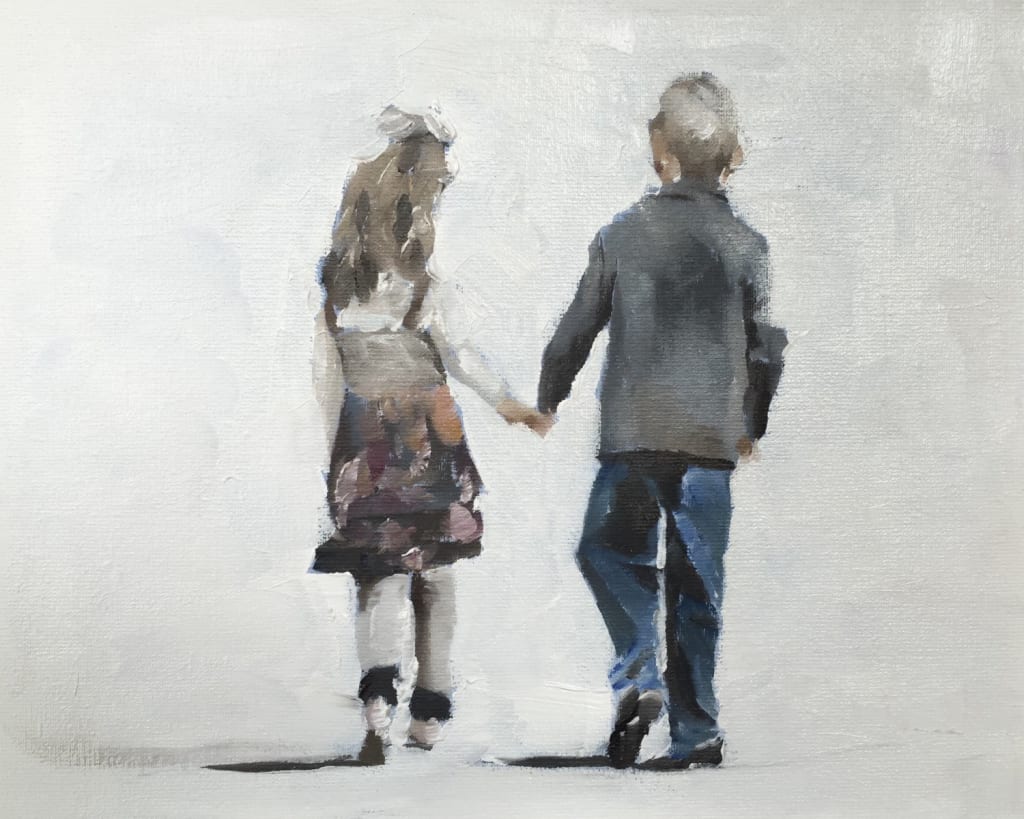 I do not own this art, all rights belong to artist. 
When I started middle school, months later I began dating my elementary school crush. He was cute and a little bit of nerd and I was just a little girl who wanted to feel loved, give love, and be happy. We all know how middle school relationships are. You hang out sometimes with a group of friends and never really go farther than lightly touching each other's shoulders, maybe holding hands. We "dated" for a few months, and probably hung out four times over those maybe 6 months? Yeah. We've all had our share of those relationships.
A year later I started dating another boy, we'll call him Logan. Kind of a jerk boy, if you will. He was a little more "edgy" and a lot of people didn't really like him or so it seemed. You might've been able to guess it, but that didn't last long, maybe a week or two. We went on one date, the most awkward date I've ever been on. We went to Starbucks, just two little 12-year-olds who liked each other. The next day it ended with things getting out that he "no longer liked me." It hurt a little, as you can assume, but I got over it pretty quick.
We sort've stopped talking after that, our friendship just kinda died out and it didn't seem to mean that much to him, so of course I made it seem like it didn't matter, which of course it did. I pushed those feeling down and told myself that if there was a chance to be with him again, I would jump to it in a heartbeat. Eighth grade year came around and we didn't have any classes, so we didn't see each other really at all. That whole year I never took interest in anyone, was kinda just wanting to wait until high school, you know, when everything "really" happens.
Summer going into high school, it was early June. It had been the best summer ever and only about one or two weeks in. I had a crush on this guy I had recently been talking to, and my best friend had the same. Then all of a sudden Logan and I were talking again, facetiming, snap chatting, and texting. The night we started talking the other boy I had been talking to went to sleep early, and my best friend was talking to her "boyfriend," so I continued to talk to Logan.
We talked for hours, snap chatting and facetiming. We shared secrets and emotions I had never said to anyone and yet I was telling them to him all in one night after not talking for months. Before I knew it, the next morning we were dating. My emotions were all over the place and honestly when we first started dating and when he confessed that he liked me, I thought he was playing me, tricking me. I believed him. A few weeks went by until we could finally hang out when we went to the movies with my best friend and her boyfriend (who also happened to be one of his best friends). It felt magical. I was walking on air with him. I felt so happy and I wanted it forever, that feeling.
That entire summer was incredible. I tried so many things, had so many laughs, and enjoyed every single second I had with Logan. I was in love with him, and he told me he loved me too. I was shocked when he told me, because he said it first and it was so quick, but I knew what I felt and I knew that if I didn't have him in my life I would be devastated. He meant everything to me.
Then school started. We went to different schools, and he started school a week before me. That's when things started to drift apart. September was fine, we were still very close, and then October came around and we both started to not be what we were. I stressed about school daily, had overwhelming anxiety over him cheating on me, and struggled with only seeing the person I loved with my entire heart one time a week.
Then he started to hang out with other girls over me. I became so overwhelmed with what people were saying to me, suggesting to me, commenting on things with our relationship and I needed a break.
The week of October 8. It was a long and weird week. Monday and Tuesday I had school. Wednesday I had PSAT testing and was out at noon, as was he. We were supposed to hang out, or so I thought and I actually cancelled my plans with one of my best friends to be able to hang out with him, which never ended up happening. Thursday was normal, besides the fact that he hung out with a bunch of girls from other schools. Friday both of us didn't have school, and I also thought we were going to hang out, which didn't end up happening and instead he hung out with more girls that night. Saturday came around and the day before he told me we were hanging out on Saturday. Instead he again hung out with girls, lost track of time, and me being devastated and heartbroken because I hadn't seen him in two weeks, cried for hours. Then I told him.
"We need to go on a break."
He said no at first. I said I needed to. I needed to for my health, my well-being, and my happiness because it felt like I was in a hole of never ending stress, anxiety and sadness.
The next morning we broke up for good. I cried for a solid four hours before my best friends came over and brought me all these gifts, made me shower, and then took me to their homes to take my mind off this aching pain I carried.
There were two emotions I remember so vividly. Pain in my chest which would cause so many tears, and the spinning of my stomach, making me want to throw up. Every single second of each day I replayed moments we shared, moments we had talked about sharing, the plans for the future, and I felt like dying. Monday sucked. People told me the entire day that I looked ill and told me to go see the nurse. Tuesday morning I threw up and stayed home that day. Wednesday I cried more and finally Thursday I started to feel okay. Friday I felt amazing. Saturday I felt even better. Sunday I felt like I was on top of the world and I could achieve anything.
At 14, my heart was broken. At 14, I healed from a broken heart with the help of my friends. At 14, I got out of a relationship which caused me to hate myself. At 14, I found happiness again after I felt hopeless for weeks.
We all go through heartbreak and horrible, painful life experiences and without them we wouldn't be able to say that we've lived. I don't regret dating Logan. I don't regret ending it. I don't regret any of the emotions and the tears I cried. I have learned so much about myself and sometimes the horrible things we feel like we will never be able to get through help us to become the strong people we are.
If you are going through a breakup right now, a family challenge, friend challenges, or life challenges, always remember that you have so much to live for and you will become even stronger after this, trust me. This things define us, not for who we are, but that we are all strong individuals who can get through anything. Give it some time and be kind to yourself, don't rush anything, don't hide those tears, and spend time with friends and family. You will be okay.