Greatest Romance Films of All Time
This list of the greatest romance films of all time will give you endless excuses to cuddle during a date night in.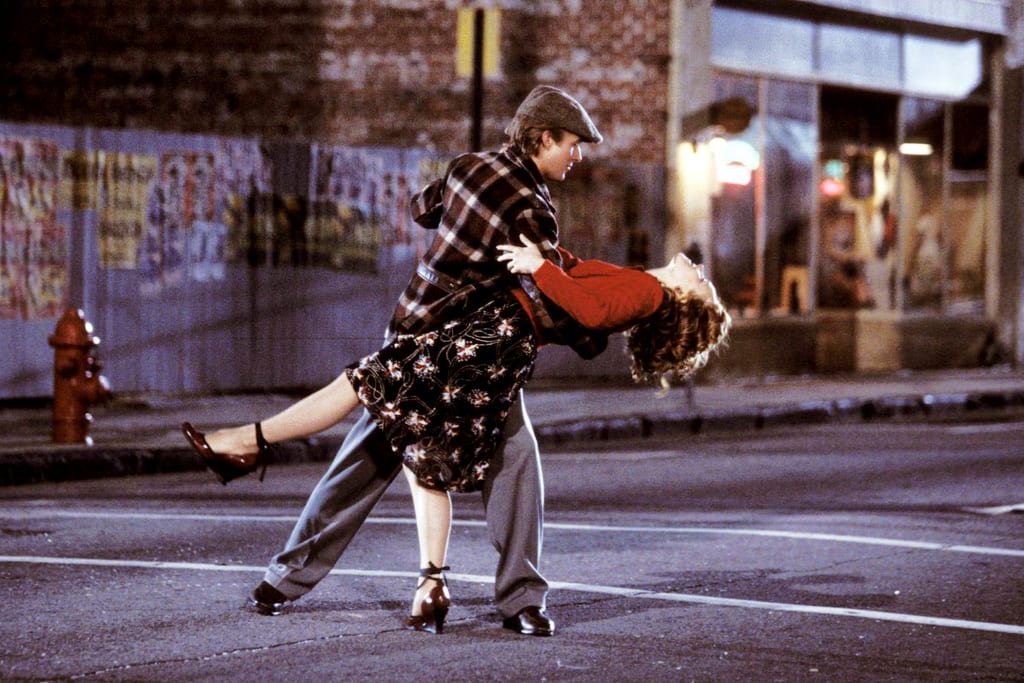 Looking for a movie to watch on a date night in? This list of the greatest romance films of all time will not disappoint. There is a movie for every taste on this list, plus, the many classics. Everyone should sit down and watch a romance film every once in a while. It's only right to get in touch with your sensitive side. Even if you choose to watch these alone, there is something empowering about opening your heart to a love story.
What makes a great romance movie? Passion, affection, emotion, and vulnerability come to mind when it comes to a true hit. Just be forewarned, these romances don't always end in a horse and carriage riding off into the sunset.
When it comes to the greatest romance films of all time, Titanic ranks as one of the top. Rose DeWitt Bukater tells the story of her departure on the "ship of dreams" called the Titanic to her grandchildren.
She boards the ship with her fiancé, Caledon Hockley, and her pretentious family. Aboard she meets Jack Dawson and the connection is undeniable. The ship hits an iceberg, causing their relationship to become completely vulnerable, and authentic despite the traumatic situation.
Noah and Allie are undoubtedly in love, despite the disapproval from Allie's parents. However, when Noah leaves to serve in World War II, their intense love affair appears to be over. In the meantime, Allie becomes engaged to James Marsden. But when Noah returns home, this may change things.
As one of the greatest romance films, the story of The Notebook was originally published as Nicholas Spark's first novel, and was inspired by his wife's grandparents who had been married for over 60 years.
Scarlett O'Hara lives her life on a feudalistic plantation during the American Civil War. She longs to marry Ashley, though he is engaged to be married to someone else, Malanie. However, there is another man (Rhett Butler) at the party in which she plans to convince Ashley to marry her instead at. But she does not know this at the time. Ultimately, Butler falls in love with Scarlett.
Adapted from Margaret Mitchell's novel, the film took years to film, due to the perfectionist tendencies of director, David O. Selznick and the complex historical and romantic plot line.
Harry and Sally share a car ride from Chicago to New York after graduating from the University of Chicago. The conversation comes up whether men and women can simply be friends, while they each take different sides. This is the last they see of each other for 10 years, until they meet at a bookstore. Ultimately they become very close friends and the underlying argument seems to be more prominent in their life than they thought.
When Harry Met Sallywas first produced in 1989, and was written by Nora Ephron and directed by Rob Reiner. One of the greatest romance films was inspired by Reiner's recent divorce and entrance back into the single life. Ephron interviewed Reiner for the character development for Harry and inspiration from Reiner's "friends" for Sally.
Edward, a wealthy businessman, hires a prostitute, Vivian, while on a business trip in LA. However, this isn't like any typical job, for both of them. The couple gets extremely close, but struggles to close the gap between how they first met.
Directed by Garry Marshall and starring Julia Roberts and Richard Gere, the romantic movie was first released in 1990, and earned a Golden Globe Award for Robert's performance and three Academy Award nominations.
As one of the greatest romance films of all time, this holiday classic is a perfect pick for a cold winter night. The plot follows 10 individual stories that all have a common connection, which is love.
As the story progresses, the characters show commonalities and interlink. The love stories progress from five weeks before the big holiday to an epilogue that is one month later. Looking for a Christmas movie that isn't all sappy and cringy? This is the perfect one for you.
A Walk to Remember is one of the greatest romance films for many reasons. The film follows high school sweethearts Landon Carter and Jamie Sullivan, played by Shane West and Mandy Moore. The narrator is Landon himself as he reflects on his life as a 17-year-old, that changed his path forever. Prepare with tissues.
Woody Allen plays Alvy Singer, a comedian who is in a relationship with nightclub singer Annie Hall, played by Diane Keaton. Alvy has a self-reflection through voice-over throughout the movie in which he reflects on the failures of his life and past relationships.
He reviews the pros and cons of his current relationship with Annie, ultimately leading them to break up. A combination of fantasy and reality allows the viewer to truly see into Alvy's mind. Not your typical romance, this is a great pick for something different, but will still hit a nerve.
Truman Capote's novella was the inspiration to one of the greatest romance films of all time. The story of a New York City woman who meets a man when she moves to a new apartment. Starring the beautiful Audrey Hepburn, Paramount Picture released the first showing in 1961.
The film still stands strong in the list among the best romances. It even won two Academy Awards and was nominated for three. Filled with culture, history, and love, you are missing out if you haven't seen this one more than twice.
Hopeless romantic and greeting-card writer, Tom, played by Joseph Gordon-Levin, falls head over heels for his girlfriend Summer, played by Zooey Deschanel. Suddenly to Tom, she dumps him. The movie follows him as he reflects on the 500 days they spent together, ultimately leading to him discovering his true passions in life.
500 Days of Summer is one of the greatest romance films because it is not your typical love story. The plot follows two partners who are not perfect for each other, but realize that growing apart was their true fate all along. It just might have taken Tom a lot longer to realize this. If you are looking for a movie that is funny, sweet, and realistic, this is the one for you.
movie review
Passionate about writing, animals, makeup, movies, friends, family, learning, exercising, and laughing!