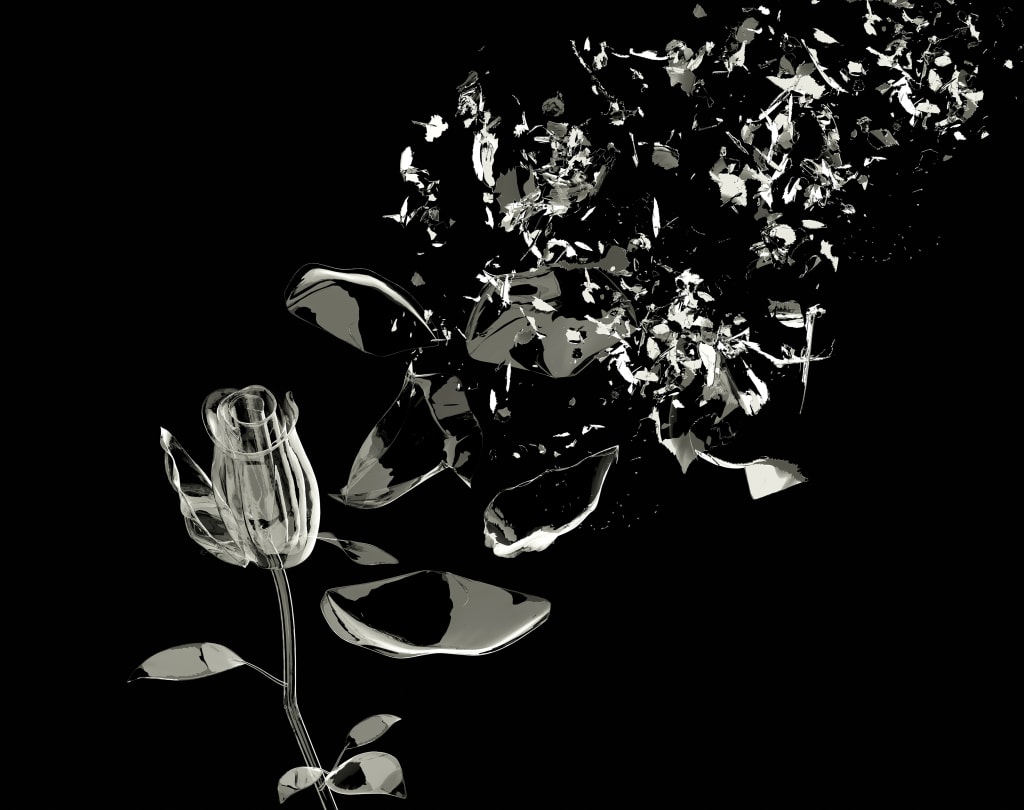 Glass Rose
On Valentine's Day
I bought my first serious girlfriend a glass rose.
I stuck it in a giant balloon
And left it on her desk in history class.
Within 5 seconds of finding the gift
She accidently popped balloon
And broke the rose.
And If I'd taken the time to notice
It would be a great metaphor
For our whole relationship.
We would spend a short time as this beautiful thing
And then exhaust the rest of it
Trying to Titanic our way out of a sinking ship.
We Chinese checkered for 5 years
Jumping over each others words
Until we were a mess of colors and mistakes.
Five years of games
Of which we truly loved each other
Maybe six months of.
The rest
Was spent trying to make the other one a menagerie
Of our childhood fantasies.
No one ever told us it was ok not to settle for your first love.
That fairy tales make great stories
But shitty targets.
That forcing a square peg in a round hole can be done
If you break both the pieces
No one ever told us it was ok to be alone.
To not conform your body
Into the tapestry society deems as ok to look at.
As fits the formula.
As comfy.
As "your story has been through too much
To have an ending lacking happy."
But when it does
Time and time again,
You stop believing in finding love.
And instead,
Start believing in finding tolerance.
And sleeping with tolerance
Is a lot like buying a scooter.
It's fun for a few minutes
But then you find yourself wondering
"Why the fuck you are riding a scooter?"
She was forgiveness laced insecurity.
I was a romantic
Who believed in the ideal more than the real thing.
Catastrophe scarcely cultivates better candidates.
I held on
Because I thought I was supposed to.
She held on
Because she wanted to believe me at my word.
But words have a funny way of adapting around their circumstances.
Like when saying "I love you"
Can mean both "you make me happy,"
And "you are a tragedy away from ripping me to my core."
Like when saying "I miss you"
Can mean both "your absence is noticed,"
And "where the fuck have you been?"
Like when saying "I forgive you"
Can mean both "let's move on"
And "this is the last time you hurt me like this."
Like when saying "I hate you"
Can mean both "don't ever talk to me again"
And "please speak to me again."
On my parent's sixteenth wedding anniversary
My mom took my dad to the top of the Reunion Tower
For a nice dinner
And to see the city.
And it would be a great metaphor for their divorce.
560 feet is a great height to hide from your problems,
But sooner or later,
You have to go back and ground level with them.
And wordless conversations
Sound the same
No matter the elevation.
Maybe no one ever told them
That staying together for the kids
Doesn't end well for anybody.
Doesn't teach the proper priorities.
That when love stops being a certainty
And becomes an old friend
You only see on holidays
It's time to take inventory.
On what the younger you
Dreamed you would hold on to eternally.
Like self love
Passion
Romance
And the ability to speak up.
If there's one thing my parents taught me
It's that you can scar someone
Without speaking a word.
That silence is a cancer
If it infects the part of you
That remembers you had standards once.
If it infects the part of you
That lives your life as a metaphor
As being one thing and implying another.
We are all,
All of us
Trying so hard
To be the best metaphors for love.
But I am my parent's son.
Last Valentines Day
I drove thirty minutes to my girlfriend's place
To leave a bear holding chocolates
And a rose
On her doorstep.
And prayed that some fuckface didn't steal it
Before she left for work the next day.
And even after it was still there the next morning,
I tried not to read too much into it.
After all
Metaphors only contain as much meaning
As you give to them.

S.C. Says
S.C. Says is an Austin based slam poet who has been performing slam poetry since 2013. He's toured and featured at venues and universities across the country, and his poetry has been viewed over 700,000 times.
See all posts by S.C. Says →