From Seattle With Love
Far Away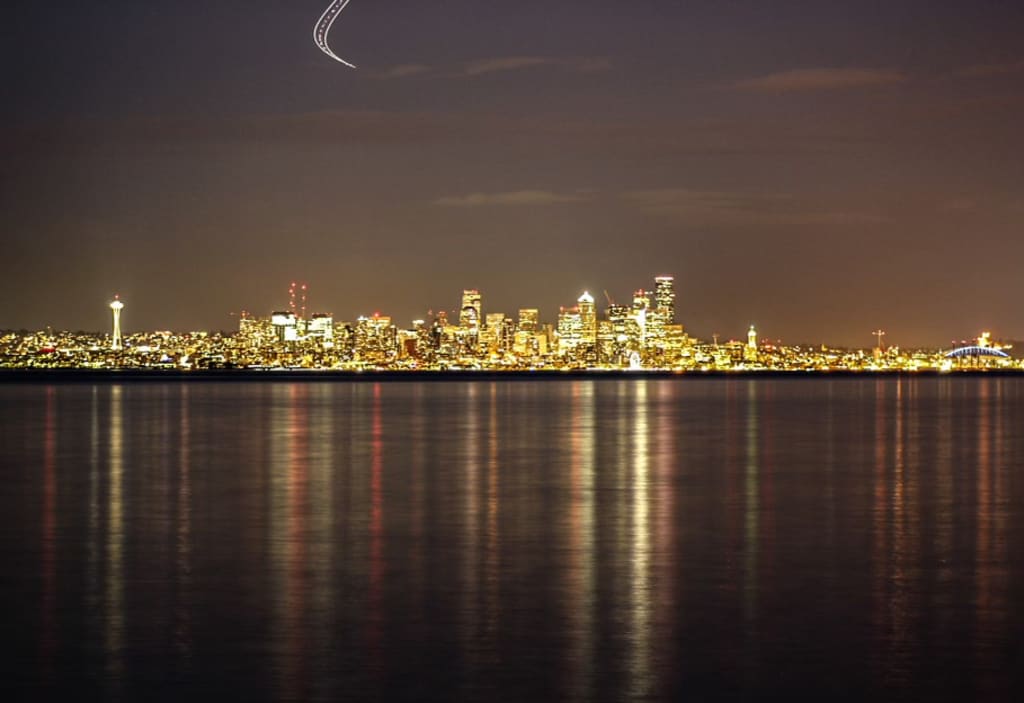 From Seattle With Love. Was spelled out across a big pink banner on a postcard I received in the mail. This is fascinating. Why am I, a midwestern girl, born and raised in North Dakota, receiving this post card? I don't recall knowing anyone in Seattle, heck I didn't even know Seattle existed, until now. It does look beautiful, glaring at a picture of a city, with a tower that has a saucer and an antenna, and a big, glorious mountain tucked away in the background. Also, worth note, this city lies on a body of water. So, I continue.
I hope this finds you well. I am writing from my new apartment, which overlooks the majestic Puget Sound, here in Seattle. The city is quite nice, and according to locals, it rains in winter. Nice coffee shops, and Jazz bars line the streets, it really gives the city a romantic feel. Like Paris. Oh yeah—Almost forgot, that big saucer looking thing, that's the Space Needle. The Mountain, that's Mount Rainier.
Anyways I am swell, hope to hear back from you soon!
Xoxo…
Okay, no name, and no physical address, so google is of no use. Just a lousy PO Box. Who even sends postcards anymore? An Email would have sufficed. But that's assuming this person knows me, and I know nothing of this person. Heck it could be a serial killer. I could be their next victim. What does this person even look like? How tall? What kind of hair? Again, WHY ME?
Okay, I'll bite. I grab my car key and my wallet, hop in my Prius, and go to the supermarket. I go straight to the greeting card section and find the most North Dakota postcard I could find. A picture of a boy in a field of wheat, looking at a mammoth grain combine in the background. In big, bold white letters it reads.
Hello from North Dakota
It ain't much, but it's something. So, I purchase it, and a candy bar and go back out to my car, and write.
Hello there from North Dakota. Received your card "From Seattle With Love." Rains in winter huh? Have you ever been to North Dakota, eh? We have blizzards in Winter, and hot, muggy summer nights. If you're not careful, the smell of body odor is enough to kill a man. 3 showers a day here.
Anyways gotta run.
--North Dakota.
Cornyish, I know. But off to the post office I go. I pop it in, and now we sit and wait. Could be months, even years. Or heck, no response at all.
Three weeks later, it arrives! Another postcard. This time the picture had changed to a simple Black and White photo of the Space Needle at night, with people in the foreground enjoying some type of coffee brew. The banner, white this time with black font read once again:
From Seattle With Love
Okay? So, I continue.
WOW! I'm shocked you wrote me back! So nice to hear from you! This summer has been a blast so far. The waters of the Puget Sound have been calm, thus far, and as I pen this post card, a ship is on the horizon, moving slowly into the port, with clothing, and goods and other sorts of neat items. The coffee is out of this world, almost like an Italian espresso. If you haven't been, you should come. The romance is alive in the Emerald City. Gotta run, so much more to see.
Xoxo
PS. Never been to North Dakota.
Why the XOXO? Why the all the anonymity? How did they get my address? The mystery remains. But at least I know they've never been here, so I wouldn't physically know them. Perhaps extended family? The cycle of mystery continues. This time I purchase a postcard that shows downtown Grand Forks from a helicopter, the font across the top in big bold white letters reads:
You'd Love Grand Forks
I thought it was perfect, almost as perfect as From Seattle With Love.
Hello!
North Dakota here again. Hope all is well in Seattle. I should open up a bit. My name is Sarah. Born and raised here in Grand Forks. Yep, that's my hometown on the front of the post card. Anywho, could you at least share with me your first name? Maybe we could become pen-pals. Would be nice to meet someone with a different perspective, and someone who has been to different places. It's a mundane life here in North Dakota. Wake up, brew coffee, drink coffee, find its too bitter, saturate with cream and sugar, finish coffee, help dad with chores around the farm, eat dinner, pray, and go to bed. Seattle sounds like a mythical place, full of beauty, wonderment, and romance. The kind you read about in Rome or Paris. Have to run, it's almost grain harvesting season.
- Love Sarah
I pop it in the mailbox again and wait.
I don't hear anything for 3 months, when all of a sudden, a letter arrives. No postcard, no mystique, just a plain letter, not typed, handwritten, in pen, on standard rule paper. I knew this was the person because of the PO Box. I rip it open and read.
Sarah,
Sorry to inform you but Charles has passed away. We found your correspondence with him in a box with big bold letters that said KEEP. He had just moved to Seattle to undergo treatment for cancer. On the phone he had spoken that he may have found someone in North Dakota. Hank and I figured it was just delirium from his chemo treatment and the massive amounts of morphine he had been on the last few months. I'm glad to find out you are real because your correspondence kept him in such high hopes throughout his last stages of cancer. Thank you for writing him back these last, few short months. It makes me happy knowing that he was happy.
From Seattle With Love,
Charles' Mom Beatty
END
friendship
About the author
I enjoy nice walks on the beach, coffee at the corner cafe, long hikes deep in the woods..
Scratch all that, if I actually had time for any of it. Most weeks these days I am juggling 2 of my kiddos schedules, while navigating the new normal.
Reader insights
Be the first to share your insights about this piece.
Add your insights