From Good Time to Drunk Stupid
Does this sound familiar?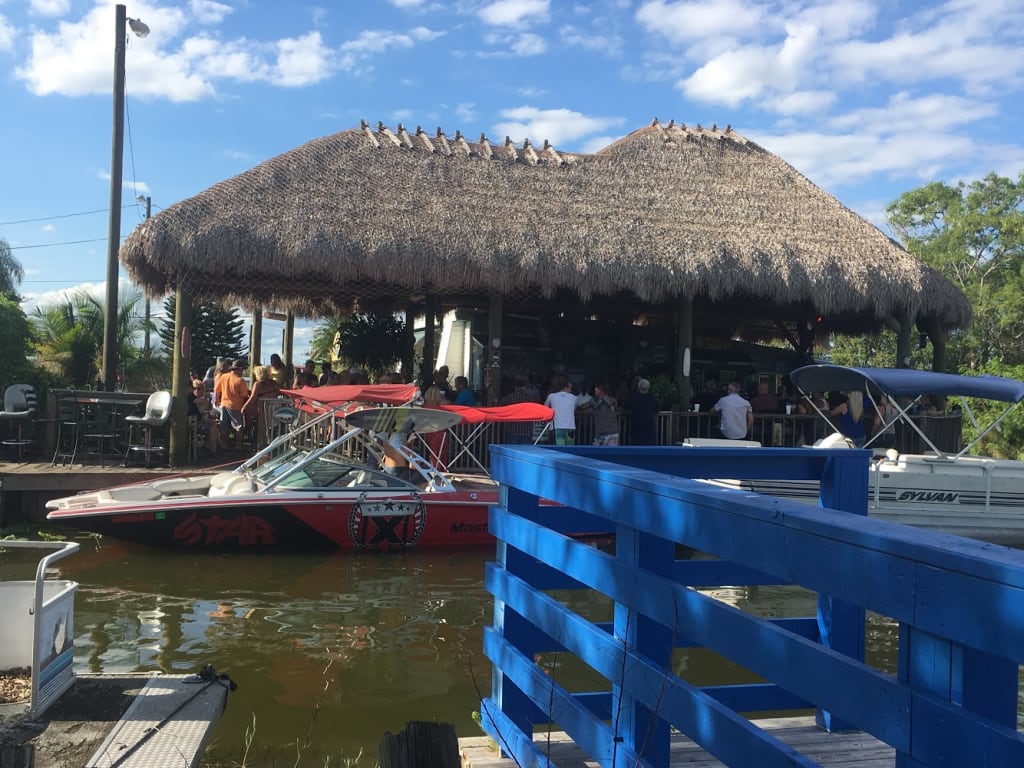 Winter Haven, Florida
I'm having the most amazing time by myself at a tiki bar in Winter Haven, Florida. 
Sitting across the water, enjoying the live band and watching fish and speed boats come and go.
Everyone is drinking rum runners, including me, and beer. 
But wait there's more… I spot a hot guy across the water canal. Oh, he's so fine! 
Sitting there by himself, smoking a cigarette. He's got long, curly brown hair, a muscle shirt on, looking fit and lean.
I first saw him drifting by on his paddle-board, shirtless with his dog. 
He was shaking around his fine hair while he paddled in, wearing his coral-colored swim trunks.
Feeling a bit naughty now!!
I couldn't take my eyes off of him, and I think about walking over to say "hi".
The band is playing Journey's "Lights" when our eyes meet, and he's just sitting there nonchalantly, smoking his cigarette. 
I feel like I'm in love with this dude, but he looks 20 years younger than me!
Thinking, "Should I approach him?" 
Not sure yet. 
I'm just chilling here with my drink, listening to the band, and enjoying watching the sun go down. 
Just so happy right now. 
Thinking again, "If I have a little more liquid courage I could possibly approach him." 
At the moment, I'm enjoying this day, even though I know I have to get up and go to work tomorrow, but I'm like "f*** it."
How can I leave this blue sky, puffy white clouds, the rippling of the water and the band playing Journey? 
Not to mention this guy across the canal that is so freaking hot!
I decided to make my way up the sidewalk to the bar and bought another drink. 
Then I went outside on the patio and sat two seats away from "the hot one." 
He was busy talking to a few guys before he noticed me there. 
Since he smoked, I decided to pull him away to the "smoking tent." 
This is an enclosed screened patio where the smokers usually sit. 
I started to casually walk there, slowly close the door, and somewhat gracefully sit down.
It worked! He followed me in there. 
Now I am looking face to face with this hot man that I have been admiring for the last hour or two. 
Surprisingly, he didn't look as young as I thought he did. 
I guess it was his character lines around his eyes that gave him away but nonetheless very good looking. 
"That actually works in my favor," I thought. 
He asked me if I wanted a smoke. I said "sure," even though I don't even smoke!
So you can imagine me trying to fake smoke.
Why did I do this?
Because I wanted to have something in common with this hot guy. 
After I fake smoked and somehow managed not to cough myself to death, we had some small talk. 
I had to excuse myself as I was feeling really thirsty for water after I finished my second rum runner. 
Knowing I had another bottle of water in my car, I haphazardly walked back to go get it. 
You see, at this point, I had already downed a total of five drinks before I finally got the "liquid courage" to say hello to this man. 
I opened my car door, sat down, for what I thought would be just a few minutes to drink some water and then go back out, but then all of a sudden felt really sick. 
I don't know if it was just the drinks themselves or the combination of trying to smoke a cigarette with the drinks. 
Whatever it was, my stomach was not happy. 
Next thing I knew I was covered in my own puke. 
My shirt was soaked, and was smelling horrible.
I tried to roll down my car window to throw-up outside, but half made it. 
Can you imagine having puke dripping down the side of your car window and on the inside of your door plus wearing the nastiness?!
After that episode, I somehow fell asleep in my car and woke up four hours later to an empty parking lot. 
The bar shut down, the lights turned off, and Mr. Hot Pants long since went. 
I started out having a good time but ended up drunk stupid. 
Needless to say, I never did get that guy's name or number. Just a few moments together with a totally hot stranger.