Francesca Rome-Marie on Providing Aid to Ukrainian Refugees
Francesca Rome-Marie | Rome, Italy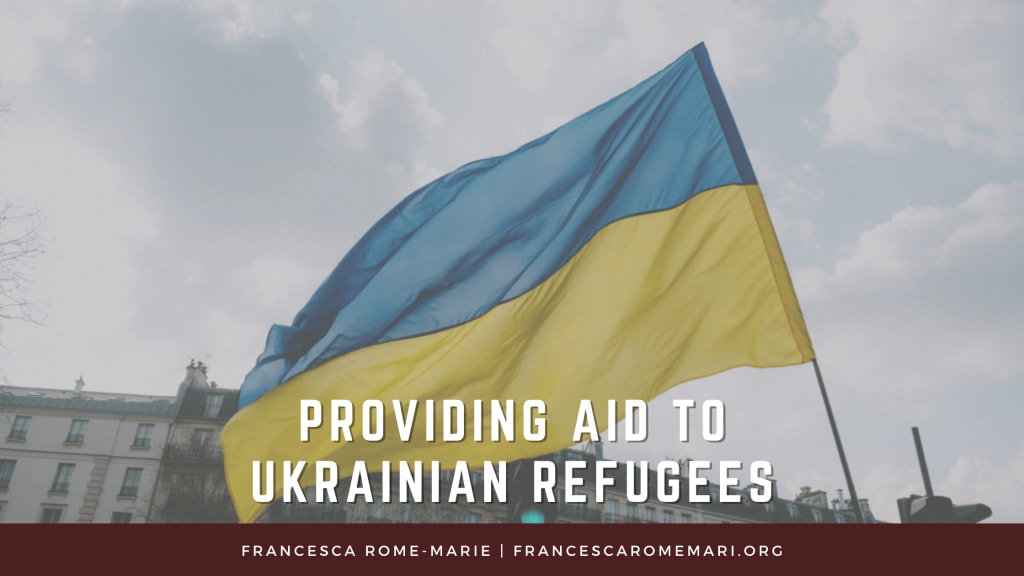 https://francescaromemarie.org/providing-aid-to-ukrainian-refugees/
Since the conflict in Ukraine started on February 24, about 4 million people have fled their homes. This is about 10% of the country's 44 million population. Half of the refugees are children.
The invasion of Ukraine has caused a humanitarian crisis and forced thousands of people to flee their homes. Here are some ways you can help.
Donate Cash
The best way to help these refugees is by giving them cash. They will most likely need help finding a way to meet their basic needs once they reach another country.
Staying in the Loop
The invasion of Ukraine has been going on for a long time. Learn more about its history and how it started by following the latest developments in the war and the stories from reliable sources. You can also help support the work of local news outlets such as The Kyiv Independent and Olha Konsevych. Journalists such as these are often put at risk by the war in Ukraine, and you can help protect them by donating to Internews.
Being Open to Refugees
Before the invasion of Ukraine started, about 1.5 million people were internally displaced. Now, nearly 4 million people have left the country. Many of them are refugees who fled to other countries, such as Syria and Afghanistan. You can help these individuals by donating to humanitarian organizations such as the International Rescue Committee.
If you're in a region near Ukraine, you can also help the refugees by letting them stay in your home. Through Airbnb's program, you can provide free housing to up to 100,000 individuals from Ukraine.
Support Every Kind of Refugee
Non-white individuals, such as African-Ukrainians, are experiencing discrimination at the border. Many are reportedly being turned away because they are white, and they are given priority when it comes to getting aid and crossing into other countries. These individuals already face higher risks and cannot always receive the support they need.
Join the Fight
Support the victims of the Russian invasion by raising your voice in support of those affected by the conflict in Ukraine. You can also help by calling for political and diplomatic solutions to the crisis.
About Francesca Rome-Marie
Francesca Rome-Marie is a passionate and dedicated healthcare professional living in Rome, Italy and working in the healthcare industry specializing in psychiatric and family medicine, sexual and reproductive health, LGBTI+ health, global health, and HIV and AIDS. Through her work, she is also experienced in crisis relief and humanitarian aid, offering lifesaving resources to those in need after an emergency or a disaster.
A registered nurse with years of experience working in healthcare, Francesca Rome-Marie has quickly developed experience providing humanitarian aid in high-stress situations. While a student, Francesca studied disaster, crisis, and emergency management to help her build a necessary foundation of practice-based competencies, in-depth scientific knowledge, and effective negotiation skills. Her courses also combined science with hands-on learning to help build a more holistic and comprehensive understanding of the processes behind disaster risk management as well as tactical and strategic approaches to achieve the best solutions for achieving the appropriate disaster response, recovery, and risk reduction. Francesca is also skilled in crisis counselling as well as humanitarian assistance and humanitarian intervention as well as disaster preparedness.
Alongside her career work, Francesca is also an active volunteer who has previously worked as a Disaster and Humanitarian Relief project coordinator, helping to provide refugees and their families with food, necessities, and housing. She's developed experience working with nonprofit organizations, humanitarian activism, and community health and has become skilled in interpersonal communication, collaborative problem solving, and cross-cultural communication.
Throughout her career, Francesca Rome-Marie has developed a particular passion for working in areas including health and rights, gender and sexuality, refugees, and forced displacement through the lens of gender, sexuality, gender-based violence, and reproductive rights. She is especially interested in work that allows her to promote the visibility – alongside the access to care, research, and program implementation – of vulnerable populations that include LGBTQI+ individuals, women and girls, and sex workers, or individuals who fit in more than one of those categories.
About the Creator
A registered nurse with years of experience working in healthcare, Francesca Rome-Marie has quickly developed experience providing humanitarian aid in high-stress situations. Learn more at francescaromemarie.org!
Reader insights
Be the first to share your insights about this piece.
Add your insights