Escape To The Imagination Island
How I find my inner peace and disconnect from the world through old film photographs and writing; being at one with the past is how I prepare for my future.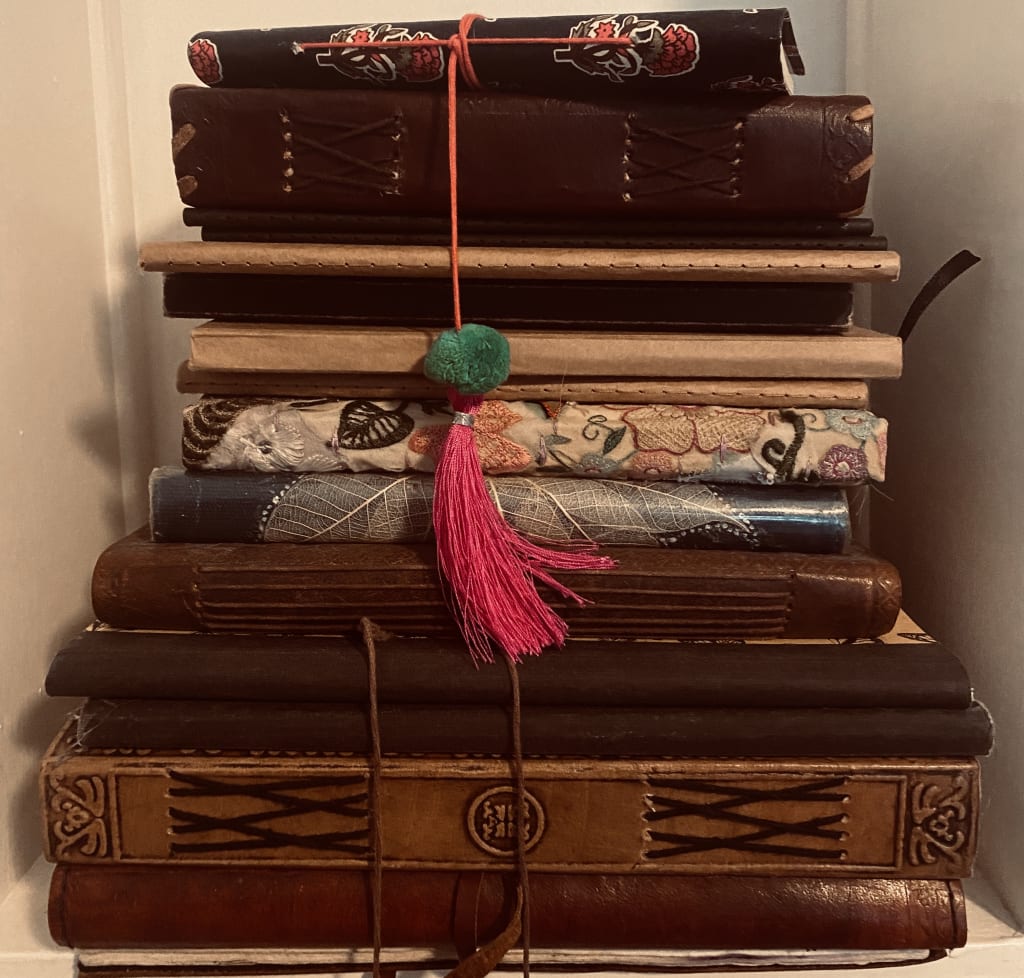 Disconnection has always meant connecting with an intangible space, another realm that exists not in but above my head. It's not heaven, its more like a life that could have been, or once was. I can't touch it but I can see it, distinctly For me, disconnection is inner peace, it is the quiet that I crave during the insanity of the day. I get there by writing my sentences and scavenging for old photographs and piecing them together in a book that probably won't translate much meaning to anyone else.
Daguerreotypes, film, polaroids, Kodak first generation, they are my portal and a paired with a few surreal and longingly poetic words, that is my disconnection to my world.
I've kept these books since I was 13, they have evolved with me, but this has been my zen, my escape, my muse, my disconnection, my first love, my peace, for almost a decade…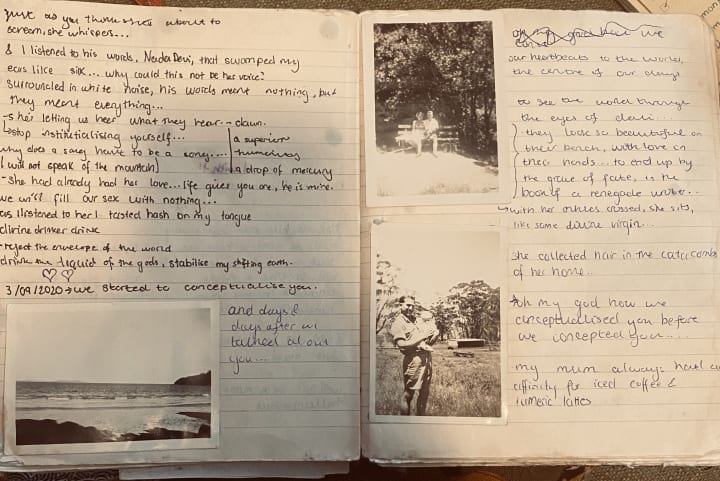 An extract;
'I write because I cannot express my world as I see it by speaking. I practice because I am afraid of oblivion. I do not know how to let my hand think from its own mouth. I am well versed in the act of writing without thinking, even now, I am too good at losing myself on paper, but I never plan ahead for it.
I love my written self more than myself,
flesh and blood…
I am but a wheel turning, the pieces, working, writing, asking…'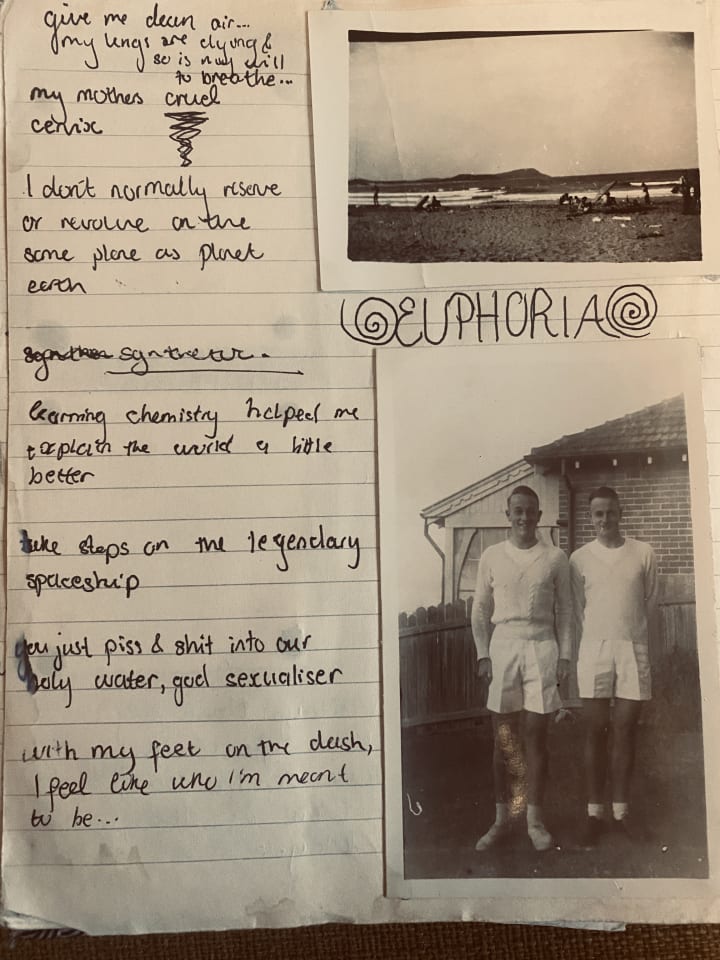 I am at my most zen with my photograph book between my knees, some sunlight soaking the room, a cup of tea on the table and a pen swirling in my thumb. I find inner peace peeling through the boxes of old film at Repressed Records in Newtown, or at Campbells Odd Shop in Morpeth, I drive for hours just to flick through photographs.
I often end up recognising the faces of families or certain individuals, there is one family who were in their own way beyond their time, judging by how many photographs they took and had printed, I think it was the father who had an affinity for the present. He and I would have had some interesting conversations should I ever meet him beyond his photographs.
Or like the round faced blonde who makes many appearances in my journal…I met just a portrait of her first, and then a few weeks laster I went back to the store where I found her and searched until I found a photo of her on her wedding day. I don't know her real name but she is so beautiful and peaceful and glamorous, so I call her My Marylyn.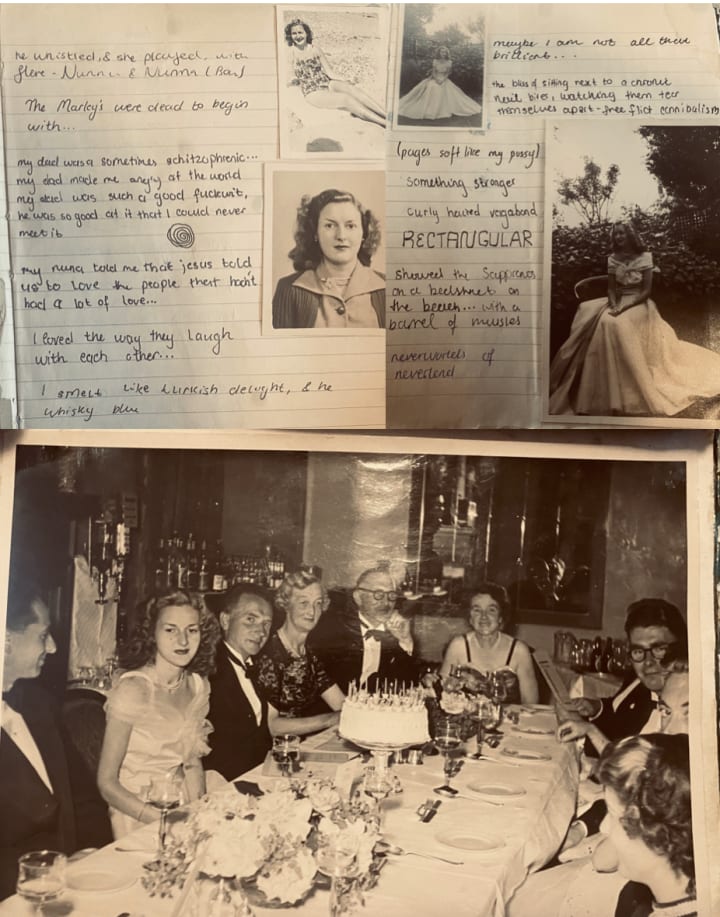 I have always had a very vivid and persistent imagination. In childhood, I have the clearest memories of my mum snapping her fingers at me to wake me up after daydream, after daydream, after daydream…I guess that the beauty of this practice is that it is a way that I can see my imagination in the physical world.
My imagination has always been like an island above my head, because I feel like my brain and skull is too small to fit all of my muses, characters, worlds, languages, scenarios, colours, plants and creatures…writing everything down makes it feel real.
It makes my escapism real.
To be able to translate my thoughts onto paper brings with it the greatest, most pure feeling of calm.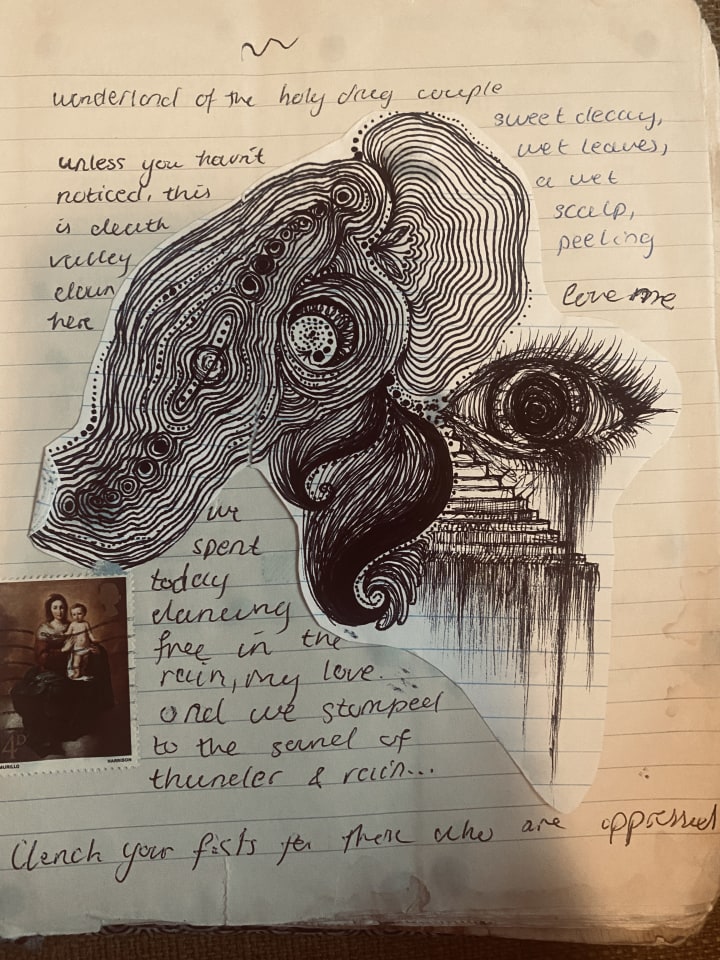 Another extract;
'You deliver me. Ride to live, I don't want to become the mist, the way that I am loving is slowly killing me, I am transcending into the umbilicus of the earth, I want to grab my coat, because I didn't choose this life either. He drives and I write and that is how we make love. I could rub my bones on yours, because now that I let my screw come loose; I can see God again. But my god it is under here blue and red lights that I come alive. I breath differently in the Oxford Art Factory and the Art Gallery. Microphones stand alone on the stage of life, discoloured in blue light, like Greek goddess virgins standing on marble pillars…They had cheering playing on the speakers, just to make the room feel more alive, God Bless this dead night. They were sex, top buttons undone, flying low, mic lead coiled around his fingers, hair touching their shoulders, they lit a fire with their retro grace, grapes hanging over his piano keys, they still looked like their mother. There was a drugged up Amish boy in the corner, and two parents who had left their child at home, and me with my red glasses on; and the world was at peace for about three minutes there…'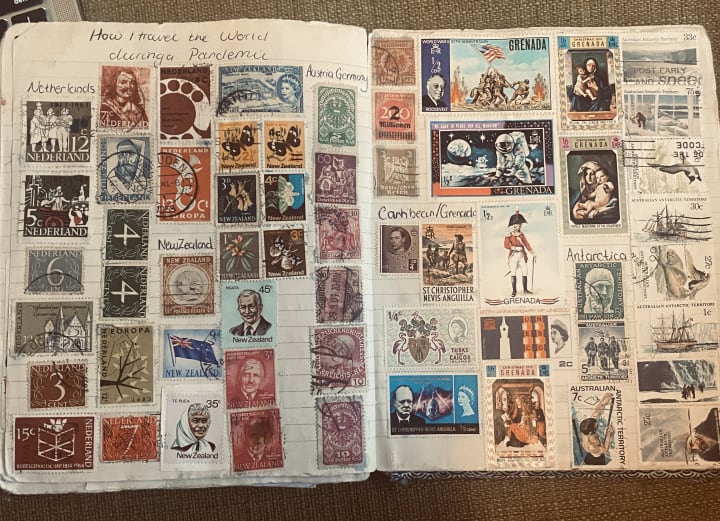 At Campbells Odd Shop, there is a vast collection of old photographs from the wars, Vietnam, a few from WWI, many from WWII and some civil wars dotted throughout…The philosophy of history is a disputed thing, what is history? I believe it is the study of the past for the purpose of understanding the future. To be at one with the past is how I prepare for the future.
I think that is why this practice brings me peace, I can connect the slightest way to people who lost their lives in conflict that was at no fault of theirs, they were just collateral damage to a countries obsession with religion, money, communism, capitalism and all of the rest, the least I can do as a living human being is look after their photographs. In no way do I idolise the destruction of war, apart from reverence, these photos remind me to never fall in love with an ideology written by a white man.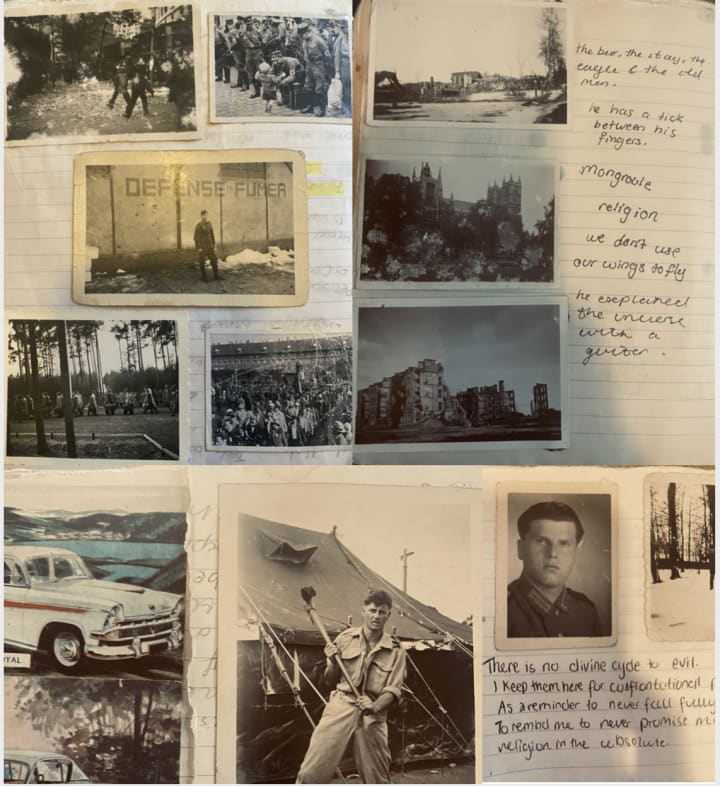 I don't know what it is about my practice that brings me so much peace, maybe it's the escapism, maybe it's my support network of ghosts, people who will never know me, and who will never judge me, and will never know that I know them, maybe looking after someone else's memories gives me some sort of obscure purpose, that is a beautiful thing. Maybe it's the images of lives lived that were so much harder than mine that gives my gratitude no choice but to creep back in.
Maybe it is the process of finding immeasurable value in what is sold for 80c a piece…
This is my practice, and it brings me peace, this is my escape, this is my disconnect,
my island above my head.